Abstract
Glassy beads were found in the sand cover associated with known and suspected kimberlites on the Kalahari plateau, Botswana. Morphology and chemistry were examined by ESEM and EDAX. The polymetallic and quartzose "beads", here described for the first time and termed fulguroids, formed at very high temperatures, well in excess of those reached by the kimberlites. They solidified in free fall. We propose that they were melted in the atmosphere by lightning strikes on Kalahari overburden entrained when the kimberlites erupted.
This is a preview of subscription content, log in to check access.
Access options
Buy single article
Instant access to the full article PDF.
US$ 39.95
Price includes VAT for USA
Subscribe to journal
Immediate online access to all issues from 2019. Subscription will auto renew annually.
US$ 199
This is the net price. Taxes to be calculated in checkout.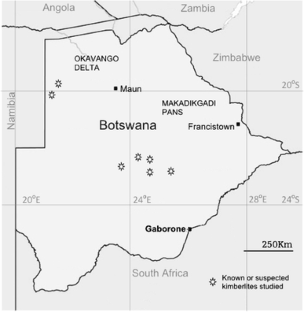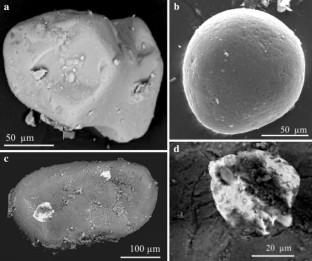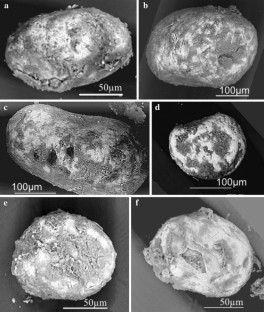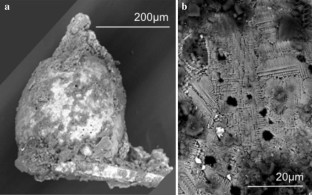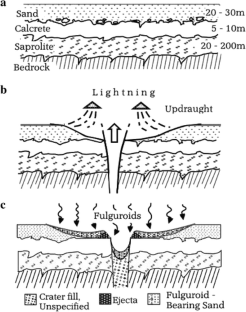 References
Baillieul TA (1975) A reconnaissance survey of the cover sand in the Republic of Botswana. J Sediment Petrol 45:494–503

Brown RJ, Manya S, Buisman I, Fontana G, Field M, MacNiocaill C, Sparks RSJ, Stuart FM (2012) Eruption of kimberlite magmas: physical volcanology, geomorphology and age of the youngest kimberlitic volcanoes known on earth (the Upper Pleistocene/Holocene) Igwisi Hills volcanoes. Tanzania Bull Volcanol 74:1621–1643

Brownlee DE, Bates B, Beauchamp RH (1983) Meteor ablation spherules as chondrule analogs. In King EA (ed) Chondrules and their origins. Houston, Texas, Lunar and Planetary Institute, 1: pp 10–25

Carter EA, Hargreaves MD, Kee TP, Pasek MA, Edwards HGM (2010) A Raman spectroscopic study of a fulgurite. PhilTrans R Soc 368:3087–3097

Champagnon B, Panczer G, Chemarin C (1997) Differentiation of natural silica glasses using Raman microspectrometry. Chem Erde-Geochem 57:290–296

Cimarelli C, Alatorre-Ibargüengoitia MA, Kuepers U, Scheu B, Dingwell DB (2013) Experimental generation of volcanic lighning. Geology 42:79–82

Farzaneh M, Chisholm WA (2009) Insulators for Icing and polluted environments. Wiley-IEEE Press, Picataway, New Jersey, 680 pp

French BM (1998) Traces of Catastrophe. A handbook of shock-metamorphosic effects in terrestrial meteorite impact structures. LPI Contribution 954. Lunar and Planetary Institute, Houston

Genereau K, Wardman JB, Wilson TM, McNutt SR, Izbekov P (2015) Lightning-induced volcanic spherules. Bull Geol 43(4):319–322

Genge MJ, Engrand C, Gounelli M, Taylor S (2008) The classification of micrometeorites. Meteor Planet Sci 43:497–515

Gernon TM, Brown RJ, Tait M, Hinks TK (2012) The origin of pellital lapilli in explosive kimberlite eruptions. In: International Kimberlite conference, Bangalore, extended abstract,pp 72–376

Glass BP, Simonson BM (2013) Distal Impact Ejecta Layers. Springer, Heidelberg New York, 716 pp

King L (1962) Morphology of the earth. Oliver and Boyd, Edinburgh and London, 699 pp

McFarlane MJ, Coetzee SH, Kuhn JR, Vanderpost CHM, Eckardt FD,(2007) In situ rounding of quartz grains within an African surface weathering profile in North West Ngamiland, Zeitschrift für Geomorphologie (NF) Botswana 51(3): 269–286

McFarlane MJ, Eckardt FD, Coetzee SH, Ringrose S(2010) An African surface weathering profile in the Kalahari of North West Ngamiland, Botswana: processes and products. Zeitschrift fűr Geomorphologie (NF) 54(3): 273–303

Melosh HJ (1989) Impact cratering: a geological process. Oxford monographs on geology and physics No 11. Oxford University Press, New York

Melosh HJ, Vickery AM (1991) Melt droplet formation in energetic impact events. Nature 350:494–497

Pasek MA, Block K, Pasek V (2012) Fulgurite morphology: a classification scheme and clues to formation. Contrib Miner Petrol 164:477–492

Paxton AH, Gardner RL, Baker L (1986) Lightning return stroke: a numerical calculation of the optical radiation. Phys Fluids 29:2736–2741

Pell J, Russell JK, Zhang S (2015) Kimberlite emplacement temperatures from conodont geothermometry. Earth Planetary Sci Lett 411:131–141

Rakov VA (2013) The physics of lightning. Surv Geophys 34:701–729

Wadsworth FB, Vasseur J, Llewellin EW, Genareau K, Cimarelli C, Dingwell DB (2017) Size limits for rounding of volcanic ash particles heated by lightning. J Geophys Res Solid Earth 122(3):1977–1989

Wardman JB, Wilson TM, Cole JW, Bodger PS (2012) Potential impacts from tephra fall on electric power supply networks: a review and mitigation strategies. Bull Volcanol 74L:2221–2241

White WB, Minser DG (1984) Raman spectra and structure of natural glasses. J Non-cryst Solids 67:45–59
Acknowledgements
This research did not receive any specific grants from funding agencies in the public, commercial, or not-for-profit sectors. We thank African Queen Mines, Petra and Sekaka Diamonds and Gem Diamonds for providing access to cores for sampling. We are grateful to Alexander Shaw and an unknown reviewer for very constructive comments.
About this article
Cite this article
McFarlane, M.J., Long, C.W. & Coetzee, S.H. Lightning-induced beads, 'fulguroids', associated with kimberlite eruptions in the Kalahari, Botswana. Int J Earth Sci (Geol Rundsch) 107, 2627–2633 (2018). https://doi.org/10.1007/s00531-018-1618-6
Received:

Accepted:

Published:

Issue Date:
Keywords
Kimberlites

Kalahari overburden

Lightning

Glassy beads

Fulguroids