This is a preview of subscription content, log in to check access.
Access options
Buy single article
Instant access to the full article PDF.
US$ 39.95
Price includes VAT for USA
Subscribe to journal
Immediate online access to all issues from 2019. Subscription will auto renew annually.
US$ 199
This is the net price. Taxes to be calculated in checkout.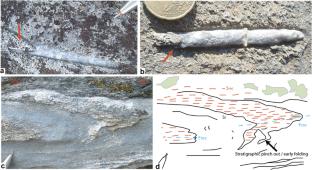 References
Antoine P (1971) La zone des Brèches de Tarentaise entre Bourg-St-Maurice (Vallée d'Isère) et la frontière italo-suisse. Trav Lab Géol Univ Grenoble Mèm 9:1–367

Antoine P, Barféty JC, Vivier G, Debelmas J, Desmons J, Fabre J, Loubat H, Vautrelle C (1992) Notice explicative de la Carte géologique de France 1/50000. Feuille Bourg Saint Maurice, Bur Rech Géol Min Orléans 727:1–110

Beltrando M, Frasca G, Compagnoni R, Vitale Brovarone A (2012) The Valaisan controversy revisited: multi-stage folding of Mesozoic hyper-extended margin in the Petit St. Bernard Pass area. Tectonophysics 579:17–36. https://doi.org/10.1016/j.tecto.2012.02.010

Bousquet R, Goffé B, Vidal B, Oberhansli O, Patriat M (2002) The tectonometamorphic history of the Valaisan domain from the Western to the Central Alps: new constraints on the evolution of the Alps. GSA Bull 114:207–225

Cannic S, Lardeaux JM, Mugnier JL, Hernandez J (1996) Tectono-metamorphic evolution of the Roignais-Versoyen Unit (Valaisan domain, France). Eclogae Geol Helv 89:321–343

Dal Piaz GV (2010) The Italian Alps: a journey across two centuries of Alpine geology. J Virtual Explor. https://doi.org/10.3809/jvirtex.2010.00234

Debelmas J, Desmons J, Caby R (1991) Notice explicative de la Carte géologique de France 1/50000. Feuille Ste-Foy-Tarentaise, Bur Rech Géol Min Orléans 728, pp 1–43

Elter G, Elter P (1965) Carta geologica della regione del Piccolo San Bernardo (versante italiano). Note illustrative. Mem Ist Geol Min Univ Padova 25:1–53

Franchi S (1898) Sull'età mesozoica della zona delle pietre verdi nelle Alpi Occidentali. Boll R Comit Geol It 29:173–247

Franchi S (1899) Nuove località con fossili mesozoici nella zona delle pietre verdi presso il colle del Piccolo San Bernardo (Valle d'Aosta). Boll Com Geol It 10:303–324

Frasca G (2011) Rilevamento geologico-strutturale delle unità vallesane nel vallone del Breuil (La Thuile, AO). Tesi di Laurea, Università degli Studi di Torino, pp 1–227

Frasca G, Beltrando M, Compagnoni R (2015) The Pointe Rousse mantle window (Valaisan Domain, Western Alps): evidence of complete crustal excision in the North Penninic basin. In: Manatschal G, Mohn G, Masini E, Beltrando M (eds) A field guide across the margins of Alpine Tethys, Journal of the Virtual Explorer, Electronic Edition, vol 49, paper 13 (ISSN 1441-8142)

Goffé B, Bousquet R (1997) Ferrocarpholite, chloritoid and lawsonite in metapelites of the Versoyen and Petit St Bernard units (Valais zone, Western Alps). Schweiz Mineral Petrogr Mitt 77:137–147

Lemoine M (2003) Schistes lustrés from Corsica to Hungary: back to the original sediments and tentative dating of partly azoic metasediments. Bulletin de la Société Géologique de France 174:197–209. https://doi.org/10.2113/174.3.197

Loprieno A, Bousquet R, Bucher S, Ceriani S, Dalla Torre FH, Fügenschuh B, Schmid SM (2011) The Valais units in Savoy (France): a key area for understanding the palaeogeography and the tectonic evolution of the Western Alps. Int J Earth Sci 100:963–992

Masson H, Bussy F, Eichenberger M, Giroud N, Meilhac C, Presniakov S (2008) Early Carboniferous age of the Versoyen ophiolites and consequences: non-existence of a Valais ocean" (Lower Penninic, western Alps). Bull Soc Géol Fr 4:337–355

Schoeller H (1929) La nappe de 1′Embrunais au Nord de l'Isère. Bull Carte Géol France 33:1–422

Zulauf R (1963) Zur Geologie der tiefpenninischen Zonen nördlich der Dora Baltea im oberen Val d'Aosta (Italien). Promotionsarbeit ETH Zürich, pp 1–151
Acknowledgements
I thank Roberto Compagnoni and Alberto Vitale Brovarone for discussions and encouragements. This work is dedicated to Marco Beltrando who first introduced me to the geology of the Petit-Saint-Bernard area.
Electronic supplementary material
Below is the link to the electronic supplementary material.
About this article
Cite this article
Frasca, G. Fossiliferous high-pressure metasediments from the Western Alps (Petit-Saint-Bernard Pass, Subbriançonnais Unit, Italy). Int J Earth Sci (Geol Rundsch) 107, 2635–2637 (2018). https://doi.org/10.1007/s00531-018-1616-8
Received:

Accepted:

Published:

Issue Date:
Keywords
Western Alps

Calcschists

Geosites

Beltrando

Phragmocone