Abstract
We present the petrological investigation carried out of the seamounts located between water depths of 4300 and 5385 m in the Central Indian Ocean Basin (CIOB). The seamounts have variable shapes (conical and elongated) and heights (625–1200 m). The basalts have a glassy veneer that forms the outer rind, while the holocrystalline interior shows variable textures. The basalts are plagioclase phyric and compositionally have low FeO* (8.0–10.5 wt%) and TiO2 (1.3–2.0 wt%), and variable K2O (0.1–1.0 wt%) contents and are slightly enriched in the light rare-earth elements. These characteristics are similar to the basalts from the CIOB seafloor and the Central Indian and Southeast Indian Ridges. These facts attest to the simultaneous formation of the CIOB seafloor and associated seamounts that shared a common source between 56 and 51 Ma when the spreading (half) rate was 95 mm/year. Similar to the East Pacific Rise (EPR), the source melt was perhaps ferrobasalts which over a period of time fractionated to N-MORB during the emplacement of the seamounts. The production of the seamounts may have involved a periodic tapping of a regularly replenished and shallow seated source melt. These basalts from the older seamounts of the CIOB are analogous to their present-day counterparts that form at the fast-spreading EPR and other locales in the world oceans.
This is a preview of subscription content, log in to check access.
Access options
Buy single article
Instant access to the full article PDF.
US$ 39.95
Price includes VAT for USA
Subscribe to journal
Immediate online access to all issues from 2019. Subscription will auto renew annually.
US$ 199
This is the net price. Taxes to be calculated in checkout.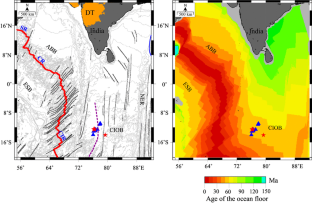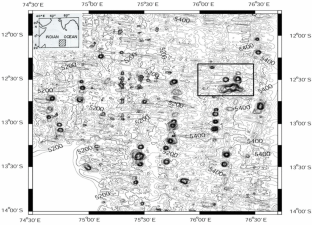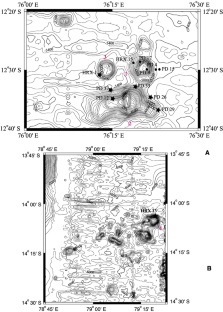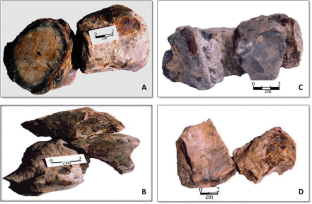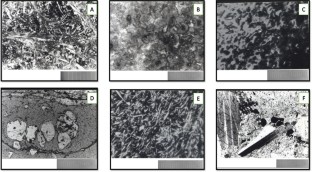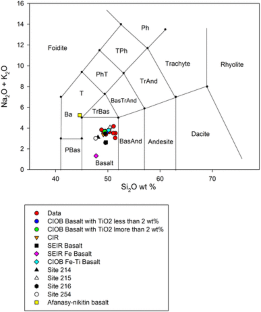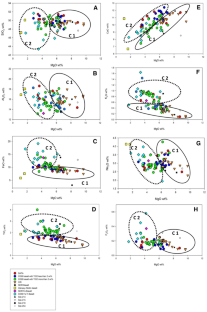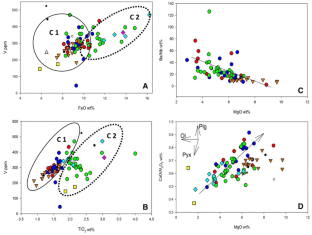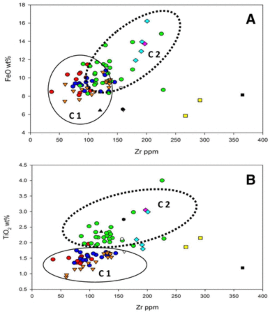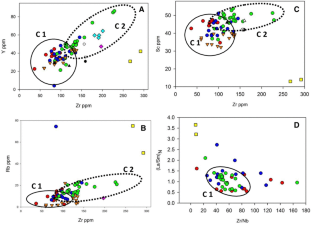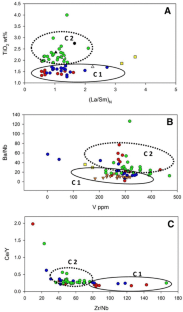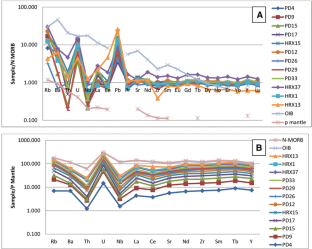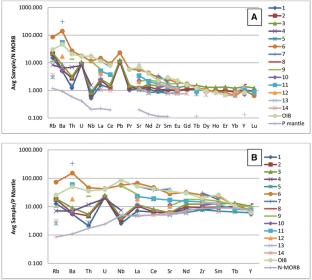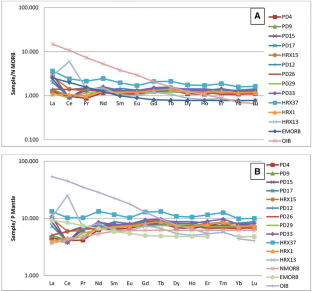 References
Anderson RN, Spariosu DJ, Weissel JK, Hayes DE (1980) The interrelation between variations in magnetic anomaly amplitudes and basalt magnetization and chemistry along the Southeast Indian Ridge. J Geophys Res 85:3883–3898

Baragar WRA, Plant AG, Pringle GJ, Schau M (1977) Petrology and alteration of selected units of Mid-Atlantic Ridge basalts sampled from sites 332 and 335, DSDP. Can J Earth Sci 14:837–874

Batiza R (2001) Seamounts and off-ridge volcanism. In: Steele JH, Turekian KK, Thorpe SA (eds) Encyclopedia of ocean sciences, 5. Academic Press, San Diego, pp 2696–2708

Batiza R, Fornari DJ, Vanko DA, Lonsdale P (1984) Craters, calderas, and hyaloclastites on young Pacific seamounts. J Geophys Res 89:371–8390

Bideau D, Hekinian R (2004) Intraplate gabbroic rock debris ejected from the magma chamber of the Macdonald seamount (Austral hotspot): comparison with other provinces. In: Hekinian R, Stoffers P, Cheminée JL (eds) Oceanic hotspots, intraplate submarine magmatism and tectonism. Springer, Berlin, pp 309–348

Bougault H, Hekinian R (1974) Rift valley in the Atlantic Ocean near 36°N: petrology and geochemistry. Earth Planet Sci Lett 24:249–261

Byerly GR (1980) The nature of differentiation trends in some volcanic rocks from the Galapagos spreading center. J Geophys Res 85:3797–3810

Christie DM, Sinton JM (1981) Evolution of abyssal lavas along propagating segments of the Galapagos spreading center. Earth Planet Sci Lett 56:321–335

Das P, Iyer SD (2009) Geochemical characterisation of oceanic basalts using artificial neural network. Geochem Trans 10:13. https://doi.org/10.1186/1467-4866-10-13

Das P, Iyer SD, Kodagali VN, Krishna KS (2005) Distribution and origin of seamounts in the Central Indian Ocean Basin. Mar Geodesy 28:259–269

Das P, Iyer SD, Kodagali VN (2007) Morphological characteristics and emplacement mechanism of the seamounts in the Central Indian Ocean Basin

Das P, Iyer SD, Hazra S (2012) Petrological characteristics and genesis of the Central Indian Ocean Basin basalts. Acta Geol Sin 86:1154–1170

Dosso L, Bougault H, Beuzart P, Calves. J., and Joron. J (1988) The geochemical structure of the South-East Indian Ridge. Earth Planet Sci Lett 88:47–59

Dyment J (1993) Evolution of Indian Ocean triple junction between 65 and 49 Ma (anomaly 28 to 21). J Geophys Res 98:13863–13878

Erlank AJ, Kable EJD (1976) The significance of incompatible elements in Mid-Atlantic Ridge basalts from 45° N with particular reference to Zr/Nb. Contrib Miner Petrol 54:281–291

Feigenson MD, Patino LC, Carr MJ, 1996. Constraints on partial melting imposed by rare earth element variations in Mauna Kea basalts. J Geophys Res 101:11,815–11,829

Fisk MR (1984) Depths and temperatures of mid-oceanic ridge magma chambers and the composition of their source magmas. In: Gass IG, Lippard SJ, Shelton AW (eds) Ophiolites and oceanic lithosphere. Blackwell Science Publishers, Oxford, pp 17–23

Frey FA, Dickey JrJS, Thompson G, Bryan WB (1977) Eastern Indian Ocean DSDP sites: correlations between petrography, geochemistry and tectonic setting. In: Heirtzler JR, Bolli HM, Saunder JB, Sclater JG (eds) Indian ocean geology and biostratigraphy. American Geophysical Union Monograph, Washington D.C, pp 189–257

Gaina C, Blischke A, Geissler WH, Kimbell GS, Erlendsson Ö (2016) Seamounts and oceanic igneous features in the NE Atlantic: a link between plate motions and mantle dynamics. In: Péron-Pinvidic G, Hopper JR, Stoker MS, Gaina C, Doornenbal JC, Funck T, Árting UE (eds) The NE Atlantic region: a reappraisal of crustal structure, tectonostratigraphy and magmatic evolution, Special Publications, 447. Geological Society, London. https://doi.org/10.1144/SP447.6

Geology, 120:223–253

Gill R (2010) Igneous rocks and processes. A practical guide. Willey Blackwell, Oxford, 428 p

Halliday AN, Davidson JP, Holden P, DeWofl C, Lee DC, Fitton JG (1990) Trace-element fractionation plumes and the origin of HIMU mantle beneath the Cameroon line. Nature 347:523–528

Hannigan RE, Basu AR, Teichmann F (2001) Mantle reservoir geochemistry from statistical analysis of ICP-MS trace element data of equatorial Mid-Atlantic MORB glasses. Chem Geol 175:397–438

Helo C (2014) Explosive volcanism in the deep sea. Encyclopedia of marine geosciences. Springer Science+Business Media Dordrecht. https://doi.org/10.1007/978-94-007-6644-0$412-3

Hemond C, Delavault H, Janin M, Das P, Iyer SD (2012) Isotope image of the Central Indian Ocean Basin 50 MY Ago: Dupal Versus Reunion hotspot influence. American Geophysical Union, Fall Meeting 2012, abstract #V23E-2891

Hofmann AW, Jochum KP, Seufert M, White WM (1986) Nb and Pb in oceanic basalts: new constrains on mantle evolution. Earth Planet Sci Lett 79:33–45

IOC-IHO-BODC (2003) Centenary edition of the GEBCO digital atlas. CD-ROM on behalf of the Intergovernmental Oceanographic Commission and the International Hydrographic Organization as Part of the General Bathymetric Chart of the Oceans. British Oceanographic Data Centre, Liverpool

Iyer SD,1999. Alteration of basaltic glasses from the Central Indian Ocean. J Geol Soc India 54:609–620

Iyer SD (2005) Evidences for incipient hydrothermal event (s) in the Central Indian Basin: a review. Acta Geol Sin 79:77–86

Iyer SD, Banerjee R (1993) Mineral chemistry of Carlsberg Ridge basalts at 3°35′–3°41′ N. Geo-Mar Lett 13:153–158

Iyer SD, Karisiddaiah SM (1990) Petrology of ocean floor rocks from Central Indian Ocean Basin. Indian J Mar Sci 19:13–16

Iyer SD, Mukhopadhyay R, Popko DC (1999) Ferrobasalts from the Central Indian Ocean Basin. Geo-Mar Lett 18:297–304

Iyer SD, Mehta CM, Das P, Kalangutkar NG, 2012. Seamounts—characteristics, formation, mineral deposits and biodiversity. Geologica Acta, 10: 295–308, https://doi.org/10.1344/105.000001758

Jauhari P, Iyer SD (2008) A comprehensive view of manganese nodules and volcanics of the Central Indian Ocean Basin. Mar Georesour Geotechnol 26:231–258

Kalangutkar NG, Iyer SD, Ilangovan D (2011) Physical properties, morphology and petrological characteristics of pumices from the Central Indian Ocean Basin. Acta Geol Sin 85:826–839

Karisiddaiah SM, Iyer SD (1991) Petrology of rift-related basalts at Bombay High waters, Arabian Sea. Indian J Mar Sci 20:208–211

Karisiddaiah SM, Iyer SD (1992) A note on incipient spilitisation of Central Indian Basin basalts. J Geol Soc India 39:518–523

Kashintsev GL, Peive AA, Rudnik. GB (1987) Subalkaline volcanism of the Central Indian Basin. Int Geol Rev 29:73–80. https://doi.org/10.1080/00206818709466124

Klein E, Langmuir CH, Staudigel H (1991) Geochemistry of basalts from the South East Indian Ridge, 115°-138° E. J Geophys Res 96:2089–2108

Klügel A, Hansteen TH, Galipp K (2005) Magma storage and underplating beneath Cumbre Vieja volcano, La Palma (Canary Islands). Earth Planet Sci Lett 236:211–226

Kodagali VN (1998) A pair of seamount chains in the Central Indian Basin identified from multibeam mapping. Mar Geodesy 21:147–158

Langmuir CH, Bender JF, Batiza R (1986) Petrologic and tectonic segmentation of the East Pacific Rise: 5°30′–14°30′S. Nature 322:422–429

le Roex AP, Dick HJB (1981) Petrography and geochemistry of basaltic rocks from the Conrad fracture zone on the America-Antarctica Ridge. Earth Planet Sci Lett 54:117–138

le Roex AP, Dick. HJB, Reid AM, Erlank AJ (1982) Ferrobasalts from the Spiess ridge segment of the Southwest Indian ridge. Earth Planet Sci Lett 60:437–451

le Roex AP, Dick. HJB, Watkins RT (1992) Petrogenesis of anomalous MORB from the Southwest Indian ridge: 11°53′E to 14°38′E. Contrib Miner Petrol 110:253–268

Lisitzin AP (1996) Oceanic sedimentation, lithology and geochemistry. American Geophysical Union, Washington, D.C., 400

Mahoney JJ, Jones WB, Frey FA, Salters VJM, Pyle DG, Davies HL (1995) Geochemical characteristics of lavas from Broken Ridge, the Naturaliste Plateau Volcanism in the southeastern Indian Ocean. Chem Geol 120:315–345

Mahoney JJ, White WM, Upton BGJ, Neal CR, Scrutton RA (1996) Beyond EM-1: lavas from Afanasy-Nikitin Rise and the Crozet Archipelago. Indian Ocean Geol 24:615–618

Mascarenhas–Pereira MBL, Nath BN, Iyer SD, Borole DV, Parthiban G, Jijin R, Khedekar V (2016) Multiple ash layers in late quaternary sediments from the Central Indian Basin. J Volcanol Geoth Res 316:85–100

Mazzullo LJ, Bence AE (1976) Abyssal tholeiites from DSDP Leg 34: the Nazca Plate. J Geophys Res 81:4327–4351

McDonough WF, Sun SS, 1995. The composition of the Earth. Chemical

Michard A, Montigny R, Schlich R (1986) Geochemistry of the mantle beneath the Rodriquez Triple Junctions and the Southeast Indian Ridge. Earth Planet Sci Lett 78:104–114

Mislankar PG, Iyer SD (2001) Petrographical indictors of petrogenesis: examples from Central Indian Ocean Basin basalts. Indian J Mar Sci 30:1–8

Mukhopadhyay R, Batiza R (1994) Basinal seamounts and seamount chains of the Central Indian Ocean Basin: probable near-axis origin from a fast spreading ridge. Mar Geophys Res 16:301–315

Mukhopadhyay R, Batiza R, Iyer SD (1995) Petrology of seamounts in the Central Indian Ocean Basin: evidence for near-axis origin. Geo-Mar Lett 15:106–110

Mukhopadhyay R, Iyer SD, Ghosh AK (2002) The Indian Ocean nodule field: petrotectonic evolution and ferromanganese deposits. Earth Sci Rev 60:67–130

Mukhopadhyay R, Iyer SD, Ray D, Karisiddaiah SM (2016) Morphotectonic and petrological variations along the Southern Central Indian Ridge. Int J Earth Sci 105:905–920. https://doi.org/10.1007/s00531-015-1193z

Mukhopadhyay R, Ghosh AK, Iyer SD, 2018. The Indian Ocean nodule field: geology and resource potential. 2nd edn. Amsterdam, 413 p

Müller RD, Seton M, Zahirovic S, Williams SE, Matthews KJ, Wright NM, Shephard GE, Maloney K, Barnett-Moore N, Hosseinpour M, Bower DJ, Cannon J (2016) Ocean basin evolution and global-scale plate reorganization events since Pangea breakup. Annu Rev Earth Planet Sci 44:107–138

Nath BN, Borole DV, Aldahan A, Patil SK, Mascarenhas-Pereira MBL, Possnert G, Ericsson T, Ramaswamy V, Gupta SM (2008) Pb, 230Th, and 10Be in Central Indian Basin seamount sediments: signatures of degassing and hydrothermal alteration of recent origin. Geophys Res Lett 210:35:L09603. https://doi.org/10.1029/2008GL033849

Patriat P, Ségoufin J (1988) Reconstruction of the Central Indian Ocean. Tectonophysics 155:211–234

Ray D, Iyer SD, Banerjee R, Misra S, Widdowson M (2007) A petrogenetic model of basalt from the Northern Central Indian Ridge: 3°–11°S. Acta Geol Sin 81:99–112

Reddy VV, Subbarao KV, Reddy GR, Matsuda J, Hekinian R (1978) Geochemistry of Volcanics from the Ninety East Ridge and its vicinity in the Indian Ocean. Mar Geol 26:99–117

Rehkamper M, Hofmann AW (1997) Recycled ocean crust and sediment in Indian Ocean MORB. Earth Planet Sci Lett 147:93–106

Rhodes JM (1996) Geochemical stratigraphy of lava flows sampled by the Hawaiian Scientific Drilling Project. J Geophys Res 101:11,729 – 11,746

Rona PA, Scott SD (1993) Preface. In: a special issue on sea-floor hydrothermal mineralization: new perspectives. Econ Geol 88:1935–1976

Royer JY, Sclater JG, Sandwell DT, Cade SC, 1989. A preliminary tectonic fabric chart of the Indian Ocean. Proceedings of Indian Academy of Sciences, 98:7–24

Ryan MP (1994) Neutral-buoyancy controlled magma transport and storage in mid-oceanic ridge magma reservoirs and their sheeted-dike complex: a summary of basic relationship. In: Ryan MP (ed) Magmatic systems. Academy Press, San Diego, pp 97–135

Schlindwein V, Demuth A, Geissler WH, Jokat W (2013) Seismic gap beneath Logachev Seamount: Indicator for melt focusing at an ultraslow mid-ocean ridge? Geophys Res Lett 40:1703–1707. https://doi.org/10.1002/grl.50329

Sclater JG, Fisher RL (1974) Evolution of the east-central Indian Ocean with emphasis on the tectonic setting of the Ninetyeast Ridge. Geol Soc Am Bull 85:638–702

Shen Y, Scheirer DS, Forsyth DW, Macdonald KC (1995) Trade-off in production between adjacent seamount chains near the East Pacific Rise. Nature 373:140–143

Sinton JM, Detrick RS (1992) Mid-ocean magma chambers. J Geophys Res 97:197–216

Sun SS (1980) Lead isotopic study of young volcanic rocks from mid-ocean ridges, ocean islands and island arcs. Philos Trans R Soc A297:409–445

Sun SS, McDonough WF, 1989. Chemical and isotope systematic of ocean basalts: implications for mantle composition and processes. In: Saunders AD, Norry MJ (eds), Magmatism in the Oceanic Basins. London: Geological Society of London, Special Publication, 42:313–345

Tectonophysics, 443:1–18

Thompson K, Petford N (2008) Structure and emplacement of high-level magmatic systems. Geological Society of London, 227

Thompson G, Bryan WB, Frey FA, Sung CM (1974) Petrology and geochemistry of basalts and related rocks from site 214, 215, 216, DSDP Leg 22, Indian Ocean. In: von der Borch CC, Sclater JG et al (eds) Initial reports of the DSDP, 22. U.S. Government Printing Office, Washington, D.C., pp 459–468

Thompson G, Bryan WB, Frey FA, Dickey JS Jr (1978) Basalts and related rocks from deep-sea drilling sites in the central and eastern Indian Ocean. Mar Geol 26:119–138

Thy P, 1989. Phase equilibrium constraints on the evolution of transitional and mildly alkalic Fe-Ti basalts in the rift zones of Iceland. In: Sinton JM (ed), Evolution of mid-ocean ridges. Washington, D.C.: American Geophysical Union, Geophysical Monograph, 57:39–51

Toplis MJ, Carroll MR (1995) An experimental study of the influence of oxygen fugacity on Fe–Ti oxide stability, phase relations, and mineral-melt equilibria in ferro-basaltic systems. J Petrol 36:1137–1170

Ueda H, Niida K, Usuki T, Hirauchi K-i, Meschede M, Miura M, Ogawa Y, Yuasa M, Sakjamoto I, Ciba T, Izumino T, Kuramoto Y, Azuma T, Takeshita T, Imayama T, Miyajima Y, Saito T, 2011. Seafloor geology of the basement serpentinite body in the Ohmachi Seamount (Izu-Bonin Arc) as exhumed parts of a subduction zone within the Philippine Sea. In: Ogawa Y, Anma R, Dilek Y (eds), Accretionary prisms and convergent margin tectonics in the Northwest Pacific Basin. vol 8, Modern Approaches in Solid Earth Sciences, pp 97–128, https://doi.org/10.1007/978-90-481-8885-7$45

Vogt PR, Byerly GR (1976) Magnetic anomalies and basalt composition in the Juan de Fuca-Gorda ridge area. Earth Planet Sci Lett 33:185–207

Wessel P, Matthews KJ, Müller RD, Mazzoni A, Whittaker JM, Myhill R, Chandler MT (2015) Semi-automatic fracture zone tracking. Geochem Geophys Geosyst 16:2462–2472

Wilson M (1989) Igneous petrogenesis. Chapman and Hall, The Netherlands, 466 p

Wilson DS, Clague DA, Sleep NH, Morton JL (1988) Implications of magma convection for the size and temperature of magma chambers at fast spreading ridges. J Geophys Res 93:11,974 – 11,984

Yang G, Li Y, Tong L, Li G, Shen R, Wu L (2015) Accretion and subduction of seamounts in West Junggar. Acta Geol Sin 89:1417–1417

Zhang G (2011) Comparative study of magmatism in East Pacific Rise versus nearby seamounts: constraints on magma supply and thermal structure beneath mid-ocean ridge. Acta Geol Sin 85:1286–1298
Acknowledgements
We thank Dr. Sunil Kumar Singh, The Director, Council of Scientific and Industrial Research (CSIR)–NIO for permission to publish this paper. The rocks were collected under the project, "Surveys for Polymetallic Nodules" funded by the Ministry of Earth Sciences, New Delhi. We thank the Captains, crew, and colleagues who helped during the rock dredging operations that were carried out onboard several ships. A part of this work formed the doctoral thesis of PD and was funded by an CSIR Research Fellow (2002–2009). The rocks were analyzed at CSIR-National Geophysical Research Institute, Hyderabad India and Wadia Institute of Himalayan Geology, Dehradun India. We are indebted to Dr. V. Yatheesh who took time off from his hectic preparations to go on a geophysical cruise and painstakingly prepared Fig. 1 at a short notice. We appreciate the critical and thorough reviews received from Drs. W. Geissler and T. Hansteen, which helped to improve the quality of the presentation. We acknowledge Drs. C. Breitkreuz (handling editor) and Wolf-Christian Dullo (Editor-in-Chief) for the corrections and encouragement to revise the manuscript. This is NIO's contribution 6206.
About this article
Cite this article
Iyer, S.D., Amonkar, A.A. & Das, P. Genesis of Central Indian Ocean basin seamounts: morphological, petrological, and geochemical evidence. Int J Earth Sci (Geol Rundsch) 107, 2517–2538 (2018). https://doi.org/10.1007/s00531-018-1612-z
Received:

Accepted:

Published:

Issue Date:
Keywords
Seamounts

Morphology

Geochemistry

Origin

CIOB

EPR