Abstract
In situ measurements of maximum horizontal stress (SHmax) in the Indian subcontinent are limited and do not present regional trends of intraplate stress orientation. The observed orientations of SHmax vary considerably and often differ from the plate velocity direction. We have simulated orientation and magnitude of SHmax through finite element modeling incorporating heterogeneities in elastic property of the Indian continent and plain stress approximation to understand the variability of SHmax. Four different scenarios are tested in simulation: (1) homogeneous plate with fixed plate boundary (2) homogeneous plate with boundary forces (3) heterogeneous plate with fixed boundary (4) heterogeneous plate with boundary forces. The estimated orientation and magnitude of SHmax with a heterogeneous plate with boundary forces in the Himalayan region and an eastern plate boundary comprising the Indo-Burmese arc and Andaman subduction zone are consistent with measured maximum horizontal stress. This study suggests that plate boundary force varies along the northern Indian plate margin and also provides a constraint on the intraplate stress field in the Indian subcontinent.
This is a preview of subscription content, log in to check access.
Access options
Buy single article
Instant access to the full article PDF.
US$ 39.95
Price includes VAT for USA
Subscribe to journal
Immediate online access to all issues from 2019. Subscription will auto renew annually.
US$ 199
This is the net price. Taxes to be calculated in checkout.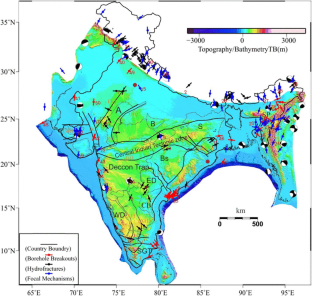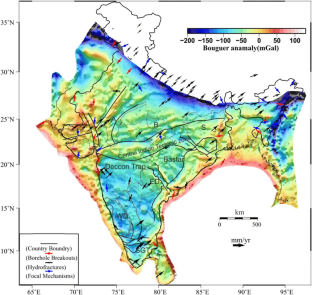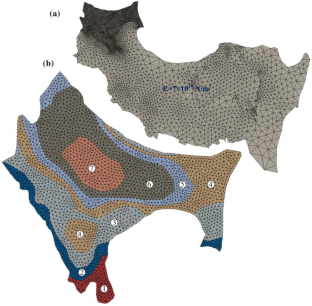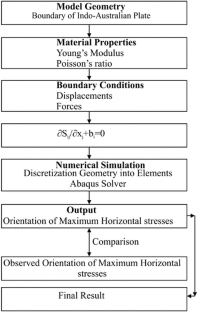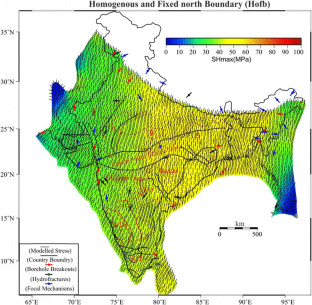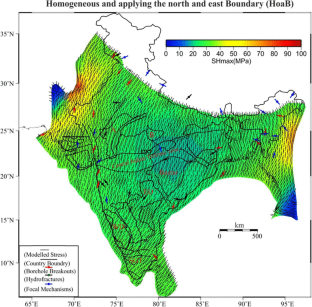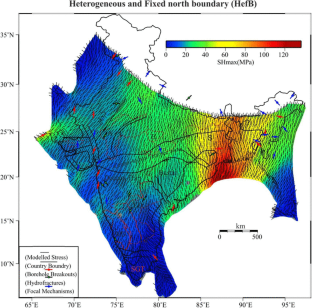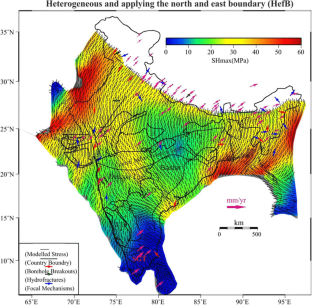 References
Bird P (2003) An updated digital model of plate boundaries. Geochem Geophys Geosyst 4(3):1027

Cloetingh S, Wortel R (1985) Regional stress field of the Indian plate. Geophys Res Lett 12(2):77–80

Cloetingh S, Wortel R (1986) Stress in the Indo-Australian plate. Tectonophysics 132:49–67

Coblentz DD, Sandiford M, Richardson S, Zhou H, Hillis R (1995) The origins of the intraplate stress field in continental Australia. Earth Planet Sci Lett 133(3–4):299–309

Coblentz DD, Zhou S, Hillis RR, Richardson RM, Sandiford M (1998) Topography, boundary forces, and the Indo-Australian intraplate stress field. J Geophys Res 103(B1):919–931

Conrad CP, Lithgow-Bertelloni C (2002) How mantle slabs drive plate tectonics. Science 298(5591):207–209

Dasgupta S, Mukherjee S (2017) Brittle shear tectonics in a narrow continental rift: asymmetric non-volcanic Barmer basin (Rajasthan, India). J Geol 125:561–591

DeMets C, Gordon RG, Royer J-Y (2005) Motion between the Indian, Capricorn and Somalian plates since 20 Ma: implications for the timing and magnitude of distributed lithospheric deformation in the equatorial Indian ocean. Geophys J Int 161(2):445–468

Dyksterhuis S, Albert RA, Müller RD (2005a) Finite-element modelling of contemporary and palaeo-intraplate stress using ABAQUS™. Comput Geosci 31(3):297–307

Dyksterhuis S, Müller RD, Albert RA (2005b) Paleostress field evolution of the Australian continent since the Eocene. J Geophys Res 110:B05102

Forsyth DW (1985) Subsurface loading and estimates of the flexural rigidity of continental lithosphere. J Geophys Res 90(B14):12623–12632

Forsyth F, Uyeda S (1975) On the relative importance of the driving forces of plate motion. Geophys J Roy Astron Soc 43:163–200

Ghosh A, Holt WE (2012) Plate motions and stresses from global dynamic models. Science 335(6070):838–843

Ghosh A, Holt WE, Wen L (2013) Predicting the lithospheric stress field and plate motions by joint modeling of lithosphere and mantle dynamics. J Geophys Res 118(1):346–368

GMSI (2006) Gravity map series of India. National Geophysical Research Institute and Geological Survey of India, Hyderabad

Gordon RG, Demets C, Royer JY (1998) Evidence for long-term diffuse deformation of the lithosphere of the equatorial Indian ocean. Nature 395:370–374

Gowd TN, Rao SV, Gaur VK (1992) Tectonic stress field in the Indian subcontinent. J Geophys Res 97(B8):11879–11888

Heidbach O, Reinecker J, Tingay M, Müller B, Sperner B, Fuchs K, Wenzel F (2007) Plate boundary forces are not enough: second- and third-order stress patterns highlighted in the World stress map database. Tectonics 26:TC6014

Heidbach O, Rajabi M, Reiter K, Ziegler M (2016) World stress map 2016. GFZ Data Services

Hillis RR, Reynolds SD (2000) The Australian stress map. J Geol Soc London 157:915–921

Holt WE, Ni JF, Wallace TC, Haines AJ (1991) The active tectonics of the eastern Himalayan syntaxis and surrounding regions. J Geophys Res 96 (B9):14595–14632

Jade S, Shrungeshwara TS, Kumar K, Choudhury P, Dumka RK, Bhu H (2017) India plate angular velocity and contemporary deformation rates from continuous GPS measurements from 1996 to 2015. Sci Rep 7:11439

Jordan TA, Watts AB (2005) Gravity anomalies, flexure and the elastic thickness structure of the India-Eurasia collisional system. Earth Planet Sci Lett 236:732–750

Kirby JF, Swain CJ (2004) Global and local isostatic coherence from the wavelet transform. Geophys Res Lett 3:1L24608

Kosarev GL, Oreshin SI, Vinnik LP, Kiselev SG, Dattatrayam RS, Suresh G, Baidya PR (2013) Heterogeneous lithosphere and the underlying mantle of the Indian subcontinent. Tectonophysics 592:175–186

Li C, Van Der Hilst RD, Meltzer AS, Engdahl ER (2008) Subduction of the Indian lithosphere beneath the Tibetan Plateau and Burma. Earth Planet Sci Lett 274(1):157–168

Lithgow-Bertelloni C, Guynn JH (2004) Origin of the lithospheric stress field. J Geophys Res: Solid Earth 109(B1):B01408

Macario A, Malinverno A, Haxby WF (1995) On the robustness of elastic thickness estimates obtained using the coherence method. J Geophys Res 100(B8):15163–15172

Maurya S, Montagner JP, Kumar MR, Stutzmann E, Kiselev S, Burgos G, Rao NP, Srinagesh D (2016) Imaging the lithospheric structure beneath the Indian continent. J Geophys Res 121:7450–7468

Mishra DC, Tiwari VM, Singh B (2008) Geological significance of gravity studies in India. Geol Soc India Memoir 66:329–372

Misra AA, Bhattacharya G, Mukherjee S, Bose N (2014) Near N–S paleo-extension in the western Deccan region in India: does it link strike-slip tectonics with India-Seychelles rifting? Int J Earth Sci 103:1645–1680

Mukherjee S (2013) Channel flow extrusion model to constrain dynamic viscosity and Prandtl number of the higher Himalayan shear zone. Int J Earth Sci 102:1811–1835

Mukherjee S (2015) A review on out-of-sequence deformation in the Himalaya. In: Mukherjee S, Carosi R, van der Beek P, Mukherjee BK, Robinson D (eds) Tectonics of the Himalaya, vol 412. Geological Society, London. 67–109 (Special Publications)

Müller RD, Yatheesh V, Shuhail M (2015) The tectonic stress field evolution of the India since the Oligocene. Gondwana Res 28(2):612–624

Naqvi SM, Rogers JJW (1987) Precambrian geology of India. Oxford Monogr Geol Geophys 6:233

Ramakrishnan M, Vaidyanadhan R (2010) Geology of India. Geological society of India

Reddy PR, Vijaya Rao V (2000) Structure and tectonics of the Indian peninsular shield—evidences from seismic velocities. Curr Sci 78(7):897–909

Reynolds SD, Coblentz DD, Hillis RR (2002) Tectonic forces controlling the region intraplate stress field in continental Australia: result from new finite element modelling. J Geophys Res 107(B7):2131

Royer JY, Gordon RG (1997) The motion and boundary between the Capricorn and Australian plates. Science 277:1268–1274

Sandiford M, Coblentz DD, Richardson RM (1995) Ridge torques and continental collision in the Indian–Australian plate. Geology 23(7):653–656

Schellart WP (2004) Quantifying the net slab pull force as driving mechanism for plate tectonics. Geophys Res Lett 31(7):Lo7611

Steinberger B, Schmeling H, Marquart G (2001) Large-scale lithospheric stress field and topography induced by global mantle convection. Earth Planet Sci Lett 186:75–91

Subrahmanyam DS (2014) Stress provinces of India-contribution of World stress map. Int J Adv Earth Sci Eng 3(1):108–113

Tewari HC, Vijaya Rao V (2003) Structure and tectonics of the Proterozoic Aravalli–Delhi geological province, NW Indian Peninsular Shield. Geol Soc India Mem 53:57

Tiwari VM, Mishra DC (1999) Estimation of effective elastic thickness from gravity and topography data under Deccan Volcanic Province, India. Earth Planet Sci Lett 171:189–299

Tiwari VM, Mishra DC (2008) Isostatic compensation of continental and oceanic topographies of Indian lithosphere. Geol Soc India Memoir 68:173–190

Tiwari VM, Vyghreswara Rao MBS, Mishra DC, Singh B (2006) Crustal structure across Sikkim, NE Himalaya from new gravity and magnetic data. Earth Planet Sci Lett 247(1):61–69

Turcotte DL, Schubert G (2014) Geodynamics. Cambridge University Press, New York, p 456

Wilson M (1993) Plate-moving mechanisms: constraints and controversies. J Geol Soc 150(5):923–926

Zoback ML (1992) First- and second-order patterns of stress in the lithosphere: the world stress map project. J Geophys Res 97(B8):11703

Zuber MT, Bechtel TD, Forsyth DW (1989) Effective elastic thickness of the lithosphere and mechanisms of isotactic compensation in Australian. J Geophys Res 94:9353–9367
Acknowledgements
This work was carried out within the CSIR-NGRI project Geodynamics of North East and Andaman Subduction zone (GENIAS). All figures were prepared with GMT software.
About this article
Cite this article
Yadav, R., Tiwari, V.M. Numerical simulation of present day tectonic stress across the Indian subcontinent. Int J Earth Sci (Geol Rundsch) 107, 2449–2462 (2018). https://doi.org/10.1007/s00531-018-1607-9
Received:

Accepted:

Published:

Issue Date:
Keywords
Effective elastic thickness

Maximum horizontal stress

Indian subcontinent

Plate boundary forces