Abstract
Imperial Porphyry, a famous dimension stone of spectacular purple color, was quarried in the Mons Porphyrites area north of Jabal Dokhan in the Eastern Desert of Egypt, from the beginning of the first until the middle of the fifth century AD. During this period, the valuable material was processed as decorative stone and was used for objects of art, reserved exclusively for the Imperial court of the Roman Empire. Later on, only antique spoils of smaller or bigger size have been re-used for these purposes. The Imperial Porphyry is a porphyritic rock of trachyandesitic to dacitic composition that occurs in the uppermost levels of shallow subvolcanic sill-like intrusions, forming a member of the Dokhan Volcanic Suite. Its purple color is mainly due to dispersed flakes of hematite, resulting from hydrothermal alteration of a dark green Common Porphyry of similar composition, underlying the Imperial Porphyry. Both, the Common Porphyry and the purple Imperial Porphyry', are extensively exposed in the Roman quarries. Contacts between Common and Imperial Porphyry are irregular and gradational. In both rock types, intrusive breccias are frequent, indicating a complex intrusion history. U–Th–Pb zircon geochronology on two samples of Imperial Porphyry and one sample of the Common Porphyry yielded an age range of 609–600 Ma, thus confirming earlier results of radiometric dating. Geochemical evidence indicates that both the Imperial and the Common Porphyry are of medium- to high-K calc-alkaline affinity. The magmas have formed by partial melting of a subduction-modified upper mantle. The subsequent intrusion took place within a highly extended terrane (HET).
This is a preview of subscription content, log in to check access.
Access options
Buy single article
Instant access to the full article PDF.
US$ 39.95
Price includes VAT for USA
Subscribe to journal
Immediate online access to all issues from 2019. Subscription will auto renew annually.
US$ 199
This is the net price. Taxes to be calculated in checkout.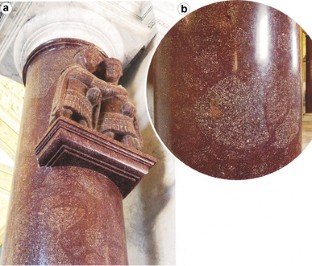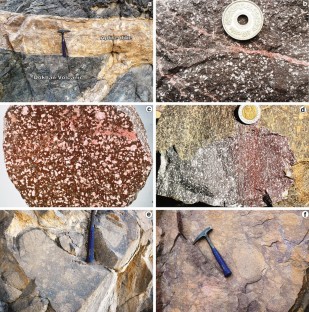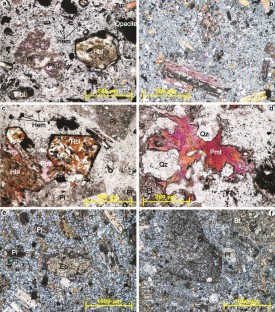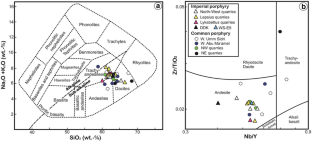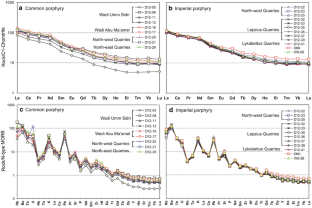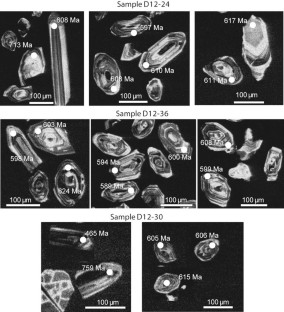 References
Abdel-Rahman AM (1996) Pan-African volcanism: petrology and geochemistry of the Dokhan volcanic suite in the northern Nubian Shield. Geol Mag 133:17–31

Abu El-Enen MM, Whitehouse MJ (2013) The Feiran–Solaf metamorphic complex, Sinai, Egypt: geochronological and geochemical constraints on its evolution. Precambr Res 239:106–125

Abu El-Enen MM, Abu Alam T, Whitehouse M, Ali K, Okrusch M (2016) P-T path and age of crustal thickening during the collision of East and West Gondwana: a case study from the Hafafit Metamorphic Complex, Eastern Desert of Egypt. Lithos 263:213–238

Ali K, Andresen A, Manton WI, Stern RJ, Omar SA, Maurice AE (2012) U–Pb zircon dating and Sr–Nd–Hf isotopic evidence to support a juvenile origin of the ~ 634 Ma El Shalul granitic gneiss dome, Arabian–Nubian Shield. Geol Mag 149:783–797

Arculus RJ (2003) Use and abuse of the terms calcalkaline and calcalkalic. J Petrol 44:929–935

Barz D, Okrusch M, Lorenz J (2012) Porfido rosso antico von der Burgruine Schlössel bei Klingenmünster (Pfalz). In: Lorenz JA (ed) Porphyre, vol 26. Mitteilungen Naturwissenschaftliches Museum Aschaffenburg, Aschaffenburg, pp 94–111

Basta EZ, Kotb H, Awadallah MF (1978) Petrochemical and geochemical characteristics of the Dokhan Formation at the type locality, Jabal Dokhan, Eastern Desert, Egypt. In: Al-Shanti AMS (ed) Evolution and Mineralisation of the Arabian–Nubian Shield. Pergamon pp 122–140

Bates RL, Jackson JA (1997) Glossary of Geology, 4th edn. American Geological Institute, Alexandria, p 769

Breitkreuz C, Eliwa H, Khalaf I, El Gameel K, Bühler B, Sergeev S, Larionov A, Murata M (2010) Neoproterozoic SHRIMP U–Pb zircon ages of silica-rich Dokhan Volcanics in the North Eastern Desert, Egypt. Precambr Res 182:163–174

Brown VM, Harrell JA (1995) Topographical and petrological survey of ancient Roman quarries in the Eastern Desert of Egypt. In: Maniatis Y, Herz N and Bassiaks Y (eds) The Study of Marble and Other Stones Used in Antiquity—ASMOSIA III, Athens, Transactions of the 3rd International Symposium of the Association for the Study of Marble and Other Stones in Antiquity. Archetype Publications, London, pp 221–234

Bühler B, Breitkreuz C, Pfändera JA, Hofmannb M, Beckerb S, Linnemann U, Eliwa HA (2014) New insights into the accretion of the Arabian-Nubian Shield: Depositional setting, composition and geochronology of a Mid-Cryogenian arc succession (North Eastern Desert, Egypt). Precambrian Res 243:149–167

Burke K (1978) Evolution of continental rift systems in the light of plate tectonics. In: Ramberg IB, Neumann E-R (eds) Tectonics and Geophysics of Continental Rifts. NATO Advanced Study Institutes Series, vol C37. Reidel, Dordrecht, pp 1–9

Campbell IH, Squire RJ (2010) The mountains that triggered the Late Neoproterozoic increase in oxygen: the second great oxidation event. Geochim Cosmochim Acta 74:4187–4206

Condie KC, Kröner A (2013) The building blocks of continental crust: evidence for a major change in the tectonic setting of continental growth at the end of the Archean. Gondwana Res 23:394–402

Corfu F, Hancher JM, Hoskin PW, Kinny P (2003) Atlas of zircon textures. Rev Mineral Geochem 53:469–500

Cox KG, Bell JD, Pankhurst RJ (1979) The interpretation of Igneous Rocks. Allen & Unwin, London, p 450

Dardir AA, Abu Zeid KM (1972) Geology of the basement rocks between latitudes 27°00′ and 27°30′N, Eastern Desert. Ann Geol Surv Egypt 2:129–159

Del Bufalo D (2013) Porphyry. red Imperial Porpyhry power and religion. Rosso Imperiale Potere e Religione. Umberto Allemandi & C, Torino, p 300

Delbrueck R (1932) Antike Porphyrwerke. Walter De Gruyter Verlag, Berlin

Delesse A (1852) Untersuchungen über den rothen Porphyr der Alten und über den rothen egyptischen Syenit. In's Deutsche übertragen von G Leonhard, J. B. Müller Verlagsbuchhandlung. Stuttgart, p 32

El Gaby S, Khudeir AA, El Taky M (1989) The Dokhan Volcanics of Wadi Queih Area, Central Eastern Desert, Egypt. Proceedings of the 1st Conference on Geochemistry. Alexandria University, Egypt, pp. 42–62

Eliwa HA, Kimura JI, Itaya T (2006) Late Neoproterozoic Dokhan Volcanics, North Eastern Desert, Egypt: geochemistry and petrogenesis. Precambrian Res 151:31–52

Eliwa H, Breitkreuz C, Khalaf I, El Gameel K (2010) Depositional styles of Early Ediacaran terrestrial volcanosedimentary succession in the Gebel El Urf area, North Eastern Desert, Egypt. J Afr Earth Sci 57:328–344

Eliwa HA, El-Bialy MZ, Murata M (2014) Edicaran post-collisional volcanism in the Arabian-Nubian Shield: The high-K calc-alkaline Dokhan Volcanics of Gabal Samr El-Qaa (592 ± 5 Ma), North Eastern Desert, Egypt. Precambrian Res 246:180–207

Frei R, Gaucher C, Poulton SW, Canfield DE (2009) Fluctuations in Precambrian atmospheric oxygenation recorded by chromium isotopes. Nature 461:250–254

Ghobrial MG, Lofti M (1967) The geology of Gebel Gattar and Gebel Dokhan areas. Geological Survey of Egypt, Paper No. 40. Cairo, Egypt, p 26

Gorton MP, Schandl ES (2000) From continents to island arcs: a geochemical index of tectonic setting for arc-related and within-plate felsic to intermediate volcanic rocks. Can Mineral 38:1065–1073

Green DH (1971) Compositions of basaltic magmas as indicators of conditions of origin: application to oceanic volcanism. Philos Trans R Soc Lond A 268:707–725

Gudmundsson A (2012) Magma chambers: formation, local stresses, excess pressures, and compartments. J Volcanol Geoth Res 237–238:19–41

Harrell JA, Storemyr P (2009) Ancient Egyptian quarries—an illustrated overview. In: Abu-Jaber N, Bloxam EG, Degryse P, Heldal T (eds) Quarry Scapes: ancient stone quarry landscapes in the Eastern Mediterranean, vol 12. Geol Survey Norway Spec Publ, pp 7–50

Horseman E, Tikoff B, Morgan S (2005) Emplacement-related fabric and multiple sheets in the Maiden Creek sill, Henry Mountains, Utah, USA. J Struct Geol 27:1426–1444

Horseman E, Morgan S, de Saint-Blanquat M, Habert G, Nugent A, Hunter RA, Tikoff B (2010) Emplacement and assembly of shallow intrusions from multiple magma pulses, Henry Mountains, Utah. Earth Environ Sci Trans R Soc Edinb 100:117–132

Irvine TN, Baragar WRA (1971) A guide to the chemical classification of the common volcanic rocks. Can J Earth Sci 8:523–548

Jensen LS (1976) A new cation plot for classifying subalkalic volcanic rocks. Ontario Division of Mines Miscellaneous Paper, vol 66

John T, Scherer EE, Haase K, Schenk V (2004) Trace element fractionation during fluid-induced eclogitization in a subducting slab: trace element and Lu-Hf-Sm-Nd isotope systematics. Earth Planet Sci Lett 227(3–4):441–456

Johnson PR, Andresen A, Collins AS, Fowler AR, Fritz H, Ghebreab W, Kusky T, Stern RJ (2011) Late Cryogenian–Ediacaran history of the Arabian–Nubian Shield: a review of depositional, plutonic, structural, and tectonic events in the closing stages of the northern East African Orogen. J Afr Earth Sci 61:167–232

Klein M (1988) Untersuchungen zu den kaiserzeitlichen Steinbrüchen am Mons Porphyrites und Mons Claudianus in der östlichen Wüste Ägyptens. Habelts Dissertationsdrucke Reihe Alte Geschichte, Verlag Dr. Rudolf Habelt, Bonn, Germany, p 207

Klemm R, Klemm DD (2001a) The building stones of ancient Egypt—a gift of its geology. J Afr Earth Sci 33:631–642

Klemm R, Klemm DD (2001b) Steine und Steinbrüche im Alten Ägypten. Springer, Berlin, Heidelberg, New York, p 465

Klemm R, Klemm DD (2008) Stones and quarries in ancient Egypt. British Museum Press, London, p 354

LeMaitre RW, Streckeisen A, Zanettin B, Le Bas MJ, Bonin B, Bateman P, Bellieni G, Dudek A, Efremova S, Keller J, Lameyre J, Sabine PA, Schmid R, Sorensen H, Woolley AR (2002) Igneous Rocks, a classification and glossary of terms: recommendations of the International Union of Geological Sciences Subcommission on the Systematics of Igneous Rocks. Cambridge University Press, Cambridge, p 236

Lorenz JA (2012) Rom—die Stadt der Porphyre in Kirchen, antiken Ausgrabungsstätten und Museen. In: Lorenz JA (ed) Porphyre. Mitteilungen Naturwissenschaftliches Museum Aschaffenburg, vol 26. Aschaffenburg, pp 82–93

Ludwig KR (2001) Using Isoplot/EX, v2. 49, a geochronological toolkit for Microsoft Excel. Berkeley Geochron Centre, Spec Publ No 1a. Univ Berkeley, Berkeley

Makovicky E, Frei R, Karup-Møller S, Bailey JC (2016a) Imperial Porphyry from Gebel Abu Dokhan, the Red Sea Mountains, Egypt, Part I. Mineralogy, petrology and occurrence. Neues Jahrbuch für Mineralogie Abhandlungen (J Mineral Geochem) 193:1–27

Makovicky E, Frei R, Karup-Møller S, Bailey JC (2016b) Imperial Porphyry from Gebel Abu Dokhan, the Red Sea Mountains, Egypt—part II. Geochemistry. Neues Jahrbuch für Mineralogie Abhandlungen (J Mineral Geochem) 193:29–44

Maxfield V, Peacock D (2001) The Roman imperial quarries: Survey and excavation at Mons Porphyrites 1994–1998, Vol. 1, Topography and quarries., Egypt Exploration Society Excavation Memoir, vol 67. London, p 339

Menand T (2011) Physical controls and depth of emplacement of igneous bodies: A review. Tectonophysics 500:11–19

Meredith D, Tregenza L (1950) Mons Porphyrites, the North-West Village and quarries. Bulletin of Faculty of Arts, Fuad I University XII 1, Cairo, Egypt, pp 137–147

Miyashiro A (1974) Volcanic rock series in island arcs and active continental margins. Am J Sci 274:321–355

Moghazi M (2003) Geochemistry and petrogenesis of a high-K calc-alkaline Dokhan Volcanic suite, South Safaga area, Egypt: the role of late Neoproterozoic crustal extension. Precambrian Res 125:161–178

Mohamed FH, Moghazi AM, Hassanen MA (2000) Geochemistry, petrogenesis and tectonic setting of late Neoproterozoic Dokhan-type volcanic rocks in the Fatira area, eastern Egypt. Int J Earth Sci 88:764–777

Olsen KH, Morgan P (1995) Introduction: progress in understanding continental rifts. In: Olsen KH (ed) Continental Rifts: Evolution, Structure, Tectonics. Developments in Geotectonics vol 25, pp 3–26

Pearce JA (1982) Trace element characteristics of lavas from destructive plate boundaries. In: Thorpe RS (ed) Andesites, Orogenic Andesites and Related Rocks. Wiley, New York, pp 525–548

Pearce JA, Parkinson IJ (1993) Trace element models for mantle melting: application to volcanic petrogenesis. Geol Soc Lond Spec Publ 76:373–403

Pearce JA, Peate DW (1995) Tectonic implications of the composition of volcanic arc magmas. Annu Rev Earth Planet Sci 23:251–285

Pearce JA, Stern RJ (2006) Origin of back-arc Basin magmas: trace element and isotope perspectives. In: Christie DM, Fisher CR, Lee S-M, Givens S (eds) Back-arc spreading systems: geological, biological, chemical, and physical interactions, Geophysical Monograph Series, vol 166. American Geophysical Union, pp 63–86

Peccerillo A, Taylor SR (1976) Geochemistry of Eocene calc-alkaline volcanic rocks from the Kastamonu area, Northern Turkey. Contrib Miner Petrol 58:63–81

Ressetar R, Monard JR (1983) Chemical composition and tectonic setting of the Dokhan Volcanic Formation, Eastern Desert, Egypt. J Afr Earth Sci 1:103–112

Rickwood PC (1989) Boundary lines within petrologic diagrams which use oxides of major and minor elements. Lithos 22:247–263

Ries AC, Shackleton RM, Graham RH, Fitches WR (1983) Pan-African structures, ophiolites and melange in the Eastern Desert of Egypt: a traverse at 26°N. J Geol Soc Lond 140:75–95

Sato H (1977) Nickel content of basaltic magmas: identification of primary magmas and a measure of the degree of olivine fractionation. Lithos 10:113–120

Schweinfurth GA (1887) Zur Topographie der Ruinenstätte des alten Schet (Krokodilopolis-Arsinoë). Zeitschrift der Gesellschaft für Erdkunde zu Berlin 22:54–88

Shackleton RM (1986) Precambrian collision tectonics in Africa., In: Coward MP, Reis AC (eds) Collision Tectonics, vol 19. Geol Soc London Spec Publ, pp 329–349

Stern RJ (1981) Petrogenesis and tectonic setting of Late-Precambrian ensimatic volcanic rocks, Central Eastern Desert of Egypt. Precambrian Res 16:195–230

Stern RJ (1994) Arc assembly and continental collision in the Neoproterozoic East African Orogen: implications for the consolidation of Gondowanaland. Annu Rev Earth Planet Sci 22:319–351

Stern RJ, Gottfried D (1986) Petrogenesis of a Late-Precambrian (575–600 Ma) bimodal suite in northern Africa. Contrib Miner Petrol 92:492–501

Stern RJ, Hedge CE (1985) Geochronological and isotopic constraints on Late Precambrian crustal evolution in the Eastern Desert of Egypt. Am J Sci 285:97–127

Stern RJ, Gottfried D, Hedge CE (1984) Late Precambrian rifting and crustal evolution in the Northeastern Desert of Egypt. Geology 12:168–172

Stern RJ, Sellers G, Gottfried D (1988) Bimodal dikes swarms in the North Eastern Desert of Egypt: significance for the origin of Late Precambrian "A-type" granites in northern Afro-Arabia. In: El-Gaby S, Greiling RO (eds) The Pan-African Belt of NE Africa and adjacent areas. Vieweg Verlag, Braunschweig, pp 147–177

Sun SS, McDonough WF (1989) Chemical and isotope systematics of oceanic basalts, implications for mantle composition and processes. In: Saunders AD, Norry MJ (eds) Magmatism in Ocean Basins, vol 42. Geol Soc London Spec Publ, pp 313–345

Tera F, Wasserburg GJ (1972) U-Th-Pb systematics in three Apollo 14 basalts and the problem of initial Pb in lunar rocks. Earth Planet Sci Lett 14:281–304

van Rengen W (1995) A new Paneion at Mons Porphyrites. Chronique d'Égypte. 70: 240–245. https://doi.org/10.1484/J.CDE.2.308994

van Rengen W (2001) The inscription. In: Maxfield VA, Peacock DPS, pp 60–62

Wang D, Shu LS (2012) Late Mesozoic basin and range tectonics and related magmatism in Southeast China. Geosci Front 3:109–124

Werner L (1998) Via Porphyrites. Saudi Aramco World 49(6):2–9

Whitehouse MJ, Kamber BS (2005) Assigning dates to thin gneissic veins in high-grade metamorphic terranes—a cautionary tale from Akilia, southwest Greenland. J Petrol 46:291–318

Whitehouse MJ, Kamber BS, Moorbath S (1999) Age significance of ion-microprobe U–Th–Pb zircon data from early Archaean rocks of West Greenland—a reassessment based on new combined ion-microprobe and imaging studies. Chem Geol 160:204–221

Wilde SA, Youssef K (2000) Significance of SHRIMP U–Pb dating of the Imperial Porphyry and associated Dokhan Volcanics, Gebel Dokhan, North Eastern Desert, Egypt. J Afr Earth Sci 31:403–410

Williams-Thorpe O, Jones MC, Potts PJ, Riggby IJ (2001) Geology, mineralogy and characterization studies of Imperial Porphyry. In: Maxfield V, Peacock D (eds), The Roman Imperial Quarries: Survey and Excavation at Mons Porphyrites 1994–1998. Volume 1: topography and Quarries. Excavation Memoirs, vol 67. The Egyptian Exploration Society, London, pp 305–318

Wilson M (1989) Igneous petrogenesis. Unwin Hyman Ltd, London, p 466

Winchester JA, Floyd PA (1976) Geochemical magma type discrimination: application to altered and metamorphosed basic igneous rocks. Earth Planet Sci Lett 28:459–469

Winchester JA, Floyd PA (1977) Geochemical discrimination of different magma series and their differentiation products using immobile elements. Chem Geol 20:325–343

Wood DA (1980) The application of a Th–Hf–Ta diagram to problems of tectonomagmatic classification and to establishing the nature of crustal contamination of basaltic lavas of the British Tertiary volcanic province. Earth Planet Sci Lett 50:11–30

Zoback ML, Anderson RE, Thompson GA (1981) Cenozoic evolution of the state of stress and style of tectonism in the western United States. Philos Trans R Soc B Biol Sci 300(1454):407–434
Acknowledgements
The authors thank Hesham Sallam and Hassan Eliwa for their field assistance. Sample DKK from Mons Porphyrites was collected and kindly provided to this study by Rosemarie and Dietrich D. Klemm (Dießen, Germany). Thanks to Martin Whitehouse, Kerstin Lindén and Lev Ilyinsky, Swedish Museum of Natural History Stockholm, for their help with CL-images and zircon isotope analyses. Field work was partially supported by the Mansoura University, Egypt, which is gratefully acknowledged. We highly appreciate the useful suggestions of the editor and two reviewers Peter Johnson and Ghaleb Jarrar.
Electronic supplementary material
Below is the link to the electronic supplementary material.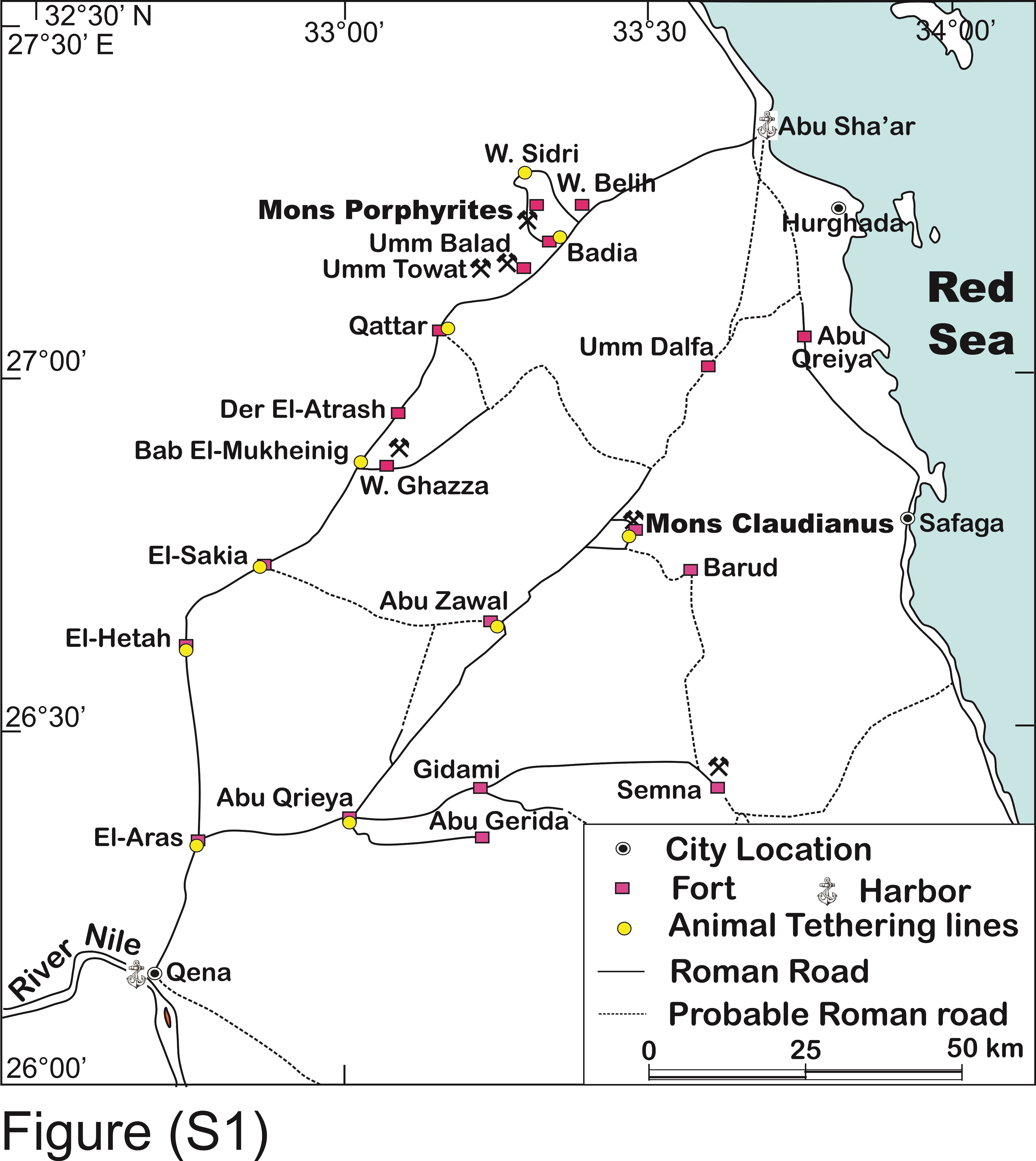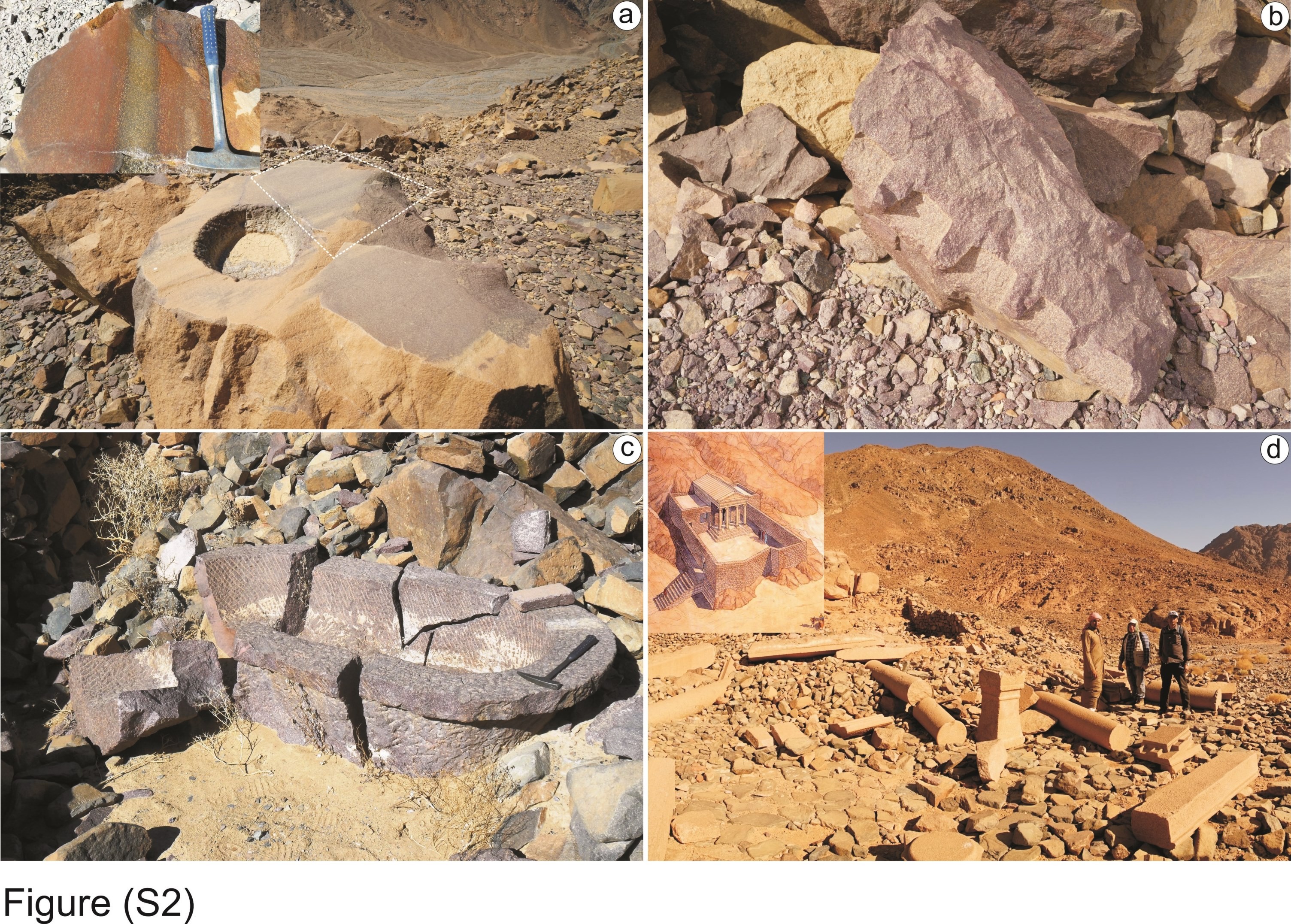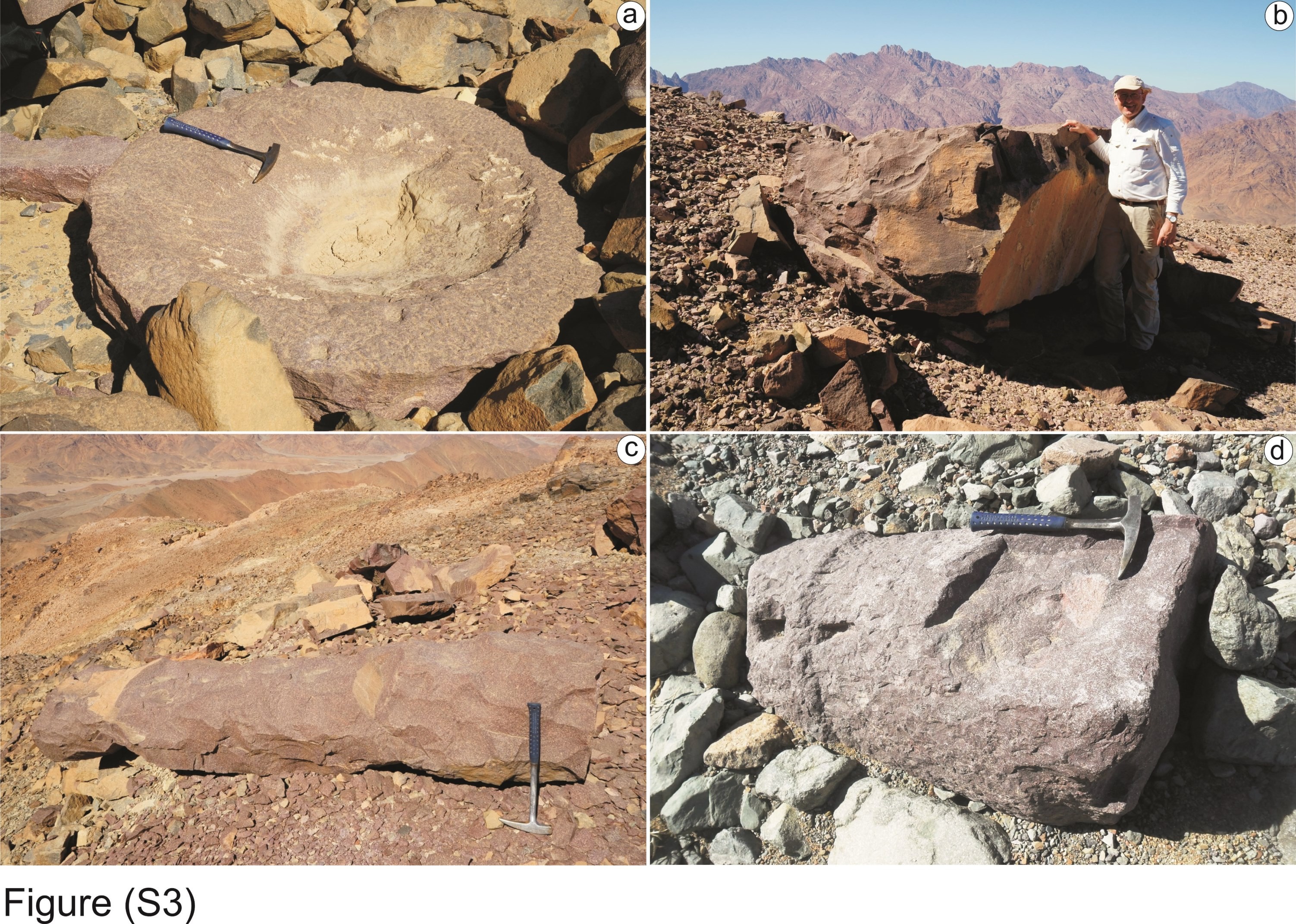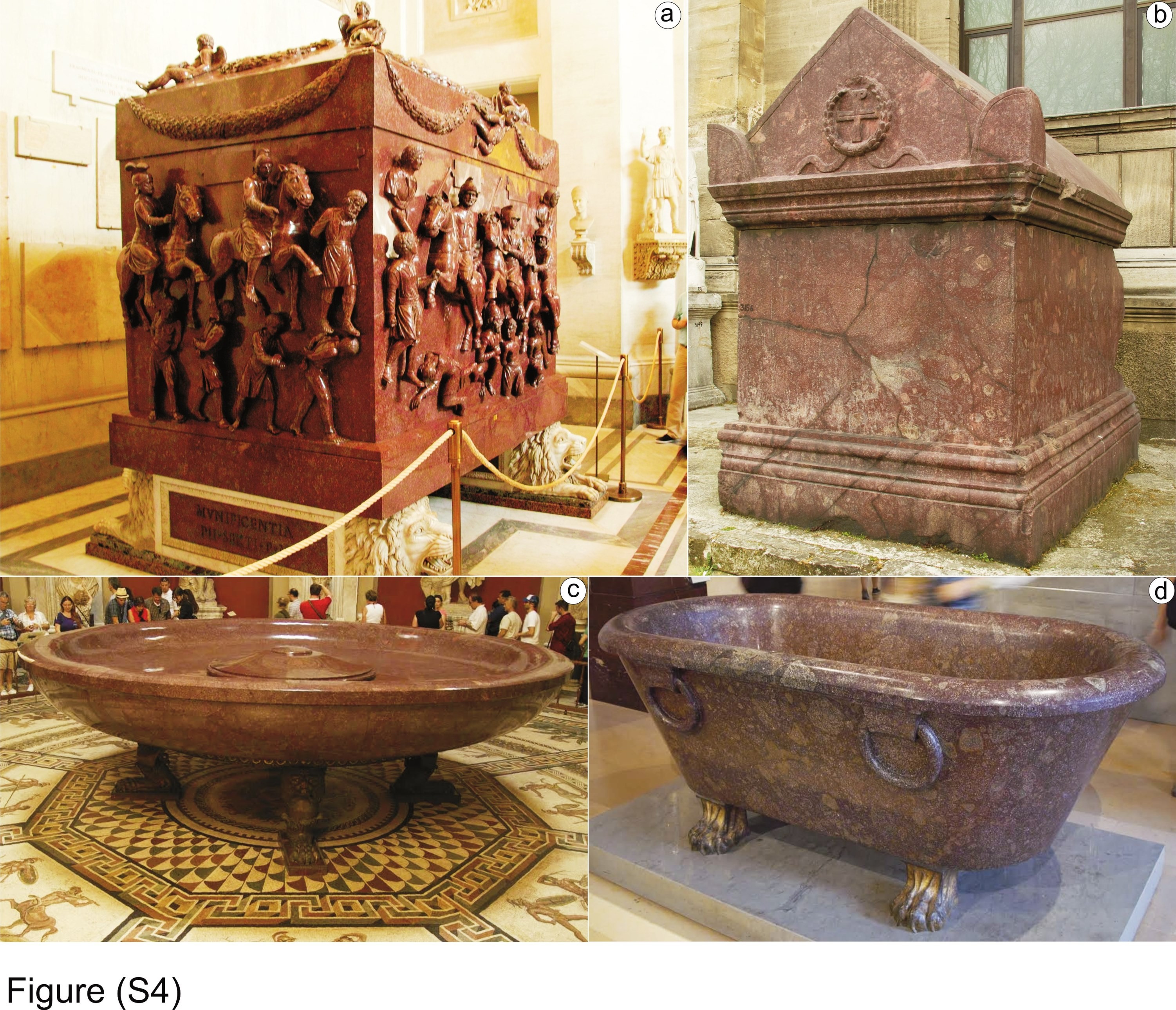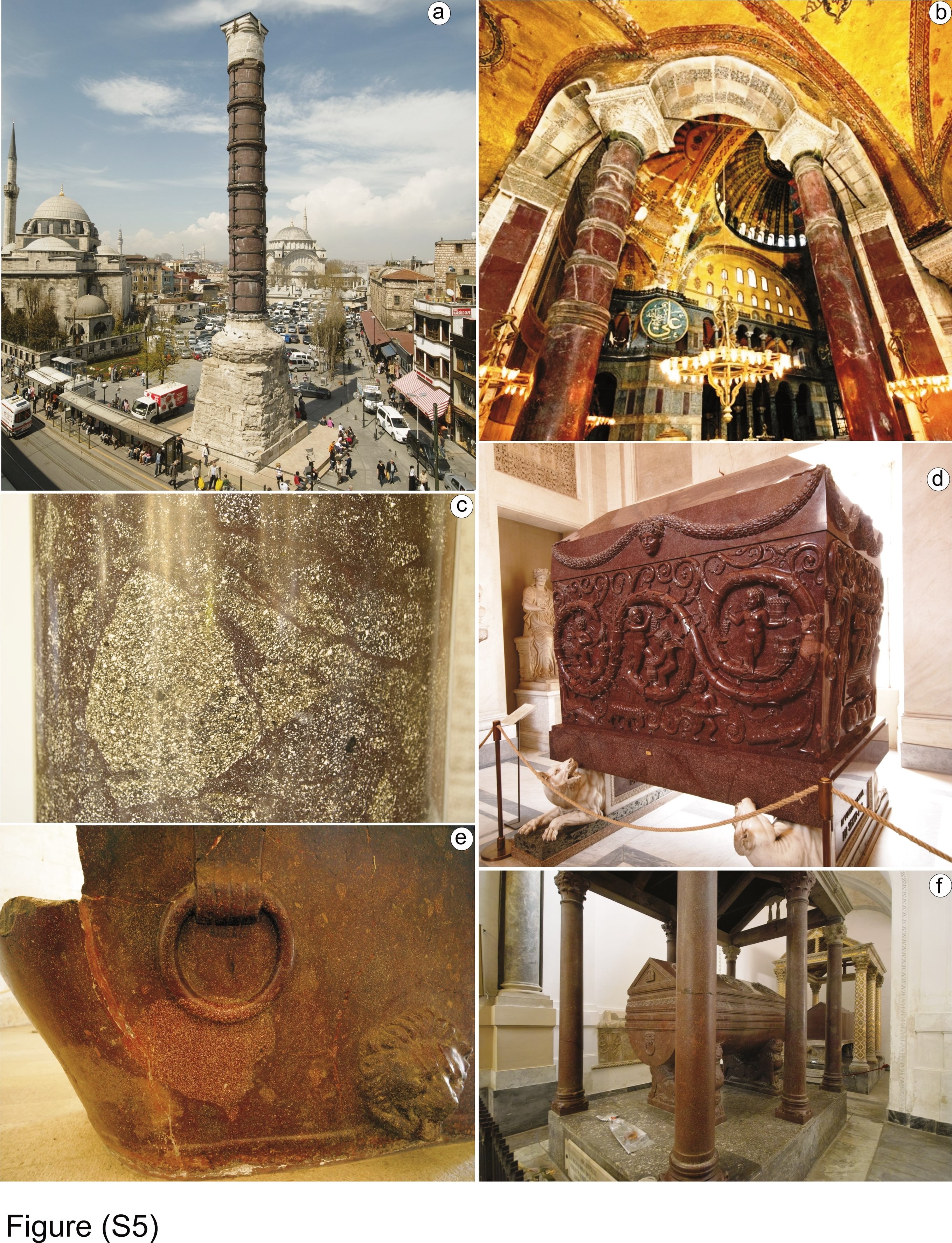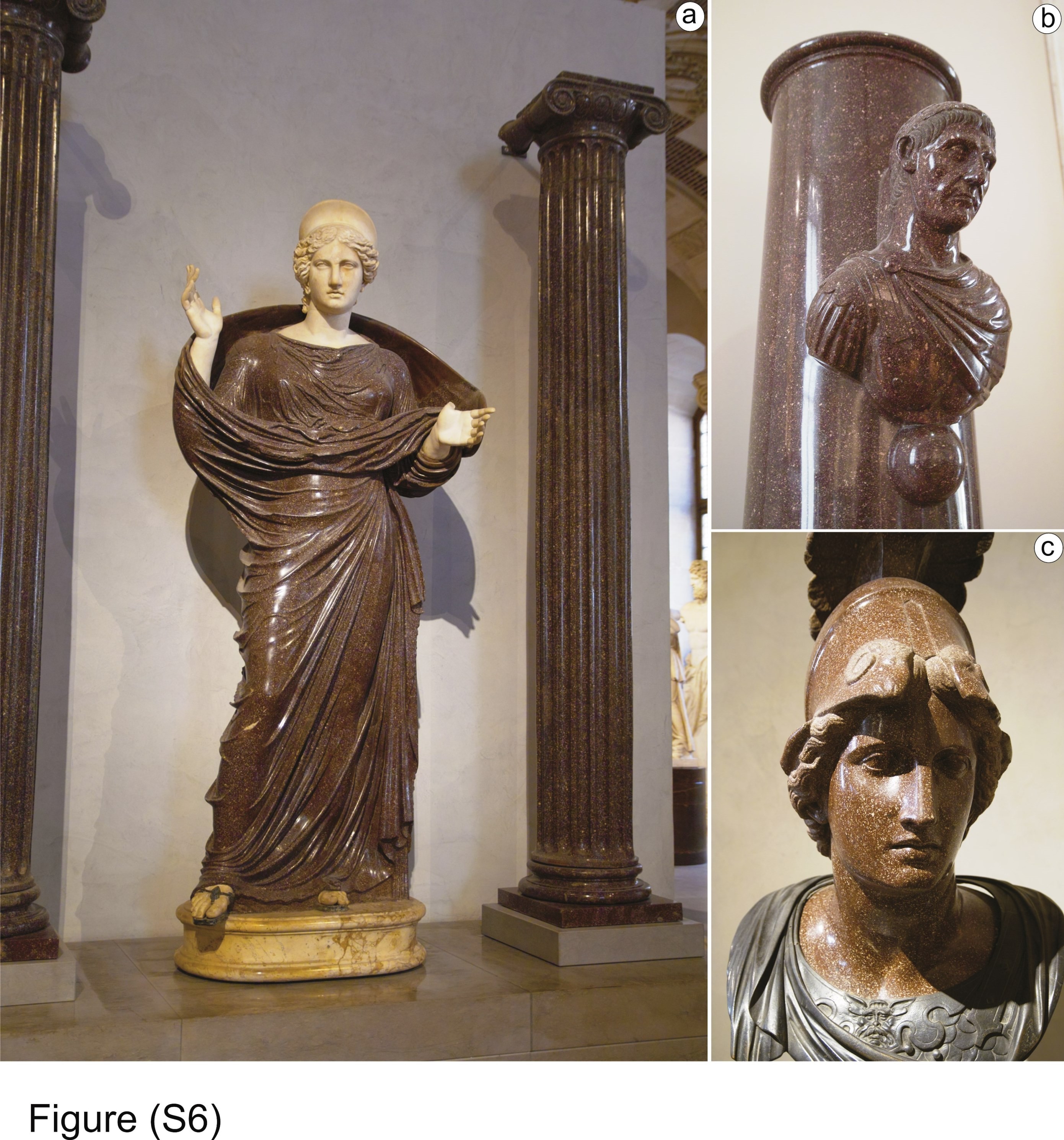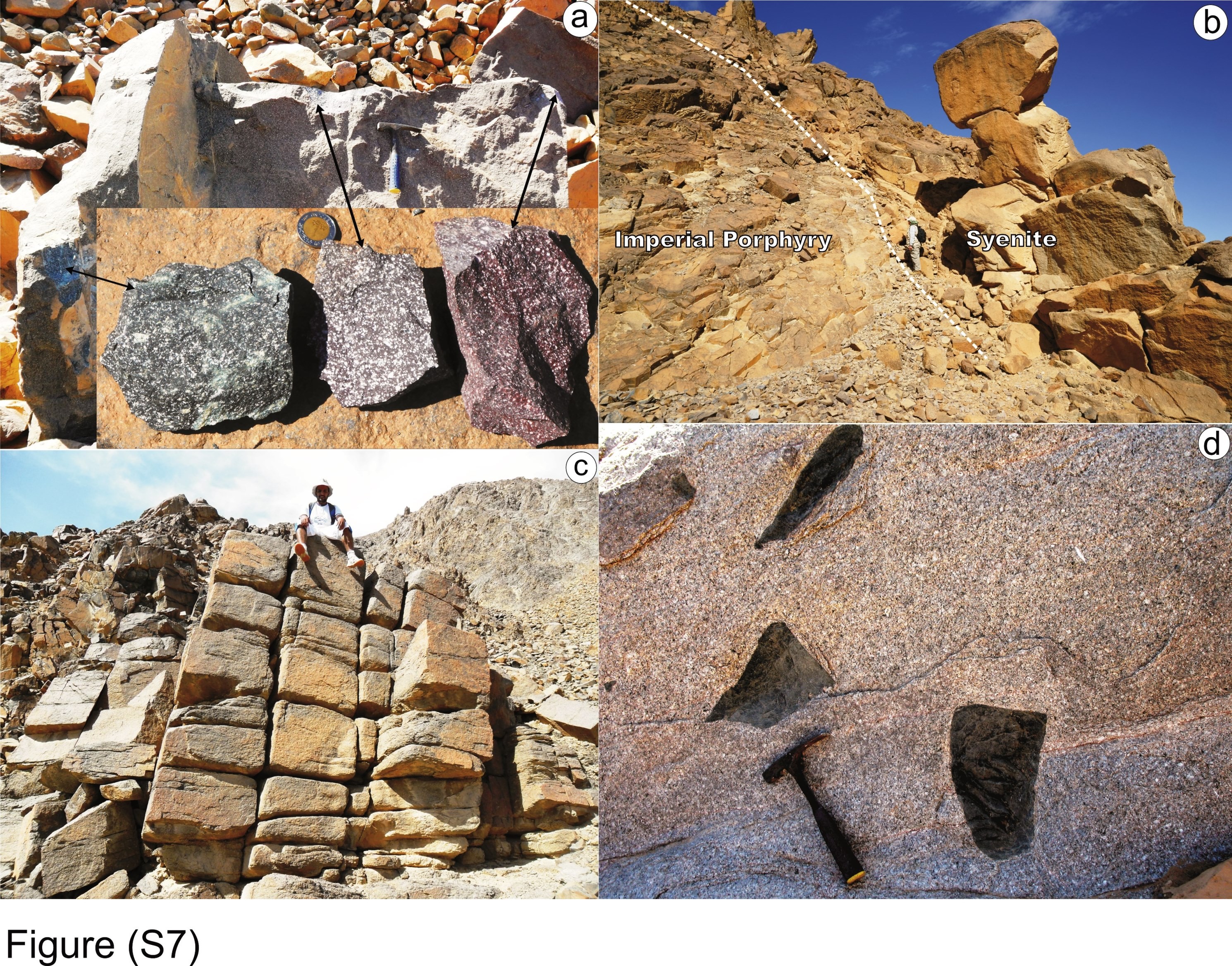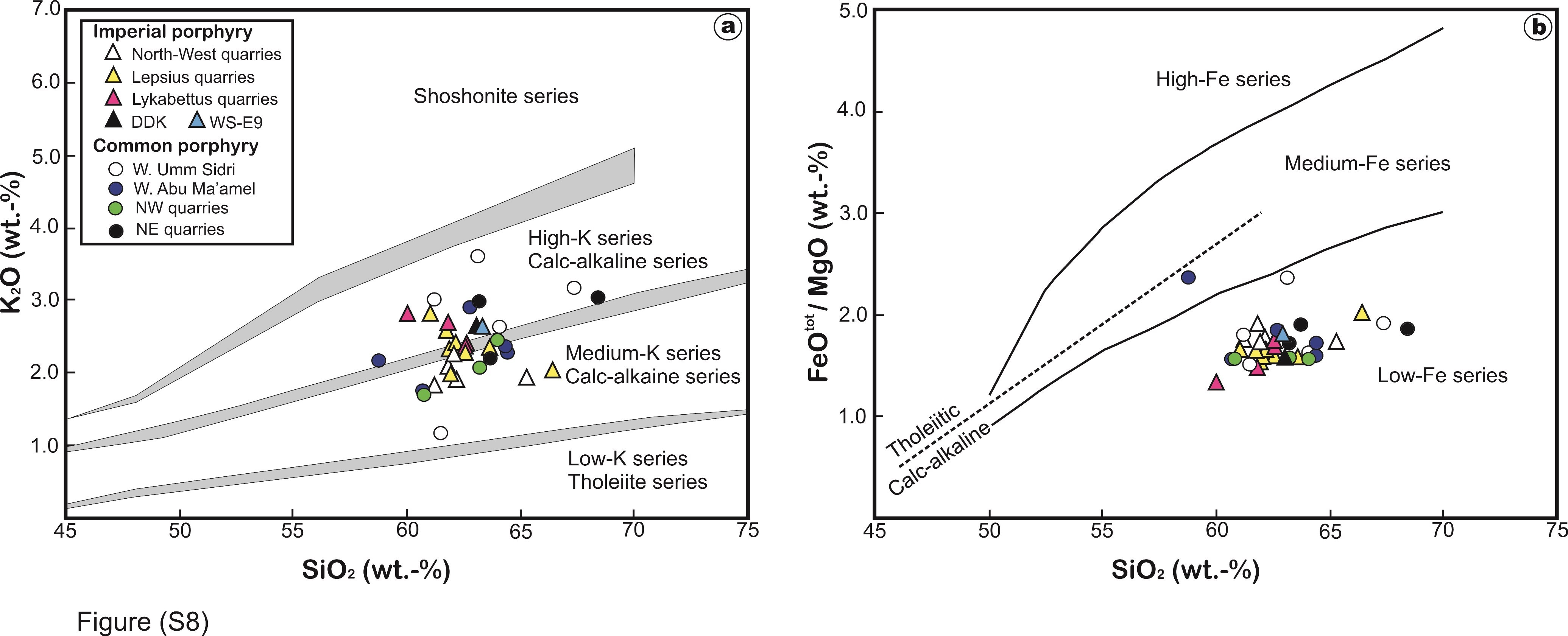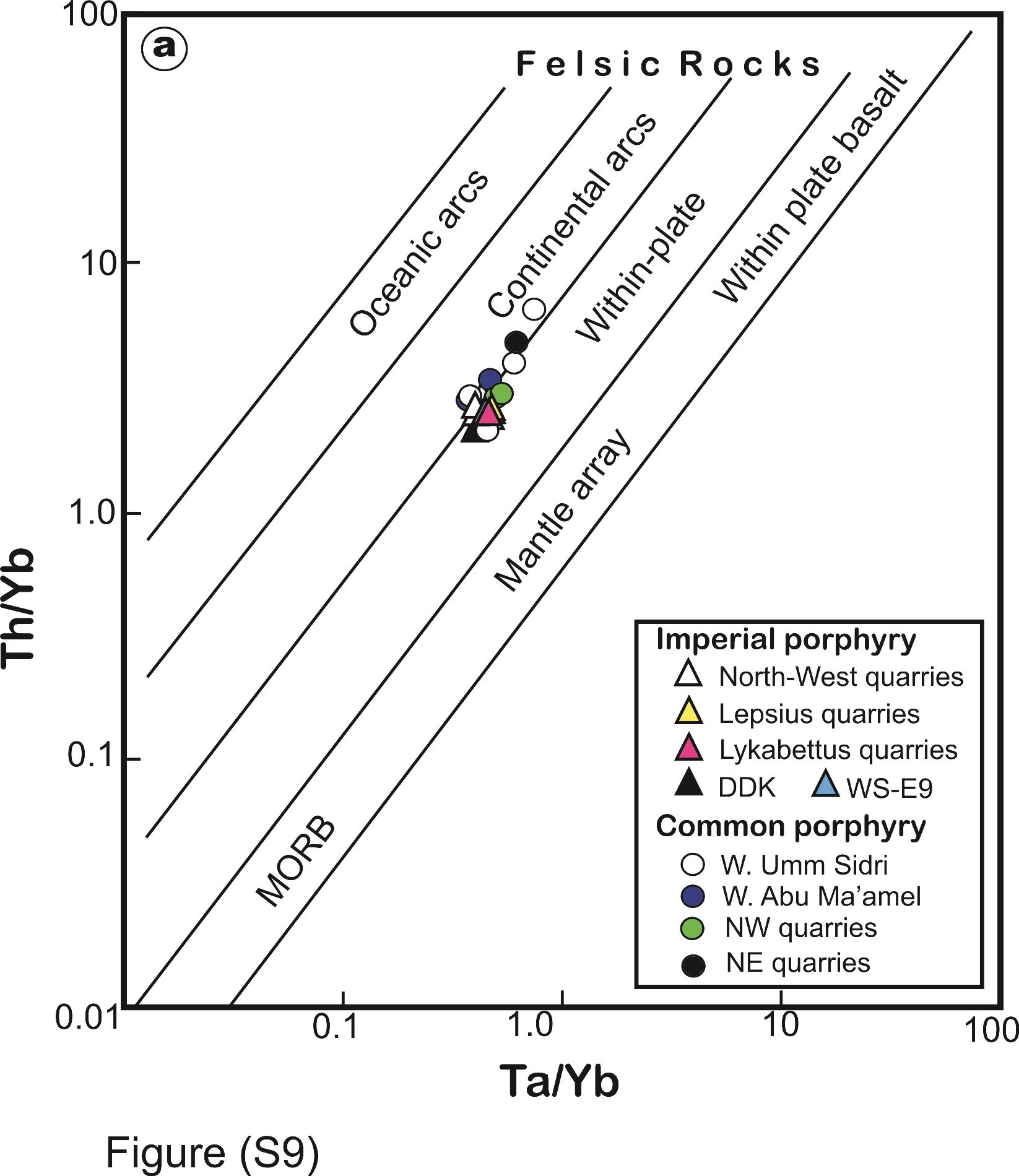 About this article
Cite this article
Abu El-Enen, M.M., Lorenz, J., Ali, K.A. et al. A new look on Imperial Porphyry: a famous ancient dimension stone from the Eastern Desert of Egypt—petrogenesis and cultural relevance. Int J Earth Sci (Geol Rundsch) 107, 2393–2408 (2018). https://doi.org/10.1007/s00531-018-1604-z
Received:

Accepted:

Published:

Issue Date:
Keywords
Eastern Desert

Dokhan Volcanics

Imperial Porphyry

Petrogenesis

Cultural relevance

U–Pb zircon age dating