Abstract
The present study investigates the temporal variation of few seismic parameters between the Myanmar (Zone I), Andaman–Nicobar–Northwest Sumatra (Zone II), Southeast Sumatra–West Indonesia (Zone III) and East Indonesia (Zone IV) converging boundaries in reference to the generation of 26 December 2004 Mw > 9.0 off-Sumatra mega-earthquake event. The four segments are distinguished based on tectonics parameters, distinct geological locations, great earthquake occurrences, and the Wadati–Benioff zone characteristics. Two important seismic parameters such as seismic energy and b values are computed over a time-window of 6-month period during the entire 1976–2013 period for these segments. The b values show a constant decrease in Zones II, III, and IV, whereas the Zone I does not show any such pattern prior to the 2004 mega-event. The release of seismic energy was also gradually decreasing in Zones II and III till the 2004 event, and little similar pattern was also noted in Zone IV. This distinct observation might be indicating that the stress accumulation was dominant near the Sumatra–Java area located towards southeast of Zone II and northwest of Zone III. The released strain energy during the 2004 event was subsequently migrated towards north, rupturing ~ 1300 km of the boundary between the Northwest Sumatra and the North Andaman. The occurrence of 2004 mega-event was apparently concealed behind the long-term seismic quiescence existing near the Sumatra and Nicobar margin. A systematic study of the patterns of seismic energy release and b values, and the long-term observation of collective behaviour of the margin tectonics might have had given clues to the possibility of the 2004 mega-event.
This is a preview of subscription content, log in to check access.
Access options
Buy single article
Instant access to the full article PDF.
US$ 39.95
Price includes VAT for USA
Subscribe to journal
Immediate online access to all issues from 2019. Subscription will auto renew annually.
US$ 199
This is the net price. Taxes to be calculated in checkout.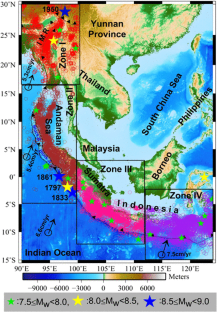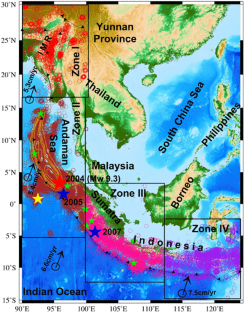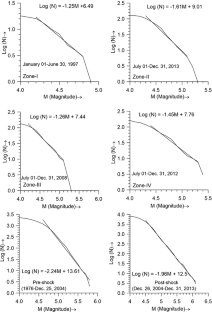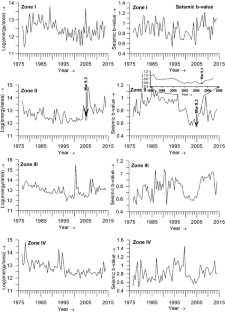 References
Allen JRL (1986) Earthquake magnitude-frequency, epicentral distance, and soft-sediment deformation in sedimentation basins. Sed Geol 46:67–75

Ammon CJ, Chen J, Thio H-K, Robinson D, Ni S, Hjorleifsdottir V, Kanamori H, Lay T, Das S, Helmberger D, Ichinose G, Polet J, Wald D (2005) Rupture process of the 2004 Sumatra–Andaman earthquake. Sci 308:1133–1139

Ammon CJ, Kanamori H, Lay T (2008) A great earthquake doublet and seismic stress transfer cycle in the central Kuril islands. Nature 451:561–566

Banerjee P, Pollitz F, Bürgmann R (2005) Size and duration of the great 2004 Sumatra–Andaman earthquake from far-field static offsets. Sci 308:1769–1772

Bhattacharya PM, Kayal JR (2003) Mapping the b values and its correlation with the fractal dimension in the northeast region of India. J Geol Soc India 62:680–695

Bilham R, Engdahl ER, Feldl N, Satyabala SP (2005) Partial and complete rupture of the Indo–Andaman plate boundary 1847–2004. Seismol Res Lett 76:299–311

Bletery Q, Sladen A, Jiang J, Simons M (2016) A Bayesian source model for the 2004 great Sumatra–Andaman earthquake. J Geophys Res 121:5116–5135

Cao A, Gao SS (2002) Temporal variation of seismic b values beneath north-eastern Japan island arc. Geophys Res Lett 29(48):1–3

Cardwell RK, Isacks BL (1978) Geometry of the subducted lithosphere beneath the Banda Sea in Eastern Indonesia from seismicity and fault plane solutions. J Geophys Res 83:2825–2838

Chakraborty PP, Khan PK (2009) Cenozoic geodynamic evolution of the Andaman–Sumatra subduction margin: a current understanding. Island Arc 18:184–200

Chlieh M, Avouac JP, Hjorleifsdottir V, Song TRA, Ji C, Sieh K, Sladen A, Hebert H, Prawirodirdjo L, Galetzka BY J (2007) Coseismic slip and after slip of the great M w 9.15 Sumatra–Andaman earthquake of 2004. Bull Seismol Soc Am 97:S152–S173

Clévédé E, Bukchin B, Favreau P, Mostinskiy A, Aoudia A, Panza G (2012) Long-period spectral features of the Sumatra–Andaman 2004 earthquake rupture process. Geophys J Int 191:1215–1225

Cloetingh S, Wortel R (1986) Stress in the Indo-Australian plate. Tectonophysics 132:49–67

Curray JR (2005) Tectonics and history of the Andaman Sea region. J Asian Earth Sci 25:187–232

Curray JR, Emmel FJ, Moore DG, Russel WR (1982) Structure, tectonics, and geological history of the northeastern Indian Ocean. In: Nairn AE, Stehli FG (eds) The Ocean Basins Margins 6: 399–450. The Indian Ocean, Plenum, New York

Daly MC, Cooper MA, Wilson I, Smith DG, Hooper BGD (1991) Cenozoic plate tectonics and basin evolution in Indonesia. Marine Petrol Geol 8:2–22

Diament M, Harjono H, Karta K, Deplu C, Dahrin D, Zen MT Jr, Gérard M, Lassal O, Martin A, Malod J (1992) Mentawai fault zone off Sumatra: a new key to the geodynamics of western Indonesia. Geol 20:259–262

Fitch TJ (1972) Plate convergence, transcurrent faults and internal deformation adjacent to Southeast Asia and western Pacific. J Geophys Res 77:4432–4460

Forsyth DW, Uyeda S (1975) On the relative importance of the driving forces of plate motion. Geophys J R Astron Soc 43:163–200

Gahalaut VK, Gahalaut K (2007) Burma plate motion. J Geophys Res 112:B10402

Gahalaut VK, Nagarajan B, Catherine JK, Kumar S (2006) Constraints on 2004 Sumatra–Andaman earthquake rupture from GPS measurements in Andaman–Nicobar Islands. Earth Planet Sci Lett 242:365–374

Ghose R, Yoshioka S, Oike K (1990) Three-dimensional numerical simulation of the subduction dynamics in the Sunda arc region, Southeast Asia. Tectonophys 181:223–255

Gutenberg B, Ritcher CF (1942) Earthquake magnitude, intensity, energy, and acceleration. Bull Seismol Soc Am 32:163–191

Gutenberg B, Ritcher CF (1954) Seismicity of the earth and associated phenomenon. Princeton University Press, Pinceton

Hall R (1997) Cenozoic plate tectonic reconstructions of SE Asia. In: Fraser AJ, Matthews SJ, Murphy RW (eds) Petroleum Geology of Southeast Asia. Special Publication, The Geological Society of London 126: 11–23

Heimpel M, Malin P (1998) Aseismic slip in earthquake nucleation and selfsimilarity: evidence from Parkfield, California. Earth Planet Sci Lett 157:249–254

Henstock TJ, McNeill LC, Bull JM, Cook BJ, Gulick SPS, Austin JA, Permana JH, Djajadihardja YS (2017) Downgoing plate topography stopped rupture in the A.D. 2005 Sumatra earthquake. Geol 44:71–74

Hofsetter A, Shapira A (2000) Determination of earthquake energy release in the eastern Mediterranean region. Geophys J Int 143:898–908

Holt WE, Haines AJ (1993) Velocity fields in deforming Asia from the inversion of earthquake-released strains. Tectonics 12:1–20

Holt WE, Ni JF, Wallace TC, Haines AJ (1991) The active tectonics of the eastern Himalayan syntaxis and surroundings regions. J Geophys Res 96:14595–14632

Isacks B, Molnar P (1971) Mantle earthquakes mechanisms and the sinking of the Lithosphere. Nature 223:1121–1124

Ishii M, Shearer PM, Houston H, Vidale JE (2005) Extent, duration and speed of the 2004 Sumatra–Andaman earthquake imaged by the Hi-Net array. Nature 435:933–936

Jacob J, Dyment J, Yatheesh V (2014) Revisiting the structure, age, and evolution of the Wharton Basin to better understand subduction under Indonesia. J Geophys Res 119:169–190. https://doi.org/10.1002/2013JB010285

Jarrard RD (1986) Terrane motion by strike-slip faulting of forearc slivers. Geol 14:780–783

Khan PK (2005) Variation in dip-angle of the Indian plate subducting beneath the Burma plate and its tectonic implications. Geosci J 9:227–234

Khan PK (2007) Lithospheric deformation under pre- and post-seismic stress fields along the Nicobar–Sumatra subduction margin during 2004 Sumatra mega-event and its tectonic implications. Gond Res 12:468–475

Khan PK (2010) Role of unbalanced slab resistive force in the 2004 off Sumatra mega-earthquake (M w> 9.0) event. Int J Earth Sci 100:1749–1758

Khan PK (2011) Role of unbalanced slab resistive force in the 2004 off Sumatra mega-earthquake (M w> 9.0) event. Int J Earth Sci 100:1749–1758

Khan P, Chakraborty PP (2005) Two-phase opening of Andaman Sea: a new seismotectonics insight. Earth Planet Sci Lett 229:259–271

Khan PK, Chakraborty PP (2009) Plate geometry, plate rheology, and their relation to shallow-focus mega-thrust seismicity with special reference to 26 December 2004 Sumatra event. J Asian Earth Sci 34:480–491

Khan PK, Ghosh M, Chakraborty PP, Mukherjee D (2011) Seismic b value and the assessment of ambient stress in Northeast India. Pure App Geophys 168:1693–1706

Khan PK, Chakraborty PP, Tarafder G, Mohanty SP (2012) Testing the intraplate origin of mega-earthquakes at subduction margins. Geosci Front 3:473–481

Khan PK, Shamim Sk, Mohanty M, Kumar P, Banerjee J (2017) Myanmar–Andaman–Sumatra subduction margin revisited: insights of arc-specific deformations Myanmar–Andaman–Sumatra subduction margin revisited: insights of arc-specific deformations. J Earth Sci (accepted)

Kumar P, Srijayanthi G, Kumar MR (2016) Seismic evidence for tearing in the subducting Indian slab beneath the Andaman arc. Geophys Res Lett 43:4899–4904

Lay T, Kanamori H, Ammon CJ, Nettles M, Ward SN, Aster RC, Beck SL, Bilek SL, Brudzinski MR, Butler R, DeShon HR, Ekström G, Satake K, Sipkin S (2005) The great Sumatra–Andaman earthquake of 26 December 2004. Sci 308:1127–1133

Lay T, Kanamori H, Ammon CJ, Hutko AR, Furlong K, Rivera L (2009) The 2006–2007 Kuril Islands great earthquake sequence. J Geophys Res 114:B11308

Levchenko OV (1989) Tectonic aspects of intraplate seismicity in the northeastern Indian Ocean. Tectonophys 170:125–139

Maung H (1987) Transcurrent movement in the Mayanmar Andaman Sea region. Geol 15:911–912

McCaffrey R (1991) Slip vectors and stretching of the Sumatran forearc. Geol 19:881–884

McCaffrey R (1992) Oblique plate convergence, slip vectors, and forearc deformation. J Geophys Res 97:8905–8915

McCloskey J, Nalbant SS, Steacy S (2005) Earthquake risk from co-seismic stress. Nature 434:291

Mishra OP, Chakrabortty GK, Singh OP (2005) Aftershock investigation in Andaman–Nicobar Islands. Geol Survey of India Special Publication 89:115–163

Mishra OP, Kayal JR, Chakraborty GK, Singh OP, Ghosh D (2007a) Aftershock investigation in Andaman–Nicobar Islands of India and its seismotectonic implications. Bull Seismol Soc Am 97:S71–S85

Mishra OP, Chakraborty GK, Singh OP, Kayal JR, Ghosh D (2007b) Aftershock investigation in the Andaman–Nicobar Islands: an antidote to public panic. Seismol Res Lett 78:591–600

Mishra OP, Zhao D, Ghosh C, Wang Z, Singh OP, Ghosh B, Mukherjee KK, Saha DK, Chakraborty GK, Gaonkar SG (2011) Role of crustal heterogeneity beneath Andaman–Nicobar Islands and its implications for coastal hazard. Natural Haz 57:51–64

Mitchell AHG (1985) Collision-related fore-arc and back-arc evolution of the Northern Sunda arc. Tectonophysics 116:323–334

Mogi K (1963) The fracture of a semi-infinite body caused by an inner stress origin and its relation to earthquake phenomena. Bull Earthq Res Inst Tokyo Univ 41:595–614

Mogi K (1967) Regional variation of aftershock activity. Bull Earthq Res Inst Tokyo Univ 46:175–203

Molchan G, Kronrod T, Panza GF (1997) Multi-scale seismicity model for seismic risk. Bull Seismol Soc Am 87:1220–1229

Mori J, Abercrombie RE (1997) Depth dependence of earthquake frequency–magnitude distributions in California: implications for the rupture initiation. J Geophys Res 102:15081–15090

Müller RD, Roest WR, Royer JY, Gahagan LM, Sclater JG (1997) Digital isochrones of the world's ocean floor. J Geophys Res 102:3211–3214

Nettles M, Ekström G (2004) Quick CMT of the 2004 Sumatra–Andaman Island earthquake. Seismoware FID: BR345, emailed announcement. 26 December 2004

Newcomb KR, McCann W (1987) Seismic history and seismotectonics of the Sunda arc. J Geophys Res 92:421–439

Ninkovich D (1976) Late Cenozoic clockwise rotation of Sumatra. Earth Planet Sci Lett 29:269–275

Nishimura S, Suparka S (1990) Tectonics of East Indonesia. Tectonophys 181:257–266

Nishimura S, Nishida J, Yokoyama T, Hehuwat F (1986) Tectonics of the Strait of Sunda. Indonesia J Asian Earth Sci 1:81–91

Pacheco JF, Scholz CH, Sykes LR (1992) Changes in frequency–size relationship from small to large earthquakes. Nature 355:71–73

Park J, Song T-RA, Thomp J, Okal E, Stein S, Roult G, Clevede E, Laske G, Kanamori H, Davis P, Berger J, Braitenberg C, Camp MV, Lei X, Sun H, Xu H, Rosat S (2005) Earth's free oscillations excited by the 26 December 2004 Sumatra–Andaman earthquake. Sci 308:1139–1144

Patriat P, Achache J (1984) India–Eurasia collision chronology has implications for crustal shortening and driving mechanism for plates. Nature 311:615–621

Peresan A, Gentili S (2018) Seismic clusters analysis in Northeastern Italy by the nearest-neighbor approach. Phys Earth Planet Int 274:87–104

Raju KAK, Ramprasad T, Rao PS, Rao BR, Varghese J (2004) New insights into the tectonic evolution of the Andaman basin, northeast Indian Ocean. Earth Planet Sci Lett 221:145–162

Raju KAK, Ray D, Mudholkar A, Murty GPS, Gahalaut VK, Samudrala K, Paropkari AL, Ramachandran R, Prakash LS (2012) Tectonic and volcanic implications of a cratered seamount off Nicobar Island, Andaman Sea. J Asian Earth Sci 56:42–53

Rydelek PA, Sacks IS (1989) Testing the completeness of earthquake catalogs and the hypothesis of self-similarity. Nature 337:251–253

Rydelek PA, Sacks IS (2003) Comment on "Minimum magnitude of completeness in earthquake catalogs: examples from Alaska, the Western United States, and Japan". Bull Seismol Soc Am 93:1862–1867

Scholz CH (1968) The frequency–magnitude relation of microfracturing in rock and its relation to earthquakes. Bull Seismol Soc Am 58:399–415

Sobolev GA (2011) Seismicity dynamics and earthquake predictability. Natural Haz Earth Syst Sci 11:445–458

Stein RS (1999) The role of stress transfer in earthquake occurrence. Nature 402:605–609

Stein S, Okal EA (2005) Speed and size of the Sumatra earthquake. Nature 134:581–582

Subarya C, Chlieh M, Prawirodirdjo L, Avouac J, Bock Y, Sieh K, Meltzner AJ, Natawidjaja DH, McCaffrey R (2006) Plate boundary deformation associated with the great Sumatra–Andaman earthquake. Nature 440:46–51

Taylor DWA, Snoke JA, Sacks IS, Takanami T (1990) Nonlinear frequency magnitude relationships for the Hokkaido Corner, Japan. Bull Seism Soc Am 80:340–353

Tsai VC, Nettles M, Ekström G, Dziewonski A (2005) Multiple CMT source analysis of the 2004 Sumatra earthquake. Geophys Res Lett 32:L17304

Tsapanos TM (1990) b values of two tectonic parts in the circum-Pacific belt. Pure App Geophys 134:229–242

Vassiliou MS, Kanamori H (1982) The energy release in earthquakes. Bull Seismol Soc Am 72:371–387

Vigny C, Simons WJF, Abu S, Bamphenyu R, Satirapod C, Choosakul N, Subarya C, Socquet A, Omar K, Abidin HZ, Ambrosius BAC (2005) Insight into the 2004 Sumatra–Andaman earthquake from GPS measurements in Southeast Asia. Nature 436:201–206

Vorobieva I, Shebalin P, Narteau C (2016) Break of slope in earthquake size distribution and creep rate along the San Andreas Fault system. Geophs Res Lett 43:6869–6875

Walter TR, Amelung F (2007) Volcanic eruptions following M ≥ 9.0 megathrust earthquakes: implications for the Sumatra–Andaman volcanoes. Geol 35:539–542

Wason HR, Sharma ML, Khan PK, Kapoor K, Nandini D, Kara V (2002) Analysis of aftershocks of the Chamoli Earthquake of March 29, 1999 using broadband seismic data. J Him Geol 23:7–18

Weissel JK, Anderson RN, Geller CA (1980) Deformation of the Indo-Australian plate. Nature 287:284–291

Whittaker JM, Müller RD, Sdrolias M, Heine C (2007) Sunda–Java trench kinematics, slab window formation and overriding plate deformation since the Cretaceous. Earth Planet Sci Lett 255:445–457

Widiyantoro S, Van der Hilst R (1997) Mantle structure beneath Indonesia inferred from high-resolution tomographic imaging. Geophys J Int 130:167–182

Wiemer S, Wyss M (1997) Mapping the frequency–magnitude distribution in asperities: an improved technique to calculate recurrence times. J Geophys Res 102:15115

Wiemer S, Wyss M (2000) Minimum magnitude of complete reporting in earthquake catalogs: examples from Alaska, the Western United States, and Japan. Bull Seismol Soc Am 90:859–869

Woessner J, Wiemer S (2005) Assessing the quality of earthquake catalogues: estimating the magnitude of completeness and its uncertainty. Bull Seismol Soc Am 95:684–698

Wyss M (1973) Toward a physical understanding of the earthquake frequency distribution. Geophys J Roy Astron Soc 31:341–359

Yoshimoto M, Yamanaka Y (2014) Teleseismic inversion of the 2004 Sumatra–Andaman earthquake rupture process using complete Green's functions. Earth Planets Space 66:152

Zen MT (1983) Krakatau and the tectonic importance of Sunda Strait. Bull Jurusan Geol 12:9–22
Acknowledgements
First author is thankful to the Director, Indian Institute of Technology (ISM), Dhanbad, for providing the infrastructure facilities. This work has been supported by the grants of the Department of Science and Technology, Govt. of India, New Delhi. Authors are thankful to Antonella Peresan for critical comments, which have improved the quality of the manuscript greatly.
Electronic supplementary material
Below is the link to the electronic supplementary material.
About this article
Cite this article
Khan, P.K., Banerjee, J., Shamim, S. et al. Long-term seismic observations along Myanmar–Sunda subduction margin: insights for 2004 Mw > 9.0 earthquake. Int J Earth Sci (Geol Rundsch) 107, 2383–2392 (2018). https://doi.org/10.1007/s00531-018-1603-0
Received:

Accepted:

Published:

Issue Date:
Keywords
Myanmar–Sunda margin

2004 M w 9.3 mega-earthquake
Seismic b value

Seismic energy pattern

Seismic quiescence