Abstract
Biomarker fingerprints of crude oil samples from four onshore East Coast Basin oil seeps were analyzed to assess source rock characteristics including type of organic matter input, redox conditions, sedimentary facies, and age. Results show that samples generally form two groups, correlating with geographic location: a northern and a southern group. Source rocks associated with all seep samples are interpreted to be marine. However, results suggest northern samples had more terrigenous organic matter input to their source rock(s), while southern samples had more marine input. Results suggest northern sample source rock(s) had more oxic depositional environments, whereas southern sample source rock had more reducing environments. A shale source rock sedimentary facies was indicated for all samples. These observations suggest that southern samples may be derived from slightly higher quality source rocks (higher HI, deposited in more reducing conditions), although source rocks in both regions are oil prone. Biomarker age parameters suggest that the northern oil samples are from a younger (Cenozoic) source rock, whereas the southern oil samples are from an older (Cretaceous) source rock. Source rock characteristics (depositional environment and age) point to the presence of two different source rocks. We postulate that northern oils samples from younger source rock with more terrigenous organic matter input represent the upper Paleocene Waipawa Formation, whereas southern oil samples from older source rock with more marine organic matter input represent the Upper Cretaceous to Paleocene Whangai Formation.
This is a preview of subscription content, log in to check access.
Access options
Buy single article
Instant access to the full article PDF.
US$ 39.95
Price includes VAT for USA
Subscribe to journal
Immediate online access to all issues from 2019. Subscription will auto renew annually.
US$ 199
This is the net price. Taxes to be calculated in checkout.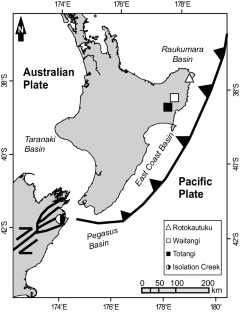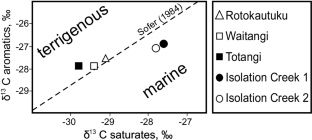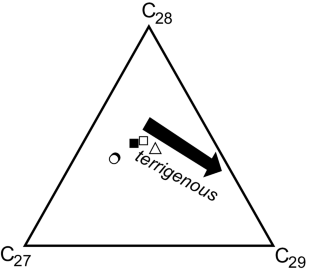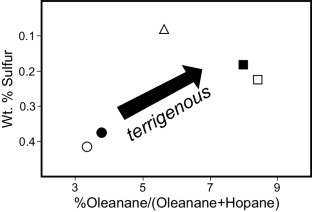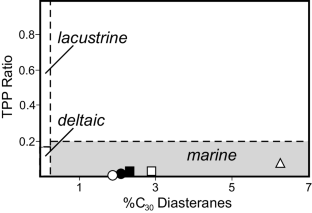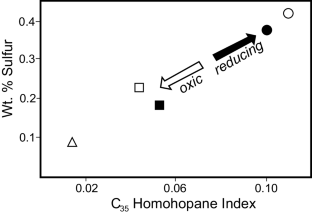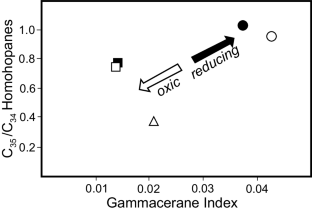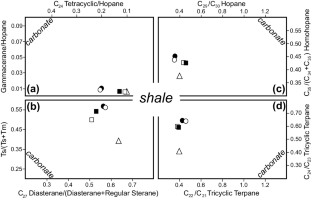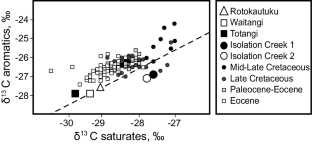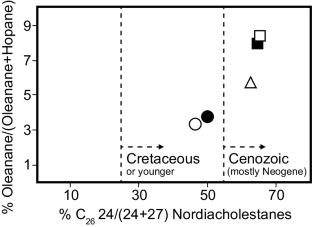 References
Ballance PF (1976) Evolution of the upper Cenozoic magmatic arc and plate boundary in northern New Zealand. Earth Planet Sci Lett 28:356–370

Bland KJ, Uruski CI, Isaac MJ (2015) Pegasus Basin, eastern New Zealand: a stratigraphic record of subsidence and subduction, ancient and modern. NZ J Geol Geophys 58:319–343

Burton ZFM, Moldowan JM, Sykes R, Graham SA (2018) Unraveling petroleum degradation, maturity, and mixing and addressing impact on petroleum prospectivity: insights from frontier exploration regions in New Zealand. Energy Fuels 32:1287–1296

Clark JP, Philp RP (1989) Geochemical characterization of evaporite and carbonate depositional environments and correlation of associated crude oils in the Black Creek Basin, Alberta. Bull Can Pet Geol 37:401–416

Connan J, Dessort D (1987) Novel family of hexacyclic hopanoid alkanes (C32–C35) occurring in sediments and oils from anoxic paleoenvironments. Org Geochem 11:103–113

Connan J, Bouroullec J, Dessort D, Albrecht P (1986) The microbial input in carbonate-anhydrite facies of a sabkha palaeoenvironment from Guatemala: a molecular approach. Org Geochem 10:29–50

Damsté JSS, Kenig F, Koopmans MP, Köster J, Schouten S, Hayes JM, de Leeuw JW (1995) Evidence for gammacerane as an indicator of water column stratification. Geochim Cosmochim Acta 59:1895–1900

Davy B (2014) Rotation and offset of the Gondwana convergent margin in the New Zealand region following Cretaceous jamming of Hikurangi Plateau large igneous province subduction. Tectonics 33:1577–1595

Didyk BM, Simoneit BRT, Brassell ST, Eglinton G (1978) Organic geochemical indicators of palaeoenvironmental conditions of sedimentation. Nature 272:216–222

Doff DH (1969) Geochemistry of recent oxic and anoxic sediments of Oslo Fjord, Norway. Dissertation, University of Edinburgh

Fuerst AT (2012) Trace metal variations through the Tartan and Waipawa formations: implications for the environment of deposition. Master's thesis, Victoria University of Wellington

Grantham PJ, Posthuma J, Baak A (1983) Triterpanes in a number of Far-Eastern crude oils. In: Bjorøy M, Albrecht C, Cornford C et al (eds) Advances in organic chemistry 1981. Wiley, New York, pp 675–683

Holba AG, Dzou LIP, Masterson WD, Hughes WB, Huizinga BJ, Singletary MS, Moldowan JM, Mello MR, Tegelaar E (1998a) Application of 24-norcholestanes for constraining source age of petroleum. Org Geochem 29:1269–1283

Holba AG, Tegelaar EW, Huizinga BJ, Moldowan JM, Singletary MS, McCaffrey MA, Dzou LIP (1998b) 24-Norcholestanes as age-sensitive molecular fossils. Geology 26:783–786

Holba AG, Tegelaar E, Ellis L, Singletary MS, Albrecht P (2000) Tetracyclic polyprenoids: indicators of freshwater (lacustrine) algal input. Geology 28:251–254

Hollis CJ, Tayler MJ, Andrew B, Taylor KW, Lurcock P, Bijl PK, Kulhanek DK, Crouch EM, Nelson CS, Pancost RD, Huber M, Wilson GS, Ventura GT, Crampton JS, Schiøler P, Phillips A (2014) Organic-rich sedimentation in the South Pacific Ocean associated with Late Paleocene climatic cooling. Earth Sci Rev 134:81–97

Jiamo F, Guoying S, Pingan P, Brassell SC, Eglinton G, Jigang J (1986) Peculiarities of salt lake sediments as potential source rocks in China. Org Geochem 10:119–126

Johnston JH, Rogers KM, Collen JD, Francis DA (1991) A comparison of some crude oils and potential source rocks of the East Coast Basin using geochemical biomarkers. In: Proceedings of New Zealand Petroleum Conference, pp 299–308

Kamp PJ (1986) The mid-Cenozoic challenger rift system of western New Zealand and its implications for the age of alpine fault inception. Geol Soc Am Bull 97:255–281

Killops S (1996) A geochemical perspective of oil generation in New Zealand basins. In: Proceedings New Zealand petroleum conference, pp 179–187

Killops SD, Raine JI, Woolhouse AD, Weston RJ (1995) Chemostratigraphic evidence of higher-plant evolution in the Taranaki Basin, New Zealand. Org Geochem 23:429–445

Killops S, Cook R, Raine I, Weston R, Woolhouse T (2003) A tentative New Zealand chemostratigraphy for the Jurassic–Cretaceous based on terrestrial plant biomarkers. NZ J Geol Geophys 46:63–77

Lamb SH, Bibby HM (1989) The last 25 Ma of rotational deformation in part of the New Zealand plate-boundary zone. J Struct Geol 11:473–492

Leckie DA, Morgans H, Wilson GJ, Edwards AR (1995) Mid-Paleocene dropstones in the Whangai Formation, New Zealand—evidence of mid-Paleocene cold climate? Sediment Geol 97:119–129

Magoon LB, Dow WG (1994) The petroleum system. In: Magoon LB, Dow WG (eds) The petroleum system—from source to trap. American Association of Petroleum Geologists Memoir 60, Tulsa, pp 3–24

McKirdy DM, Aldridge AK, Ypma PJM (1983) A geochemical comparison of some crude oils from pre-Ordovician carbonate rocks. In: Bjorøy M, Albrecht C, Cornford C et al (eds) Advances in organic geochemistry 1981. Wiley, New York, pp 99–107

Mello MR, Telnaes N, Gaglianone PC, Chicarelli MI, Brassell SC, Maxwell JR (1988) Organic geochemical characterisation of depositional palaeoenvironments of source rocks and oils in Brazilian marginal basins. Org Geochem 13:31–45

Moldowan JM, Seifert WK, Gallegos EJ (1985) Relationship between petroleum composition and depositional environment of petroleum source rocks. AAPG Bull 69:1255–1268

Moldowan JM, Sundararaman P, Schoell M (1986) Sensitivity of biomarker properties to depositional environment and/or source input in the lower Toarcian of SW-Germany. Org Geochem 10:915–926

Moldowan JM, Fago FJ, Lee CY, Jacobson SR, Watt DS, Slougui NE, Jeganathan A, Young DC (1990) Sedimentary 12-n-propylcholestanes, molecular fossils diagnostic of marine algae. Science 247:309–312

Moldowan JM, Lee CY, Sundararaman P et al (1992) Source correlation and maturity assessment of select oils and rocks from the Central Adriatic Basin (Italy and Yugoslavia). In: Moldowan JM, Albrecht P, Philp RP (eds) Biological markers in sediments and petroleum. Prentice-Hall, Englewood Cliffs, pp 370–401

Moldowan JM, Dahl J, Huizinga BJ, Fago FJ, Hickey LJ, Peakman TM, Taylor DW (1994) The molecular fossil record of oleanane and its relation to angiosperms. Science 265:768–771

Murray AP, Summons RE, Boreham CJ, Reed JD, Francis DA (1994) Geochemistry of oils and source rocks of the East Coast Basin and implications for the Taranaki Basin, New Zealand. In: Proceedings of New Zealand Petroleum Conference, pp 338–351

Nicol A, Mazengarb C, Chanier F, Rait G, Uruski C, Wallace L (2007) Tectonic evolution of the active Hikurangi subduction margin, New Zealand, since the Oligocene. Tectonics 26:TC4002

Palacas JG, Anders DE, King JD (1984) South Florida Basin—a prime example of carbonate source rocks of petroleum. In: Palacas JG (ed) Petroleum geochemistry and source rock potential of carbonate rocks AAPG studies in geology, vol 18. The American Association of Petroleum Geologists, Tulsa, pp 71–96

Peters KE, Moldowan JM (1991) Effects of source, thermal maturity, and biodegradation on the distribution and isomerization of homohopanes in petroleum. Org Geochem 17:47–61

Peters KE, Moldowan JM (1993) The biomarker guide: interpreting molecular fossils in petroleum and ancient sediments. Prentice Hall, Englewood Cliffs

Peters KE, Moldowan JM, Schoell M, Hempkins WB (1986) Petroleum isotopic and biomarker composition related to source rock organic matter and depositional environment. Org Geochem 10:17–27

Peters KE, Fraser TH, Amris W, Rustanto B, Hermanto E (1999) Geochemistry of crude oils from eastern Indonesia. AAPG Bull 83:1927–1942

Peters KE, Walters CC, Moldowan JM (2005) The biomarker guide, vol 2. Cambridge University Press, Cambridge

Rait G, Chanier F, Waters DW (1991) Landward-and seaward-directed thrusting accompanying the onset of subduction beneath New Zealand. Geology 19:230–233

Rogers KM, Collen JD, Johnston JH, Elgar NE (1994) Biomarker geochemistry of seep oils and potential hydrocarbon source rocks from the northern East Coast Basin, New Zealand. In: Proceedings of New Zealand petroleum conference, pp 352–360

Rogers KM, Collen JD, Johnston JH, Elgar NE (1999) A geochemical appraisal of oil seeps from the East Coast Basin, New Zealand. Org Geochem 30:593–605

Schiøler P, Rogers K, Sykes R, Hollis CJ, Ilg B, Meadows D, Roncaglia L, Uruski C (2010) Palynofacies, organic geochemistry and depositional environment of the Tartan Formation (Late Paleocene), a potential source rock in the Great South Basin, New Zealand. Mar Pet Geol 27:351–369

Sofer Z (1984) Stable carbon isotope compositions of crude oils: application to source depositional environments and petroleum alteration. AAPG Bull 68:31–49

Spörli KB (1987) Development of the New Zealand microcontinent. In: Monger JWH, Franchetau J (eds) Circum-Pacific orogenic belts and evolution of the Pacific Ocean basin. American Geophysical Union, Washington, DC, pp 115–132

Sykes R, Zink KG, Rogers KM, Phillips A, Ventura GT (2012) New and updated geochemical databases for New Zealand petroleum samples, with assessments of genetic oil families, source age, facies and maturity. GNS Science Consultancy Report PR4513

ten Haven HL, Rullkötter J (1988) The diagenetic fate of taraxer-14-ene and oleanene isomers. Geochim Cosmochim Acta 52:2543–2548

ten Haven HL, De Leeuw JW, Damsté JS, Schenck PA, Palmer SE, Zumberge JE (1988) Application of biological markers in the recognition of palaeohypersaline environments. Geol Soc Lond Spec Publ 40:123–130

Tissot BPm, Welte DH,1984, Petroleum formation and occurrence. Springer, New York

Uruski CI (2010) New Zealand's deepwater frontier. Mar Pet Geol 27:2005–2026

Uruski CI, Bland K (2011) Pegasus Basin and the prospects for oil and gas. GNS Science Consultancy Report PR4326

van der Lingen GJ (1982) Development of the North Island subduction system, New Zealand. In: Leggett JK (ed) Trench-forearc geology. Geological Society, Special Publication 10, London, pp 259–272

Wang Y, Peters KE, Moldowan JM, Bird KJ, Magoon LB (2014) Cracking, mixing, and geochemical correlation of crude oils, North Slope, Alaska. AAPG Bull 98:1235–1267

Weiss HM, Wilhelms A, Mills N, Scotchmer J, Hall PB, Lind K, Brekke T (2000) NIGOGA—the Norwegian industry guide to organic geochemical analyses. Norsk Hydro, Statoil, Geolab Nor, SINTEF Petroleum Research, and the Norwegian Petroleum Directorate

Whitehead EV (1974) The structure of petroleum pentacyclanes. In: Tissot B, Bienner F (eds) Advances in organic chemistry 1973. Editions Technip, Paris, pp 225–243
Acknowledgements
The authors thank Andrew Hanson and Gary Muscio for their comments and review which improved the manuscript, and also thank editors Wolf-Christian Dullo and Peter Kukla. ZB would like to thank the Stanford University Basin and Petroleum System Modeling (BPSM) Industrial Affiliates Program, the AAPG Grants-In-Aid Program, and the Stanford School of Earth, Energy and Environmental Sciences McGee/Levorsen Research Grant Program for funding and the U.S. Department of Energy National Energy Technology Laboratory for a Professional Internship/Fellowship. ZB also would like to thank Allegra Hosford Scheirer, Inessa Yurchenko, William Thompson-Butler, and the staff at GNS Science, Biomarker Technologies, Inc., and GeoMark Research for useful comments and assistance. RS would like to thank the Ministry of Business, Innovation and Employment for funding through the GNS Science-led research program on New Zealand petroleum source rocks, fluids, and plumbing systems (contract C05X1507).
Ethics declarations
Conflict of interest
The authors declare no competing financial interest.
About this article
Cite this article
Burton, Z.F.M., Moldowan, J.M., Magoon, L.B. et al. Interpretation of source rock depositional environment and age from seep oil, east coast of New Zealand. Int J Earth Sci (Geol Rundsch) 108, 1079–1091 (2019). https://doi.org/10.1007/s00531-018-01675-6
Received:

Accepted:

Published:

Issue Date:
Keywords
New Zealand

Oil seeps

Source rock

Depositional environment

Age

East Coast Basin