Abstract
The Isla Cristalina de Rivera crystalline complex in northeastern Uruguay underwent a multistage magmatic and metamorphic evolution. Based on SHRIMP U–Pb zircon, Th–U–Pb monazite (CHIME-EPMA method) and K–Ar age data from key units several events can be recognized: (1) multistage magmatism at 2,171–2,114 Ma, recorded on zircon of the granulitic orthogneisses and their 2,093–2,077 Ma overgrowths; (2) a distinct amphibolite facies metamorphism at ~1,980 Ma, recorded by monazite; (3) greenschist facies reworking and shearing at ca. 606 Ma (monazite and K–Ar on muscovite) along the Rivera Shear Zone, and finally (4) intrusion of the post-tectonic Sobresaliente and Las Flores granites at around 585 Ma. Lithological similarities, geographic proximity and coeval magmatic and metamorphic events indicate a similar tectonometamorphic evolution for the Isla Cristalina de Rivera, the Valentines Block in Uruguay and the Santa María Chico Granulitic Complex in southern Brazil, since at least 2.1 Ga.
Access options
Buy single article
Instant access to the full article PDF.
USD 39.95
Price includes VAT (USA)
Tax calculation will be finalised during checkout.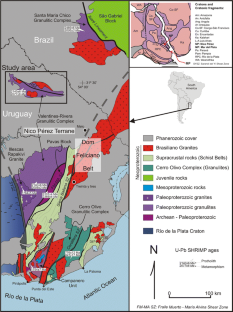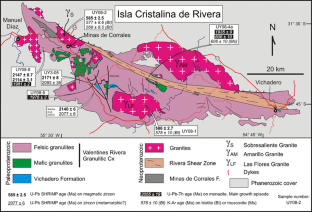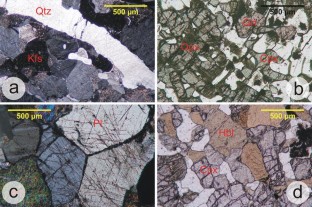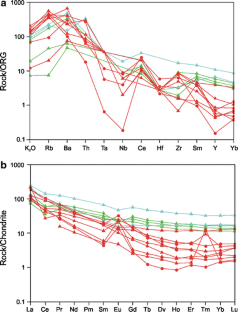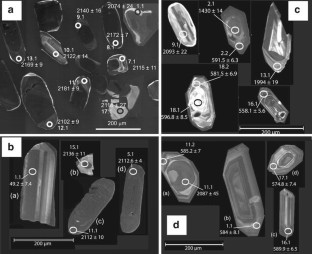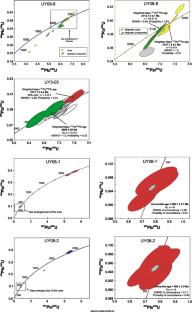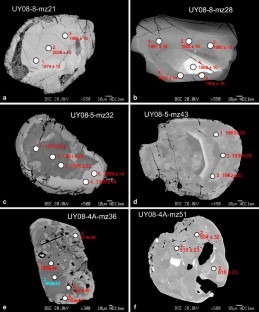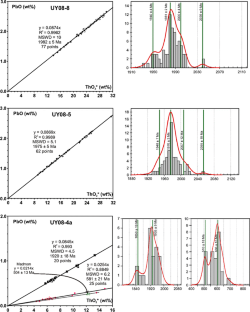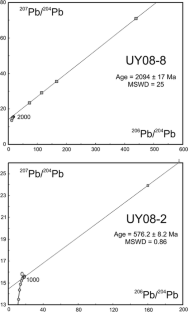 References
Almeida FFM, Amaral G, Cordani UG, Kawashita K (1973) The Precambrian evolution of the South American cratonic margin, South of Amazonas River. In: Nairn ACM, Kanes WH, Stehli FG (eds) The ocean basins and margins. Plenum, New York, pp 411–446

Arrighetti R, Pena S, Rossi P, Vaz Chavez N (1981) Estudio Geológico y Minero de la Región de Minas de Corrales Unpublished report. DINAMIGE, Montevideo

Black LP, Kamo SL, Allen CM, Aleinikoff JN, Davis DW, Korsch RJ, Foudoulis C (2003) TEMORA 1: a new zircon standard for U–Pb geochronology. Chem Geol 200:155–170

Blanckenburg Fv, Villa IM, Baur H, Morteani G, Steiger RH (1989) Time calibration of a PT-path from the Western Tauern Window, Eastern Alps: the problem of closure temperatures. Contrib Mineral Petrol 101:1–11

Bossi J (1966) Geología del Uruguay. Colección Ciencias No 2. Departamento de Publicaciones de la Universidad de la República. Montevideo, Uruguay

Bossi J, Campal N (1992) Magmatismo y tectónica transcurrente durante el Paleozoico inferior del Uruguay. In: Gutiérrez J, Saavedra J, Rábano I (eds) Paleozoico Inferior de Ibero-América. Universidad de Extremadura, Alicante, pp 343–356

Bossi J, Fernandez A, Elizalde G (1965) Predevoniano en el Uruguay. Boletín Facultad de Agronomía No 78. Montevideo, Uruguay

Bossi J, Cingolani C, Llambías E, Varela R, Campal N (1993) Características del magmatismo finibrasiliano en el Uruguay: Formaciones Sierra de Rios y Sierra de Animas. Rev Brasil Geocienc 23:282–288

Boynton WV (1984) Cosmochemistry of the rare earth elements: meteorite studies. In: Henderson P (ed) Rare earth element geochemistry. Developments in Geochemistry, 2. Elsevier, New York, pp 63–114

Cazaux S (2009) Geología, petrología y análisis estructural de la zona de Curtume—zona centro de la Isla Cristalina de Rivera. Unpublished Degree Thesis, Universad de la República, Montevideo

Cingolani CA (2011) The Tandilia system of Argentina as a southern extension of the Río de la Plata Craton: an overview. Int J Earth Sci 100:221–242

Cocherie A, Albarede F (2001) An improved U-Th-Pb age calculation for electron microprobe dating of monazite. Geochim Cosmochim Acta 65:4509–4522

Cocherie A, Legendre O, Peucat J, Koumelan A (1998) Geochronology of polygenetic monazites constrained by in situ microprobe Th-U-total lead determination: implications for lead behaviour in monazite. Geochim Cosmochim Acta 62:2475–2497

Coleman DS, Gray W, Glazner AF (2004) Rethinking the emplacement and evolution of zoned plutons: Geochronologic evidence for incremental assembly of the Tuolumne Intrusive Suite, California. Geology 32:433–436. doi:10.1130/G20220.1

Cordani UG, Soliani E Jr (1990) Idades K-Ar e Rb-Sr das ilhas cristalinas de Rivera e Aceguá (Uruguai e Rio Grande do Sul, Braisil) e seu enquadramento no contexto tectônico regional. Anais da Academia Brasileira de Ciências 62:145–156

Dahl PS, Frei R (1998) Step-leach Pb–Pb dating of inclusion-bearing garnet and staurolite, with implications for Early Proterozoic tectonism in the Black Hills collisional orogen, South Dakota, United States. Geology 26:111–114

Davis WJ, Rayner N, Pestaj T (2008) When Good Zircons Go Bad—Redistribution of Radiogenic Pb in Granulite Grade Zircon, Snowbird Tectonic Zone, Canada. Abstract volume, 4th international SHRIMP workshop, Saint Petersburg, Russia, pp 42–44. VSEGEI Press, St. Petersburg

Donovan J, Hanchar J, Picolli P, Schrier M, Boatner L, Jarosewich E (2003) A re-examination of the rare-earth-element orthophosphate standards in use for electron-microprobe analysis. Can Mineral 41:221–232

Ellis J (1998) The Precambrian Supracrustal Rocks of the Isla Cristalina de Rivera in Northern Uruguay and their ore deposits. Heidelberger Geowissenschaftliche Abhandlungen, 90: 1–196 (Heidelberg)

Finger F, Helmy H (1998) Composition and total-Pb model ages of monazite from high-grade paragneisses in the Abu Swayel area, southern Eastern Desert, Egypt. Mineral Petrol 62:269–289

Fowler MB, Kocks H, Darbyshire DPF, Greenwood PB (2008) Petrogenesis of high Ba–Sr plutons from the Northern Highlands Terrane of the British Caledonian Province. Lithos 105:129–148

Frei R, Kamber BS (1995) Single mineral Pb–Pb dating. Earth Planet Sci Lett 129:261–268

Fuhrmann U, Lippolt HJ, Hess JC (1987) Examination of some proposed K-Ar standards: 40Ar/39Ar analyses and conventional K–Ar-Data. Chem Geol (Isotope Geoscience Section) 66:41–51

Gastal MCP, Lafon JM (2001) Novas idades 207Pb/206Pb e geoquímica isotópica Nd–Sr para granitóides shoshoníticos e alcalinos das regioes de Lavras do Sul e Taquarembó, RS. Congresso Brasileiro de Geoquímica 7, SBGq, Curitiba, Anais Cd-Room 094 2001. pp 7

Gastal MCP, Lafon JM, Fonseca FJ, Simões Magro FU, Remus MVD, Sommer CA (2006) Reinterpretação do Complexo Intrusivo Lavras doSul, RS, de acordo com os sistemas vulcano-plutônicos de subsidência. Parte I: Geologia, Geofísica e Geocronologia (207Pb/206Pb e 206Pb/238U). Revista Brasileira de Geociências 36:99–113

Gaucher C (2000) Sedimentology, palaeontology and stratigraphy of the Arroyo del Soldado Group (Vendian to Cambrian, Uruguay). Beringeria 26:1–120

Gaucher C, Boggiani PC, Sprechmann P, Sial AN, Fairchild T (2003) Integrated correlation of the Vendian to Cambrian Arroyo del Soldado and Corumbá Groups (Uruguay and Brazil): palaeogeographic, palaeoclimatic and palaeobiologic implications. Precambrian Res 120:241–278

Grove M, Harrison TM (1996) 40Ar* diffusion in Fe-rich biotite. Am Mineral 81:940–951

Hartmann LA, Leite JAD, McNaughton NJ, Santos JOS (1999) Deepest exposed crust of Brazil—SHRIMP establishes three events. Geology 27:947–950

Hartmann LA, Campal N, Santos JO, McNaughton N, Bossi J, Schipilov A, Lafon JM (2001) Archean crust in the Río de la Plata Craton, Uruguay–SHRIMP U-Pb zircon reconnaissance geochronology. J South Am Earth Sci 14:557–570

Hartmann LA, Liu D, Wang Y, Massonne H-J, Santos JOS (2008) Protolith age of Santa Maria Chico granulites dated on zircons from an associated amphibolite-facies granodiorite in southernmost Brazil. Anais da Academia Brasileira de Ciências 80:543–551

Heinrichs H, Herrmann AG (1990) Praktikum der Analytischen Geochemie. Springer, Berlin

Hüttenrauch F (2010) The geology of Zapucay Region, Isla Cristalina (Uruguay). Unpublished Bachelor Thesis, Georg-August-Universität, Göttingen

Jarosewich E, Boatner L (1991) Rare-earth element reference samples for electron microprobe analysis. Geostand Newslett 15:397–399

Just J, Schulz B, de Wall H, Jourdan F, Pandit MK (2010) Monazite CHIME/EPMA dating of Erinpura granitoid deformation: implications for Neoproterozoic tectono-thermal evolution of NW India. Gondwana Res 19:402–412

Kelly NM, Hinton RW, Harley SL, Appleby SK (2008) New SIMS U-Pb zircon ages from the Langavat Belt, South Harris, NW Scotland: implications for the Lewisian terrane model. J Geol Soc Lond 165:967–981

Lima EF, Nardi LVS (1998) The Lavras do Sul Shoshonitic Association: implications for the origin and evolution of Neoproterozoic shoshonitic magmatism in southernmost Brazil. J South Am Earth Sci 11(1):67–77

Ludwig KR (2000) SQUID 1.00, A User's Manual; Berkeley Geochronology Center Special Publication, 2, 2455, Ridge Road, Berkeley, CA 94709, USA

Ludwig K (2001) Users Manual for Isoplot/Ex (rev. 2.49): a geochronological toolkit for microsoft excel. Berkeley Geochronology Center, Special Publication No. 1a, 55 pp

Mallmann G, Chemale F Jr, Ávila JN, Kawashita K, Armstrong RA (2007) Isotope geochemistry and geochronology of the Nico Pérez Terrane, Rio de la Plata Craton, Uruguay. Gondwana Res 12:489–508

Masquelin HC (1993) Petrografia e feições estruturais dos granulitos da Ilha Cristalina de Rivera, Uruguay. In: Simpósio Sul-brasileiro de Geologia, 5. Bol. Resumos. Curitiba. pp 41–42

McDougall I, Harrison TM (1999) Geochronology and thermochronology by the 40Ar/39Ar method-2nd ed. Oxford University Press, New York

Montel J-M, Foret S, Veschambre M, Nicollet C, Provost A (1996) Electron microprobe dating of monazite. Chem Geol 131:37–51

Oyhantçabal P, Siegesmund S, Wemmer K, Frei R, Layer P (2007) Post-collisional transition from calc-alkaline to alkaline magmatism during transcurrent deformation in the southernmost Dom Feliciano Belt (Braziliano–Pan-African, Uruguay). Lithos 98:141–159

Oyhantçabal P, Siegesmund S, Wemmer K (2011) The Río de la Plata Craton: a review of units, boundaries, ages and isotopic signature. Int J Earth Sci 100:201–220

Passchier CW, Trouw RAJ (2005) Microtectonics. 2nd edn. Springer, Berlin

Pattison DRM (2003) Petrogenetic significance of orthopyroxene-free garnet + clinopyroxene + plagioclase-bearing metabasites with respect to the amphibolite and granulite facies. J Metamorph Geol 21:21–34

Pearce JA, Harris NW, Tindle AG (1984) Trace element discrimination diagrams for the tectonic interpretation of granitic rocks. J Petrol 25:956–983

Preciozzi F, Spoturno J, Heinzen W, Rossi P (1985) Carta Geológica del Uruguay a escala 1:500.000. Dirección Nacional de Minería y Geología, Montevideo, 92 pp

Purdy JW, Jäger E (1976) K-Ar ages on rock-forming minerals from the Central Alps. Mem Inst Geol Mineral Univ Padova 30:1–31

Rapela CW, Fanning C, Casquet C, Pankhurst RJ, Spalletti L, Poiré D, Baldo EG (2011) The Rio de la Plata Craton and the adjoining Pan-African/Brasiliano terranes: their origins and incorporation into south-west Gondwana. Gondwana Res. doi:10.1016/j.gr.2011.05.001

Sambridge MS, Compston W (1994) Mixture modelling of multi-component data sets with application to ion-probe zircons. Earth Planet Sci Lett 128:373–390

Santos JOS, Hartmann LA, Bossi J, Campal N, Schipilov A, Piñeyro D, McNaughton NJ (2003) Duration of the Trans-Amazonian cycle and its correlation within South America based on U-Pb SHRIMP Geochronology of the La Plata Craton, Uruguay. Int Geol Rev 45:27–48

Schulz B, von Raumer JF (2011) Detection of a pre-Variscan metamorphic event by EMP monazite dating and thermobarometry of garnet metapelites in the Alpine External Aiguilles Rouges Massif. Swiss J Geosci 104:67–79

Schulz B, Brätz H, Bombach K, Krenn E (2007) In situ Th-Pb dating of monazite by 266 nm laser ablation and ICP-MS with a single collector, and its control by EMP analysis. Z Angew Geol 35:377–392

Schumacher E (1975) Herstellung von 99,9997% 38Ar für die 40 K/40Ar Geochronologie. Geochronologia Chimia 24:441–442

Spear F, Pyle J (2002) Apatite, monazite and xenotime in metamorphic rocks. In: Kohn M et al. (eds) Phosphates—geochemical, geobiological and materials importance. Rev Mineral Geochem 48:293–335

Spear FS, Pyle JM, Cherniak D (2009) Limitations of chemical dating of monazite. Chem Geol 266:218–230

Steiger RH, Jaeger E (1977) Subcommission on geochronology: convention on the use of decay constants in geo and cosmochronology. Earth Planet Sci Lett 36:359–362

Stipp M, Stünitz H, Heilbronner R, Schmid SM (2002) The eastern Tonale fault zone: a "natural laboratory" for crystal plastic deformation of quartz over a temperature range from 250 to 700°C. J Struct Geol 24:1861–1884

Suzuki K, Adachi M, Kajizuka I (1994) Electron microprobe observations of Pb diffusion in metamorphosed detrital monazites. Earth Planet Sci Lett 128:391–405

Tchato DT, Schulz B, Nzenti P (2009) Electron microprobe dating and thermobarometry of Neoproterozoic metamorphic events in the Kekem area, Central African Fold Belt of Cameroon. Neues Jahrbuch Mineralogie 185/3:95–109

Tickyj H, Hartmann LA, Vasconcellos MAZ, Philipp RP, Remus MVD (2004) Electron microprobe dating of monazite substantiates ages of major geological events in the southern Brazilian shield. J South Am Earth Sci 16:699–713

Todt W, Cliff RA, Hanser A, Hofmann AW (1996) Evaluation of a 202Pb–205Pb double spike for high precision lead isotope analysis. In: Basu A, Hart SR (eds) Earth processes: reading the isotopic code. Geophysical Monograph 95, American Geophysical Union, pp 429–437

Vidal H (2009) Estudio geológico-estructural del área de Cerro Papagayo, Isla Cristalina de Rivera-Uruguay. Unpublished Degree Thesis, Universad de la República, Montevideo

Wemmer K (1991) K/Ar-Altersdatierungsmöglichkeiten für retrograde Deformationsprozesse im spröden und duktilen Bereich–Beispiele aus der KTB Vorbohrung (Oberpfalz) und dem Bereich der Insubrischen Linie (N-Italien). Göttinger Arbeiten Geologie und Paläontologie 51:1–61

Wetherill GW (1956) Discordant uranium–lead ages. Trans Am Geophys Union 37:320–326

Whitehouse MJ, Kemp AIS (2010) On the difficulty of assigning crustal residence, magmatic protolith and metamorphic ages to Lewisian granulites: constraints from combined in situ U–Pb and Lu–Hf isotopes. Geol Soc Lond Special Publ 335:81–101. ISSN 2041-4927. doi:10.1144/SP335.5

Wiedenbeck M, Allé P, Corfu F, Griffin WL, Meier M, Oberli F, Von Quadt A, Roddick JC, Spiegel W (1995) Three natural zircon standards for U–Th–Pb, Lu–Hf, trace element and REE analyses. Geostand Newslett 19:1–23

Wildner W, Lima EF, Nardi LVS, Sommer CA (2002) Volcanic cycles and setting in the Neoproterozoic III to Ordovician Camaquá Basin succession in southern Brazil: characteristics of post-collisional magmatism. J Volcanol Geotherm Res 118:261–283

Williams IS (1998) U-Th-Pb Geochronology by Ion Microprobe. In: McKibben MA, Shanks III WC, Ridley WI (eds) Applications of microanalytical techniques to understanding mineralizing processes. Rev Econ Geol 7:1–35

Williams M, Jercinovic M, Goncalves P, Mahan K (2006) Format and philosophy for collecting, compiling, and reporting microprobe monazite ages. Chem Geol 225:1–15

Williams M, Jercinovic M, Hetherington C (2007) Microprobe monazite geochronology: understanding geologic processes by integrating composition and chronology. Ann Rev Earth Planet Sci 35:137–175
Acknowledgments
The authors thank M. A. S. Basei for the fruitful and open discussions. P. Oyhantçabal gratefully acknowledges grants provided by the German Science Foundation (DFG, GZ: SI 438/40-1) and the Programa 720-Contrapartida de Convenios of the Universidad de la República (240011-000274-11) for a research stay at the Georg-August University of Göttingen. Thanks to Georg Schroer, Devin den Boer, Sandra Cazaux, Hernán Vidal and Nicolas Viana of Uruguay Mineral Exploration Inc. for sharing their knowledge of the geology of the ICR. The electron microprobe monazite dating required long-term analytical sessions, which were facilitated by M. Göbbels at the Geozentrum Nordbayern in Erlangen and accompanied by N. Langhof and A. Richter. We thank K. Saalmann and J. Konopasek for their thoughtful review that helped to improve the manuscript.
Electronic supplementary material
Below is the link to the electronic supplementary material.
Appendix
Appendix
Geochronological procedures
Analytical procedures
SHRIMP-II U–Pb dating procedure
Zircon grains were hand selected and mounted in epoxy resin together with chips of the TEMORA (Middledale Gabbroic Diorite, New South Wales, Australia) (Black et al. 2003) and reference zircons (91500 Geostandard zircon) (Wiedenbeck et al. 1995). The grains were sectioned approximately in half and polished. Reflected and transmitted light photomicrographs and cathodoluminescence (CL) SEM images were prepared for all zircons. The CL images were used to decipher the internal structures of the sectioned grains and to target specific areas within these zircons. The U–Pb analyses of the zircons were made using SHRIMP-II ion microprobe at the Research School for Earth Sciences of the Australian National University (RSES-ANU) in Canberra. Each analysis consisted of five scans through the mass range. The spot diameter was about 25 microns, and the primary beam intensity was about 2 nA. The data have been reduced in a manner similar to that described by Williams (1998, and references therein), using the SQUID Excel Macro of Ludwig (2000). The Pb/U ratios have been normalized relative to a value of 0.0668 for the 206Pb/238U ratio of the TEMORA reference zircons, equivalent to an age of 416.75 Ma (Black et al. 2003). Uncertainties given for individual analyses (ratios and ages) are at the one σ level; however, the uncertainties in calculated Concordia ages are reported at the two σ level. The Ahrens-Wetherill Concordia plot (Wetherill 1956) has been prepared using ISOPLOT/EX (Ludwig 2001).
Pb/Pb stepwise leaching experiments (PbSL)
Slightly modified procedures by Frei and Kamber (1995) were applied. Mineral separates were obtained by standard techniques using jaw crusher and sieve analysis. The 150- to 250-μm sieve fractions were then purified by hand-picking followed by repeated rinsing in deionized water; 200 mg of these materials was transferred to 7-ml Savillex1 screw-cap beakers for step-leaching. Successive 120°C acid leach steps (seven in total) involving various mixtures of HBr, HNO3, and HF were performed on each separate, to extract Pb selectively from the phases. The leaching scheme is given in Table A-5. Purified Pb extracts were mounted on Re filaments, and Pb isotopic ratios were determined by thermal ionization mass spectrometry (TIMS) at the University of Copenhagen. A similar PbSL procedure was previously applied to garnets in metapelites (Dahl and Frei 1998). Fractionation for Pb was controlled by repeated analysis of the NBS 981 standard and amounted to 0.103 ± 0.007% per amu (2r; n = 5) relative to the values proposed by Todt et al. (1996). Procedural blanks for Pb remained below 87 pg, an amount that insignificantly affects the isotopic data for the samples.
K–Ar dating of muscovite samples
Mica separation was performed by the standard techniques such as crushing, sieving, Frantz magnetic separation and selection by hand. The pure micas were ground in alcohol and sieved to remove altered rims, which might have suffered argon loss. The argon isotopic composition was measured in a Pyrex glass extraction and purification line coupled to a VG 1200 C noble gas mass spectrometer operating in static mode. The amount of radiogenic 40Ar was determined by the isotopic dilution method using a highly enriched 38Ar spike from Schumacher, Bern (Schumacher 1975). The spike is calibrated against the biotite standard HD-B1 (Fuhrmann et al. 1987). The age calculations are based on the constants recommended by the IUGS quoted in Steiger and Jaeger (1977). Potassium was determined in duplicate by flame photometry using an Eppendorf Elex 63/61. The samples were dissolved in a mixture of Hf and HNO3 according to the technique of Heinrichs and Herrmann (1990). CsCl and LiCl were added as an ionization buffer and internal standard, respectively. The analytical error for the K–Ar age calculations has a 95% confidence level of 2σ. The procedural details for argon and potassium analyses at the laboratory in Göttingen are given in Wemmer (1991).
Th–U–Pb dating of monazite by electron microprobe (EMP-monazite)
In situ analysis of Th, U and Pb for calculation of monazite model ages, as well as for Ca, Si, LREE and Y for corrections and evaluation of the mineral chemistry were carried out with a JEOL JXA 8200 at the University of Erlangen-Nürnberg (Schulz et al. 2007). The Mα1 lines of Th and Pb and the Mβ1 lines for U of the same PETH crystal were selected, and these elements relevant for age calculations were analyzed in the sequence Th–U–Pb. For the analysis of the Pb Mα1 line, the background positions were evaluated by linescans on Madmon monazite with known compositions, vanadinite, REE-orthophosphates and the Paleoproterozoic monazite with PbO contents at ~3 wt% reported in this study. A negative background position far from the Pb-Mα1 peak, −9.650 mm, was chosen. A choice of the positive background position also far from the Pb-Mα1 peak (+7.500 mm) minimizes the problem of uncertainty of possible background curvature at the Pb-Mα1 position. Combined with a long counting time in the background (2 × 120 s), this provided the best results in sight of the arguments on background positions raised by Spear and Pyle (2002), Williams et al. (2006) and Spear et al. (2009). Repeated control of background positions on Madmon revealed stable counting rates through long terms, and a linear interpolation of the background curve was applied. The measurements were performed during several sessions with the same conditions and using the same spectrometer and crystal for each element. Resulting absolute errors (2σ) at 20 kV acceleration voltage, 100 nA beam current, 5 μm beam diameter and counting times of 320 s (Pb), 50 s (U) and 40 s (Th) are typically 0.008–0.012 wt% for Pb, 0.020–0.025 wt% for U and 0.02–0.03 wt% for Th. The lines Lα1 for La, Y, Ce; Lβ1 for Pr, Sm, Nd, Gd and Kα1 for P, Si and Ca were chosen. Orthophosphates of the Smithsonian Institution were used as standards for REE analysis (Jarosewich and Boatner 1991; Donovan et al. 2003). Calibration of PbO was carried out on a vanadinite standard. The U was calibrated on an appropriate glass standard with 5 wt% UO2. The age of the Madmon monazite (Schulz et al. 2007), dated by SHRIMP at 496 ± 9 Ma and numerous Pb–Pb-TIMS monazite evaporation data (K. Bombach, Freiberg, unpublished analytical method) at 497 ± 2 Ma, was also determined at 503 Ma by the EMP-monazite dating routines established at facilities in Salzburg and BRGM Orléans (Finger and Helmy 1998; Cocherie et al. 1998). The Madmon contains ThO2 at around 10 wt%, as determined by LA-ICPMS and by the microprobe at University of Salzburg. Madmon was used for calibration and offline re-calibration of ThO2 as well as for the control of data. Interference of YLγ on the PbMα line was corrected by linear extrapolation after the measure of several standards with different Y-contents, as proposed by Montel et al. (1996). An interference of ThMγ on UMβ was also corrected by using a Th-glass standard. Interference of a Gd-line on UMβ needs correction when Gd2O3 in monazite is >5 wt%. These parameters matched the analytical problems and limits of the method discussed in Williams et al. (2006) and Spear et al. (2009) in the best way. Representative data are given in Table A-4.
The monazite chemical model ages were gained following two different approaches. First, for each single analysis, an age was calculated using the equations given by Montel et al. (1996). The error resulting from counting statistics was typically on the order of ±10 to ±30 Ma (1σ). Using these apparent age data, weighted average ages for monazite populations in the samples were then calculated using Isoplot 3.0 (Ludwig 2001). Secondly, the ages were determined using the ThO2*–PbO isochron method (CHIME) of Suzuki et al. (1994), where ThO2* is the sum of measured ThO2 and ThO2 equivalent to the measured UO2. In all samples analyzed, the model ages obtained by the two different methods agree exceptionally well.
About this article
Cite this article
Oyhantçabal, P., Wagner-Eimer, M., Wemmer, K. et al. Paleo- and Neoproterozoic magmatic and tectonometamorphic evolution of the Isla Cristalina de Rivera (Nico Pérez Terrane, Uruguay). Int J Earth Sci (Geol Rundsch) 101, 1745–1762 (2012). https://doi.org/10.1007/s00531-012-0757-4
Received:

Accepted:

Published:

Issue Date:
Keywords
Paleoproterozoic

Neoproterozoic

Granulites

Shear zones

Granites

Geochronology

U–Pb SHRIMP

K–Ar

Zircon

Monazite

Th–U–Pb monazite EMP method