Abstract
Adjacent to the terminal transmissible sickness recognized as Ebola hemorrhagic fever, there is another one called Lassa hemorrhagic fever. This disease kills more pregnant women as Ebola does. A novel analysis of the construction of mathematical formulas underpinning the spread of this sickness amount in pregnant women was presented in this paper. A clear justification of the derivative used in this construction is presented. A novel operator called Atangana transform was proposed and used. The derivation of the numerical solution was achieved via the scope of an iteration method. The efficiency of the used method was tested by presenting its stability and convergence. Numerical simulations are also presented.
Access options
Buy single article
Instant access to the full article PDF.
US$ 39.95
Tax calculation will be finalised during checkout.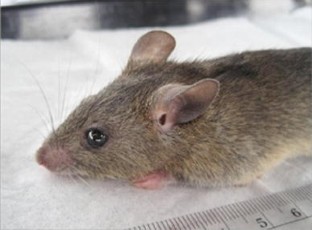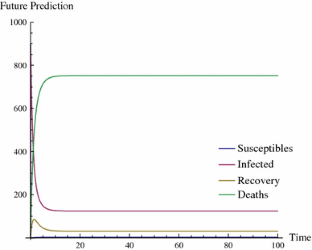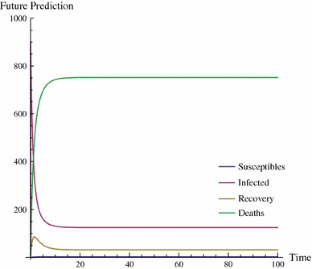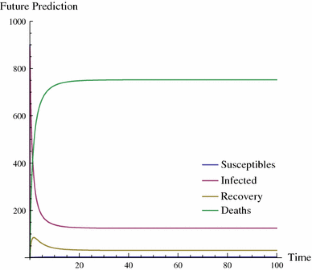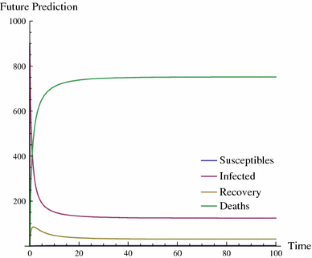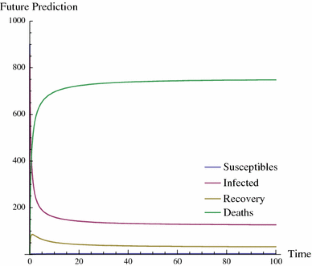 References
1.

Frame JD, Baldwin JM, Gocke DJ, Troup JM (1970) Lassa fever, a new virus disease of man from West Africa. I. Clinical description and pathological findings. Am J Trop Med Hyg 19(4):670–676

2.

Emond RTD, Bannister B, Lloyd G, Southee TJ, Bowen ETW (1982) A case of Lassa fever: clinical and virological findings. Br Med J 285(6347):1001–1002

3.

Ogbu O, Ajuluchukwu E, Uneke CJ (2007) Lassa fever in West African sub-region: an overview. J Vector Borne Dis 44(1):1–11

4.

McCormick Joseph (1987) A prospective study of the epidemiology and ecology of Lassa fever. J Infect Dis 155:437

5.

Atangana A, Doungmo Goufo EF (2014) Extension of match asymptotic method to fractional boundary layers problems. Math Probl Eng. Article ID 107535, p 7

6.

Atangana A, Goufo EFD (2014) On the mathematical analysis of ebola hemorrhagic fever: deathly infection disease in West African countries. BioMed Res Int, Article ID 261383, p 8

7.

Atangana A, Oukouomi Noutchie SC (2014) Model of break-bone fever via beta-derivatives. BioMed Res Int. Article ID 523159, p 11

8.

Heesterbeek JAP, Dietz K (1996) The concept of R0 in epidemic theory. Stat Neerl 50:89–110

9.

Matinfar M, Ghanbari M (2009) The application of the modified variational iteration method on the generalized Fisher's equation. J Appl Math Comput 31(1–2):165–175

10.

Tan Y, Abbasbandy S (2008) Homotopy analysis method for quadratic Riccati differential equation. Commun Nonlinear Sci Numer Simul 13(3):539–546

11.

Ongun MY (2011) The Laplace adomian decomposition method for solving a model for HIV infection of CD4+ T cells. Math Comput Model 53(5–6):597–603

12.

Kilbas AA, Srivastava HM, Trujillo JJ (2006) Theory and applications of fractional differential equations, vol 204., North-Holland mathematics studiesElsevier Science B.V, Amsterdam

13.

Madani M, Fathizadeh M, Khan Y, Yildirim A (2011) On the coupling of the homotopy perturbation method and Laplace transformation. Math Comput Model 53(9–10):1937–1945

14.

Khan Y, Latifizadeh H (2014) Application of new optimal homotopy perturbation and Adomian decomposition methods to the MHD non-Newtonian fluid flow over a stretching sheet. Int J Numer Methods Heat Fluid Flow 24(1):124–136

15.

Kılıçman A, Gadain HE (2010) On the applications of Laplace and Sumudu transforms. J Frankl Inst 347(5):848–862
About this article
Cite this article
Atangana, A. A novel model for the lassa hemorrhagic fever: deathly disease for pregnant women. Neural Comput & Applic 26, 1895–1903 (2015). https://doi.org/10.1007/s00521-015-1860-9
Received:

Accepted:

Published:

Issue Date:
Keywords
Model of Lassa fever for pregnant women

Beta-derivative

Atangana transform

Stability and uniqueness

Numerical simulations