Abstract
Patients diagnosed with cancer are often plagued with debilitating side effects post-chemotherapy treatment. One such side effect is chemotherapy-induced cognitive impairment or 'chemobrain'. Rodent models are commonly used to investigate pathogenesis and potential therapeutic strategies. However, concerns have been raised regarding inadequacies in reporting of animal studies rendering them unreliable and irreproducible. The aim of this systematic review was to assess compliance with the ARRIVE reporting guidelines in peer-reviewed publications evaluating chemotherapy-induced cognitive changes in rodent models, and to determine if the introduction of the ARRIVE guidelines has improved quality of reporting. A comprehensive search was conducted to identify relevant peer-reviewed publications. Ninety-seven studies met the eligibility criteria, and publication compliance with the ARRIVE guideline reporting was assessed. No studies achieved full adherence with the ARRIVE guidelines. Furthermore, no significant improvement was demonstrated in the overall compliance score post-ARRIVE. Given the lack of standardisation of animal models in this research area, these results pose particular threat to future progress and translation of findings in this area of research. These results highlight the need for stricter adherence to the ARRIVE guidelines by journal editors and reviewers. Animal Ethics Committees also have an important educative role in improving knowledge and awareness of the guidelines amongst researchers.
Access options
Buy single article
Instant access to the full article PDF.
USD 39.95
Price excludes VAT (USA)
Tax calculation will be finalised during checkout.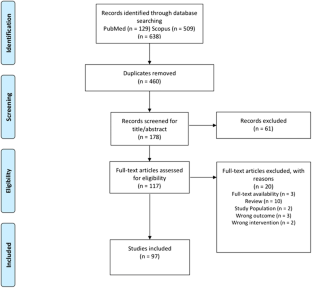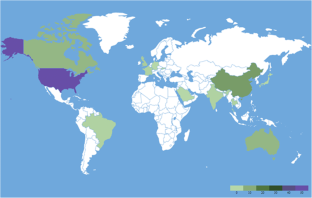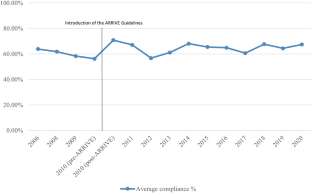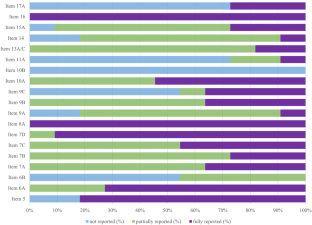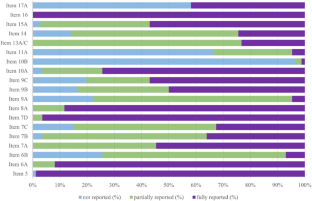 References
Bagnall-Moreau C, Chaudhry S, Salas-Ramirez K, Ahles T, Hubbard K (2019) Chemotherapy-induced cognitive impairment is associated with increased inflammation and oxidative damage in the hippocampus. Mol Neurobiol 56:7159–7172

Begley CG, Ellis LM (2012) Raise standards for preclinical cancer research. Nature 483:531–533

Cheung YT, Shwe M, Tan YP, Fan G, Ng R, Chan A (2012) Cognitive changes in multiethnic Asian breast cancer patients: a focus group study. Ann Oncol 23:2547–2552

George RP, Semendric I, Hutchinson MR, Whittaker AL (2021) Neuroimmune reactivity marker expression in rodent models of chemotherapy-induced cognitive impairment: a systematic scoping review. Brain Behav Immun 94:392–409

Gulin JE, Rocco DM, García-Bournissen F (2015) Quality of reporting and adherence to ARRIVE guidelines in animal studies for Chagas disease preclinical drug research: a systematic review. PLoS Negl Trop Dis 9:e0004194

Hånell A, Marklund N (2014) Structured evaluation of rodent behavioral tests used in drug discovery research. Front Behav Neurosci 8:252

Henderson FM, Cross AJ, Baraniak AR (2019) 'A new normal with chemobrain': experiences of the impact of chemotherapy-related cognitive deficits in long-term breast cancer survivors. Health Psychol Open 6:2055102919832234

Hodgson KD, Hutchinson AD, Wilson CJ, Nettelbeck T (2013) A meta-analysis of the effects of chemotherapy on cognition in patients with cancer. Cancer Treat Rev 39:297–304

Hooijmans CR, Rovers MM, de Vries RBM, Leenaars M, Ritskes-Hoitinga M, Langendam MW (2014) SYRCLE's risk of bias tool for animal studies. BMC Med Res Methodol 26:14-43

Hutchinson AD, Hosking JR, Kichenadasse G, Mattiske JK, Wilson C (2012) Objective and subjective cognitive impairment following chemotherapy for cancer: a systematic review. Cancer Treat Rev 38:926–934

Janelsins MC, Kesler SR, Ahles TA, Morrow GR (2014) Prevalence, mechanisms, and management of cancer-related cognitive impairment. Int Rev Psychiatr: Interface Psychiatr Oncol GUEST EDITOR: M Beatriz Currier 26:102–113

Kilkenny C, Browne WJ, Cuthill IC, Emerson M, Altman DG (2010) Improving bioscience research reporting: the ARRIVE guidelines for reporting animal research. PLoS Biol 8:e1000412

Kilkenny C, Parsons N, Kadyszewski E, Festing MF, Cuthill IC, Fry D, Hutton J, Altman DG (2009) Survey of the quality of experimental design, statistical analysis and reporting of research using animals. PLoS One 4:e7824

Landis SC, Amara SG, Asadullah K, Austin CP, Blumenstein R, Bradley EW, Crystal RG, Darnell RB, Ferrante RJ, Fillit H, Finkelstein R, Fisher M, Gendelman HE, Golub RM, Goudreau JL, Gross RA, Gubitz AK, Hesterlee SE, Howells DW, Huguenard J, Kelner K, Koroshetz W, Krainc D, Lazic SE, Levine MS, Macleod MR, McCall JM, Moxley RT 3rd, Narasimhan K, Noble LJ, Perrin S, Porter JD, Steward O, Unger E, Utz U, Silberberg SD (2012) A call for transparent reporting to optimize the predictive value of preclinical research. Nature 490:187–191

Li M, Caeyenberghs K (2018) Longitudinal assessment of chemotherapy-induced changes in brain and cognitive functioning: a systematic review. Neurosci Biobehav Rev 92:304–317

Lv L, Mao S, Dong H, Hu P, Dong R (2020) Pathogenesis, assessments, and management of chemotherapy-related cognitive impairment (CRCI): an updated literature review. J Oncol 2020:3942439

Macleod MR, Van Der Worp HB, Sena ES, Howells DW, Dirnagl U, Donnan GA (2008) Evidence for the efficacy of NXY-059 in experimental focal cerebral ischaemia is confounded by study quality. Stroke 39:2824–2829

Matsos A, Johnston IN (2019) Chemotherapy-induced cognitive impairments: a systematic review of the animal literature. Neurosci Biobehav Rev 102:382–399

Moher D, Liberati A, Tetzlaff J, Altman DG (2009) Preferred reporting items for systematic reviews and meta-analyses: the PRISMA statement. Ann Intern Med 151:264

Moher D, Simera I, Schulz KF, Hoey J, Altman DG (2008) Helping editors, peer reviewers and authors improve the clarity, completeness and transparency of reporting health research. BMC Med 6:1–3

Munir F, Burrows J, Yarker J, Kalawsky K, Bains M (2010) Women's perceptions of chemotherapy-induced cognitive side affects on work ability: a focus group study. J Clin Nurs 19:1362–1370

Myers JS (2009) Chemotherapy-related cognitive impairment: neuroimaging, neuropsychological testing, and the neuropsychologist (Report). Clin J Oncol Nurs 13:413

Nekhlyudov L, Mollica MA, Jacobsen PB, Mayer DK, Shulman LN, Geiger AM (2019) Developing a quality of cancer survivorship care framework: implications for clinical care, research, and policy. J Natl Cancer Inst 111:1120–1130

Nguyen LD, Ehrlich BE (2020) Cellular mechanisms and treatments for chemobrain: insight from aging and neurodegenerative diseases. EMBO Mol Med 12:e12075

Percie du Sert N, Hurst V, Ahluwalia A, Alam S, Avey MT, Baker M, Browne WJ, Clark A, Cuthill IC, Dirnagl U, Emerson M, Garner P, Holgate ST, Howells DW, Karp NA, Lazic SE, Lidster K, MacCallum CJ, Macleod M, Pearl EJ, Petersen OH, Rawle F, Reynolds P, Rooney K, Sena ES, Silberberg SD, Steckler T, Würbel H (2020) The ARRIVE guidelines 2.0: updated guidelines for reporting animal research. PLoS Biol 18:e3000410

Player L, Mackenzie L, Willis K, Loh SY (2014) Women's experiences of cognitive changes or 'chemobrain' following treatment for breast cancer: a role for occupational therapy? Aust Occup Ther J 61:230–240

Pound P, Ritskes-Hoitinga M (2020) Can prospective systematic reviews of animal studies improve clinical translation? J Transl Med 18:1–6

Santos JC, Pyter LM (2018) Neuroimmunology of behavioral comorbidities associated with cancer and cancer treatments Front Immunol 9:1195

Seigers R, Fardell JE (2011) Neurobiological basis of chemotherapy-induced cognitive impairment: a review of rodent research. Neurosci Biobehav Rev 35:729–741

Seigers R, Loos M, Van Tellingen O, Boogerd W, Smit AB, Schagen SB (2016) Neurobiological changes by cytotoxic agents in mice. Behav Brain Res 299:19–26

Selamat MH, Loh SY, Mackenzie L, Vardy J (2014) Chemobrain experienced by breast cancer survivors: a meta-ethnography study investigating research and care implications. PLoS One 9:e108002–e108002

Simó M, Rifà-Ros X, Rodriguez-Fornells A, Bruna J (2013) Chemobrain: a systematic review of structural and functional neuroimaging studies. Neurosci Biobehav Rev 37:1311–1321

Smith AJ, Clutton RE, Lilley E, Hansen KEA, Brattelid T (2018) PREPARE: guidelines for planning animal research and testing. Lab Anim 52:135–141

Taillibert S, Le Rhun E, Chamberlain MC (2016) Chemotherapy-related neurotoxicity. Curr Neurol Neurosci Rep 16:81

van der Worp HB, Macleod MR (2011) Preclinical studies of human disease: time to take methodological quality seriously. J Mol Cell Cardiol 51:449–450

Vesterinen HM, Sena ES, Ffrench-Constant C, Williams A, Chandran S, Macleod MR (2010) Improving the translational hit of experimental treatments in multiple sclerosis. Mult Scler J 16:1044–1055

Vichaya EG, Chiu GS, Krukowski K, Lacourt TE, Kavelaars A, Dantzer R, Heijnen CJ, Walker AK (2015) Mechanisms of chemotherapy-induced behavioral toxicities. Front Neurosci 9:131

Walker AK, Chang A, Ziegler AI, Dhillon HM, Vardy JL, Sloan EK (2018) Low dose aspirin blocks breast cancer-induced cognitive impairment in mice. PLoS One 13:e0208593

Wang XM, Walitt B, Saligan L, Tiwari AF, Cheung CW, Zhang ZJ (2015) Chemobrain: a critical review and causal hypothesis of link between cytokines and epigenetic reprogramming associated with chemotherapy. Cytokine 72:86–96

Wefel JS, Schagen SB (2012) Chemotherapy-related cognitive dysfunction. Curr Neurol Neurosci Rep 12:267–275

Winocur G, Johnston I, Castel H (2018) Chemotherapy and cognition: international cognition and cancer task force recommendations for harmonising preclinical research. Cancer Treat Rev 69:72–83

Whittaker AL, Hickman DL (2019) The impact of social and behavioral factors on reproducibility in terrestrial vertebrate models. ILAR J 60:252–269
Funding
This review was conducted with no external funding. ALW was supported by a NHMRC Peter Doherty Biomedical Research Fellowship (APP1140072). RPG was supported by an Australian Government Research Training Program Scholarship.
Ethics declarations
Ethics approval
N/A.
Consent to participate
N/A.
Consent for publication
N/A.
Conflict of interest
The authors declare no competing interests.
Additional information
Publisher's note
Springer Nature remains neutral with regard to jurisdictional claims in published maps and institutional affiliations.
Supplementary information
About this article
Cite this article
George, R.P., Semendric, I., Bowley-Schubert, E.R. et al. Reporting in rodent models of 'chemobrain': a systematic review assessing compliance with the ARRIVE guidelines. Support Care Cancer 29, 7073–7084 (2021). https://doi.org/10.1007/s00520-021-06312-8
Received:

Accepted:

Published:

Issue Date:

DOI: https://doi.org/10.1007/s00520-021-06312-8
Keywords