Abstract
Purpose
The prevalence of medical cannabis (MC) use in patients with cancer is growing, but questions about safety, efficacy, and dosing remain. Conducting randomized, controlled trials (RCTs) using state-sponsored MC programs is novel and could provide data needed to guide patients and providers.
Methods
A pilot RCT of patients with stage IV cancer requiring opioids was conducted. Thirty patients were randomized 1:1 to early cannabis (EC, n = 15) versus delayed start cannabis (DC, n = 15). The EC group obtained 3 months (3 M) of MC through a state program at no charge, while the DC group received standard oncology care without MC for the first 3 M. Patients met with licensed pharmacists at one of two MC dispensaries to determine a suggested MC dosing, formulation, and route. Patients completed surveys on pain levels, opioid/MC use, side effects, and overall satisfaction with the study.
Results
Interest in the study was high as 36% of patients who met eligibility criteria ultimately enrolled. The estimated mean daily THC and CBD allotments at 3 M were 34 mg and 17 mg, respectively. A higher proportion of EC patients achieved a reduction in opioid use and improved pain control. No serious safety issues were reported, and patients reported high satisfaction.
Conclusion
Conducting RCTs using a state cannabis program is feasible. The addition of MC to standard oncology care was well-tolerated and may lead to improved pain control and lower opioid requirements. Conducting larger RCTs with MC in state-sponsored programs may guide oncology providers on how to safely and effectively incorporate MC for interested patients.
Access options
Buy single article
Instant access to the full article PDF.
USD 39.95
Price includes VAT (USA)
Tax calculation will be finalised during checkout.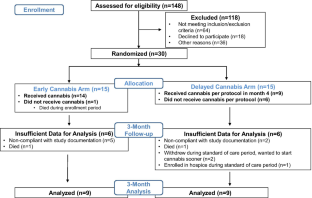 Data availability
The authors have full control of all primary data and agree to allow the journal to review data if requested.
References
1.

Pergam SA, Woodfield MC, Lee CM et al (2017) Cannabis use among patients at a comprehensive cancer center in a state with legalized medicinal and recreational use. Cancer 123:4488–4497

2.

Tanco K, Dumlao D, Kreis R et al (2019) Attitudes and beliefs about medical usefulness and legalization of marijuana among cancer patients in a legalized and a nonlegalized state. J Palliat Med 22:1213–1220

3.

Martell K, Fairchild A, LeGerrier B et al (2018) Rates of cannabis use in patients with cancer. Curr Oncol 25:219–225

4.

Steele G, Arneson T, Zylla D (2019) A comprehensive review of cannabis in patients with cancer: availability in the USA, general efficacy, and safety. Curr Oncol Rep 21:10

5.

Abrams DI (2019) Should oncologists recommend cannabis? Curr Treat Options Oncol 20:59

6.

Anderson SP, Zylla DM, McGriff DM, Arneson TJ (2019) Impact of medical cannabis on patient-reported symptoms for patients with cancer enrolled in Minnesota's medical cannabis program. J Oncol Pract 15:e338–e345

7.

Bar-Lev Schleider L, Mechoulam R, Lederman V et al (2018) Prospective analysis of safety and efficacy of medical cannabis in large unselected population of patients with cancer. Eur J Intern Med 49:37–43

8.

Haug NA, Kieschnick D, Sottile JE et al (2016) Training and practices of cannabis dispensary staff. Cannabis Cannabinoid Res 1:244–251

9.

Braun IM, Wright A, Peteet J et al (2018) Medical oncologists' beliefs, practices, and knowledge regarding marijuana used therapeutically: a nationally representative survey study. J Clin Oncol 36:1957–1962

10.

Zylla D, Steele G, Eklund J et al (2018) Oncology clinicians and the Minnesota medical cannabis program: a survey on medical cannabis practice patterns, barriers to enrollment, and educational needs. Cannabis Cannabinoid Res 3: https://doi.org/10.1089/can.2018.0029

11.

https://www.fda.gov/news-events/public-health-focus/fda-and-cannabis-research-and-drug-approval-process Accessed 9/17/2020.

12.

https://www.fda.gov/news-events/public-health-focus/fda-regulation-cannabis-and-cannabis-derived-products-including-cannabidiol-cbd#:~:text=3.,three%20cannabis%2Drelated%20drug%20products. Accessed 9/17/2020.

13.

Stover A, Irwin DE, Chen RC et al (2015) Integrating patient-reported outcome measures into routine cancer care: cancer patients' and clinicians' perceptions of acceptability and value. EGEMS (Wash DC) 3:1169

14.

https://safetycall.com/industries-served-2/medical-cannabis/. Accessed 9/17/2020.

15.

Roslawski MJ, Remmel RP, Karanam A et al (2019) Simultaneous quantification of 13 cannabinoids and metabolites in human plasma by liquid chromatography tandem mass spectrometry in adult epilepsy patients. Ther Drug Monit 41:357–370

16.

Okusanya BO, Asaolu IO, Ehiri JE et al (2020) Medical cannabis for the reduction of opioid dosage in the treatment of non-cancer chronic pain: a systematic review. Syst Rev 9:167

17.

Goyal S, Kubendran S, Kogan M, Rao YJ (2020) High expectations: the landscape of clinical trials of medical marijuana in oncology. Complement Ther Med 49:102336

18.

https://www.health.state.mn.us/people/cannabis/docs/rulemaking/pricereport.pdf. Accessed 10/5/2020.

19.

MacCallum CA, Russo EB (2018) Practical considerations in medical cannabis administration and dosing. Eur J Intern Med 49:12–19

20.

Maida V, Daeninck PJ (2016) A user's guide to cannabinoid therapies in oncology. Curr Oncol 23:398–406

21.

Fallon MT, Albert Lux E, McQuade R et al (2017) Sativex oromucosal spray as adjunctive therapy in advanced cancer patients with chronic pain unalleviated by optimized opioid therapy: two double-blind, randomized, placebo-controlled phase 3 studies. Br J Pain 11:119–133

22.

Johnson JR, Lossignol D, Burnell-Nugent M, Fallon MT (2013) An open-label extension study to investigate the long-term safety and tolerability of THC/CBD oromucosal spray and oromucosal THC spray in patients with terminal cancer-related pain refractory to strong opioid analgesics. J Pain Symptom Manag 46:207–218

23.

Lynch ME, Cesar-Rittenberg P, Hohmann AG (2014) A double-blind, placebo-controlled, crossover pilot trial with extension using an oral mucosal cannabinoid extract for treatment of chemotherapy-induced neuropathic pain. J Pain Symptom Manag 47:166–173

24.

https://ascopost.com/issues/august-25-2018/cannabinoids-for-cancer-pain/. Accessed 9/17/2020

25.

Taha T, Meiri D, Talhamy S et al (2019) Cannabis impacts tumor response rate to nivolumab in patients with advanced malignancies. Oncologist 24:549–554

26.

Bar-Sela G, Cohen I, Campisi-Pinto S et al (2020) Cannabis consumption used by cancer patients during immunotherapy correlates with poor clinical outcome. Cancers (Basel) 12

27.

Birnbaum AK, Karanam A, Marino SE et al (2019) Food effect on pharmacokinetics of cannabidiol oral capsules in adult patients with refractory epilepsy. Epilepsia 60:1586–1592
Funding
This work was supported by grants received from HealthPartners Institute; Randy Shaver Cancer Research and Community Fund; and philanthropic support from Diana and Bob Carter. No grant numbers are applicable. Vireo Health and LeafLine Labs provided all cannabis products at no cost to the patients during the trial period.
Ethics declarations
Ethics approval
This research involved human participants and was performed in line with the principles of the Declaration of Helsinki. Approval was granted by HealthPartners Institutional Review Board.
Consent to participate
Informed consent was obtained from all patients.
Consent for publication
Not applicable.
Conflict of interest
Dr. Dahmer has received personal compensation for serving as an employee of Vireo Health International. Matthew Tracy is employed by LeafLine Labs. The remaining authors have no conflict of interest to declare that are relevant to the content of this article.
Additional information
Publisher's note
Springer Nature remains neutral with regard to jurisdictional claims in published maps and institutional affiliations.
Supplementary Information
Below is the link to the electronic supplementary material.
About this article
Cite this article
Zylla, D.M., Eklund, J., Gilmore, G. et al. A randomized trial of medical cannabis in patients with stage IV cancers to assess feasibility, dose requirements, impact on pain and opioid use, safety, and overall patient satisfaction. Support Care Cancer 29, 7471–7478 (2021). https://doi.org/10.1007/s00520-021-06301-x
Received:

Accepted:

Published:

Issue Date:
Keywords
Medical cannabis

Pain

Opioids

Cancer

Patient-reported outcomes