Abstract
Background
There are minimal data regarding the safety and efficacy of cannabis used as an anti-cancer agent or for symptom management in pediatric oncology. We aimed to characterize the prevalence and factors associated with the use of cannabis for the treatment of cancer and management of cancer-related symptoms in children during or after cancer treatment.
Methods
An anonymous 40 question paper survey was offered to patients/caregivers of children with cancer attending a pediatric oncology clinic in a provincially mandated cancer agency between October 2019 and March 2020.
Results
There were 64 respondents included in the analysis. Fourteen participants (N=14/64; 22%) reported use of cannabis, of which half used cannabis for either cancer treatment or symptom management, or both. Leukemia (n=9/14; 64%) was the most frequent diagnosis in children whose caregivers reported using cannabis and the majority of them were still receiving active cancer treatment (N= 5/9; 56%). All of the respondents using cannabis (14/14, 100%) experienced symptom improvement. Most of the caregivers procured cannabis from their friends (N=5/14; 36%), and oil was the most commonly used formulation (N=12/14; 86%). Cannabis-related information was received from another parent (N=4/14; 29%) or from a doctor (N=4/14; 29%). The reported monthly expenditure on cannabis varied widely from less than $50 CAD (N=4/14; 29%) to more than $500 CAD (N=3/14; 21%).
Conclusions
Our survey shows that cannabis, mostly oil products, was used by one-fifth of children with cancer during or after the completion of cancer treatment. These findings require validation in a larger nationwide survey.
Access options
Buy single article
Instant access to the full article PDF.
US$ 39.95
Tax calculation will be finalised during checkout.
Subscribe to journal
Immediate online access to all issues from 2019. Subscription will auto renew annually.
US$ 119
Tax calculation will be finalised during checkout.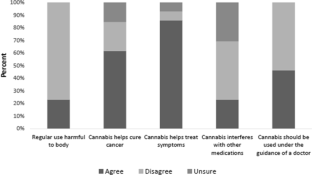 Abbreviations
CBD:

Cannabidiol

THC:

Tetrahydrocannabinol
References
1.

Canadian Department of Justice (2020). Cannabis legalization and regulation. https://www.justice.gc.ca/eng/cj-jp/cannabis/

2.

Fraguas-Sanchez AI, Torres-Saurez AI (2018) Medical use of cannabinoids. Drugs 78:1665–1703

3.

MacCallum CA, Russo EB (2018) Practical considerations in medical cannabis administration and dosing. Eur J Int Med 49:12–19

4.

Maa E, Figi P (2014) The case for medical marijuana in epilepsy. Epilepsia 55(6):783–786

5.

Devinsky O, Cross JH, Laux L et al (2017) Trial of cannabidiol for drug-resistant seizures in the Dravet syndrome. N Engl J Med 376(21):2011–2018

6.

Turgeman I, Bar-Sela G (2019) Cannabis for cancer-illusion or the tip of an iceberg: a review of the evidence for the use of cannabis and synthetic cannabinoids in oncology. Expert Opin Investig Drugs 28:285–296

7.

Ladin DA, Soliman E, Griffin L, Van Dross R (2016) Preclinical and clinical assessment of cannabinoids as anti-cancer agents. Front Pharmacol 7:361

8.

Velasco G, Sanchez C, Guzman M (2012) Towards the use of cannabinoids as antitumor agents. Nat Rev Cancer 12:436–444

9.

Hinz B, Ramer R (2018) Anti-tumoral actions of cannabinoids. Br J Pharmacol 176:1384–1394. https://doi.org/10.1111/bph.14426

10.

Fraguas-Sanchez AI, Martin-Sabroso C, Torres-Saurez AI (2018) Insights into the effects of the endocannabinoid system in cancer: a review. Br J Pharmacol 175:2566–2580

11.

Guzman M, Duarte MJ, Blazquez C et al (2006) A pilot clinical study of delta 9-tetrahydrocannabinol in patients with recurrent glioblastoma multiforme. Br J Cancer 95(2):197–203

12.

Reider MJ (2016) Is the medical use of cannabis a therapeutic option for children? Paediatr Child Health 21(1):31–34

13.

Rassekh SR (2019) Urgent need for "EBMM" in pediatric oncology: evidence based medical marijuana. Pediatr Hematol Oncol 36(5):253–254

14.

Ananth P, Ma C, Al-Sayegh H et al (2018) Provider perspectives on use of medical marijuana in children with cancer. Pediatrics. 141:e20170559

15.

Ofir R, Bar-Sela G, Ben-Arush MW, Postovsky S (2019) Medical marijuana use for pediatric oncology patients: single institution experience. Pediatr Hematol Oncol 36(5):255–266

16.

Skrypek M, Bostrom BC, Bendel AE (2019) Medical cannabis certification in a large pediatric oncology center. Children. 6(79):2–8

17.

Cobb Scott J et al (2018) Association of cannabis with cognitive functioning in adolescents and young adults. JAMA Psychiatry 75(6):585–595

18.

Grant C et al (2017) Cannabis and Canada's children and youth. Paediatr Child Health 22(2):98–102

19.

Martell K, Fairchild A, LeGerrier B et al (2018) Rates of cannabis use in patients with cancer. Curr Oncol 25(3):219–255

20.

Podda M, Bagliacca EP, Sironni G et al (2020) Cannabinoids use in adolescent and young adults with cancer: a single-center survey. Tumori Journal 106:281–285. https://doi.org/10.1177/0300891620912022

21.

Wong SS, Wilens TE (2017) Medical cannabinoids in children and adolescents: a systematic review. Pediatrics 140(5):e20171818

22.

Hines L et al (2018) Medical marijuana for minor may be considered child abuse. Pediatrics. 2018:142(4)

23.

Yeung, M et al. (2020) Cannabis use in pediatric cancer patients: what are they reading? A review of the online literature. Support Care Cancer; doi: https://doi.org/10.1007/s00520-020-05306-2.

24.

Kelly LE, Junker A (2018) Considerations for clinical trials to study cannabinoids in Canadian children with neurologic disorders. CMAJ. 190:E1002–E1003
Ethics declarations
Ethics approval
Approval for this study was granted by the Health Research Ethics Board at the University of Manitoba, as well as CancerCare Manitoba's Research Resource Impact Committee (REB#H2019:232, RRIC# 2019:021).
Consent to participate
N/A
Consent for publication
N/A
Conflict of interest
The authors declare no competing interests.
Additional information
Publisher's note
Springer Nature remains neutral with regard to jurisdictional claims in published maps and institutional affiliations.
Presentation
International Society of Paediatric Oncology Virtual Congress, October 14–17, 2020, Medical Cannabis in Pediatric Oncology: A Survey of Patients and Caregivers
Supplementary Information
About this article
Cite this article
Chapman, S., Protudjer, J., Bourne, C. et al. Medical cannabis in pediatric oncology: a survey of patients and caregivers. Support Care Cancer (2021). https://doi.org/10.1007/s00520-021-06202-z
Received:

Accepted:

Published:
Keywords
Cannabis

Medical marijuana

Pediatric oncology

Symptom management