Abstract
Purpose
Collecting patients' pain features for congruent pain relief treatment is time-consuming. We sought to identify implementation issues and evaluate the efficacy of an electronic patient self-reporting pain device in community-based cancer clinics.
Methods
In a 2-phase descriptive pilot and randomized controlled trial (RCT) with pretest/posttest design, 178 cancer patients participated (n = 33 pilot phase; n = 145 in the RCT phase). Patients completed PAINReportIt®, an electronic version of the valid and reliable McGill Pain Questionnaire that comprehensively measures the multiple dimensions of pain. All pilot phase and RCT patients were asked to complete PAINReportIt® twice and received usual care. For RCT patients assigned to the experimental group, a copy of the PAINReportIt® Summary was placed in their clinic medical record before they visited their clinicians. Posttest measures were completed 3–7 days later.
Results
We identified three implementation barriers: system resistance to deposit of research data into the medical record, staff resistance to change, and patients' physical manipulation of the tablet. The time required to complete the tool did not differ significantly between groups but reduced significantly pre- to posttest in both RCT groups. Current pain intensity and pain quality but not worst pain scores decreased significantly pre- to posttest in the experimental group. None of the pain variables differed significantly between groups.
Conclusion
Implementation of PAINReportIt® was feasible in community oncology clinic settings. Barriers identified were expected and were surmountable. The studied tool showed satisfactory time sparing for comprehensive pain assessment with data automatically recorded and easily accessed by the clinician in the form of a summary report. Findings support the need for additional research to demonstrate the clinical efficacy of tablet-based pain assessment on patient outcomes as well as clinical care processes such as pain documentation and analgesic prescriptions.
Access options
Buy single article
Instant access to the full article PDF.
US$ 39.95
Tax calculation will be finalised during checkout.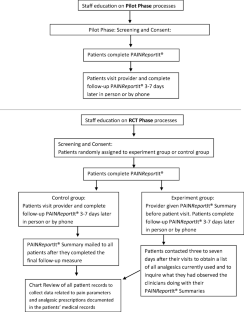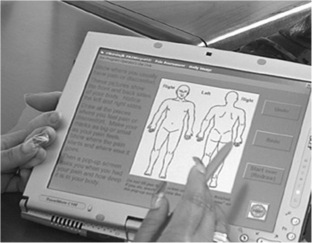 Availability of data and material
References
1.

Tompkins DA, Hobelmann JG, Compton P (2017) Providing chronic pain management in the "Fifth Vital Sign" Era: Historical and treatment perspectives on a modern-day medical dilemma. Drug Alcohol Depend 173(S1):S11–S21. https://doi.org/10.1016/j.drugalcdep.2016.12.002

2.

Levin DN, Cleeland CS, Dar R (1985) Public attitudes toward cancer pain. Cancer 56(9):2337–2339. https://doi.org/10.1002/1097-0142(19851101)56:9<2337::aid-cncr2820560935>3.0.co;2-w

3.

Apolone G, Corli O, Caraceni A, Negri E, Deandrea S, Montanari M, Greco MT, Cancer Pain Outcome Research Study Group I (2009) Pattern and quality of care of cancer pain management. Results from the Cancer Pain Outcome Research Study Group. Br J Cancer 100(10):1566–1574. https://doi.org/10.1038/sj.bjc.6605053

4.

Wilkie DJ, Huang HY, Reilly N, Cain KC (2001) Nociceptive and neuropathic pain in patients with lung cancer: A comparison of pain quality descriptors. J Pain Symptom Manag 22(5):899–910. https://doi.org/10.1016/S0885-3924(01)00351-7

5.

Chwistek M (2017) Recent advances in understanding and managing cancer pain. F1000Res (6):945. https://doi.org/10.12688/f1000research.10817.1

6.

Shields CG, Finley MA, Elias CM, Coker CJ, Griggs JJ, Fiscella K, Epstein RM (2013) Pain assessment: the roles of physician certainty and curiosity. Health Commun 28(7):740–746. https://doi.org/10.1080/10410236.2012.715380

7.

Wolpin S, Berry D, Austin-Seymour M, Bush N, Fann JR, Halpenny B et al (2008) Acceptability of an Electronic Self-Report Assessment Program for patients with cancer. Comput Inform Nurs 26(6):332–338. https://doi.org/10.1097/01.NCN.0000336464.79692.6a

8.

Mullen KH, Berry DL, Zierler BK (2004) Computerized symptom and quality-of-life assessment for patients with cancer part II: acceptability and usability. Oncol Nurs Forum 31(5):E84–E89. https://doi.org/10.1188/04.ONF.E84-E89

9.

Wilkie DJ, Judge MKM, Berry DL, Dell J, Zong S, Gilespie R (2003) Usability of a Computerized PAINReportIt® in the General Public with Pain and People with Cancer Pain. J Pain Symptom Manag 25(3):213–224. https://doi.org/10.1016/S0885-3924(02)00638-3

10.

Dyal BW, Ezenwa MO, Yao Y, Molokie RE, Wang ZJ, Ballas SK, Suarez ML, Wilkie DJ (2020) Randomized clinical trial of computerized PAINRelieveIt® for patients with sickle cell disease: PAINReportIt® and PAINUCope®. Patient Educ Couns 103(1):136–144

11.

Dyal BW, Ezenwa MO, Yoon SL, Fillingim RB, Yao Y, Schlaeger JM, Suarez ML, Wang ZJ, Molokie RE, Wilkie DJ (2019) Relationship of Pain quality descriptors and quantitative sensory testing: sickle cell disease. Nurs Res 68(5):365–373. https://doi.org/10.1097/nnr.0000000000000375

12.

Dyal BW, Ezenwa MO, Yoon SL, Fillingim RB, Yao Y, Schlaeger JM, Suarez ML, Wang ZJ, Molokie RE, Wilkie DJ (2019) A QST-based pain phenotype in adults with sickle cell disease: sensitivity and specificity of quality descriptors. Pain Pract 20(2):168–178

13.

Powell-Roach K, Yao Y, Ezenwa MO, Schlaeger JM, Suarez ML, Molokie RE, Wang ZJ, Wilkie DJ (2020) Neuropathic pain screening: construct validity in patients with sickle cell disease. West J Nurs Res 42(2):125–130. https://doi.org/10.1177/0193945919836446

14.

Page DB, Weaver F, Wilkie DJ, Simuni T (2010) A computerized survey of pain in Parkinson's disease patients: a pilot feasibility study. Parkinsonism Relat Disord 16(2):139–141. https://doi.org/10.1016/j.parkreldis.2009.07.001

15.

Schoppee TM, Dyal BW, Scarton L, Ezenwa MO, Singh P, Yao Y, Suarez ML, Wang ZJ, Molokie RE, Wilkie DJ (2020) Patients and caregivers rate the PAINReportIt wireless internet-enabled tablet as a method for reporting pain during end-of-life cancer care. Cancer Nurs 43(5):419–424. https://doi.org/10.1097/ncc.0000000000000743

16.

Wilkie DJ, Savedra MC, Holzemer WL, Tesler MD, Paul SM (1990) Use of the Mcgill Pain Questionnaire to Measure Pain - a Meta-Analysis. Nurs Res 39(1):36–41

17.

McGuire DB (1984) Assessment of pain in cancer inpatients using the McGill Pain Questionnaire. Oncol Nurs Forum 11(6):32–37

18.

Melzack R (1975) Mcgill pain questionnaire - major properties and scoring methods. Pain 1(3):277–299. https://doi.org/10.1016/0304-3959(75)90044-5

19.

Ezenwa MO, Molokie RE, Wang ZJ, Yao Y, Suarez ML, Angulo V, Wilkie DJ (2014) Outpatient pain predicts subsequent one-year acute health care utilization among adults with sickle cell disease. J Pain Symptom Manag 48(1):65–74. https://doi.org/10.1016/j.jpainsymman.2013.08.020

20.

Jha A, Suarez ML, Ferrans CE, Molokie R, Kim YO, Wilkie DJ (2010) Cognitive testing of PAINReportIt in adult African Americans with sickle cell disease. Comput Inform Nur 28(3):141–150. https://doi.org/10.1097/NCN.0b013e3181d7820b

21.

Cleeland CS, Gonin R, Hatfield AK, Edmonson JH, Blum RH, Stewart JA, Pandya KJ (1994) Pain and its treatment in outpatients with metastatic cancer. N Engl J Med 330(9):592–596. https://doi.org/10.1056/nejm199403033300902

22.

Oconnor M, Fuller H, Cortez F (2018) Technology use among older adults in rural areas. Innov Aging 2(S1):679. https://doi.org/10.1093/geroni/igy023.2528

23.

Abernethy AP, Wheeler JL, Bull J (2011) Development of a health information technology-based data system in community-based hospice and palliative care. Am J Prev Med 40(5 S2):S217–S224. https://doi.org/10.1016/j.amepre.2011.01.012

24.

Office of Disease Prevention and Health Promotion (n.d.) Social determinants of health. Healthy People 2030. U.S. Department of Health and Human Services. https://health.gov/healthypeople/objectives-and-data/social-determinants-health

25.

Dowell D, Haegerich TM, Choum R (2016) CDC Guideline for prescribing opioids for chronic pain-United States, 2016. JAMA 315(15):1624–1645

26.

Attal N, Bouhassira D (2015) Pharmacotherapy of neuropathic pain: which drugs, which treatment algorithms? Pain 156(S1):S104–S114. https://doi.org/10.1097/01.j.pain.0000460358.01998.15

27.

Marino LA, Campbell AN, Nunes EV, Sederer LI, Dixon LB (2019) Factors Influencing Buprenorphine Prescribing among Physicians in New York State. J Addict 2019:7832752–7832752. https://doi.org/10.1155/2019/7832752

28.

Andrade WT, Branco RG, Cagnin MI, Paiva DMB (2018) Incorporating accessibility elements to the software engineering process. Adv Hum Comput Interact 2018:1389208–1389217. https://doi.org/10.1155/2018/1389208

29.

World Health Organization (1996) Cancer Pain Relief: With a Guide to Opioid Availability. Geneva
Funding
The research was supported in part by Grant Number R44 NR04742, National Institute of Nursing Research, National Institutes of Health. Its contents are solely the responsibility of the authors and do not necessarily represent the official views of the National Institute of Nursing Research.
Ethics declarations
Ethics approval
The Institutional Review Boards at the University of Washington and the community medical center approved the study.
Consent to participate/consent to publish
Informed consent was obtained from all individual participants included in the study. Patients signed informed consent regarding publishing their data.
Conflict of interest
The final peer-reviewed manuscript is subject to the NIH Public Access Policy. PAINReportIt® is owned by Nursing Consult, LLC, a company in which M. Kay M Judge owns shares.
Additional information
Publisher's note
Springer Nature remains neutral with regard to jurisdictional claims in published maps and institutional affiliations.
About this article
Cite this article
Judge, M.K.M., Luedke, R., Dyal, B.W. et al. Clinical efficacy and implementation issues of an electronic pain reporting device among outpatients with cancer. Support Care Cancer 29, 5227–5235 (2021). https://doi.org/10.1007/s00520-021-06075-2
Received:

Accepted:

Published:

Issue Date:
Keywords
Cancer pain

Pain measurement

Community health center