Abstract
Purpose
The present study aims to evaluate the effectiveness of a mobile-assisted empowerment program developed specifically for caregivers of cancer patients undergoing radiotherapy.
Methods
In this study, seventy-four individuals who gave care for cancer patients that received radiotherapy between September 2019 and May 2020 were randomized to receive a mobile-assisted empowerment program or standard care. The mobile-assisted empowerment program comprised of education and information related to the radiotherapy process, videos, activities, and question-and-answer modules to support caregivers during the radiotherapy process. Outcome measures were collected at baseline (day 1 of radiotherapy) and on day 21 and included caregiver demographics, distress, quality of life, and coping style using validated questionnaires.
Results
Compared with baseline, individuals' mean scores of distress were lower in the empowerment group than the control group (p < 0.001). General quality of life and sub-dimension mean scores were higher in the empowerment group than the control group (p ≤ 0.05). There was no difference in the coping style average scores (p ≥ 0.05) between the two groups.
Conclusions
This study supports the findings that a mobile-supported empowerment program reduced the level of caregiver distress and increased quality of life during their loved one's treatment with radiotherapy.
Access options
Buy single article
Instant access to the full article PDF.
US$ 39.95
Tax calculation will be finalised during checkout.
Subscribe to journal
Immediate online access to all issues from 2019. Subscription will auto renew annually.
US$ 119
Tax calculation will be finalised during checkout.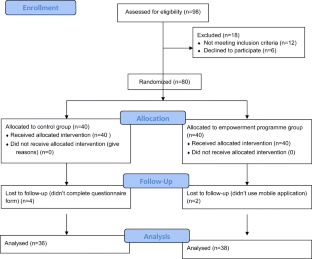 Data availability
The dataset(s) supporting the conclusions of this article is (are) available and will be provided by the authors upon request.
References
1.

Applebaum AJ, Breıtbart W (2013) Care for the cancer caregiver: a systematic review. Palliat Support Care 11(3):231–252

2.

Honea NJ, Brintnall R, Given B, Sherwood P, Colao DB, Somers SC, Northouse LL (2008) Putting evidence into practice: nursing assessment and interventions to reduce family caregiver strain and burden. Clin J Oncol Nurs 12(3):507–516

3.

Johansen S (2018) The effect of cancer patients' and their family caregivers' physical and emotional symptoms on caregiver burden. Cancer Nurs 41(2):91–99

4.

Chan RJ, Webster J, Marquart L (2011) Information interventions for orienting patients and their carers to cancer care facilities. Cochrane Database Syst Rev 7(12):CD008273

5.

Potter P, Olsen S, Kuhrik M, Kuhrik N, Huntley LR (2012) A DVD program on fall prevention skill straining for cancer family care givers. J Cancer Educ 27(1):83–90

6.

Chambers SK, Gırgıs A, Occhipinti S, Hutchison S, Turner J, Morris B, Dunn J (2012) Psychological distress and unmet supportive care needs ın cancer patients and carers who contact cancer helplines. Eur J Cancer Care 21(2):213–223

7.

Williams AL, McCorkle R (2011) Cancer family caregivers during the palliative, hospice, and bereavement phases: a review of the descriptive psychosocial literature. Palliat Support Care 9(3):315–325

8.

Northouse L, Katapodi MC, Schafenacker AM, Weiss D (2012) The impact of caregiving on the psychological well-being of family caregivers and cancer patients. Semin Oncol Nurs 28(4):236–245

9.

Knobf MT, Cooley M, Duffy S, Doorenbos A, Eaton L, Given B, Mayer D, McCorkle R, Miaskowski C, Mitchell S, Sherwood P, Bender C, Cataldo J, Hershey D, Katapodi M, Menon U, Schumacher K, Sun V, Ah D, LoBiondo-Wood G, Mallory G (2015) The 2014-2018 Oncology nursing society research agenda. Oncol Nurs Forum 42(5):450–465

10.

Kettunen T, Postiparta M, Liimatainen L (2001) Empowering counseling-a case study: nurse patient encounter in hospital. Health Educ Res 16(2):227–238

11.

Lau DH (2002) Patient empowerment-a patient-centred approach to improve care. Hong Kong Med J 8(5):372–374

12.

Taylor M (2000) Patient care (empowerment): a local view. BMJ 320:1663–1664

13.

Stevenson C, Leamy M, Barker P (2000) The philosophy of empowerment. Ment Health Nurs 20(9):8–12

14.

Shın S, Park H (2017) Effect of empowerment on the quality of life of the survivors of breast cancer: The moderating effect of self-help group participation. Jpn J Nurs Sci 14(4):311–319

15.

Davarpanah M, Fayazi S, Shariati A, Mirhosseini SD (2017) The effect of family-centered empowerment model on the quality of life of patients with leukemia. Jundishapur J Chronic Dis Care 6(1):36441

16.

Yount SE, Rothrock N, Bass M, Beaumant JL, Roch D, Lod T, Patel J, Corona M, Weiland R, Ciella K (2013) A randomized trial of weekly symptom telemonitoring in advanced lung cancer. J Pain Symptom Manag 47(6):973–989

17.

Ferrell B, Wittenberg E (2017) A review of family caregiving intervention trials in oncology. CA Cancer J Clin 67(4):318–325

18.

Badger T, Segrin C, Pasvogel A, Lopez AM (2013) The effect of psychosocial interventions delivered by telephone and video phone on quality of life in early-stage breast cancer survivors and their supportive partners. J Telemed Telecare 19:260–265

19.

Odeh B, Kayyali R, Nabhani-Gebara S, Philip N (2015) Optimizing cancer care through mobile health. Support Care Cancer 23:2183–2188

20.

Marcano Belisario JS, Huckvale K, Greenfield G, Car J, Gunn LH (2013) Smartphone and tablet self management apps for asthma. Cochrane Database Syst Rev Issue 11:CD010013

21.

Bektas Akpinar N, Yurtsever S (2018) Care burden and quality of life of family members caring for cancer outpatients. Int J Caring Sci 11(3):1516–1525

22.

Okcin F, Karadakovan A (2012) Reliability and validity of the quality of life -family version (QOL-FV) in Turkish family caregivers of patients with cancer. Asian Pac J Cancer Prev 13(9):4235–4240

23.

Ruysscher DD, Niedermann G, Burnet NG, Siva S, Lee AWM, Hegi Johnson F (2019) Radiotherapy toxicity. Nat Rev 5(1):13

24.

Koontz BF (2017) Radiation therapy treatment effects an evidence-based guide to managing toxicity. Newyork, Demos

25.

Ownby KK (2019) Use of the distress thermometer in clinical practice. J Adv Pract Oncol 10(2):175–179

26.

Özalp E, Cankurtaran ES, Geyik SH, Özdemir P, Jacobsen PB (2007) Screening for psychological distress in Turkish cancer patients. Psycho-Oncology 16(4):304–311

27.

Bacanlı H, Sürücü M, İlhan T (2013) An ınvestigation of psychometric properties of coping styles scale brief form: a study of validity and reliability. Educ Sci Theory Pract 13(1):90–96

28.

Shoghi M, Shahbazi B, Seyedfatemi N (2019) The effect of the family-centered empowerment model (FCEM) on the care burden of the parents of children diagnosed with cancer. Asian Pac J Cancer Prev 20(6):1757–1764

29.

Kaltenbaugh DJ, Klem ML, Hu L, Turi E, Haines AJ, Lingler JH (2015) Using web-based interventions to support caregivers of patients with cancer: a systematic review. Oncol Nurs Forum 42(2):156–164

30.

Namkoong K, DuBenske LL, Shaw BR, Gustafson DH, Hawkins RP, Shah DV, McTavish FM, Cleary JF (2012) Creating a bond between caregivers online: effect on caregivers' coping strategies. J Health Commun 17(2):125–140

31.

Chih MY, DuBenske LL, Hawkins RP, Brown RL, Dinauer SK, Cleary JF, Gustafson DH (2013) Communicating advanced cancer patients' symptoms via the internet: a pooled analysis of two randomized trials examining caregiver preparedness, physical burden, and negative mood. Palliat Med 27(6):533–543

32.

Northouse L, Schafenacker A, Barr KLC, Katapodi M, Yoon H, Brittain K, Song L, Ronis DL, An L (2014) A tailored web-based psychoeducational intervention for cancer patients and their family caregivers. Cancer Nurs 37(5):321–330

33.

DuBenske LL et al (2014) CHESS improves cancer caregivers' burden and mood: results of an eHealth RCT. Health psychology: official journal of the division of health psychology. Am Psychol Assoc 33(10):1261–1272

34.

Heynsbergh N, Heckel L, Botti M, Chul O S, Livingston PM (2019) Development of a smartphone app for ınformal carers of people with cancer: processes and learnings. JMIR Form Res 3(2):10990

35.

McKechnie V, Barker C, Stott J (2014) Effectiveness of computer-mediated interventions for informal carers of people with dementia a systematic review. Int Psychogeriatr 26:1619–1637

36.

Cristancho-Lacroix V, Moulin F, Wrobel J, Batrancourt B, Plichart M, De Rotrou J, Cantegreil-Kallen I, Rigaud AN (2014) A web-based program for informal caregivers of persons with Alzheimer's disease: an iterative user-centered design. JMIR Res Protoc 15,3(3):46

37.

Shin JY, Kang TI, Noll RB, Choi SW (2018) Supporting caregivers of patients with cancer: a summary of technology-mediated ıntervens ons and future directions. Am Soc Clin Oncol Educ Book 38:838–849

38.

Ugalde A, Gaskin CJ, Rankin NM, Schofield P, Boltong A, Aranda S, Chambers S, Krishnasamy M, Livingston PM (2019) A systematic review of cancer caregiver interventions: appraising the potential for implementation of evidence into practice. Psycho-Oncology 28:687–701

39.

Badr H, Gupta V, Sikora A, Posner M (2014) Psychological distress in patients and caregivers over the course of radiotherapy for head and neck cancer. Oral Oncol 50(10):1005–1011

40.

Chiu MYL, Wei GFW, Lee S, Choovanichvong S, Wong FHT (2013) Empowering caregivers: Impact analysis of FamilyLink Education Programme (FLEP) in Hong Kong, Taipei and Bangkok. Int J Soc Psychiatry 59(1):28–39

41.

Ly KH, Truschel A, Jarl L, Magnusson S, Windahl T, Johansson R, Carlbring P, Andersson G (2014) Behavioural activation versus mindfulness-based guided self- help treatment administered through a smartphone application: a randomised controlled trial. BMJ Open 4(1):e003440

42.

El-Melegy OA, Al-Zeftawy AM, Khaton SE (2016) Effect of family centered empowerment model on hemodialysis patients and their caregivers. J Nurs Educ Pract 6(11):119–132

43.

Etemadifar S, Bahrami M, Shahriari M, Farsani AK (2014) The effectiveness of a supportive educative group intervention on family caregiver burden of patients with heart failure. Iran J Nurs Midwifery Res 3:217–223

44.

Pot AM, Blom MM, Willemse BM (2015) Acceptability of a guided self-help internet intervention for family caregivers: mastery over dementia. Int Psychogeriatr 27:1343–1354
Acknowledgement
This project was conducted by the Turkish Oncology Nursing Society research working group. We acknowledge of the Turkish Oncology Nursing Society's support.
Funding
This project was funded by the Vehbi Koç Foundation Nursing Fund Project Support Program (Project Number 2019.1.24).
Ethics declarations
Conflict interests
The authors declare that they have no conflict of interest.
Ethical approval
This study was approved by the Ankara Yıldırım Beyazıt University Ethics Committee (2018-159). Written permission was obtained from the institution where this research was conducted. Surveys were applied to caregivers who submitted their informed written consent and volunteered to participate in this study. The participants were informed that the information collected in this research would remain confidential. This research was carried out per the Helsinki Declaration Principles.
Additional information
Publisher's note
Springer Nature remains neutral with regard to jurisdictional claims in published maps and institutional affiliations.
About this article
Cite this article
Uysal, N., Bağçivan, G., Özkaraman, A. et al. Empowering caregivers in the radiotherapy process: the results of a randomized controlled trial. Support Care Cancer 29, 2395–2404 (2021). https://doi.org/10.1007/s00520-020-05743-z
Received:

Accepted:

Published:

Issue Date:
Keywords
Caregiver

Empower

Mobile application

Radiotherapy