Abstract
Purpose
Exercise interventions for people with cancer and cancer survivors improve physical health, fatigue, and quality of life. Despite these benefits, poor adherence to exercise is an ongoing challenge among this population. In order to improve adherence in clinical services, this study aims to explore the benefits, challenges, barriers, and facilitators experienced by people with cancer and cancer survivors who participated in a hospital-based exercise program, specifically those who completed or did not complete the full program.
Methods
This study involved a qualitative approach. People with a cancer diagnosis who did complete (completers, n = 11) and did not complete (non-completers, n = 4) a 12-session exercise program at a tertiary hospital were recruited. Semi-structured interviews were conducted and thematic analysis was employed to identify emergent themes.
Results
Perceived benefits of exercise was the most prominent theme to emerge, with most participants recognizing improvements in physical, mental, and/or social well-being. Non-completers focused on treatment-related side effects, whereas completers saw an opportunity to return to a healthy lifestyle. The transition from a supervised environment to everyday life presented as the most significant barrier to exercise beyond the program among both program completers and non-completers.
Conclusions
Most people with cancer identified physical, mental, and social benefits from exercising. However, people with cancer and cancer survivors had difficulty maintaining exercise participation beyond completion of a supervised hospital-based program.
Implications
Improving exercise participation in people with cancer and cancer survivors may require supervised exercise interventions plus the implementation of strategies to manage side effects and to facilitate the transition of exercise into everyday life to enhance long-term adherence.
Access options
Buy single article
Instant access to the full article PDF.
USD 39.95
Price excludes VAT (USA)
Tax calculation will be finalised during checkout.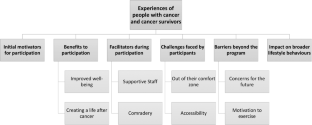 Similar content being viewed by others
References
Australian Institute of Health and Welfare (AIHW) (2019) Cancer in Australia: In brief 2019. Cancer series no. 122. Cat No. CAN 126. Canberra: AIHW

Dennett AM, Peiris CL, Shields N, Prendergast LA, Taylor NF (2016) Moderate-intensity exercise reduces fatigue and improves mobility in cancer survivors: a systematic review and meta-regression. J Physiother 62(2):68–82. https://doi.org/10.1016/j.jphys.2016.02.012

Dennett AM, Peiris CL, Shields N, Morgan D, Taylor NF (2017) Exercise therapy in oncology rehabilitation in Australia: a mixed-methods study. Asia Pac J Clin Oncol 13(5):515–527. https://doi.org/10.1111/ajco.12642

Hardcastle SJ, Maxwell-Smith C, Kamarova S, Lamb S, Millar L, Cohen PA (2018) Factors influencing non-participation in an exercise program and attitudes towards physical activity amongst cancer survivors. Support Care Cancer 26:1289–1295. https://doi.org/10.1007/s00520-017-3952-9

Campbell KL, Winters-Stone KM, Wiskemann J, May AM, Schwartz AL, Courneya KS et al (2019) Exercise guidelines for cancer survivors. Med Sci Sports Exerc 51(11):2375–2390. https://doi.org/10.1249/MSS.0000000000002116

Clifford BK, Mizrahi D, Sandler CX, Barry BK, Simar D, Wakefield CE, Goldstein D (2018) Barriers and facilitators of exercise experienced by cancer survivors: a mixed methods systematic review. Support Care Cancer 26:685–700. https://doi.org/10.1007/s00520-017-3964-5

Baumann FT, Zopf EM, Block W (2012) Clinical exercise interventions in prostate cancer patients-a systematic review of randomized controlled trials. Support Care Cancer 20:221–233. https://doi.org/10.1007/s00520-011-1271-0

Midtgaard J, Hammer NM, Andersen C, Larsen A, Bruun DM, Jarden M (2015) Cancer survivors' experience of exercise-based cancer rehabilitation – a meta-synthesis of qualitative research. Acta Oncol 54(5):609–617. https://doi.org/10.3109/0284186X.2014.995777

Cabilan CJ, Hines S (2017) The short-term impact of colorectal cancer treatment on physical activity, functional status and quality of life: a systematic review. JBI Database System Rev Implement Rep 15(2):517–566. https://doi.org/10.11124/JBISRIR-2016003282

Kenis C, Decoster L, Bastin J, Bode H, van Puyvelde K, de Grève J, Conings G, Fagard K, Flamaing J, Milisen K, Lobelle JP, Wildiers H (2017) Functional decline in older patients with cancer receiving chemotherapy: a multicenter prospective study. J Geriatr Oncol 8(3):196–205. https://doi.org/10.1016/j.jgo.2017.02.010

Grimmett C, Bridgewater J, Steptoe A, Wardle J (2011) Lifestyle and quality of life in colorectal cancer survivors. Qual Life Res 20(8):1237–1245. https://doi.org/10.1007/s11136-011-9855-1

Spence RR, Heesch KC, Brown WJ (2010) Exercise and cancer rehabilitation: a systematic review. Cancer Treat Rev 36(2):185–194. https://doi.org/10.1016/j.ctrv.2009.11.003

Shang J, Wenzel J, Krumm S, Griffith K, Stewart K (2012) Who will drop out and who will drop in: exercise adherence in a randomized clinical trial among patients receiving active cancer treatment. Cancer Nurs 35:312–322. https://doi.org/10.1097/NCC.0b013e318236a3b3

Pinto BM, Rabin C, Dunsiger S (2009) Home-based exercise among cancer survivors: adherence and its predictors. Psycho-Oncology 18:369–376. https://doi.org/10.1002/pon.1465

Buffart LM, Kalter J, Sweegers MG, Courneya KS, Newton RU, Aaronson NK, Jacobsen PB, May AM, Galvão DA, Chinapaw MJ, Steindorf K, Irwin ML, Stuiver MM, Hayes S, Griffith KA, Lucia A, Mesters I, van Weert E, Knoop H, Goedendorp MM, Mutrie N, Daley AJ, McConnachie A, Bohus M, Thorsen L, Schulz KH, Short CE, James EL, Plotnikoff RC, Arbane G, Schmidt ME, Potthoff K, van Beurden M, Oldenburg HS, Sonke GS, van Harten WH, Garrod R, Schmitz KH, Winters-Stone KM, Velthuis MJ, Taaffe DR, van Mechelen W, Kersten MJ, Nollet F, Wenzel J, Wiskemann J, Verdonck-de Leeuw IM, Brug J (2017) Effects and moderators of exercise on quality of life and physical function in patients with cancer: an individual patient data meta-analysis of 34 RCTs. Cancer Treat Rev 52:91–104. https://doi.org/10.1016/j.ctrv.2016.11.010

Blaney JM, Lowe-Strong A, Rankin-Watt J, Campbell A, Gracey JH (2013) Cancer survivors' exercise barriers, facilitators and preferences in the context of fatigue, quality of life of life and physical activity participation: a questionnaire-survey. Psycho-Oncology 22(1):186–194. https://doi.org/10.1002/pon.2072

McGrath P, Joske D, Bouwman M (2010) Benefits from participation in the chemo club: psychosocial insights on an exercise program for cancer patients. J Psychosoc Oncol 29:103–119. https://doi.org/10.1080/07347332.2010.532301

Kim S, Han J, Lee MY, Jang MK (2019) The experience of cancer-related fatigue, exercise and exercise adherence among women breast cancer survivor: insights from focus group interviews. J Clin Nurs 29(5–6):758–769. https://doi.org/10.1111/jocn.15114

Hawley-Hague H, Horne M, Skelton DA, Todd C (2016) Review of how we should define (and measure) adherence in studies examining older adults' participation in exercise classes. BMJ Open 6(6):e011560. https://doi.org/10.1136/bmjopen-2016-011560

Henriksson A, Arving C, Johansson B, Igelstrom H, Nodrin K (2016) Perceived barriers to and facilitators of being physically active during adjuvant cancer treatment. Patient Educ Couns 99(7):1220–1226. https://doi.org/10.1016/j.pec.2016.01.019

Er V, Lane JA, Martin RM, Persad R, Chinegwundoh F, Njoku V, Sutton E (2017) Barriers and facilitators to healthy lifestyle and acceptability of a dietary and physical activity intervention among African Caribbean prostate cancer survivors in the UK: a qualitative study. BMJ Open 7(10):e017217. https://doi.org/10.1136/bmjopen-2017-017217

Koutoukidis DA, Beeken RJ, Lopes S, Knobf MT, Lanceley A (2016) Attitudes, challenges and needs about diet and physical activity in endometrial cancer survivors: a qualitative study. Eur J Cancer Care Engl 26(6):e12531. https://doi.org/10.1111/ecc/12531

Pugh G, Hugh R, Gravestock H, Haddrell JB, Beeken RJ, Fisher A (2017) The lifestyle information and intervention preferences of teenage and young adult cancer survivors: a qualitative study. Cancer Nurs 41(5):389–398. https://doi.org/10.1097/NCC.0000000000000508

Braun V, Clarke V (2006) Using thematic analysis in psychology. Qual Res Psychol 3:77–101. https://doi.org/10.1191/1478088706qp063oa

Estabrooks PA (2000) Sustaining exercise participation through group cohesion. Exerc Sport Sci Rev 28:63–67

Adlard KN, Jenkins DG, Salisbury CE, Bolam KA, Gomersall SR, Aitken JF, Chambers SK, Dunn JC, Courneya KS, Skinner TL (2019) Peer support for the maintenance of physical activity and health in cancer survivors: the PEER trial- a study protocol of a randomized controlled trial. BMC Cancer 19(1):656. https://doi.org/10.1186/s12885-019-5853-4

Hermens H, op den Akker H, Tabak M, Wijsman J, Vollenbroek M (2014) Personalised coaching systems to support healthy beheaviour in people with chronic conditions. J Electromyogr Kinesiol 24(6):815–826. https://doi.org/10.1016/j.jelekin.2014.10.003

IJsbrandya C, Ottevangerb PB, Tsekou Diogenia M, Gerritsenb WR, van Hartend WH (2018) Review: effectiveness of implemenetations strategies to increase physical activity uptake dring and after cancer treatment. Crit Rev Oncol 122:157–163. https://doi.org/10.1016/j.critevonc.2017.09.005

Vallance J, Courneya K, Plontnikoff R, Dinu I, Mackey J (2008) Maintenance of physical activity in breast cancer survivors after a randomised trial. Med Sci Sports Exerc 40(1):173–180. https://doi.org/10.1249/mss.0b013e3181586b41
Acknowledgments
The authors would like to thank Jocelyn Foo and the cancer care physiotherapy team at the Brisbane Tertiary hospital involved with facilitating participant recruitment for this study.
Ethics declarations
Conflict of interest
The authors declare that they have no conflict of interest.
Research involving human participants
All procedures performed in this study were in accordance with the ethical standards of the institutional research committee and with the 1964 Helsinki declaration and its later amendments.
Informed consent
Informed consent was obtained from all individual participants included in the study.
Code availability
NVIVO software version 2, QSR International Pty Ltd, SPSS (version 25, IBM Corp).
Additional information
Publisher's note
Springer Nature remains neutral with regard to jurisdictional claims in published maps and institutional affiliations.
About this article
Cite this article
Ferri, A., Gane, E.M., Smith, M.D. et al. Experiences of people with cancer who have participated in a hospital-based exercise program: a qualitative study. Support Care Cancer 29, 1575–1583 (2021). https://doi.org/10.1007/s00520-020-05647-y
Received:

Accepted:

Published:

Issue Date:

DOI: https://doi.org/10.1007/s00520-020-05647-y
Keywords