Abstract
Purpose
High-dose methotrexate (HD-MTX) requires urine alkalinization to pH ≥ 7 for adequate excretion to prevent toxicity. Due to shortages of IV sodium bicarbonate (IV-NaHCO3), few reports have demonstrated utility of oral bicarbonate (PO-NaHCO3); however, the addition of acetazolamide (Acet) has not been well described. Our study compares outcomes between alkalinization methods of IV-NaHCO3 monotherapy versus IV-NaHCO2 + Acet and PO-NaHCO3 + Acet.
Methods
A single-center, IRB exempt, retrospective review was conducted from Jan 2016 to Sept 2019 of adults receiving HD-MTX ≥ 500 mg/m2. The primary outcome was time from start of alkalinization to pH ≥ 7. Secondary outcomes included time from start of alkalinization to initiation of HD-MTX, time to MTX clearance, length of stay (LOS), percentage of urine pH assessments < 7, and incidence of MTX toxicity. Statistical analysis was performed using SAS9.4 with alpha 0.05.
Results
Overall demographics (n = 196 HD-MTX cycles for 55 patients) include a mean age 55 years, HD-MTX dose ~ 5400 mg/m2, and 69% with a diagnosis of lymphoma. Adjusting for baseline demographic differences among groups, median time from first dose alkalinization to pH ≥ 7 and to start of HD-MTX was longer for those receiving IV-NaHCO3 (n = 41) vs either IV-NaHCO3 + Acet (n = 70) or PO-NaHCO3 + Acet (n = 76) (p = 0.0001). HD-MTX clearance to a level < 0.1 μmol/L was not improved with the addition of Acet. No difference existed among groups for pH results < 7, LOS, or incidence of MTX toxicity (p > 0.05).
Conclusions
Addition of Acet to NaHCO3 reduces time to pH ≥ 7 and initiation of HD-MTX but does not appear to improve LOS, MTX toxicities, or time to MTX clearance.
This is a preview of subscription content,
to check access.
Access this article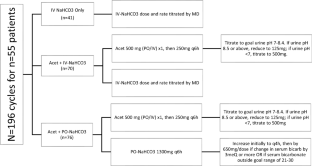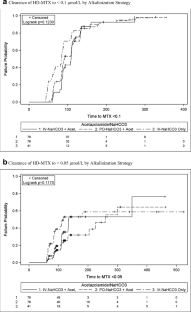 Similar content being viewed by others
References
Perazella MA, Moeckel GW (2010) Nephrotoxicity from chemotherapeutic agents: clinical manifestations, pathobiology, and prevention/therapy. Semin Nephrol 30:570–581. https://doi.org/10.1016/j.semnephrol.2010.09.005

Ramsey LB, Balis FM, O'Brien MM, Schmiegelow K, Pauley JL, Bleyer A, Widemann BC, Askenazi D, Bergeron S, Shirali A, Schwartz S, Vinks AA, Heldrup J (2018) Consensus guideline for use of glucarpidase in patients with high-dose methotrexate induced acute kidney injury and delayed methotrexate clearance. Oncologist 23:52–61. https://doi.org/10.1634/theoncologist.2017-0243

Drost SA, Wentzell JR, Giguère P, McLurg DL, Sabloff M, Kanji S, Nguyen TT (2017) Outcomes associated with reducing the urine alkalinization threshold in patients receiving high-dose methotrexate. Pharmacother J Hum Pharmacol Drug Ther 37:684–691. https://doi.org/10.1002/phar.1935

Rouch JA, Burton B, Dabb A, Brown V, Seung AH, Kinsman K, Holdhoff M (2017) Comparison of enteral and parenteral methods of urine alkalinization in patients receiving high-dose methotrexate. J Oncol Pharm Pract 23:3–9. https://doi.org/10.1177/1078155215610914

Visage R, Kaiser N, Williams M, Kim A (2019) Oral methods of urinary alkalinization for high-dose methotrexate administration: alternatives to intravenous sodium bicarbonate during a critical drug shortage. J Pediatr Hematol Oncol 41:371–375

Alrabiah Z, Luter D, Proctor A, Bates JS (2015) Substitution of sodium acetate for sodium bicarbonate for urine alkalinization in high-dose methotrexate therapy. Am J Health Syst Pharm 72:1932–1934. https://doi.org/10.2146/ajhp150407

Shamash J, Earl H, Souhami R (1991) Acetazolamide for alkalinisation of urine in patients receiving high-dose methotrexate. Cancer Chemother Pharmacol 28:150–151. https://doi.org/10.1007/BF00689708

Abe T, Yashige H, Inazawa J, Yokota S, Tsuda S (1988) The use of diamox in the sequential methotrexate—5-fluorouracil therapy of advanced gastrointestinal cancer - European Journal of Cancer and Clinical Oncology. Eur J Cancer 24:799–800

Roy AM, Lei M, Lou U (2019) Safety and efficacy of a urine alkalinization protocol developed for high-dose methotrexate patients during intravenous bicarbonate shortage. J Oncol Pharm Pract 25:1860–1866. https://doi.org/10.1177/1078155218821406

Reed DR, Sen JM, Pierce E, Nicolais M, Keng M (2018) Oral regimen for urine alkalization in patients receiving high dose methotrexate during a national shortage of intravenous sodium bicarbonate. Blood 132:2309. https://doi.org/10.1182/blood-2018-99-112606

Karremann M, Sauerbier J, Meier C, Vetter C, Schneider H, Buchholz B, Mildenberger S, Dürken M (2014) The impact of prehydration on the clearance and toxicity of high-dose methotrexate for pediatric patients. Leuk Lymphoma 55:2874–2878. https://doi.org/10.3109/10428194.2014.898143

Mikkelsen TS, Mamoudou AD, Tuckuviene R, Wehner PS, Schroeder H (2014) Extended duration of prehydration does not prevent nephrotoxicity or delayed drug elimination in high-dose methotrexate infusions: a prospectively randomized cross-over study: prehydration for high-dose methotrexate. Pediatr Blood Cancer 61:297–301. https://doi.org/10.1002/pbc.24623

Mir O, Ropert S, Babinet A, Alexandre J, Larousserie F, Durand J-P, Enkaoua E, Anract P, Goldwasser F (2010) Hyper-alkalinization without hyper-hydration for the prevention of high-dose methotrexate acute nephrotoxicity in patients with osteosarcoma. Cancer Chemother Pharmacol 66:1059–1063. https://doi.org/10.1007/s00280-010-1259-3

Sand TE, Jacobsen S (1981) Effect of urine pH and flow on renal clearance of methotrexate. Eur J Clin Pharmacol 19:453–456. https://doi.org/10.1007/BF00548590

Kintzel PE, Campbell AD, Yost KJ, Brinker BT, Arradaza NV, Frobish D, Wehr AM, O'Rourke TJ (2012) Reduced time for urinary alkalinization before high-dose methotrexate with preadmission oral bicarbonate. J Oncol Pharm Pract 18:239–244. https://doi.org/10.1177/1078155211426913

Whiteside H, Gandhi A, Ajebo G, Bryan LJ (2018) When baking soda goes on shortage: urine alkalinization with acetazolamide and oral sodium bicarbonate. Ann Pharmacother 52:297–298. https://doi.org/10.1177/1060028017740598

Kramer E, Filtz M, Pace M (2020) Evaluation of methotrexate clearance with an enteral urine alkalinization protocol for patients receiving high-dose methotrexate. J Oncol Pharm Pract 107815522090894:107815522090894. https://doi.org/10.1177/1078155220908946
Acknowledgments
The use of REDCap was supported by the National Center for Advancing Translational Sciences of the National Institutes of Health under Award Number UL1TR002378. The content is solely the responsibility of the authors and does not necessarily represent the official views of the National Institutes of Health.
Ethics declarations
Conflict of interest
This study was not funded by any entity.
None of the authors have any financial relationships to disclose.
The authors have full control of all primary data and agree to allow the journal to review, if requested.
Additional information
Publisher's note
Springer Nature remains neutral with regard to jurisdictional claims in published maps and institutional affiliations.
About this article
Cite this article
Clemmons, A.B., Chase, A., Duong, P. et al. Assessing the impact of adding acetazolamide to oral or intravenous sodium bicarbonate as compared with intravenous bicarbonate monotherapy as urinary alkalinization in adults receiving high-dose methotrexate. Support Care Cancer 29, 1527–1534 (2021). https://doi.org/10.1007/s00520-020-05646-z
Received:

Accepted:

Published:

Issue Date:

DOI: https://doi.org/10.1007/s00520-020-05646-z
Keywords