Abstract
Purpose
The majority of cervical cancer survivors face persisting sexual debilitating problems over time. The impairment in sexual function and satisfaction are not limited to physical dimensions. The goals of this study were to assess if marital adjustment and body image mediated the relationship between attachment style, sexual functioning, and sexual satisfaction.
Methods
This study used a cross-sectional design. The sample included 113 sexually active women that completed the EORTC QLQ C30 and EORTC QLQ CX24, the Index of Sexual Satisfaction, the Experiences in Close Relationships Scale, and the Revised Dyadic Adjustment Scale.
Results
Using structural equation modeling to describe the relationship between variables, an excellent fitted model was found: X2(5) = 6.309 (p = 0.277); X2/df = 1262; GFI = 0.982; CFI = 0.986; SRMR = 0.0475; RMSEA = 0.048; P (RMSEA< 0.05) = 0.429. Sexual/vaginal functioning and avoidance had a direct effect on sexual satisfaction. Marital adjustment was a partial mediator in the relation between avoidance and sexual satisfaction. Avoidance and anxious attachment had an indirect effect on sexual satisfaction mediated by marital adjustment. Body image was a partial mediator in the relationship between marital adjustment and sexual satisfaction.
Conclusions
The results showed that vaginal/sexual functioning, attachment style, marital adjustment, and body image were important predictors of sexual satisfaction. Psychoeducational programs to help patients deal with the impairment of sexual/vaginal functioning, as well as emotional support programs for couples to strengthen their marital relationship, need to be implemented, i.e., the couple's intimacy and women's body image, that have a clear impact on sexual satisfaction.
This is a preview of subscription content,
to check access.
Access this article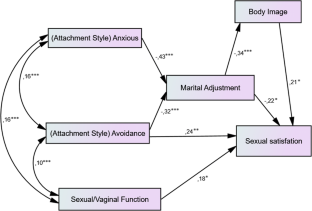 Similar content being viewed by others
References
Jemal A, Siegel R, Ward E, Murray T, Xu J, Thun MJ (2007) Cancer statistics, 2007. CA Cancer J Clin 57:43–66

Vistad I, Fosså SD, Dahl AA (2006) A critical review of patient-rated quality of life studies of long-term survivors of cervical cancer. Gynecol Oncol 102:563–572

Mirabeau-Beale KL, Viswanathan AN (2014) Quality of life (QOL) in women treated for gynecologic malignancies with radiation therapy: a literature review of patient-reported outcomes. Gynecol Oncol 134:403–409

Ratner ES, Foran KA, Schwartz PE, Minkin MJ (2010) Sexuality and intimacy after gynecological cancer. Maturitas 66:23–26

Bober SL, Varela VS (2012) Sexuality in adult cancer survivors: challenges and intervention. J Clin Oncol 30:3712–3719

Carpenter KM, Andersen BL, Fowler JM, Maxwell GL (2009) Sexual self-schema as a moderator of sexual and psychological outcomes for gynecologic cancer survivors. Arch Sex Behav 38:828–841

Pieterse QD, Kenter GG, Maas CP, de Kroon CD, Creutzberg CL, Trimbos JB, Ter Kuile MM (2013) Self-reported sexual, bowel and bladder function in cervical cancer patients following different treatment modalities: longitudinal prospective cohort study. Int J Gynecol Cancer 23:1717–1725

Gilbert E, Ussher JM, Perz J (2011) Sexuality after gynecological cancer: a review of the material, intrapsychic, and discursive aspects of treatment on women sexual wellbeing. Maturitas 70:42–57

Burns M, Costello J, Ryan-Woolley B, Davidson S (2007) Assessing the impact of late treatment effects in cervical cancer: an exploratory study of women's sexuality. Eur J Cancer Care 16:364–372

Juraskova I, Butow P, Robertson R, Sharpe L, McLeod C, Hacker N (2003) Post - treatment sexual adjustment cervical and endometrial cancer following: a qualitative insight. Psychooncology 12:267–279

Botlani S, Shahsiah M, Padash Z, Ahmad A, Bahrami F (2012) The effect of attachment-based therapy on couples' attachment style, sexual intimacy and sexual satisfaction. IJCRB 3:375–390

Berman WH, Sperling MB (1994) The structure and function of adult attachment. In: Sperling MB, Berman WH (eds) Attachment in adults – clinical and developmental perspectives. Guildford Press, Nova Iorque, pp 3–28

Mikulincer M, Shaver PR (2007) Attachment in adulthood: structure, dynamics, and change. Guilford Press, New York

Porter LS, Keefe FJ, Davis D, Rumble M, Scipio C, Garst J (2012) Attachment styles in patients with lung cancer and their spouses: associations with patient and spouse adjustment. Support Care Cancer 20:2459–2466

Granot M, Zisman-Ilani Y, Ram E, Goldstick O, Yovell Y (2011) Characteristics of attachment style in women with dyspareunia. J Sex Marital Ther 37:1–16

Cicero V, Lo Coco G, Gullo S, Lo Verso G (2009) The role of attachment dimensions and perceived social support in predicting adjustment to cancer. Psychooncology 18:1045–1052

Hsieh CC, Chen CA, Hsiao FH, Shun SC (2014) The correlations of sexual activity sleep problems, emotional distress, attachment styles with quality of life: comparison between gynecological cancer survivors and noncancer women. J Clin Nurs 23:985–994

Hodgkinson K, Butow P, Fuchs A, Hunt GE, Stenlake A, Hobbs KM, Brand A, Wain G (2007) Long-term survival from gynecologic cancer: psychosocial outcomes, supportive care needs and positive outcomes. Gynecol Oncol 104:381–389

Carlsen K, Dalton SO, Frederiksen K, Diderichsen F, Johanse C (2007) Are cancer survivors at an increased risk for divorce? A Danish cohort study. Eur J Cancer 43:2093–2099

Juraskova I, Butow P, Bonner C, Robertson R, Sharp L (2013) Sexual adjustment following early stage cervical and endometrial cancer: prospective controlled multi-centre study. Psychooncology 22:153–159

Carter J, Huang H, Chase DM, Walker JL, Cella D, Wenzel L (2012) Sexual function of endometrial cancer patients enrolled on the gynecologic oncology group LAP2 study. IJGC 22:1624

Herzog TJ, Wright JD (2007) The impact of cervical cancer on quality of life: the components and means for management. Gynecol Oncol 107:572–577

Sánchez-Fuentes M, Santos-Iglesias P, Sierra JC (2014) A systematic review of sexual satisfaction. IJCHP 14:67–75

Henderson AW, Lehavot K, Simoni JM (2009) Ecological models of sexual satisfaction among lesbian/bisexual and heterosexual women. Arch Sex Behav 38:50–65

Stafford L, Judd F (2010) Partners of long-term gynaecologic cancer survivors: psychiatric morbidity, psychosexual outcomes and supportive care needs. Gynecol Oncol 118:268–273

Sekse RJT, Hufthammer KO, Vika ME (2016) Sexual activity and functioning in women treated for gynaecological cancers. J Clin Nurs 26:400–410

Pietromonaco PR, Uchino B, Dunkel Schetter C (2013) Close relationship processes and health: implications of attachment theory for health and disease. Health Psychol 32:499

Hudson W (1998) Index of sexual satisfaction. In: Davis C, Yarber W, Bauserman R, Schreer G, Davis S (eds) Handbook of sexuality-related measures. Sage Publications, Thousand Oaks, pp 512–513

Wei M, Russell DW, Mallinckrodt B, Vogel DL (2007) The experiences in close relationship scale (ECR)-short form: reliability, validity, and factor structure. J Pers Assess 88:187–204

Busby DM, Christensen C, Crane DR, Larson JH (1995) A revision of the dyadic adjustment scale for use with distressed and nondistressed couples: construct hierarchy and multidimensional scales. JMFT 21:289–308

Greimel ER, Kuljanic Vlasic K, Waldenstrom AC, Duric VM, Jensen PT, Singer S, Chie W, Nordin A, Bjelic Radisic V, Wydra D (2006) The European Organization for Research and Treatment of Cancer (EORTC) quality-of-life questionnaire cervical cancer module. Cancer 107:1812–1822

Hooper D, Coughlan J, Mullen M (2008) Structural equation modelling: guidelines for determining model fit. EJBRM 6:53–60

Ponte M, Klemperer E, Sahay A, Chren MM (2009) Effects of vulvodynia on quality of life. J Am Acad Dermatol 60:70–76

Carmack Taylor CL, Basen-Engquist K, Shinn EH, Bodurka DC (2004) Predictors of sexual functioning in ovarian cancer patients. J Clin Oncol 22:881–889

Bakker RM, Kenter GG, Creutzberg CL, Stiggelbout AM, Derks M, Mingelen W, Kroon CD, Vermmer WM, Ter Kuile MM (2016) Sexual distress and associated factors among cervical cancer survivors: a cross-sectional multicenter observational study. Psychooncology 26:1470–1477

Sacerdoti RC, Lagana L, Koopman C (2010) Altered sexuality and body image after gynecological cancer treatment: how can psychologists help? Prof Psychol Res Pract 41:533–540

Ganz PA, Desmond KA, Belin TR, Meyerowitz BE, Rowland JH (1999) Predictors of sexual health in women after a breast cancer diagnosis. J Clin Oncol 17:2371–2371

Beck LA, Pietromonaco PR, DeVito CC, Powers SI, Boyle AM (2014) Congruence between spouses' perceptions and observers' ratings of responsiveness the role of attachment avoidance. Personal Soc Psychol Bull 40:164–174

Mikulincer M, Shaver PR (2005) Attachment theory and emotions in close relationships: exploring the attachment-related dynamics of emotional reactions to relational events. Pers Relat 12:149–168

Drigotas SM, Rusbult CE, Verette J (1999) Level of commitment, mutuality of commitment, and couple well-being. Pers Relat 6:389–409
Ethics declarations
Conflict of interest
The authors declare that they have no conflict of interest.
The study was approved by the Administration Council of the Portuguese Institute of Oncology Francisco Gentil (Lisbon) after positive agreement of the Research Council and Ethical Committee (number UIC/939).
Additional information
Publisher's note
Springer Nature remains neutral with regard to jurisdictional claims in published maps and institutional affiliations.
About this article
Cite this article
do Rosário Ramos Nunes Bacalhau, M., Pedras, S. & da Graça Pereira Alves, M. Attachment style and body image as mediators between marital adjustment and sexual satisfaction in women with cervical cancer. Support Care Cancer 28, 5813–5819 (2020). https://doi.org/10.1007/s00520-020-05423-y
Received:

Accepted:

Published:

Issue Date:

DOI: https://doi.org/10.1007/s00520-020-05423-y
Keywords