Abstract
Introduction
The ability of oncologists to understand patients' goals of care is recognized as a key component of quality care. The purpose of this study is to examine the influence of patient–oncologist agreement regarding goals of care upon aggressive care at end of life (EOL) for patients with advanced cancer.
Methods
Patients with advanced cancer and their oncologists were interviewed at study enrollment and every 3 months thereafter until patient death or end of the study period (15 months). A 100-point visual analogue scale was used to represent goals of care, with quality of life (scored as 0) and survival (scored as 100) as anchors. Strong goal of care agreement for survival was defined as oncologist and patient dyadic goal of care scores that fell between 70 and 100 (100 = highest goal for survival) and for comfort, dyadic goal of care values that fell between 0 and 30 (0 = high goal for comfort).
Results
Two hundred and six patients and eleven oncologists provided data. At the last interview prior to death, 23.3% of dyads had strong goal of care agreement for either survival (8.3%) or comfort (15%) and 76.7% had no strong agreement. There was a significant association between aggressive care use and categories of dyadic agreement regarding goals of care (p = 0.024, Cramer's V = 0.15).
Conclusions
A large percentage of oncologists did not understand their patients' EOL goals of care. While aggressive care aligned with categories of dyadic agreement for goals of care, high rates of aggressive care were reported.
Access options
Buy single article
Instant access to the full article PDF.
US$ 39.95
Tax calculation will be finalised during checkout.
Subscribe to journal
Immediate online access to all issues from 2019. Subscription will auto renew annually.
US$ 119
Tax calculation will be finalised during checkout.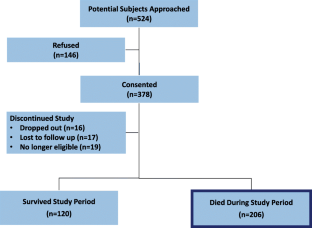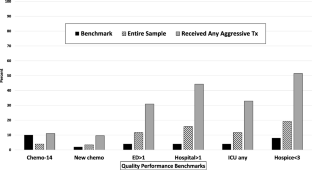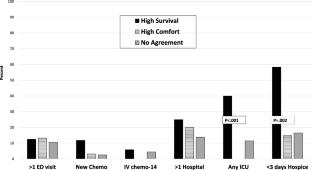 References
1.

Nipp RD, Temel JS (2017) Multimorbidity and aggressiveness of care at the end-of-life among older adults with cancer. J Geriatr Oncol 8(2):82–83

2.

Steinhauser KE, Christakis NA, Clipp EC, McNeilly M, Grambow S, Parker J, Tulsky JA (2001) Preparing for the end of life: preferences of patients, families, physicians, and other care providers. J Pain Symptom Manag 22:727–737

3.

Voogt E, van der Heide A, Rietjens JA, van Leeuwen A, Visser AP, van der Rijt C, van der Maas P (2005) Attitudes of patients with incurable cancer toward medical treatment in the last phase of life. J Clin Oncol 23:2012–2019

4.

Lorenz KA, Lynn J, Dy S, Wilkinson A, Mularski RA, Shugarman LR, Hughes R, Asch SM, Rolon C, Rastegar A, Shekelle PG (2006) Quality measures for symptoms and advance care planning in cancer: a systematic review. J Clin Oncol 24:4933–4938

5.

Teno JM, Fisher ES, Hamel MB, Coppola K, Dawson NV (2002) Medical care inconsistent with patients' treatment goals: association with 1-year medicare resource use and survival. J Am Geriatr Soc 50:496–500

6.

Henson LA, Gomes B, Koffman J, Daveson BA, Higginson IJ, Gao W, BuildCARE (2016) Factors associated with aggressive end of life cancer care. Support Care Cancer 24(3):1079–1089

7.

Piggott KL, Patel A, Wong A et al (2019) Breaking silence: a survey of barriers to goals of care discussions from the perspective of oncology practitioners. BMC Cancer 19(1):130–135

8.

Zhang B, Wright A, Huskamp HA, Nilsson ME, Maciejewski ML, Earle CC, Block SD, Maciejewski PK, Prigerson HG (2009) Health care costs in the last week of life–associations with end-of-life conversations. Arch Intern Med 169(5):480–488

9.

Sinuff T, Dodek P, You JJ, Barwich D, Tayler C, Downar J, Hartwick M, Frank C, Stelfox HT, Heyland DK (2015) Improving end-of-life communication and decision making: the development of a conceptual framework and quality indicators. J Pain Symptom Manag 49(6):1070–1080

10.

Ostgathe C, Voltz R (2010) Quality indicators in end-of-life care. Curr Opin Support Palliat Care 4(3):170–173

11.

Stone MJ (2001) Goals of care at the end of life. BUMC Proc 14:134–137

12.

Rachelle J, Bernacki E, Block SD et al (2014) Communication about serious illness care goals: a review and synthesis of best practices. AMA Intern Med 174(12):1994–2003

13.

Brighton LJ, Bristowe K (2016) Communication in palliative care: talking about the end of life, before the end of life. Postgrad Med J 92(1090):466–470

14.

Back AL, Fromme EK, Meier DE (2019) Training clinicians with communication skills needed to match medical treatments to patient values. J Am Geriatr Soc 67(S2):S435–S441

15.

Wright AA, Zhang B, Ray A et al (2008) Associations between end-of-life discussions, patient mental health, medical care near death, and caregiver bereavement adjustment. JAMA 300(14):1665–1673

16.

Jang RW, Krzyzanowska MK, Zimmermann C et al (2015) Palliative care and the aggressiveness of end-of-life care in patients with advanced pancreatic cancer. J Natl Cancer Inst 107(3):1–8

17.

Gomes B, Higginson IJ, Calanzani N et al (2012) Preferences for place of death if faced with advanced cancer: a population survey in England, Flanders, Germany, Italy, the Netherlands, Portugal and Spain. Ann Oncol 23(8):2006–2015

18.

Meropol NJ, Egleston BL, Buzaglo JS, Benson AB 3rd, Cegala DJ, Diefenbach MA, Fleisher L, Miller SM, Sulmasy DP, Weinfurt KP, CONNECT Study Research Group (2008) Cancer patient preferences for quality and length of life. Cancer 113(12):3459–3466

19.

Kuhlmann T, Dantlgraber M, Reips UD (2017) Investigating measurement equivalence of visual analogue scales and Likert-type scales in Internet-based personality questionnaires. Behav Res Methods 49(6):2173–2181

20.

de Boer AG, van Lanschot JJ, Stalmeier PF, van Sandick J, Hulscher JB, de Haes JC, Sprangers MA (2004) Is a single-item visual analogue scale as valid, reliable and responsive as multi-item scales in measuring quality of life? Qual Life Res 13(2):311–200

21.

Earle CC, Park ER, Lai B et al (2003) Identifying potential indicators of the quality of end-of-life cancer care from administrative data. J Clin Oncol 21(6):1133–1138

22.

Earle CC, Landrum MB, Souza JM, Neville BA, Weeks JC, Ayanian JZ (2008) Aggressiveness of cancer care near the end of life: is it a quality-of-care issue? J Clin Oncol 26(23):3860–3866

23.

Wright AA, Keating NL, Ayanian JZ, Chrischilles EA, Kahn KL, Ritchie CS, Weeks JC, Earle CC, Landrum MB (2016) Family perspectives on aggressive cancer care near the end of life. JAMA 315(3):284–292

24.

Ersek M, Miller SC, Wagner TH et al (2017) Association between aggressive care and bereaved families' evaluation of end-of-life care for veterans with non-small cell lung cancer who died in Veterans Affairs facilities. Cancer 123(16):3186–3194

25.

Kim H, Keating NL, Perloff JN, Hodgkin D, Liu X, Bishop CE (2019) Aggressive care near the end of life for cancer patients in Medicare accountable care organizations. J Am Geriatr Soc 67(5):961–968

26.

American Society of Clinical Oncologists. Quality oncology practice initiative-2018. Available from: https://practice.asco.org/quality-improvement/quality-programs/quality-oncology-practice-initiative

27.

National Quality Forum. Palliative and end-of-life care 2015–2016. Available from: http://www.qualityforumorg/Publications/2016/12/Palliative_and_End-of-Life_Care_2015-2016aspx

28.

Earle CC, Neville BA, Landrum MB et al (2005) Evaluating claims-based indicators of the intensity of end-of-life cancer care. Int J Qual Health Care 17(6):505–509

29.

Weeks JC, Catalano PJ, Cronin A et al (2012) Patients' expectations about effects of chemotherapy for advanced cancer. N Engl J Med 367:1616–1625

30.

Desharnais S, Carter RE, Hennessy W et al (2007) Lack of concordance between physician and patient: reports on end-of-life care discussions. J Palliat Med 10:728–740

31.

Epstein AS, Prigerson HG, O'Reilly EM et al (2016) Discussions of life expectancy and changes in illness understanding in patients with advanced cancer. J Clin Oncol 34:2398–2403

32.

Gilligan T, Bohlke K, Baile WF (2018) Patient-clinician communication: American Society of Clinical Oncology consensus guideline summary. J Oncol Pract 14:42–26

33.

Mack JW, Weeks JC, Wright AA, Block SD, Prigerson HG (2010) End-of-life discussions, goal attainment, and distress at the end of life: predictors and outcomes of receipt of care consistent with preferences. J Clin Oncol 28:1203–1208

34.

Pope TM (2008) Communication: what do patients want and need? J Oncol Pract 4:249–253

35.

Granek L, Krzyzanowska MK, Tozer R, Mazzotta P (2013) Oncologists' strategies and barriers to effective communication about the end of life. J Oncol Pract 9(4):e129–e135

36.

Clayton JM, Hancock KM, Butow PN et al (2007) Clinical practice guidelines for communicating prognosis and end-of-life issues with adults in the advanced stages of a life-limiting illness, and their caregivers. Med J Aust 186(12 Suppl):s83–s108

37.

Gilligan T, Coyle N, Frankel RM, Berry DL, Bohlke K, Epstein RM et al (2017) Patient-clinician communication: American Society of Clinical Oncology Consensus guideline. J Clin Onc 35(31):3618–3632

38.

Riba MB, Donovan KA, Andersen B, Braun I, Breitbart WS, Brewer BW et al. Distress Management, Version 3.2019, NCCN Clinical Practice Guidelines in Oncology

39.

Smith CEP, Kamal AH, Kluger M et al (2019) National trends in end-of-life care for veterans with advanced cancer in the Veterans Health Administration: 2009 to 2016. J Oncol Pract 15(6):e568–e575

40.

Mrad C, Abougergi MS, Daly B (2018) One step forward, two steps back: trends in aggressive inpatient care at the end of life for patients with stage IV lung cancer. J Oncol Pract 14(12):e746–e757

41.

Wang SY, Hall J, Pollack CE, Adelson K, Bradley EH, Long JB, Gross CP (2016) Trends in end-of-life cancer care in the Medicare program. J Geriatr Oncol 7(2):116–125

42.

Tang ST, Chen JS, Wen FH, Chou WC, Chang JW, Hsieh CH, Chen CH (2019) Advance care planning improves psychological symptoms but not quality of life and preferred end-of-life care of patients with cancer. J Natl Compr Cancer Netw 17(4):311–320

43.

Earle CC et al (2004) Trends in the aggressiveness of cancer care near the end of life. J Clin Oncol 22(2):315–321
Acknowledgments
We thank the patients and oncologists who participated in this study and the hospital staff who facilitated our ability to collect data. We thank all staff who contributed to the collection of data for the study.
Funding
This work is supported by Grant No. NRO14856, National Institute of Health/National Institute of Nursing Research.
Ethics declarations
Conflict of interest
The authors declare that they have no conflict of interest.
Disclaimer
The views expressed in this article are the authors' own and not an official position of their institutions or funder.
Additional information
Publisher's note
Springer Nature remains neutral with regard to jurisdictional claims in published maps and institutional affiliations.
About this article
Cite this article
Douglas, S.L., Daly, B.J., Lipson, A.R. et al. Association between strong patient–oncologist agreement regarding goals of care and aggressive care at end-of-life for patients with advanced cancer. Support Care Cancer 28, 5139–5146 (2020). https://doi.org/10.1007/s00520-020-05352-w
Received:

Accepted:

Published:

Issue Date:
Keywords
Advanced cancer

End-of-life care

Goals of care

Aggressive care