Abstract
Purpose
Despite more women undergoing treatment for breast cancer and increased survival rates, many women suffer from anxiety and physical symptoms (e.g., pain, fatigue) surrounding diagnosis and surgery. Research investigating the efficacy of psychosocial interventions for breast cancer patients during this period is limited. This randomized controlled pilot study examined the effect of a brief lovingkindness meditation intervention on these key outcomes.
Methods
Participants were 60 women who underwent core needle breast biopsy, received an abnormal biopsy result, and underwent breast surgery (White = 73.6%; African American = 22.6%; Asian American = 3.8%; Age M = 56). Participants were randomly assigned to one of three treatment conditions at breast biopsy: (1) lovingkindness meditation, (2) music, and (3) usual care. Assessments of anxiety, pain, fatigue, physiologic reactivity, and self-compassion occurred prior to patients' biopsy, following biopsy, 1 week after receipt of biopsy results, and 1 week following breast surgery.
Results
Multilevel modeling analyses demonstrated that lovingkindness meditation significantly improved pain (p = 0.02), self-compassion (p = 0.004), and heart rate (p = 0.02) over time compared to control conditions. There was a trend for anxiety (p = 0.05). Music significantly improved pain (p = 0.04) compared to usual care.
Conclusions
These findings provide preliminary evidence for the feasibility and efficacy of a lovingkindness meditation intervention for breast cancer patients during the diagnostic and surgical period. Improving psychological and physical well-being during this time frame has the potential to improve longer-term health outcomes during adjuvant treatment and survivorship. Interventions that cultivate positive adjustment during the diagnostic and surgical period of breast cancer are an important area of future research.
This is a preview of subscription content, log in to check access.
Access options
Buy single article
Instant access to the full article PDF.
US$ 39.95
Price includes VAT for USA
Subscribe to journal
Immediate online access to all issues from 2019. Subscription will auto renew annually.
US$ 199
This is the net price. Taxes to be calculated in checkout.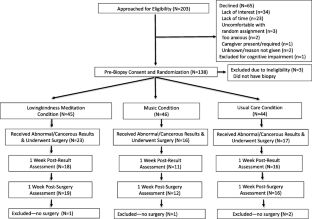 Data availability
Dr. Wren has full access to the primary data. Data are stored at Duke University and Drs. Shelby and Keefe have full control of study data.
References
1.

American Cancer Society (2017) Cancer facts and figures. American Cancer Society, Atlanta

2.

Carpenter JS, Andrykowski MA, Sloan P, Cunningham L, Cordova MJ, Studts JL, McGrath PC, Sloan D, Kenady DE (1998) Postmastectomy/postlumpectomy pain in breast cancer survivors. J Clin Epidemiol 51(12):1285–1292

3.

Keller M (1998) Psychosocial care of breast cancer patients. Anticancer Res 18(3C):2257–2259

4.

Montgomery GH, Bovbjerg DH (2004) Presurgery distress and specific response expectancies predict postsurgery outcomes in surgery patients confronting breast cancer. Health Psychol 23(4):381–387. https://doi.org/10.1037/0278-6133.23.4.381

5.

Payne DK, Sullivan MD, Massie MJ (1996) Women's psychological reactions to breast cancer. Semin Oncol 23(1 Suppl 2):89–97

6.

Liao MN, Chen MF, Chen SC, Chen PL (2008) Uncertainty and anxiety during the diagnostic period for women with suspected breast cancer. Cancer Nurs 31(4):274–283. https://doi.org/10.1097/01.NCC.0000305744.64452.fe

7.

Maxwell JR, Bugbee ME, Wellisch D, Shalmon A, Sayre J, Bassett LW (2000) Imaging-guided core needle biopsy of the breast: study of psychological outcomes. Breast J 6(1):53–61

8.

Nosarti C, Roberts JV, Crayford T, McKenzie K, David AS (2002) Early psychological adjustment in breast cancer patients: a prospective study. J Psychosom Res 53(6):1123–1130

9.

Ozalp G, Sarioglu R, Tuncel G, Aslan K, Kadiogullari N (2003) Preoperative emotional states in patients with breast cancer and postoperative pain. Acta Anaesthesiol Scand 47(1):26–29

10.

Tjemsland L, Soreide JA, Matre R, Malt UF (1997) Pre-operative [correction of Properative] psychological variables predict immunological status in patients with operable breast cancer. Psychooncology 6(4):311–320. https://doi.org/10.1002/(SICI)1099-1611(199712)6:4<311::AID-PON285>3.0.CO;2-C

11.

Samarel N, Fawcett J, Davis MM, Ryan FM (1998) Effects of dialogue and therapeutic touch on preoperative and postoperative experiences of breast cancer surgery: an exploratory study. Oncol Nurs Forum 25(8):1369–1376

12.

Larson MR, Duberstein PR, Talbot NL, Caldwell C, Moynihan JA (2000) A presurgical psychosocial intervention for breast cancer patients. Psychological distress and the immune response. J Psychosom Res 48(2):187–194

13.

Greenlee H, DuPont-Reyes MJ, Balneaves LG, Carlson LE, Cohen MR, Deng G, Johnson JA, Mumber M, Seely D, Zick SM, Boyce LM, Tripathy D (2017) Clinical practice guidelines on the evidence-based use of integrative therapies during and after breast cancer treatment. CA Cancer J Clin 67(3):194–232. https://doi.org/10.3322/caac.21397

14.

Hilton L, Hempel S, Ewing BA, Apaydin E, Xenakis L, Newberry S, Colaiaco B, Maher AR, Shanman RM, Sorbero ME, Maglione MA (2017) Mindfulness meditation for chronic pain: systematic review and meta-analysis. Ann Behav Med 51(2):199–213. https://doi.org/10.1007/s12160-016-9844-2

15.

Garland EL, Geschwind N, Peeters F, Wichers M (2015) Mindfulness training promotes upward spirals of positive affect and cognition: multilevel and autoregressive latent trajectory modeling analyses. Front Psychol 6:15. https://doi.org/10.3389/fpsyg.2015.00015

16.

Salzberg S (1997) Lovingkindness: the revolutionary art of happiness. Shambala, Boston

17.

Fredrickson BL, Cohn MA, Coffey KA, Pek J, Finkel SM (2008) Open hearts build lives: positive emotions, induced through loving-kindness meditation, build consequential personal resources. J Pers Soc Psychol 95(5):1045–1062. https://doi.org/10.1037/a0013262

18.

Carson JW, Keefe FJ, Lynch TR, Carson KM, Goli V, Fras AM, Thorp SR (2005) Loving-kindness meditation for chronic low back pain: results from a pilot trial. J Holist Nurs 23(3):287–304. https://doi.org/10.1177/0898010105277651

19.

Hutcherson CA, Seppala EM, Gross JJ (2008) Loving-kindness meditation increases social connectedness. Emotion 8(5):720–724. https://doi.org/10.1037/a0013237

20.

Tonelli ME, Wachholtz AB (2014) Meditation-based treatment yielding immediate relief for meditation-naive migraineurs. Pain Manag Nurs 15(1):36–40. https://doi.org/10.1016/j.pmn.2012.04.002

21.

Kok BE, Coffey KA, Cohn MA, Catalino LI, Vacharkulksemsuk T, Algoe SB, Brantley M, Fredrickson BL (2013) How positive emotions build physical health: perceived positive social connections account for the upward spiral between positive emotions and vagal tone. Psychol Sci 24(7):1123–1132. https://doi.org/10.1177/0956797612470827

22.

Galante J, Galante I, Bekkers MJ, Gallacher J (2014) Effect of kindness-based meditation on health and well-being: a systematic review and meta-analysis. J Consult Clin Psychol 82(6):1101–1114. https://doi.org/10.1037/a0037249

23.

Soo MS, Jarosz JA, Wren AA, Soo AE, Mowery YM, Johnson KS, Yoon SC, Kim CM, Hwang ES, Keefe FJ, Shelby RA (2016) Imaging-guided core-needle breast biopsy: impact of meditation and music interventions on patient anxiety, pain, and fatigue. J Am Coll Radiol 13(5):526–534

24.

Palmer JB, Lane D, Mayo D, Schluchter M, Leeming R (2015) Effects of music therapy on anesthesia requirements and anxiety in women undergoing ambulatory breast surgery for cancer diagnosis and treatment: a randomized controlled trial. J Clin Oncol 33(28):3162–3168. https://doi.org/10.1200/JCO.2014.59.6049

25.

Cho SW, Choi HJ (2016) Effect of music on reducing anxiety for patients undergoing transrectal ultrasound-guided prostate biopsies: randomized prospective trial. Urol J 13(2):2612–2614

26.

Chang YH, Oh TH, Lee JW, Park SC, Seo IY, Jeong HJ, Kwon WA (2015) Listening to music during transrectal ultrasound-guided prostate biopsy decreases anxiety, pain and dissatisfaction in patients: a pilot randomized controlled trial. Urol Int 94(3):337–341. https://doi.org/10.1159/000368420

27.

Spielberger C (1977) State-trait anxiety inventory. Consulting Psychologists Press, Palo Alto

28.

Cleeland CS, Ryan KM (1994) Pain assessment: global use of the Brief Pain Inventory. Ann Acad Med Singap 23(2):129–138

29.

Yellen SB, Cella DF, Webster K, Blendowski C, Kaplan E (1997) Measuring fatigue and other anemia-related symptoms with the Functional Assessment of Cancer Therapy (FACT) measurement system. J Pain Symptom Manag 13(2):63–74

30.

Raes F, Pommier E, Neff KD, Van Gucht D (2011) Construction and factorial validation of a short form of the Self-Compassion Scale. Clin Psychol Psychother 18(3):250–255. https://doi.org/10.1002/cpp.702

31.

Hollis S, Campbell F (1999) What is meant by intention to treat analysis? Survey of published randomised controlled trials. BMJ 319(7211):670–674

32.

Moore CG, Carter RE, Nietert PJ, Stewart PW (2011) Recommendations for planning pilot studies in clinical and translational research. Clin Transl Sci 4(5):332–337

33.

Jung BF, Ahrendt GM, Oaklander AL, Dworkin RH (2003) Neuropathic pain following breast cancer surgery: proposed classification and research update. Pain 104(1–2):1–13

34.

Tasmuth T, von Smitten K, Kalso E (1996) Pain and other symptoms during the first year after radical and conservative surgery for breast cancer. Br J Cancer 74(12):2024–2031

35.

Jensen (2010) A neuropsychological model of pain: research and clinical implications. J Pain 11(1):2–12. https://doi.org/10.1016/j.jpain.2009.05.001

36.

Neff (2003) Development and validation of a scale to measure self-compassion. Self Identity 2:223–250
Acknowledgments
The authors wish to thank Mary Brantley, MA, LMFT, and Dee Campbell, MSEE for their assistance with this research.
Ethics declarations
Conflict of interest
The authors declare that there are no conflicts of interest.
Additional information
Publisher's note
Springer Nature remains neutral with regard to jurisdictional claims in published maps and institutional affiliations.
About this article
Cite this article
Wren, A.A., Shelby, R.A., Soo, M.S. et al. Preliminary efficacy of a lovingkindness meditation intervention for patients undergoing biopsy and breast cancer surgery: A randomized controlled pilot study. Support Care Cancer 27, 3583–3592 (2019). https://doi.org/10.1007/s00520-019-4657-z
Received:

Accepted:

Published:

Issue Date:
Keywords
Cancer

Breast cancer

Biopsy

Breast cancer surgery

Lovingkindness meditation

Psychosocial intervention