Abstract
Background
Malignant pleural mesothelioma (MPM) has a poor prognosis and heavy symptom burden. Here, we investigate health professionals' attitudes to management and decision-making in people with MPM.
Methods
Survey questions were based on previous interviews with health professionals, MPM patients, and caregivers. Surveys were sent to specialist doctors and nurses who treat MPM.
Results
Surveys were completed by 107 doctors and 19 nurses from January–September 2014. Most doctors were respiratory physicians (50%) or medical oncologists (35%). Overall, 90% of doctors estimated > 10% of eligible MPM patients did not receive chemotherapy; 43% estimated the rate was > 20%. Doctors believed clinical barriers to chemotherapy were clinician nihilism (70%); non-referral to medical oncology (49%); and lack of specialists in rural/regional areas (44%). Nurses perceived barriers as follows: delayed diagnosis (74%); non-referral to medical oncology (63%); lack of clinician knowledge (58%). Patient-related barriers were negative perception of chemotherapy (83%) and belief survival benefit not worthwhile (63%). Doctors' preference in decision-making was for the patient to make the decision while strongly considering the doctor's opinion (33%); equally with the doctor (29%); and using knowledge gained (23%). Nurses described their roles as providing patient support (100%); information (95%); intermediary (74%); and link to palliative care (74%). Overall, 95% believed they enabled better resource allocation and provided patients with holistic care (95%); clearer communication (89%); more time (89%); additional information (89%); timely referrals (89%).
Conclusions
Caring for patients with MPM is challenging and complex. Health care professionals believe under-utilisation of chemotherapy is occurring, primarily due to clinician nihilism and lack of medical oncology referral.
This is a preview of subscription content, log in to check access.
Access options
Buy single article
Instant access to the full article PDF.
US$ 39.95
Price includes VAT for USA
Subscribe to journal
Immediate online access to all issues from 2019. Subscription will auto renew annually.
US$ 199
This is the net price. Taxes to be calculated in checkout.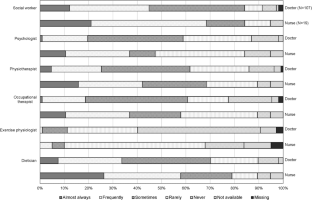 References
1.

Vogelzang NJ, Rusthoven JJ, Symanowski J, Denham C, Kaukel E, Ruffie P, Gatzemeier U, Boyer M, Emri S, Manegold C, Niyikiza C, Paoletti P (2003) Phase III study of pemetrexed in combination with cisplatin versus cisplatin alone in patients with malignant pleural mesothelioma. J Clin Oncol 21(14):2636–2644. https://doi.org/10.1200/JCO.2003.11.136

2.

van Meerbeeck JP, Gaafar R, Manegold C, Van Klaveren RJ, Van Marck EA, Vincent M, Legrand C, Bottomley A, Debruyne C, Giaccone G, European Organisation for Research, Treatment of Cancer Lung Cancer Group, National Cancer Institute of Canada (2005) Randomized phase III study of cisplatin with or without raltitrexed in patients with malignant pleural mesothelioma: an intergroup study of the European Organisation for Research and Treatment of Cancer Lung Cancer Group and the National Cancer Institute of Canada. J Clin Oncol 23(28):6881–6889. https://doi.org/10.1200/JCO.20005.14.589

3.

Ellis P, Davies AM, Evans WK, Haynes AE, Lloyd NS, Lung Cancer Disease Site Group of Cancer Care Ontario's Program in Evidence-based C (2006) The use of chemotherapy in patients with advanced malignant pleural mesothelioma: a systematic review and practice guideline. J Thorac Oncol 1(6):591–601

4.

Nowak AK, Stockler MR, Byrne MJ (2004) Assessing quality of life during chemotherapy for pleural mesothelioma: feasibility, validity, and results of using the European Organization for Research and Treatment of Cancer Core Quality of Life Questionnaire and Lung Cancer Module. J Clin Oncol 22(15):3172–3180. https://doi.org/10.1200/JCO.2004.09.147

5.

Hollen PJ, Gralla RJ, Symanowski J, Liepa AM, Bizette GA (2004) Determining the frequency of quality of life (QL) assessment in chemotherapy treatment: using the LCSS-Meso in the randomized pemetrexed + cisplatin (C) trial in 448 patients with mesothelioma (MPM) as an example. J Clin Oncol 22(14_suppl):Abstract 8125. https://doi.org/10.1200/jco.2004.22.14_suppl.8125

6.

Kao SC, van Zandwijk N, Clarke S, Vardy J, Lumba S, Tognela A, Ng W (2015) Estimation of an optimal chemotherapy utilization rate for malignant pleural mesothelioma: an evidence-based benchmark for cancer care. Asia Pac J Clin Oncol 11(1):85–92. https://doi.org/10.1111/ajco.12306

7.

Physicians RCo (2018) National Mesothelioma Audit report 2018 (for the audit period 2014 - 2016). Royal College of Physicians, London

8.

Damhuis RA, Khakwani A, De Schutter H, Rich AL, Burgers JA, van Meerbeeck JP (2015) Treatment patterns and survival analysis in 9014 patients with malignant pleural mesothelioma from Belgium, the Netherlands and England. Lung Cancer 89(2):212–217. https://doi.org/10.1016/j.lungcan.2015.05.014

9.

Kao SC, Clarke S, Vardy J, Corte P, Clarke C, van Zandwijk N (2013) Patterns of care for malignant pleural mesothelioma patients compensated by the Dust Diseases Board in New South Wales, Australia. Intern Med J 43(4):402–410. https://doi.org/10.1111/j.1445-5994.2012.02925.x

10.

Beebe-Dimmer JL, Fryzek JP, Yee CL, Dalvi TB, Garabrant DH, Schwartz AG, Gadgeel S (2016) Mesothelioma in the United States: a Surveillance, Epidemiology, and End Results (SEER)-Medicare investigation of treatment patterns and overall survival. Clin Epidemiol 8:743–750. https://doi.org/10.2147/CLEP.S105396

11.

Dhillon H, Warby A, Kao SC, Vardy J Chemotherapy for malignant mesothelioma: patient, caregiver and health professionals' perceptions of treatment and what influences access. In: IALSC World Conference on Lung Cancer, Sydney, Australia, 2013. J Thorac Oncol, p S1240

12.

Harris PA, Taylor R, Thielke R, Payne J, Gonzalez N, Conde JG (2009) Research electronic data capture (REDCap)--a metadata-driven methodology and workflow process for providing translational research informatics support. J Biomed Inform 42(2):377–381. https://doi.org/10.1016/j.jbi.2008.08.010

13.

Australian Bureau of Statistics (ABS): Australian Statistical Geography Standard (ASGS) (2011). Statistics ABo. edn., Canberra: Australian Capital Territory

14.

van Zandwijk N, Clarke C, Henderson D, Musk AW, Fong K, Nowak A, Loneragan R, McCaughan B, Boyer M, Feigen M, Currow D, Schofield P, Nick Pavlakis BI, McLean J, Marshall H, Leong S, Keena V, Penman A (2013) Guidelines for the diagnosis and treatment of malignant pleural mesothelioma. J Thorac Dis 5(6):E254–E307. https://doi.org/10.3978/j.issn.2072-1439.2013.11.28

15.

Kindler HL, Ismaila N, Armato SG 3rd, Bueno R, Hesdorffer M, Jahan T, Jones CM, Miettinen M, Pass H, Rimner A, Rusch V, Sterman D, Thomas A, Hassan R (2018) Treatment of malignant pleural mesothelioma: American Society of Clinical Oncology clinical practice guideline. J Clin Oncol 36(13):1343–1373. https://doi.org/10.1200/JCO.2017.76.6394

16.

Verhoef MJ, Rose MS, White M, Balneaves LG (2008) Declining conventional cancer treatment and using complementary and alternative medicine: a problem or a challenge? Curr Oncol 15(Suppl 2):s101–s106

17.

van Kleffens T, van Leeuwen E (2005) Physicians' evaluations of patients' decisions to refuse oncological treatment. J Med Ethics 31(3):131–136. https://doi.org/10.1136/jme.2004.008755

18.

Blinman P, Alam M, Duric V, McLachlan SA, Stockler MR (2010) Patients' preferences for chemotherapy in non-small-cell lung cancer: a systematic review. Lung Cancer 69(2):141–147. https://doi.org/10.1016/j.lungcan.2010.05.001

19.

O'Brien ME, Watkins D, Ryan C, Priest K, Corbishley C, Norton A, Ashley S, Rowell N, Sayer R (2006) A randomised trial in malignant mesothelioma (M) of early (E) versus delayed (D) chemotherapy in symptomatically stable patients: the MED trial. Ann Oncol 17(2):270–275. https://doi.org/10.1093/annonc/mdj073

20.

Baas P, Fennell D, Kerr KM, Van Schil PE, Haas RL, Peters S, Committee EG (2015) Malignant pleural mesothelioma: ESMO Clinical Practice Guidelines for diagnosis, treatment and follow-up. Ann Oncol 26(Suppl 5):v31–v39. https://doi.org/10.1093/annonc/mdv199

21.

Woolhouse I, Bishop L, Darlison L, De Fonseka D, Edey A, Edwards J, Faivre-Finn C, Fennell DA, Holmes S, Kerr KM, Nakas A, Peel T, Rahman NM, Slade M, Steele J, Tsim S, Maskell NA (2018) British Thoracic Society Guideline for the investigation and management of malignant pleural mesothelioma. Thorax 73(Suppl 1):i1–i30. https://doi.org/10.1136/thoraxjnl-2017-211321

22.

Boxer MM, Vinod SK, Shafiq J, Duggan KJ (2011) Do multidisciplinary team meetings make a difference in the management of lung cancer? Cancer 117(22):5112–5120. https://doi.org/10.1002/cncr.26149

23.

Forrest LM, McMillan DC, McArdle CS, Dunlop DJ (2005) An evaluation of the impact of a multidisciplinary team, in a single centre, on treatment and survival in patients with inoperable non-small-cell lung cancer. Br J Cancer 93(9):977–978. https://doi.org/10.1038/sj.bjc.6602825

24.

Health UDo (2000) The NHS cancer plan. Department of Health, London

25.

Bibby AC, Williams K, Smith S, Bhatt N, Maskell NA (2016) What is the role of a specialist regional mesothelioma multidisciplinary team meeting? A service evaluation of one tertiary referral centre in the UK. BMJ Open 6(9):e012092. https://doi.org/10.1136/bmjopen-2016-012092

26.

Cancer Australia: https://canceraustralia.gov.au/clinical-best-practice/multidisciplinary-care/all-about-multidisciplinary-care/planning-multidisciplinary-care-meeting, All about multidisciplinary care. Australian Government, Accessed 11 July 2018
Acknowledgments
We would like to acknowledge the assistance provided by the following organisations with recruitment to the study: Thoracic Society of Australia & New Zealand; the Royal Australian and New Zealand College of Radiologists; Australasian Lung Cancer Trials Group; Australian and New Zealand Lung Cancer Nurses Forum; the Australian & New Zealand Society of Palliative Medicine Inc.; Palliative Care Nurses Australia; Medical Oncology Group of Australia; Ms. Judy Rafferty (Lung Foundation Australia).
Funding
The study which is the subject of this manuscript was funded by a grant from the Dust Diseases Board NSW (now known as icare Dust Diseases Care).
Ethics declarations
Conflict of interest
Drs Vardy, Dhillon, and Kao report grants from icare Dust Diseases Care for the conduct of the study which is the basis of the submitted work. Dr. Kao reports personal fees to his institution from MSD, Roche, AstraZeneca, Pfizer, and BMS, outside the submitted work. Dr. Dhillon reports honoraria paid to her institution from MSD outside the submitted work. The authors have full control of all primary data and agree to allow the journal to review the data if requested.
Additional information
Publisher's note
Springer Nature remains neutral with regard to jurisdictional claims in published maps and institutional affiliations.
About this article
Cite this article
Warby, A., Dhillon, H.M., Kao, S. et al. Managing malignant pleural mesothelioma: experience and perceptions of health care professionals caring for people with mesothelioma. Support Care Cancer 27, 3509–3519 (2019). https://doi.org/10.1007/s00520-019-4648-0
Received:

Accepted:

Published:

Issue Date:
Keywords
Malignant pleural mesothelioma

Health care professionals

Chemotherapy

Decision-making