Abstract
Purpose
Financial toxicity (FT) is the unintended, potential economic harm or damage of oncologic treatments that has become a medical problem with political implications. To assess FT, the COmprehensive Score for financial Toxicity (COST) questionnaire was developed. Since an Italian version is not available yet, we aimed to validate the Italian version of the COST questionnaire in a population of cancer patients during oncologic treatments or follow-up.
Methods
A sample of Italian native outpatients were asked to fill the Italian version of the COST and five other self-administered questionnaires to assess quality of life, treatment-related symptoms, hope, distress, and unmet needs. Additionally, a subsample of patients was asked to retake the COST after 2–6 weeks.
Results
A single factor better represents the scale structure. Internal consistency and test–retest reliability were good. Evidence of convergent and discriminant validity was provided and criterion validity was established, showing that financial toxicity predicts the patient's distress. Finally, known-groups validity was confirmed, testing the differences related to treatment-related expenses, sociodemographic characteristics, stage of the disease, and performance status.
Conclusion
The current findings suggest the Italian version of the COST is a psychometrically sound scale that potentially offers an added value in assessing FT in patients with cancer.
Access options
Buy single article
Instant access to the full article PDF.
USD 39.95
Price excludes VAT (USA)
Tax calculation will be finalised during checkout.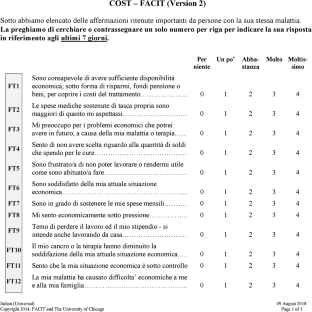 References
Zafar SY, Abernethy AP (2013) Financial toxicity, Part I: a new name for a growing problem. Oncology (Williston Park) 27(2):80–84

Yabroff KR, Lawrence WF, Clauser S, Davis WW, Brown ML (2004) Burden of illness in cancer survivors: findings from a population-based national sample. J Natl Cancer Inst 96:1322–1330. https://doi.org/10.1093/jnci/djh255

Carrera PM, Olver I (2015) The financial hazard of personalized medicine and supportive care. Support Care Cancer 23:3399–3401. https://doi.org/10.1007/s00520-015-2922-3

Zhang Y, Hueser HC, Hernandez I (2017) Comparing the approval and coverage decisions of new oncology drugs in the United States and other selected countries. J Manag Care Spec Pharm 23:247–254. https://doi.org/10.18553/jmcp.2017.23.2.247

Zafar SY, McNeil RB, Thomas CM, Lathan CS, Ayanian JZ, Provenzale D (2015) Population-based assessment of cancer survivors' financial burden and quality of life: a prospective cohort study. J Oncol Pract 11:145–150. https://doi.org/10.1200/JOP.2014.001542

Lathan CS, Cronin A, Tucker-Seeley R, Zafar SY, Ayanian JZ, Schrag D (2016) Association of financial strain with symptom burden and quality of life for patients with lung or colorectal cancer. J Clin Oncol 34:1732–1740. https://doi.org/10.1200/JCO.2015.63.2232

Neugut AI, Subar M, Wilde ET, Stratton S, Brouse CH, Hillyer GC, Grann VR, Hershman DL (2011) Association between prescription co-payment amount and compliance with adjuvant hormonal therapy in women with early-stage breast cancer. J Clin Oncol 29:2534–2542. https://doi.org/10.1200/JCO.2010.33.3179

Ramsey SD, Bansal A, Fedorenko CR, Blough DK, Overstreet KA, Shankaran V, Newcomb P (2016) Financial insolvency as a risk factor for early mortality among patients with cancer. J Clin Oncol 34:980–986. https://doi.org/10.1200/JCO.2015.64.6620

Gordon LG, Walker SM, Mervin MC et al (2017) Financial toxicity: a potential side effect of prostate cancer treatment among Australian men. Eur J Cancer Care (Engl) 26:e12392. https://doi.org/10.1111/ecc.12392

Bestvina CM, Zullig LL, Yousuf Zafar S (2014) The implications of out-of-pocket cost of cancer treatment in the USA: a critical appraisal of the literature. Future Oncol 10:2189–2199. https://doi.org/10.2217/fon.14.130

de Souza JA, Wong Y-N (2013) Financial distress in cancer patients. J Med Person 11:77. https://doi.org/10.1007/s12682-013-0152-3

De Souza JA, Yap BJ, Hlubocky FJ et al (2014) The development of a financial toxicity patient-reported outcome in cancer: the COST measure. Cancer. https://doi.org/10.1002/cncr.28814

de Souza JA, Yap BJ, Wroblewski K, Blinder V, Araújo FS, Hlubocky FJ, Nicholas LH, O'Connor JM, Brockstein B, Ratain MJ, Daugherty CK, Cella D (2017) Measuring financial toxicity as a clinically relevant patient-reported outcome: the validation of the COmprehensive Score for financial Toxicity (COST). Cancer 123:476–484. https://doi.org/10.1002/cncr.30369

Sprangers MAG, Cull A, Bjordal K et al The European Organization for Research and Treatment of Cancer approach to quality of life assessment: guidelines for developing questionnaire modules. Qual Life Res 2:287–295

Tamburini M, Gangeri L, Brunelli C et al (2000) Assessment of hospitalised cancer patients' needs by the Needs Evaluation Questionnaire. Ann Oncol Off J Eur Soc Med Oncol 11:31–37

Herth K (1992) Abbreviated instrument to measure hope: development and psychometric evaluation. J Adv Nurs 17:1251–1259

Ripamonti CI, Pessi AM, Stefania B (2012) Supportive Care in Cancer Unit at the National Cancer Institute of Milan. Curr Opin Oncol 24:391–396. https://doi.org/10.1097/CCO.0b013e328352eabc

Eremenco SL, Cella D, Arnold BJ (2005) A comprehensive method for the translation and cross-cultural validation of health status questionnaires. Eval Heal Prof 28:212–232. https://doi.org/10.1177/0163278705275342

Mosconi P, Apolone G, Barni S et al Quality of life in breast and colon cancer long-term survivors: an assessment with the EORTC QLQ-C30 and SF-36 questionnaires. Tumori 88:110–116

Chiesi F, Bonacchi A, Primi C, Miccinesi G (2017) Assessing unmet needs in patients with cancer: an investigation of differential item functioning of the Needs Evaluation Questionnaire across gender, age and phase of the disease. PLoS One 12:1–12. https://doi.org/10.1371/journal.pone.0179765

Ripamonti CI, Buonaccorso L, Maruelli A et al Hope Herth Index (HHI): a validation study in Italian patients with solid and hematological malignancies on active cancer treatment. Tumori 98:385–392. https://doi.org/10.1700/1125.12409

Bruera E, Kuehn N, Miller MJ, Selmser P, Macmillan K (1991) The Edmonton Symptom Assessment System (ESAS): a simple method for the assessment of palliative care patients. J Palliat Care 7:6–9

Moro C, Brunelli C, Miccinesi G, Fallai M, Morino P, Piazza M, Labianca R, Ripamonti C (2006) Edmonton symptom assessment scale: Italian validation in two palliative care settings. Support Care Cancer 14:30–37. https://doi.org/10.1007/s00520-005-0834-3

Chochinov HM, Hassard T, McClement S, Hack T, Kristjanson LJ, Harlos M, Sinclair S, Murray A (2008) The patient dignity inventory: a novel way of measuring dignity-related distress in palliative care. J Pain Symptom Manag 36:559–571. https://doi.org/10.1016/j.jpainsymman.2007.12.018

Ripamonti CI, Buonaccorso L, Maruelli A et al Patient dignity inventory (PDI) questionnaire: the validation study in Italian patients with solid and hematological cancers on active oncological treatments. Tumori 98:491–500. https://doi.org/10.1700/1146.12645

Karnofsky DA, Burchenal JH (1949) The clinical evaluation of chemotherapeutic agents in cancer. In: MacLeod CM (ed) Eval Chemother Agents. Columbia Univ Press, New York, p 196

Lorenzo-Seva U, Ferrando PJ (2013) FACTOR 9.2. Appl Psychol Meas 37:497–498. https://doi.org/10.1177/0146621613487794

Moshagen M, Musch J (2014) Sample size requirements of the robust weighted least squares estimator. Methodology 10:60–70. https://doi.org/10.1027/1614-2241/a000068

Timmerman ME, Lorenzo-Seva U (2011) Dimensionality assessment of ordered polytomous items with parallel analysis. Psychol Methods 16:209–220. https://doi.org/10.1037/a0023353

Muthen B, Kaplan D (1992) A comparison of some methodologies for the factor analysis of non-normal Likert variables: a note on the size of the model. Br J Math Stat Psychol 45:19–30. https://doi.org/10.1111/j.2044-8317.1992.tb00975.x

Marcoulides GA, Hershberger SL (1997) Multivariate statistical methods: a first course. https://doi.org/10.4324/9781315805771

de Boeck P, Elosua P (2016) Reliability and validity: history, notions, methods, and discussion. In: Leong FTL, Bartram D, Cheung FM, Geisinger KF, Iliescu D (eds) The ITC international handbook of testing and assessment. Oxford University Press, New York, pp 408–421

Podsakoff PM, MacKenzie SB, Lee J-Y, Podsakoff NP (1990) Common method biases in behavioral research: a critical review of the literature and recommended remedies. Lindell & Whit-ney. https://doi.org/10.1037/0021-9010.88.5.879
Acknowledgments
We would like to thank Barbara Bachtiary, MD, MSc, Paul Scherrer Institute Center for Proton Therapy, Switzerland; and Emily Parks-Vernizzi, MFA; Jason Bredle, MFA; and Benjamin J. Arnold, MA, FACIT.org, Ponte Vedra, FL, for their contribution in producing the Italian version of the COST.
Ethics declarations
All procedures performed in studies involving human participants were in accordance with the ethical standards of the institutional and/or national research committee (Ethic Committee of Fondazione IRCCS Istituto Nazionale Tumori, Milan, Italy, protocol number: INT 41/19) and with the 1964 Helsinki Declaration and its later amendments or comparable ethical standards. Informed consent was obtained from all individual participants included in the study.
Additional information
Publisher's note
Springer Nature remains neutral with regard to jurisdictional claims in published maps and institutional affiliations.
About this article
Cite this article
Ripamonti, C.I., Chiesi, F., Di Pede, P. et al. The validation of the Italian version of the COmprehensive Score for financial Toxicity (COST). Support Care Cancer 28, 4477–4485 (2020). https://doi.org/10.1007/s00520-019-05286-y
Received:

Accepted:

Published:

Issue Date:

DOI: https://doi.org/10.1007/s00520-019-05286-y
Keywords