Abstract
Introduction
The needs of cancer patients and survivors regarding discussing sexuality are frequently unmet, with many not receiving adequate information. To optimize information about sexuality and cancer, patients' perspective is needed. The goals of this study were to investigate what kind of information Dutch cancer patients need, their ideas on how to improve communication, and to identify patients who are more in need of information regarding sexuality.
Methods
The Dutch Federation of Cancer Patient Organizations developed and conducted a nationwide 28-item online survey. The survey was distributed among cancer patients and survivors.
Results
In total, 2657 (ex) cancer patients participated, with a median age of 61 years, and half were male (45.2%). Of the respondents, 65% were in need of information about sexuality. Patients ≤ 61 years (p < 0.001), patients with a self-reported negative effect of cancer on sexuality (p < 0.001) and patients who were diagnosed less than 2 years ago (p < 0.04) reported a higher need for information. Regardless of type of cancer, patients were most in need of practical tips and practical information regarding sexuality. To enhance communication about sexuality, 64% of the respondents suggested that it would be of help if care providers give information as standard care.
Conclusions
(Ex) cancer patient prefer to receive standard information about sexuality by their care providers. According to patients' preferences, information must include practical tips. Age, self-reported negative effect on sexuality status and time from diagnoses influenced the need for information.
Access options
Buy single article
Instant access to the full article PDF.
USD 39.95
Price excludes VAT (USA)
Tax calculation will be finalised during checkout.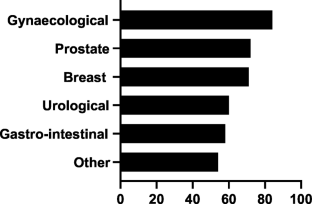 References
Stabile C, Goldfarb S, Baser RE, Goldfrank DJ, Abu-Rustum NR, Barakat RR, Dickler MN, Carter J (2017) Sexual health needs and educational intervention preferences for women with cancer. Breast Cancer Res Treat 165(1):77–84

Bober SL, Varela VS (2012) Sexuality in adult cancer survivors: challenges and intervention. J Clin Oncol 30(30):3712–3719

Sadovsky R, Basson R, Krychman M, Morales AM, Schover L, Wang R et al (2010) Cancer and sexual problems. J Sex Med 7(1 Pt 2):349–373

Ussher JM, Perz J, Gilbert E (2015) Perceived causes and consequences of sexual changes after cancer for women and men: a mixed method study. BMC Cancer 15:268

Katz A, Dizon DS (2016) Sexuality after cancer: a model for male survivors. J Sex Med 13(1):70–78

Dizon DS, Suzin D, McIlvenna S (2014) Sexual health as a survivorship issue for female cancer survivors. Oncologist 19(2):202–210

Ben Charif A, Bouhnik AD, Courbiere B, Rey D, Preau M, Bendiane MK et al (2016) Sexual health problems in French cancer survivors 2 years after diagnosis-the national VICAN survey. Journal of cancer survivorship : research and practice 10(3):600–609

Alappattu M, Harrington SE, Hill A, Roscow A, Jeffrey A (2017) Oncology section EDGE task force on Cancer: a systematic review of patient-reported measures for sexual dysfunction. Rehabil Oncol 35(3):137–143

de Vocht H, Hordern A, Notter J, van de Wiel H (2011) Stepped skills: a team approach towards communication about sexuality and intimacy in cancer and palliative care. Australas Med J 4(11):610–619

Raggio GA, Butryn ML, Arigo D, Mikorski R, Palmer SC (2014) Prevalence and correlates of sexual morbidity in long-term breast cancer survivors. Psychol Health 29(6):632–650

Hansen DG, Larsen PV, Holm LV, Rottmann N, Bergholdt SH, Sondergaard J (2013) Association between unmet needs and quality of life of cancer patients: a population-based study. Acta oncologica (Stockholm, Sweden) 52(2):391–399

Li WW, Lam WW, Au AH, Ye M, Law WL, Poon J, Kwong A, Suen D, Tsang J, Girgis A, Fielding R (2013) Interpreting differences in patterns of supportive care needs between patients with breast cancer and patients with colorectal cancer. Psycho-oncology. 22(4):792–798

Flynn KE, Reese JB, Jeffery DD, Abernethy AP, Lin L, Shelby RA et al (2012) Patient experiences with communication about sex during and after treatment for cancer. Psycho-oncology. 21(6):594–601

Schover LR, van der Kaaij M, van Dorst E, Creutzberg C, Huyghe E, Kiserud CE. Sexual dysfunction and infertility as late effects of cancer treatment. EJC supplements : EJC : official journal of EORTC, European Organization for Research and Treatment of Cancer [et al] 2014;12(1):41–53

Krouwel EM, Albers LF, Nicolai MPJ, Putter H, Osanto S, Pelger RCM et al (2019) Discussing sexual health in the medical Oncologist's practice: exploring current practice and challenges. J Cancer Educ

Ben Charif A, Bouhnik AD, Courbiere B, Rey D, Preau M, Bendiane MK et al (2016) Patient discussion about sexual health with health care providers after Cancer-a National Survey. J Sex Med 13(11):1686–1694

Gilbert E, Perz J, Ussher JM (2016) Talking about sex with health professionals: the experience of people with cancer and their partners. Eur J Cancer Care 25(2):280–293

Sporn NJ, Smith KB, Pirl WF, Lennes IT, Hyland KA, Park ER (2015) Sexual health communication between cancer survivors and providers: how frequently does it occur and which providers are preferred? Psycho-oncology. 24(9):1167–1173

Hordern AJ, Street AF (2007) Communicating about patient sexuality and intimacy after cancer: mismatched expectations and unmet needs. Med J Aust 186(5):224–227

Hautamaki K, Miettinen M, Kellokumpu-Lehtinen PL, Aalto P, Lehto J (2007) Opening communication with cancer patients about sexuality-related issues. Cancer Nurs 30(5):399–404

Krouwel EM, Hagen JH, Nicolai MP, Vahrmeijer AL, Putter H, Pelger RC et al (2015) Management of sexual side effects in the surgical oncology practice: a nationwide survey of Dutch surgical oncologists. Eur J Surg Oncol 41(9):1179–1187

Krouwel EM, Nicolai MP, van der Wielen GJ, Putter H, Krol AD, Pelger RC, Incrocci L, Elzevier HW (2015) Sexual concerns after (pelvic) radiotherapy: is there any role for the radiation oncologist? J Sex Med 12(9):1927–1939

Krouwel EM, Nicolai MP, van Steijn-van Tol AQ, Putter H, Osanto S, Pelger RC, Elzevier HW (2015) Addressing changed sexual functioning in cancer patients: a cross-sectional survey among Dutch oncology nurses. Eur J Oncol Nurs 19(6):707–715

Ussher JM, Perz J, Gilbert E, Wong WK, Mason C, Hobbs K, Kirsten L (2013) Talking about sex after cancer: a discourse analytic study of health care professional accounts of sexual communication with patients. Psychol Health 28(12):1370–1390

Wendt C (2017) Perception and assessment of verbal and written information on sex and relationships after hematopoietic stem cell transplantation. Journal of cancer education : the official journal of the American Association for Cancer Education 32(4):681–689

Hordern AJ, Street AF (2007) Constructions of sexuality and intimacy after cancer: patient and health professional perspectives. Social science & medicine (1982) 64(8):1704–1718

Canzona MR, Garcia D, Fisher CL, Raleigh M, Kalish V, Ledford CJ (2016) Communication about sexual health with breast cancer survivors: variation among patient and provider perspectives. Patient Educ Couns 99(11):1814–1820

Jonker-Pool G, Hoekstra HJ, van Imhoff GW, Sonneveld DJ, Sleijfer DT, van Driel MF, Koops HS, van de Wiel H (2004) Male sexuality after cancer treatment--needs for information and support: testicular cancer compared to malignant lymphoma. Patient Educ Couns 52(2):143–150

Almont T, Couteau C, Etienne H, Bondil P, Guimbaud R, Schover L et al (2018) Sexual health and needs for sexology care in digestive cancer patients undergoing chemotherapy: a 4-month cross-sectional study in a French University hospital. Support Care Cancer

Hautamaki-Lamminen K, Lipiainen L, Beaver K, Lehto J, Kellokumpu-Lehtinen PL (2013) Identifying cancer patients with greater need for information about sexual issues. Eur J Oncol Nurs 17(1):9–15

Nicolai MP, van Bavel J, Somsen GA, de Grooth GJ, Tulevski II, Lorsheyd A, Putter H, Schalij MJ, Pelger RC, Elzevier HW (2014) Erectile dysfunction in the cardiology practice-a patients' perspective. Am Heart J 167(2):178–185

Marijnen CA, van de Velde CJ, Putter H, van den Brink M, Maas CP, Martijn H, Rutten HJ, Wiggers T, Kranenbarg EK, Leer JW, Stiggelbout AM (2005) Impact of short-term preoperative radiotherapy on health-related quality of life and sexual functioning in primary rectal cancer: report of a multicenter randomized trial. J Clin Oncol 23(9):1847–1858

Barbera L, Zwaal C, Elterman D, McPherson K, Wolfman W, Katz A et al (2017) Interventions to address sexual problems in people with cancer. Current oncology (Toronto, Ont) 24(3):192–200

Carter J, Lacchetti C, Andersen BL, Barton DL, Bolte S, Damast S, Diefenbach MA, DuHamel K, Florendo J, Ganz PA, Goldfarb S, Hallmeyer S, Kushner DM, Rowland JH (2018) Interventions to address sexual problems in people with Cancer: American Society of Clinical Oncology clinical practice guideline adaptation of Cancer Care Ontario guideline. J Clin Oncol 36(5):492–511

Den Ouden MEM, Pelgrum-Keurhorst MN, Uitdehaag MJ, De Vocht HM (2018) Intimacy and sexuality in women with breast cancer: professional guidance needed. Breast cancer (Tokyo, Japan)

Davison BJ, Gleave ME, Goldenberg SL, Degner LF, Hoffart D, Berkowitz J (2002) Assessing information and decision preferences of men with prostate cancer and their partners. Cancer Nurs 25(1):42–49

Nicolosi A, Buvat J, Glasser DB, Hartmann U, Laumann EO, Gingell C (2006) Sexual behaviour, sexual dysfunctions and related help seeking patterns in middle-aged and elderly Europeans: the global study of sexual attitudes and behaviors. World J Urol 24(4):423–428

Lindau ST, Gavrilova N (2010) Sex, health, and years of sexually active life gained due to good health: evidence from two US population based cross sectional surveys of ageing. BMJ (Clinical research ed) 340:c810

Fleary SA, Joseph P, Pappagianopoulos JE (2018) Adolescent health literacy and health behaviors: a systematic review. J Adolesc 62:116–127

Tennant B, Stellefson M, Dodd V, Chaney B, Chaney D, Paige S et al (2015) eHealth literacy and Web 2.0 health information seeking behaviors among baby boomers and older adults. Journal of medical Internet research 17(3):e70
Funding
This online survey was funded by a PGO-funding (funding for organizations for patients and disabled people) of the Ministry of Public Health, Welfare and Sport (VWS) of the Netherlands. The authors have no financial relationship with VWS.
Ethics declarations
Conflict of interest
The authors declare that they have no conflict of interest.
Ethical approval
The Medical Ethics Committee of the LUMC was consulted in order to verify whether ethical approval was necessary. Since the survey was initiated by the NFK in such a manner that the respondents could not be identified and participation was anonymous and fully voluntarily, the Committee declared that no formal ethical approval was needed (protocol number G19.052).
Declaration
Herewith I state to have full control of all primary data and I agree to allow the journal to review our data if requested.
Additional information
Publisher's note
Springer Nature remains neutral with regard to jurisdictional claims in published maps and institutional affiliations.
About this article
Cite this article
Albers, L.F., van Belzen, M.A., van Batenburg, C. et al. Discussing sexuality in cancer care: towards personalized information for cancer patients and survivors. Support Care Cancer 28, 4227–4233 (2020). https://doi.org/10.1007/s00520-019-05257-3
Received:

Accepted:

Published:

Issue Date:

DOI: https://doi.org/10.1007/s00520-019-05257-3
Keywords
Sexuality

Sexual health

Cancer care

Information needs

Communication