Abstract
Purpose
The study is aimed at assessing the acute effect of orange color and natural light exposure on cancer patients during chemotherapy sessions. Warmer environments and rooms receiving more sunlight hours were expected to impact vital signs, quality of life, and pain symptoms.
Methods
We used a single-group repeated-measures clinical trial design. For the purpose of the study, chemotherapy rooms were modified based on two experimental factors: color (white vs. orange) and sunlight orientation (south vs. north). On four consecutive sessions, cancer patients were randomly assigned to one of the following conditions: orange-north, orange-south, white-north, and white-south. They received chemotherapy per standard of care. The following outcomes were assessed: blood pressure, body temperature, heart rate, and European Quality of Life Five-Dimension Five-Level Scale Questionnaire (EUROQOL-5D-5L) including the visual analogue scale (EQ-VAS).
Results
Statistically significant beneficial effect of orange color room in self-rated health was found (p = 0.036, d = 0.28). Small differences in other parameters (body temperature, d = 0.34; diastolic blood pressure, d = 0.37; systolic blood pressure, d = 0.28) did not reach statistical significance. No differences were found based on room orientation.
Conclusions
Compared with a cool-color design, a warm-color living environment could have a positive effect on patients' well-being during chemotherapy sessions. Although the clinical effect size on perceived health status and vital signs could be considered small, the cost-effectiveness analysis would support the use of the proposed configurations. More research is still needed.
Trial registration
ClinicalTrials.gov Identifier: NCT03873519
This is a preview of subscription content, log in to check access.
Access options
Buy single article
Instant access to the full article PDF.
US$ 39.95
Tax calculation will be finalised during checkout.
Subscribe to journal
Immediate online access to all issues from 2019. Subscription will auto renew annually.
US$ 199
Tax calculation will be finalised during checkout.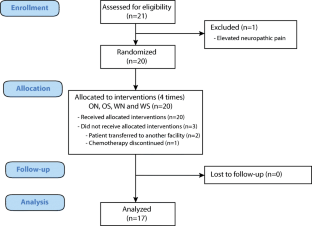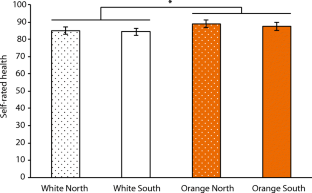 Data availability statement
Data will be available upon acceptance of this article.
References
1.

World Health Organization (2014) World cancer report 2014. Lyon

2.

Jin Shin K, Jin Lee Y, Ryoul Yang Y et al (2016) Molecular mechanisms underlying psychological stress and cancer. Curr Farm Des 22:2389–2402

3.

Cohen S, Janicki-Deverts D, Miller GE (2007) Psychological stress and disease. JAMA 298:1685–1687. https://doi.org/10.1001/jama.298.14.1685

4.

Moreno-Smith M, Lutgendorf SK, Sood AK (2010) Impact of stress on cancer metastasis. Future Oncol 6:1863–1881. https://doi.org/10.2217/fon.10.142

5.

Cohen S, Kessler RC, Underwood LG (1997) Measuring stress: a guide for health and social scientists. Strategies for measuring stress in studies of psychiatric and physical disorders. Oxford University Press, Oxford

6.

Goldwater DS, Dharmarajan K, McEwen BS, Krumholz HM (2018) Is posthospital syndrome a result of hospitalization-induced allostatic overload? J Hosp Med 13. https://doi.org/10.12788/jhm.2986

7.

Ulrich RS, Zimring C, Zhu X, DuBose J, Seo HB, Choi YS, Quan X, Joseph A (2008) A review of the research literature on evidence-based healthcare design. HERD Health Environ Res Des J 1:61–125. https://doi.org/10.1177/193758670800100306

8.

Kim Y, Morrow GR (2003) Changes in family relationships affect the development of chemotherapy-related nausea symptoms. Support Care Cancer 11:171–177. https://doi.org/10.1007/s00520-002-0416-6

9.

Kudielka BM, Gierens A, Hellhammer DH, Wüst S, Schlotz W (2012) Salivary cortisol in ambulatory assessment—some dos, some don'ts, and some open questions. Psychosom Med 74:418–431. https://doi.org/10.1097/PSY.0b013e31825434c7

10.

Hoogland AI, Lechner SC, Gonzalez BD, Small BJ, Tyson DM, Asvat Y, Barata A, Gomez MF, Rodriguez Y, Jim HSL, Antoni MH, Jacobsen PB, Meade CD (2018) Efficacy of a Spanish-language self-administered stress management training intervention for Latinas undergoing chemotherapy. Psychooncology 27:1305–1311. https://doi.org/10.1002/pon.4673

11.

Burklin Y, Hunt DP (2018) Management of emotionally challenging responses of hospitalized patients with cancer. South Med J 111:268–273. https://doi.org/10.14423/SMJ.0000000000000809

12.

Carey MP, Burish TG (1988) Etiology and treatment of the psychological side effects associated with cancer chemotherapy: a critical review and discussion. Psychol Bull Am Psychol Assoc 104(3):307–325

13.

Rodriguez Marín MJ, Zurriaga Llorens R (1997) Estrés, enfermedad y hospitalización. Escuela Andaluza de Salud Pública, Granada, Spain

14.

Nanda U (2017) A sensthetic approach to designing for health. J Inter Des 42:7–12. https://doi.org/10.1111/joid.12098

15.

Nanda U, Zhu X, Jansen BH (2012) Image and emotion: from outcomes to brain behavior. HERD Health Environ Res Des J 5:40–59. https://doi.org/10.1177/193758671200500404

16.

Graham M, Wright R, Beck WC, Flynn JE, Sisson TRC, Castelluccio SA (1976) Color in the health care environment, Brian C. P. U.S. Department of Commerce, Washington, D.C.

17.

Ulrich RS (2001) Effects of healthcare environmental design on medical outcomes. In: Second International Conference on Design and Health

18.

Ulrich RS (1984) View through a window may influence recovery from surgery. Science 224:420–421. https://doi.org/10.1126/SCIENCE.6143402

19.

Health M, Brent Tofle R, Schwarz B, et al (2004) Color in healthcare environments-a research report principal researchers

20.

Landgrebe M, Nyuyki-Dufe K, Steffens T, Eichhammer P (2008) Effects of colour exposure on auditory and somatosensory perception – hints for cross-modal plasticity

21.

Berson DM (2003) Strange vision: ganglion cells as circadian photoreceptors. Trends Neurosci 26:314–320. https://doi.org/10.1016/S0166-2236(03)00130-9

22.

Choi C-J, Kim K-S, Kim C-M, Kim SH, Choi WS (2011) Reactivity of heart rate variability after exposure to colored lights in healthy adults with symptoms of anxiety and depression. Int J Psychophysiol 79:83–88. https://doi.org/10.1016/J.IJPSYCHO.2010.09.011

23.

Sroykham W, Wongsathikun J, Wongsawat Y (2014) The effects of perceiving color in living environment on QEEG, oxygen saturation, pulse rate, and emotion regulation in humans. In: 2014 36th Annual International Conference of the IEEE Engineering in Medicine and Biology Society. IEEE, Chicago, IL, USA, pp 6226–6229

24.

Ghamari H, Amor C (2016) The role of color in healthcare environments, emergent bodies of evidence-based design approach. Soc Anthropol 4:1020–1029. https://doi.org/10.13189/sa.2016.041109

25.

Dijkstra K, Pieterse ME, Pruyn ATH (2008) Individual differences in reactions towards color in simulated healthcare environments: the role of stimulus screening ability. J Environ Psychol 28:268–277. https://doi.org/10.1016/J.JENVP.2008.02.007

26.

Elliot AJ (2015) Color and psychological functioning: a review of theoretical and empirical work. Front Psychol 6:1–8. https://doi.org/10.3389/fpsyg.2015.00368

27.

Heller E (2004) Psicología del color: cómo actúan los colores sobre los sentimientos y la razón. Editorial Gustavo Gili

28.

Birren F (2016) Color psychology and color therapy; a factual study of the influence of color on human life. Pickle Partners Publishing, New York

29.

Birch J (1997) Efficiency of the Ishihara test for identifying red-green colour deficiency. Ophthalmic Physiol Opt 17:403–408. https://doi.org/10.1016/S0275-5408(97)00022-7

30.

Portenoy R (2006) Development and testing of a neuropathic pain screening questionnaire: ID Pain. Curr Med Res Opin 22:1555–1565. https://doi.org/10.1185/030079906X115702

31.

Gálvez R, Pardo A, Cerón JM, Villasante F, Aranguren JL, Saldaña MT, Navarro A, Ruiz MA, Díaz S, Rejas J (2008) Adaptación al castellano y validación psicométrica del cuestionario ID-Pain© para la detección de dolor neuropático. Med Clin (Barc) 131:572–578. https://doi.org/10.1157/13128018

32.

Badia X, Roset M, Montserrat S et al (1999) The Spanish version of EuroQol: a description and its applications. European Quality of Life scale. Med Clin (Barc) 112(Suppl):79–85

33.

Herdman M, Gudex C, Lloyd A, Janssen MF, Kind P, Parkin D, Bonsel G, Badia X (2011) Development and preliminary testing of the new five-level version of EQ-5D (EQ-5D-5L). Qual Life Res 20:1727–1736. https://doi.org/10.1007/s11136-011-9903-x

34.

Scheirer CJ, Ray WS, Hare N (1976) The analysis of ranked data derived from completely randomized factorial designs. Biometrics 32:429–434. https://doi.org/10.2307/2529511

35.

Cohen J (1992) A Power Premier. Psychol Bull 112:155–159

36.

Mahnke FH (1996) Color, environment, and human response : an interdisciplinary understanding of color and its use as a beneficial element in the design of the architectural environment. Wiley

37.

Rohles FH, Milliken GA (1981) A scaling procedure for environmental research. Proc Hum Factors Soc Annu Meet 25:472–476. https://doi.org/10.1177/1071181381025001122

38.

Elliot AJ, Maier MA (2014) Color psychology: effects of perceiving color on psychological functioning in humans. Annu Rev Psychol 65:95–120. https://doi.org/10.1146/annurev-psych-010213-115035

39.

Cheskin L (1947) Colors: what they can do for you? NY Liveright Publ

40.

Harris PB, McBride G, Ross C, Curtis L (2002) A place to heal: environmental sources of satisfaction among hospital patients1. J Appl Soc Psychol 32:1276–1299. https://doi.org/10.1111/j.1559-1816.2002.tb01436.x

41.

Kidd T, Carvalho LA, Steptoe A (2014) The relationship between cortisol responses to laboratory stress and cortisol profiles in daily life. Biol Psychol 99:34–40. https://doi.org/10.1016/j.biopsycho.2014.02.010

42.

Billman GE (2013) The effect of heart rate on the heart rate variability response to autonomic interventions. Front Physiol 4:222. https://doi.org/10.3389/fphys.2013.00222
Acknowledgments
The authors would like to thank IOB Institute of Oncology Madrid (Spain) and Dr. Javier Cortés and especially their nurses for their collaboration during the data collection. We would also like to thank Julio Ruben Padilla, who also helped to collect data for this study. Also, we would like to thank Dr. Ana Marcella Rivas for the critical review of the manuscript and Kelsey Jendrzey from the Clinical Research Institute of TTUHSC for the grammar review and editing of the manuscript.
Ethics declarations
Ethical approval
All procedures performed in the study were in accordance with the ethical standards of the institutional research committee (Jimenez-Diaz Foundation, PIC101-18_HRJR) and with the 1964 Helsinki declaration and its later amendments or comparable ethical standards.
Informed consent
Informed consent was obtained from all individual participants included in the study.
Conflict of interest
The authors declare that they have no conflicts of interest.
Additional information
Publisher's note
Springer Nature remains neutral with regard to jurisdictional claims in published maps and institutional affiliations.
About this article
Cite this article
Gómez-Vela, P., Pérez-Ruiz, M., Hernández Martín, M.F. et al. Acute effect of orange chromatic environment on perceived health status, pain, and vital signs during chemotherapy treatment. Support Care Cancer 28, 2321–2329 (2020). https://doi.org/10.1007/s00520-019-05064-w
Received:

Accepted:

Published:

Issue Date:
Keywords
Cancer

Chemotherapy

Color

Healing environment

Self-rated health