Abstract
Purpose
Although adjuvant chemotherapy can have an impact on physical activity (PA), PA level has not been studied in patients with stage II–III colon cancer. This study investigated PA levels during and between chemotherapy cycles.
Methods
We objectively measured PA levels for 2 weeks during the 2nd and 11th chemotherapy cycles. In addition, self-reported PA levels were assessed before chemotherapy initiation, during 2nd, 6th, and 12th chemotherapy cycles. This study included 22 men and 33 women with stage II–III colon cancer patients (57 ± 9 years).
Results
Before the initiation of chemotherapy, most cancer patients were minimally active. Compared with the 1st week of chemotherapy, moderate- and light-intensity PA levels significantly increased during the 2nd week of chemotherapy. Patients increased moderate- and light-intensity PA from 217.4 to 290.3 min per week and from 585.7 to 657.8 min per week, respectively (p < 0.01). PA levels did not show any difference between the 2nd and 12th cycles when objectively measured, or between baseline and 2nd, 6th, and 12th cycles when self-reported.
Conclusion
PA levels during chemotherapy cycles are initially low, and then increase towards the end of the cycle; however, PA levels do not change between chemotherapy cycles. Future work with broader and larger samples size is recommended.
Access options
Buy single article
Instant access to the full article PDF.
US$ 39.95
Tax calculation will be finalised during checkout.
Subscribe to journal
Immediate online access to all issues from 2019. Subscription will auto renew annually.
US$ 119
Tax calculation will be finalised during checkout.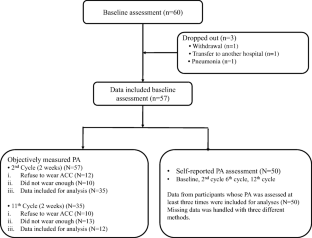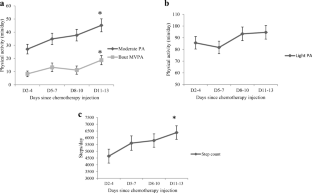 Data availability
The data regarding the results reported in the article will be available to the public upon request.
References
1.

Ahn KY, Hur H, Kim DH, Min J, Jeong DH, Chu SH, Lee JW, Ligibel JA, Meyerhardt JA, Jones LW, Jeon JY, Kim NK (2013) The effects of inpatient exercise therapy on the length of hospital stay in stages I-III colon cancer patients: randomized controlled trial. Int J Color Dis 28:643–651

2.

Ainsworth BE, Bassett DR Jr, Strath SJ, Swartz AM, O'Brien WL, Thompson RW, Jones DA, Macera CA, Kimsey CD (2000) Comparison of three methods for measuring the time spent in physical activity. Med Sci Sports Exerc 32:S457–S464

3.

Bellemare S, Heyen F, Martin G, Dube S (1998) Assessment of the quality of life during adjuvant chemotherapy of colorectal cancer. Ann Chir 52:711–715

4.

Benson AB 3rd, Bekaii-Saab T, Chan E, Chen YJ, Choti MA, Cooper HS, Engstrom PF, Enzinger PC, Fakih MG, Fenton MJ, Fuchs CS, Grem JL, Hunt S, Kamel A, Leong LA, Lin E, May KS, Mulcahy MF, Murphy K, Rohren E, Ryan DP, Saltz L, Sharma S, Shibata D, Skibber JM, Small W Jr, Sofocleous CT, Venook AP, Willett CG, Gregory KM, Freedman-Cass DA, National Comprehensive Cancer N (2013) Localized colon cancer, version 3.2013: featured updates to the NCCN Guidelines. J Natl Compr Canc Netw 11:519–528

5.

Berger AM, Grem JL, Visovsky C, Marunda HA, Yurkovich JM (2010) Fatigue and other variables during adjuvant chemotherapy for colon and rectal cancer. Oncol Nurs Forum 37:E359–E369

6.

Chung JY, Lee DH, Park JH, Lee MK, Kang DW, Min J, Kim DI, Jeong DH, Kim NK, Meyerhardt JA, Jones LW, Jeon JY (2013) Patterns of physical activity participation across the cancer trajectory in colorectal cancer survivors. Support Care Cancer 21:1605–1612

7.

Craig CL, Marshall AL, Sjostrom M, Bauman AE, Booth ML, Ainsworth BE, Pratt M, Ekelund U, Yngve A, Sallis JF, Oja P (2003) International physical activity questionnaire: 12-country reliability and validity. Med Sci Sports Exerc 35:1381–1395

8.

Engstrom PF, Arnoletti JP, Benson AB 3rd, Chen YJ, Choti MA, Cooper HS, Covey A, Dilawari RA, Early DS, Enzinger PC, Fakih MG, Fleshman J Jr, Fuchs C, Grem JL, Kiel K, Knol JA, Leong LA, Lin E, Mulcahy MF, Rao S, Ryan DP, Saltz L, Shibata D, Skibber JM, Sofocleous C, Thomas J, Venook AP, Willett C, National Comprehensive Cancer N (2009) NCCN clinical practice guidelines in oncology: colon cancer. J Natl Compr Canc Netw 7:778–831

9.

Ferlay J, Soerjomataram I, Dikshit R, Eser S, Mathers C, Rebelo M, Parkin DM, Forman D, Bray F (2015) Cancer incidence and mortality worldwide: sources, methods and major patterns in GLOBOCAN 2012. Int J Cancer 136:E359–E386

10.

Freedson PS, Melanson E, Sirard J (1998) Calibration of the Computer Science and Applications, Inc. accelerometer. Med Sci Sports Exerc 30:777–781

11.

Jung KW, Won YJ, Kong HJ, Oh CM, Seo HG, Lee JS (2013) Cancer statistics in Korea: incidence, mortality, survival and prevalence in 2010. Cancer Res Treat 45:1–14

12.

Kleckner IR, Dunne RF, Asare M, Cole C, Fleming F, Fung C, Lin PJ, Mustian KM (2018) Exercise for toxicity management in cancer-a narrative review. Oncol Hematol Rev 14:28–37

13.

Lin KY, Shun SC, Lai YH, Liang JT, Tsauo JY (2013) Comparison of the effects of a supervised exercise program and usual care in patients with colorectal cancer undergoing chemotherapy. Cancer Nurs

14.

Peace K, Perez D, Beckers M, Freeman J, Tripp G (2003) The effect of adjuvant chemotherapy on quality of life of patients with colorectal cancer. Psycho-oncology 12:S153–S153

15.

Piggin L, Dwek MR, Propper D, Machesney M, Rixon L, Newman S, Hirani S, Hurt C (2017) Perceived cognitive impairment and quality of life during adjuvant chemotherapy for colorectal cancer: a preliminary report from a longitudinal study. Psycho-oncology 26:8–8

16.

Siegel RL, Miller KD, Jemal A (2018) Cancer statistics, 2018 CA: a cancer. J Clin 68:7–30

17.

Tsuji Y, Baba H, Takeda K, Kobayashi M, Oki E, Gotoh M, Yoshida K, Shimokawa M, Kakeji Y, Aiba K (2017) Chemotherapy-induced nausea and vomiting (CINV) in 190 colorectal cancer patients: a prospective registration study by the CINV study group of Japan. Expert Opin Pharmacother 18:753–758

18.

van Rooijen SJ, Engelen MA, Scheede-Bergdahl C, Carli F, Roumen RMH, Slooter GD, Schep G (2018) Systematic review of exercise training in colorectal cancer patients during treatment. Scand J Med Sci Sports 28:360–370

19.

Van Vulpen JK, Velthuis MJ, Steins Bisschop CN, Travier N, Van Den Buijs BJ, Backx FJ, Los M, Erdkamp FL, Bloemendal HJ, Koopman M, De Roos MA, Verhaar MJ, Ten Bokkel-Huinink D, Van Der Wall E, Peeters PH, May AM (2016) Effects of an exercise program in colon cancer patients undergoing chemotherapy. Med Sci Sports Exerc 48:767–775

20.

van Waart H, Stuiver MM, van Harten WH, Geleijn E, Kieffer JM, Buffart LM, de Maaker-Berkhof M, Boven E, Schrama J, Geenen MM, Meerum Terwogt JM, van Bochove A, Lustig V, van den Heiligenberg SM, Smorenburg CH, Hellendoorn-van Vreeswijk JA, Sonke GS, Aaronson NK (2015) Effect of low-intensity physical activity and moderate- to high-intensity physical exercise during adjuvant chemotherapy on physical fitness, fatigue, and chemotherapy completion rates: results of the PACES randomized clinical trial. J Clin Oncol 33:1918–1927

21.

Yothers G, O'Connell MJ, Allegra CJ, Kuebler JP, Colangelo LH, Petrelli NJ, Wolmark N (2011) Oxaliplatin as adjuvant therapy for colon cancer: updated results of NSABP C-07 trial, including survival and subset analyses. J Clin Oncol 29:3768–3774
Funding
This research was supported by the National R&D program for Cancer Control, Ministry of Health and Welfare, Republic of Korea (1631020) to JYJ and the National Research Foundation of Korea (NRF-2015S1A5B8036349) to JYJ. The funders had no role in study design, data collection, and analyses, decision to publish or preparation of the manuscript.
Ethics declarations
Ethics approval and consent to participate
This study was approved by the institutional review board of Yonsei Severance Hospital and all subjects provided written consent prior to the commencement of any study-related procedures. The study was performed in accordance with the Declaration of Helsinki.
Consent for publication
Our manuscript does not contain any individual person's data in any form (including individual details, images or videos).
Conflict of interest
The authors declare that there is no conflict of interest.
Disclaimer
We declare that results of the study are presented clearly, honestly, and without fabrication, falsification, or inappropriate data manipulation. We also declare that results of the present study do not constitute endorsement by ACSM.
Additional information
Publisher's note
Springer Nature remains neutral with regard to jurisdictional claims in published maps and institutional affiliations.
Electronic supplementary material
About this article
Cite this article
Park, H., Jung, M., Kim, M.J. et al. Objectively measured physical activity during chemotherapy in colon cancer patients. Support Care Cancer 28, 2597–2604 (2020). https://doi.org/10.1007/s00520-019-05049-9
Received:

Accepted:

Published:

Issue Date:
Keywords
Exercise

Chemotherapy

Colonic neoplasms