Abstract
Purpose
To describe the practices and opinions of specialized palliative care (SPC) physicians regarding early palliative care for patients with cancer, determine characteristics associated with receiving early referrals; and solicit opinions regarding renaming the specialty "supportive care."
Methods
The survey was distributed by mail and e-mail to physicians who had previously self-identified as providing palliative care. SPC physicians were defined as receiving palliative care referrals from other physicians and not providing palliative care only for their own patients.
Results
The response rate was 71% (531/746), of whom 257 (48.4%) practiced SPC. Of these SPC physicians, 84% provided mainly cancer care; > 90% supported early palliative care referral in oncology and had referral criteria facilitating this, but only 20% received early referrals (> 6-month prognosis). There was ambivalence regarding caring for patients with full resuscitation status and responsibility for managing cancer treatment-related complications. SPC physicians receiving early referrals were more likely to be female (p = 0.02) and have a postgraduate degree (p = 0.02), and less likely to provide mainly cancer care (p = 0.03) and to agree that patients should stop chemotherapy before referral (p = 0.009). Although 60% agreed that patients perceive the term "palliative care" negatively and 39% believed a name change to supportive care would encourage early referral, only 21% supported renaming the specialty.
Conclusions
Although most SPC physicians supported early palliative care in oncology, the timing of referrals was often late, and was associated with characteristics of SPC physicians. Few SPC physicians supported renaming palliative care.
Access options
Buy single article
Instant access to the full article PDF.
USD 39.95
Price excludes VAT (USA)
Tax calculation will be finalised during checkout.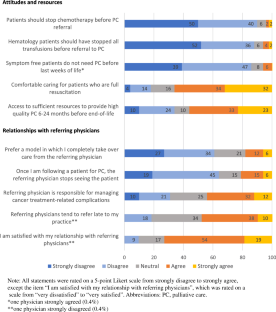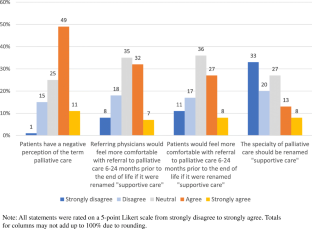 References
Zimmermann C, Swami N, Krzyzanowska M et al (2014) Early palliative care for patients with advanced cancer: a cluster-randomised controlled trial. Lancet 6736:1–10

Bakitas M, Lyons KD, Hegel MT, Balan S, Brokaw FC, Seville J, Hull JG, Li Z, Tosteson TD, Byock IR, Ahles TA (2009) Effects of a palliative care intervention on clinical outcomes in patients with advanced cancer: the project enable II randomized controlled trial. JAMA 302:741–749

Temel JS, Greer JA, Muzikansky A, Gallagher ER, Admane S, Jackson VA, Dahlin CM, Blinderman CD, Jacobsen J, Pirl WF, Billings JA, Lynch TJ (2010) Early palliative care for patients with metastatic non-small-cell lung cancer. N Engl J Med 363:733–742

Vanbutsele G, Pardon K, Van Belle S et al (2018) Effect of early and systematic integration of palliative care in patients with advanced cancer: a randomised controlled trial. Lancet Oncol 19:394–404

Maltoni M, Scarpi E, Dall'Agata M, Zagonel V, Bertè R, Ferrari D, Broglia CM, Bortolussi R, Trentin L, Valgiusti M, Pini S, Farolfi A, Casadei Gardini A, Nanni O, Amadori D, Frassineti GL, Sansoni E, Ragazzini A, Ruscelli S, Crivellari G, Galiano A, Rodriquenz MG, Biasini C, Porzio R, Pittureri C, Amaducci E, Faedi M, Codecà C, Crepaldi F, Pedrazzoli P, Bramanti A, Buonadonna A, Garetto F, Comandone A, Giordano M, Luchena G, Luzzani M, Cifatte C, Pino MS, Zoccali S, Cattaneo MT, Dalu D, Sozzi P, Gauna R, Alquati S, Costantini M, Quadrini S, Narducci F, Mastromauro C, Scognamiglio R, Degiovanni D, Negri F, Caraceni A, Montanari L (2016) Systematic versus on-demand early palliative care: results from a multicentre, randomised clinical trial. Eur J Cancer 65:61–68

Kavalieratos D, Corbelli J, Zhang D, Dionne-Odom JN, Ernecoff NC, Hanmer J, Hoydich ZP, Ikejiani DZ, Klein-Fedyshin M, Zimmermann C, Morton SC, Arnold RM, Heller L, Schenker Y (2016) Association between palliative care and patient and caregiver outcomes: a systematic review and meta-analysis. JAMA 316:2104–2114

Gaertner J, Siemens W, Meerpohl JJ et al (2017) Effect of specialist palliative care services on quality of life in adults with advanced incurable illness in hospital, hospice, or community settings: systematic review and meta-analysis. BMJ 357:j2925

World Health Organization 2014.WHO definition of palliative care. Available at: http://www.who.int/cancer/palliative/definition/en/. Accessed February 26, 2019

Cherny N, Catane R, Schrijvers D, Kloke M, Strasser F (2010) European Society for Medical Oncology (ESMO) program for the integration of oncology and palliative care: a 5-year review of the designated centers' incentive program. Ann Oncol 21:362–369

Ferrell BR, Temel JS, Temin S, Alesi ER, Balboni TA, Basch EM, Firn JI, Paice JA, Peppercorn JM, Phillips T, Stovall EL, Zimmermann C, Smith TJ (2017) Integration of palliative care into standard oncology care: American Society of Clinical Oncology clinical practice guideline update. J Clin Oncol 35:96–112

Wentlandt K, Krzyzanowska MK, Swami N, Rodin GM, le LW, Zimmermann C (2012) Referral practices of oncologists to specialized palliative care. J Clin Oncol 30:4380–4386

Charalambous H, Pallis A, Hasan B, O'Brien M (2014) Attitudes and referral patterns of lung cancer specialists in Europe to specialized palliative care (SPC) and the practice of early palliative care (EPC). BMC Palliat Care 13:59

Johnson CE, Girgis A, Paul CL, Currow DC (2008) Cancer specialists' palliative care referral practices and perceptions: results of a national survey. Palliat Med 22:51–57

Ward AM, Agar M, Koczwara B (2009) Collaborating or co-existing: a survey of attitudes of medical oncologists toward specialist palliative care. Palliat Med 23:698–707

Smith CB, Nelson JE, Berman AR, Powell CA, Fleischman J, Salazar-Schicchi J, Wisnivesky JP (2012) Lung cancer physicians' referral practices for palliative care consultation. Ann Oncol 23:382–387

Schenker Y, Crowley-Matoka M, Dohan D, Rabow MW, Smith CB, White DB, Chu E, Tiver GA, Einhorn S, Arnold RM (2014) Oncologist factors that influence referrals to subspecialty palliative care clinics. J Oncol Pract 10:e37–e44

Rhondali W, Burt S, Wittenberg-Lyles E, Bruera E, Dalal S (2013) Medical oncologists' perception of palliative care programs and the impact of name change to supportive care on communication with patients during the referral process. A qualitative study. Palliat Support Care 11:397–404

Zimmermann C, Swami N, Krzyanowska M et al (2016) Perceptions of palliative care among patients with advanced cancer and their caregivers. CMAJ 188(10):E217–E227

Miyashita M, Hirai K, Morita T, Sanjo M, Uchitomi Y (2008) Barriers to referral to inpatient palliative care units in Japan: a qualitative survey with content analysis. Support Care Cancer 16:217–222

Morstad Boldt A, Yusuf F, Himelstein BP (2006) Perceptions of the term palliative care. J Palliat Med 9:1128–1136

Fadul N, Elsayem A, Palmer JL, del Fabbro E, Swint K, Li Z, Poulter V, Bruera E (2009) Supportive versus palliative care: what's in a name? Cancer 115:2013–2021

Dalal S, Palla S, Hui D, Nguyen L, Chacko R, Li Z, Fadul N, Scott C, Thornton V, Coldman B, Amin Y, Bruera E (2011) Association between a name change from palliative to supportive care and the timing of patient referrals at a comprehensive cancer center. Oncologist 16:105–111

Maciasz RM, Arnold R, Chu E et al (2013) Does it matter what you call it? A randomized trail of language used to describe palliative care services. Support Cancer Care 21:1–16

Johnson C, Girgis A, Paul C, Currow DC, Adams J, Aranda S (2011) Australian palliative care providers' perceptions and experiences of the barriers and facilitators to palliative care provision. Support Care Cancer 19:343–351

Canadian Society of Palliative Care Physicians Human Resources Committee: highlights from the national palliative medicine survey. Available at: http://www.cspcpca/information/reports-publications. Accessed February 26, 2019

National Cancer Institute: EPEC™-O, Education in palliative and end-of-life care for oncology. Available at: https://pubs.cancer.gov/ncipl/detail.aspx?prodid=Q014. Accessed February 26, 2019

Pallium Canada: Learning essential approaches to palliative care. LEAP Onco. An introductory palliative care course for health care professionals working in cancer programs. Available at: http://pallium.ca/leap-courses/leap-mini-onco/. Accessed February 26, 2019

Sullivan P , 2019 Specialty status granted to palliative care MDs, may aid recruiting. Canadian Medical Association News and Annoucements, Jan 21, 2014. Available at: https://www.cma.ca/En/Pages/Specialty-status-granted-palliative-care-MDs-may-aid-recruiting.aspx. Accessed February 26

Hui D, Finlay E, Buss MK, Prommer EE, Bruera E (2015) Palliative oncologists: specialists in the science and art of patient care. J Clin Oncol 33:2314–2317

Hui D, Bansal S, Strasser F, Morita T, Caraceni A, Davis M, Cherny N, Kaasa S, Currow D, Abernethy A, Nekolaichuk C, Bruera E (2015) Indicators of integration of oncology and palliative care programs: an international consensus. Ann Oncol 26:1953–1959

Kaasa S, Loge JH, Aapro M, Albreht T, Anderson R, Bruera E, Brunelli C, Caraceni A, Cervantes A, Currow DC, Deliens L, Fallon M, Gómez-Batiste X, Grotmol KS, Hannon B, Haugen DF, Higginson IJ, Hjermstad MJ, Hui D, Jordan K, Kurita GP, Larkin PJ, Miccinesi G, Nauck F, Pribakovic R, Rodin G, Sjøgren P, Stone P, Zimmermann C, Lundeby T (2018) Integration of oncology and palliative care: a lancet oncology commission. Lancet Oncol 19(11):e588–e653

Von Roenn JH, Voltz R, Serrie A (2013) Barriers and approaches to the successful integration of palliative care and oncology practice. J Natl Compr Cancer Netw 11:S12–S16

Kellerman SE, Herold J (2001) Physician response to surveys. Am J Prev Med 20:61–67

Canadian Medical Association: Family Medicine Profile, 2016. Available at: https://www.cma.ca/Assets/assets-library/document/en/advocacy/profiles/family-e.pdf. Accessed February 26, 2019

College of Family Physicians Canada: Membership FAQs, 2017. Available at: http://www.cfpc.ca/Membership_FAQs/. Accessed February 26, 2019

The Royal College: Royal College Frequently Asked Questions, 2014. Available at: http://www.royalcollege.ca/rcdir/faces/faq?_adf.ctrl-state=yrraeo0c9_182&&_afrLoop=12511255999971680#fellowship1. Accessed February 26, 2019
Acknowledgments
We are grateful to Michelle Veer and the Canadian Society of Palliative Care Physicians for their assistance in the distribution of our survey to palliative care providers across Canada and to Nanor Kevork, BSc, and Ashley Pope, BSc (Department of Supportive Care, University Health Network) for their support and assistance with survey development and data collection.
Funding
This research was funded by the Canadian Cancer Society (CCS, William E. Rawls prize and grant no. 700862; CZ), the Canadian Institutes of Health Research (grant no. 152996; CZ), and the Ontario Ministry of Health and Long Term Care. Dr. Zimmermann is supported by the Rose Family Chair in Palliative Medicine and Supportive Care, Department of Medicine, University of Toronto.
Ethics declarations
This study was reviewed and approved by the Research Ethics Board of the University Health Network.
Conflict of interest
The authors declare they have no conflicts of interest and no relationships with the organizations that funded the research. The authors have full control of all primary data and agree to allow the journal to review data if requested.
Additional information
Publisher's note
Springer Nature remains neutral with regard to jurisdictional claims in published maps and institutional affiliations.
About this article
Cite this article
Sorensen, A., Wentlandt, K., Le, L.W. et al. Practices and opinions of specialized palliative care physicians regarding early palliative care in oncology. Support Care Cancer 28, 877–885 (2020). https://doi.org/10.1007/s00520-019-04876-0
Received:

Accepted:

Published:

Issue Date:

DOI: https://doi.org/10.1007/s00520-019-04876-0
Keywords
Cancer

Oncology

Palliative care

Referral

Survey