Abstract
Background
Survival of childhood cancer in high-income countries is approximately 80%, whereas in low-income countries, it is less than 10%. Limited access to health insurance in low-income settings may contribute to poor survival rates. This study evaluates the influence of health insurance status on childhood cancer treatment in a Kenyan academic hospital.
Methods
This was a retrospective study. All children diagnosed with a malignancy from 2010 until 2012 were included. Data on treatment outcomes and health insurance status at diagnosis were abstracted from patient charts.
Results
Of 280 patients, 34% abandoned treatment, 19% died, and 18% had progressive or relapsed disease resulting in 29% event-free survival. The majority of patients (65%) did not have health insurance at diagnosis. Treatment results differed significantly between patients with different health insurance status at diagnosis; 37% of uninsured versus 28% of insured patients abandoned treatment, and 24% of uninsured versus 37% of insured patients had event-free survival. The event-free survival estimate was significantly higher for patients with health insurance at diagnosis compared with those without (P = 0.004). Of patients without health insurance at diagnosis, 77% enrolled during treatment. Among those patients who later enrolled in health insurance, frequency of progressive or relapsed disease and deaths was significantly lower (P = 0.013, P < 0.001, respectively), while the event-free survival estimate was significantly higher (P < 0.001) compared with those who never enrolled.
Conclusion
Childhood cancer event-free survival was 29% at a Kenyan hospital. Children without health insurance had significant lower chance of event-free survival. Childhood cancer treatment outcomes could be ameliorated by strategies that prevent treatment abandonment and improve access to health insurance.
Access options
Buy single article
Instant access to the full article PDF.
USD 39.95
Price includes VAT (USA)
Tax calculation will be finalised during checkout.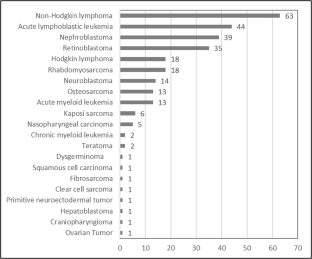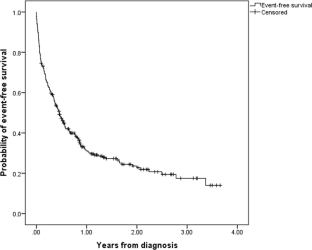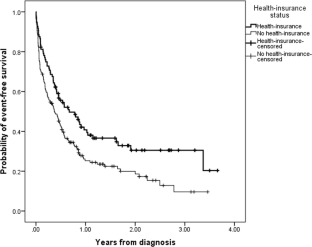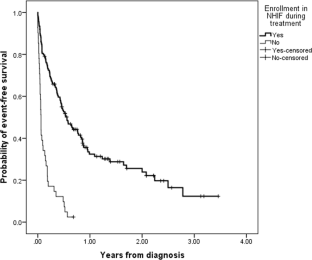 References
1.

Steliarova-Foucher E, Colombet M, Ries LAG, Moreno F, Dolya A, Bray F, Hesseling P, Shin HY, Stiller CA, Bouzbid S, Hamdi-Cherif M, Hablas A, Chirpaz E, Buziba N, Chesumbai GC, Manraj SS, Reynders D, Wabinga HR, Chokunonga E, Moreno F, Lima CA, Asturian Laporte C, de Oliveira JC, de Aquino JAP, Gallagher SMV, Uribe CJ, Bravo LE, Yepez Chamorro MC, Torres Alvarado G, Galán Alvarez YH, Martinez Reyes FC, Castillo Calvas JC, Mendoza Alava M, Cueva Ayala P, Hanchard B, Fajardo-Gutiérrez A, Zavala Zegarra DE, Barrios E, Nikiforuk C, Woods R, Turner D, MacIntyre M, Corriveau A, Navaneelan T, Bertrand C, Stuart-Panko H, Wilson RJ, Kosary C, Shen X, Brockhouse J, Yee GA, Mitchell TC, Snipes K, West D, Rao C, Bolick S, Rycroft RK, Mueller L, Zheng Y, Dosch K, Brown H, Vargas A, Levin GM, Bayakly R, Johnson C, Shen T, Ruppert L, Lynch CF, Lai SM, Tucker TC, Wu XC, Schwenn M, Stern K, Gershman S, Copeland G, Bushhouse S, Rogers DB, Jackson Thompson J, Lemons D, Frederick S, Harris JA, Riddle B, Stroup A, Wiggins C, Schymura MJ, Giljahn LK, Sheikh A, Schubert S, Aldinger W, Fulton JP, Whiteside M, Nogueira L, Sweeney C, Johnson A, Martin J, Farley S, Harrelson D, Malicki R, Espinoza JR, Hernandez BY, Abulfateh N, Wang N, Ngan RKC, Lingegowda KB, Swaminathan R, Koyande SS, Silverman B, Ozasa K, Kanemura S, Soda M, Miyashiro I, Shibata A, Nimri O, Won YJ, Kim CH, Hong NS, Nam HS, Kweon S, Kim WC, Huh JS, Jung KW, Yoo CI, Elbasmy A, Laudico AV, Lumague MR, AlMutlag H, Buasom R, Srisukho S, Tanabodee J, Wiangnon S, Pongnikorn D, Sriplung H, Dirican O, Eser S, le Hoang M, Hackl M, Zborovskaya A, Dimitrova N, Valerianova Z, Sekerija M, Pavlou P, Dušek M, Mägi M, Clavel J, Lacour B, Guizard AV, Bouvier V, Troussard X, Woronoff AS, Tretarre B, Colonna M, Molinié F, Bara S, Velten M, Marrer E, Ganry O, Grosclaude P, Kaatsch P, Zeissig SR, Holleczek B, Katalinic A, Jakab Z, Birgisson H, Walsh PM, Mangone L, Merletti F, Magoni M, Mangone L, Ferretti S, Serraino D, Spagnoli G, Fusco M, Michiara M, Tumino R, Falcini F, Sensi F, Tisano F, Piffer S, Stracci F, Tagliabue G, Smailyte G, Agius D, Visser O, Ursin G, Didkowska J, Trojanowski M, Wojciechowska U, Forjaz de Lacerda G, Silva MA, Laranja Pontes J, da Costa Miranda A, Kaiserova E, Primic Žakelj M, Peris-Bonet R, Vicente Raneda ML, Almar Marqués E, Quirós Garcia JR, Ramos Monserrat M, Errezola Saizar M, Alemán Herrera A, Díaz García JM, Marcos-Gragera R, Sanchez-Perez MJ, Ardanaz Aicua E, Galceran J, Klint A, Kuehni CE, Bouchardy C, Levi F, Bordoni A, Konzelmann I, Rohrmann S, Stiller CA, Gavin AT, Brewster DH, Phung H, Rushton S, Guthridge S, Aitken J, D'Onise K, Venn A, Farrugian H, Threlfall TJ, Laumond S, Yen Kai Sun L, Hendrix J, Ballantine K, Colombet M, Dolya A, Masuyer E, Steliarova-Foucher E (2017) International incidence of childhood cancer, 2001–10: a population-based registry study. Lancet Oncol 18(6):719–731

2.

Magrath I, Steliarova-Foucher E, Epelman S et al (2014) Paediatric cancer in low-income and middle-income countries. Lancet Oncol 14(10):1677–1684

3.

WHO. Global health estimates 2014 summary tables: deaths by cause, age and sex, by WHO region, 2000–2012. World Health Organization. Available at; http://www.who.int/healthinfo/global_burden_disease/estimates/en/index1.html. Accessed June 17, 2015

4.

Stones DK, De Bruin GP, Esterhuizen TM, Stefan DC (2014) Childhood cancer survival rates in two South African units. S Afr Med J 104(7):501–504 http://www.ncbi.nlm.nih.gov/pubmed/25214053. Accessed June 17, 2015

5.

Aziza S, Julia Challinor MLC (2013) Paediatric oncology in Ethiopia: an INCTR-USA and Georgetown University Hospital twinning initiative with Tikur Anbessa Specialized Hospital. Cancer Control 108–112

6.

Ribeiro RC, Antillon F, Pedrosa F, Pui CH (2016) Global pediatric oncology: lessons from partnerships between high-income countries and low- to mid-income countries. J Clin Oncol 34(1):53–61

7.

Israels T, Challinor J, Howard S, Arora RH (2015) Treating children with cancer worldwide—challenges and interventions. Pediatrics 136(4):607–610

8.

Brandalise SR, Viana MB, Pinheiro VRP et al (2016) Shorter maintenance therapy in childhood acute lymphoblastic leukemia: the experience of the prospective, randomized Brazilian GBTLI ALL-93 protocol. Front Pediatr 4(October):110

9.

Heath JA, Lintuuran RM, Rigguto G, Tikotlian N, McCarthy M (2006) Childhood cancer: its impact and financial costs for Australian families. Pediatr Hematol Oncol 23(5):439–448

10.

Barr R, Furlong W, Horsman J, Feeny D, Torrance G, Weitzman S (1996) The monetary costs of childhood cancer to the families of patients. Int J Oncol 8(5):933–940

11.

Tsimicalis A, Stevens B, Ungar WJ, Mckeever P, Greenberg M (2011) The cost of childhood cancer from the family's perspective: a critical review. Pediatr Blood Cancer 56(5):707–717

12.

Njuguna F, Mostert S, Slot A, Langat S, Skiles J, Sitaresmi MN, van de Ven PM, Musimbi J, Muliro H, Vreeman RC, Kaspers GJL (2014) Abandonment of childhood cancer treatment in Western Kenya. Arch Dis Child 99(7):609–614

13.

Slone JS, Chunda-Liyoka C, Perez M et al (2014) Pediatric malignancies, treatment outcomes and abandonment of pediatric cancer treatment in Zambia. PLoS One 9(2):1–8

14.

The Rockefeller Foundation (2014) 500+ organizations launch global coalition to accelerate access to universal health coverage. World Bank (December 12). Available from: http://www.worldbank.org/en/news/press-release/2014/12/12/500-organizations-global-coalition-accelerate-access-universal-health-coverage. Accessed June 28, 2017

15.

World Health Organization. What is universal health coverage? Online Q&A. http://www.who.int/features/qa/universal_health_coverage/en/. Published 2014. Accessed June 21, 2017

16.

Ministry of Public Health and Sanitation & Ministry of Medical Services. National Cancer Control Strategy 2011-2016. Available at; http://www.ipcrc.net/pdfs/Kenya-National-Cancer-Control-strategy.pdf. Accessed June 28, 2017

17.

Health MOF. Ministry of Health National Cancer Control Strategy 2017–2022. Minist Heal Kenya Natl Cancer Control Strateg. 2017:2017-2022

18.

The World Factbook—Central Intelligence Agency. https://www.cia.gov/library/publications/the-world-factbook/geos/ke.html. Published 2017. Accessed June 28, 2017

19.

Mostert S, Njuguna F, Kemps L, Strother M, Aluoch L, Buziba G, Kaspers G (2012) Epidemiology of diagnosed childhood cancer in Western Kenya. Arch Dis Child 97(6):508–512

20.

Tapela NM, Mpunga T, Hedt-Gauthier B, Moore M, Mpanumusingo E, Xu MJ, Nzayisenga I, Hategekimana V, Umuhizi DG, Pace LE, Bigirimana JB, Wang JJ, Driscoll C, Uwizeye FR, Drobac PC, Ngoga G, Shyirambere C, Muhayimana C, Lehmann L, Shulman LN (2016) Pursuing equity in cancer care: implementation, challenges and preliminary findings of a public cancer referral center in rural Rwanda. BMC Cancer 16(1):237

21.

NHIF Benefit Package. 2015. Available at; http://publications.universalhealth2030.org/uploads/nhif_benefits_package.pdf. Accessed July 17, 2017

22.

Gupta S, Rivera-luna R, Ribeiro RC, Howard SC (2014) Pediatric oncology as the next global child health priority : the need for national childhood cancer strategies in low- and middle-income countries. PLoS Med 11(6):1–5

23.

Hadley LGP, Rouma BS, Saad-Eldin Y (2012) Challenge of pediatric oncology in Africa. Semin Pediatr Surg 21(2):136–141

24.

Cristina Stefan D (2015) Patterns of distribution of childhood cancer in Africa. J Trop Pediatr 61(3):165–173

25.

Teachey DT, Hunger SP (2013) Predicting relapse risk in childhood acute lymphoblastic leukaemia. Br J Haematol 162(5):606–620

26.

Quilty R (2017) Mind the gap: improving pediatric cancer care in developing countries. Univ Ottawa J Med 6(2):40–42

27.

Friedrich P, Lam CG, Kaur G, Itriago E, Ribeiro RC, Arora RS (2016) Determinants of treatment abandonment in childhood cancer: results from a global survey. PLoS One 11(10):1–21

28.

Arora RS, Pizer B, Eden T (2010) Understanding refusal and abandonment in the treatment of childhood cancer. Indian Pediatr 47(12):1005–1010

29.

Mostert S, Njuguna F, Langat SC, Slot AJM, Skiles J, Sitaresmi MN, van de Ven PM, Musimbi J, Vreeman RC, Kaspers GJL (2014) Two overlooked contributors to abandonment of childhood cancer treatment in Kenya: parents' social network and experiences with hospital retention policies. Psychooncology. 23(6):700–707

30.

Ribeiro RC, Steliarova-Foucher E, Magrath I, Lemerle J, Eden T, Forget C, Mortara I, Tabah-Fisch I, Divino JJ, Miklavec T, Howard SC, Cavalli F (2008) Baseline status of paediatric oncology care in ten low-income or mid-income countries receiving My Child Matters support: a descriptive study. Lancet Oncol 9(8):721–729

31.

Gupta S, Rivera-Luna R, Ribeiro RC, Howard SC (2014) Pediatric oncology as the next global child health priority: the need for national childhood cancer strategies in low- and middle-income countries. PLoS Med 11(6):e1001656

32.

Ministry of Health, 2017. Plans to reform health financing in Kenya underway—Ministry of Health. http://www.health.go.ke/2017/03/plans-to-reform-health-financing-in-kenya-underway/. Accessed April 5, 2018

33.

Stone SGS, Tarus T, Shikanga M et al (2014) The association between insurance status and in-hospital mortality on the public medical wards of a Kenyan referral hospital. Glob Health Action 7(1):23137

34.

Xu K, James C, Carrin G, Muchiri S (2006) An empirical model of access to health care, health care expenditure and impoverishment in Kenya. learning from past reforms and lessons for the future [Internet]. Geneva: World Health Oragnization. Available from: http://www.who.int/health_financing/documents/cov-dp_06_3_access_kenya/en/

35.

Nyorera EN, Okibo W (2015) Factors affecting uptake of national hospital insurance fund among informal sector workers a case of Nyatike sub-county, Kenya. Int J Econ Commer Manag III(3):1-18

36.

Chapman AR (2016) Assessing the universal health coverage target in the Sustainable Development Goals from a human rights perspective. BMC Int Health Hum Rights 16(1):33

37.

Pérez-Cuevas R, Doubova SV, Zapata-Tarres M, Flores-Hernández S, Frazier L, Rodríguez-Galindo C, Cortes-Gallo G, Chertorivski-Woldenberg S, Muñoz-Hernández O (2013) Scaling up cancer care for children without medical insurance in developing countries: the case of Mexico. Pediatr Blood Cancer 60(2):196–203

38.

Agyepong IA, Abankwah DNY, Abroso A, Chun CB, Dodoo JNO, Lee S, Mensah SA, Musah M, Twum A, Oh J, Park J, Yang DH, Yoon K, Otoo N, Asenso-Boadi F (2016) The "Universal" in UHC and Ghana's National Health Insurance Scheme: policy and implementation challenges and dilemmas of a lower middle income country. BMC Health Serv Res 16(1):504

39.

Niu X, Roche LM, Pawlish KS, Henry KA (2013) Cancer survival disparities by health insurance status. Cancer Med 2(3):403–411

40.

Rocha-García A, Hernández-Peña P, Ruiz-Velazco co S, Ávila-Burgos os L, Marín-Palomares es T, do Lazcano-Ponce E (2003) Out-of-pocket expenditures during hospitalization of young leukemia patients with state medical insurance in two Mexican hospitals. Salud Publica Mex 45(4):285–292

41.

Lu C, Chin B, Lewandowski JL, Basinga P, Hirschhorn LR, Hill K, Murray M, Binagwaho A (2012) Towards universal health coverage: an evaluation of Rwanda Mutuelles in its first eight years. PLoS One 7:e39282

42.

Saksena P, Antunes AF, Xu K, Musango L, Carrin G (In press) Mutual health insurance in Rwanda: Evidence on access to care and financial risk protection. Health Policy. https://doi.org/10.1016/j.healthpol.2010.09.009

43.

Brugiavini A, Pace N (2016) Extending health insurance in Ghana: effects of the National Health Insurance Scheme on maternity care. Health Econ Rev 6(1):7
Acknowledgments
We would like to thank the Doctor 2 Doctor program of the Netherlands for their logistical support in the development of this study.
Ethics declarations
Conflict of interest
The authors declare that they have no conflict of interest.
Additional information
Publisher's note
Springer Nature remains neutral with regard to jurisdictional claims in published maps and institutional affiliations.
About this article
Cite this article
Olbara, G., Martijn, H.A., Njuguna, F. et al. Influence of health insurance status on childhood cancer treatment outcomes in Kenya. Support Care Cancer 28, 917–924 (2020). https://doi.org/10.1007/s00520-019-04859-1
Received:

Accepted:

Published:

Issue Date:
Keywords
Health insurance

Childhood cancer

Low-income country

Universal health coverage