Abstract
Purpose
As survival after cancer diagnosis increases, patients are increasingly turning toward integrative therapies (e.g., yoga, acupuncture, massage) to manage acute and chronic concerns related to cancer treatment and survivorship. As such, integrative medicine programs devoted to combining conventional Western cancer care with complementary treatments such as yoga, acupuncture, botanicals, and homeopathy are increasingly common in cancer communities around the world. However, few integrative medicine programs have included psycho-oncology providers in order to systematically evaluate and treat psychological and behavioral health factors affecting adjustment to cancer.
Methods
A pilot program was initiated at a large academic medical center to explore benefits of a collaborative clinic visit conducted with psycho-oncology and integrative medicine within an existing supportive oncology clinic. Collaborative medical and psychological interventions were provided to enhance patient quality of life and reduce symptom burden.
Results
Forty-nine patients were seen via the dyadic consultation model. Sixty-eight percent of patients rated their emotional distress at or above clinical cutoffs, indicating unmet supportive care needs. The majority of patients seen were White, non-Hispanic, and female.
Conclusions
Many cancer patients and survivors report persistent emotional distress and chronic physical problems associated with their diagnosis and treatment. The types of patients seen in this pilot program raise concern about ongoing inequalities in access to integrative medicine and psycho-oncology services, which may contribute to downstream health disparities and poorer clinical outcomes. Future directions will explore billing practices, financial sustainability, and methods to increase access to this type of program for demographically diverse individuals across cancer populations.
Access options
Buy single article
Instant access to the full article PDF.
USD 39.95
Price includes VAT (USA)
Tax calculation will be finalised during checkout.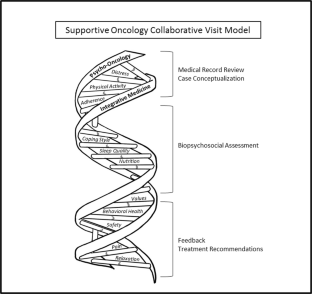 References
1.

Horneber M, Bueschel G, Dennert G, Less D, Ritter E, Zwahlen M (2012) How many cancer patients use complementary and alternative medicine: a systematic review and meta-analysis. Integr Cancer Ther 11(3):187–203

2.

Snyderman R, Weil AT (2002) Integrative medicine: bringing medicine back to its roots. Arch Intern Med 162:395–397

3.

Yun H, Sun, Lingyun S, Mao JJ (2017) Growth of Integrative Medicine at leading cancer centers between 2009 and 2016: A systematic analysis of NCI-designated comprehensive cancer center websites. J Natl Cancer Inst Monogr 2017(52):29–32

4.

Witt CM, Balneaves LG, Cardoso MJ, Cohen L, Greenlee H, Johnstone P, Kucuk O, Mailman J, Mao JJ (2017) A comprehensive definition for integrative oncology. J Natl Cancer Inst Monogr 2017(52):3–8

5.

Engel GL (1977) The need for a new medical model: a challenge for biomedicine. Science 196(4286):129–136

6.

National Comprehensive Cancer Network. (2018). NCCN Distress Thermometer and Problem List. Retrieved from: https://www.nccn.org/about/permissions/thermometer.aspx. Access 23 April 2019

7.

Rozensky RH, Pereira DB, & Whitehead NE (2016). Health psychology assessment. In J.C. Norcross, G.R. VandenBos, & D.K. Freedheim (Eds.), APA Handbook of Clinical Psychology, Volume III. Clinical Psychology: Applications and Methods. Washington, DC: APA Publishing

8.

Clark TC, Black LI, Stussman BJ, Barnes PM, Nahin RL (2015). Trends in the use of complementary health approaches among adults: United States, 2002-2012. National Health Statistics Reports; no 79. Hyattsville, MD: National Center for Health Statistics
Ethics declarations
Conflict of interest
The authors have no conflicts of interest to disclose.
Additional information
Publisher's note
Springer Nature remains neutral with regard to jurisdictional claims in published maps and institutional affiliations.
About this article
Cite this article
Kacel, E.L., Pereira, D.B. & Estores, I.M. Advancing supportive oncology care via collaboration between psycho-oncology and integrative medicine. Support Care Cancer 27, 3175–3178 (2019). https://doi.org/10.1007/s00520-019-04840-y
Received:

Accepted:

Published:

Issue Date:
Keywords
Psycho-oncology

Supportive oncology

Integrative medicine

Integrative therapies