Abstract
Background
Studies have found that many chemotherapy drugs will produce multiple side effects and complications in cancer patients, especially in the case of the cardiovascular disease. This study was intended to investigate whether the exercise training intervention could improve the body composition and exercise responses of patients with head and neck (H&N) cancer who are receiving chemotherapy.
Methods
This is a randomized controlled trial. Eighty-four H&N patients were assigned to sedentary group or exercise group. The data were collected pretraining and posttraining, where the body composition, heart rate (HR), blood pressure (BP), rate-pressure product (RPP), and exercise capacity were measured.
Results
Our data reported that body weight and body mass index were decreased after 8 weeks of chemotherapy in the sedentary group but not in the exercise group. The decreased visceral fat and the increased skeletal muscle rate had been found in the exercise group after 8 weeks of training. In addition, in the exercise group, the HR, HR recovery, BP, BP recovery, RPP, and minutes walking distance were better than the sedentary group. Results from this study suggested exercise training significantly improved exercise responses and body composition.
Conclusion
These findings suggested that exercise can help to promote cardiopulmonary fitness and exercise capacity for H&N cancer patients undergoing chemotherapy.
This is a preview of subscription content, log in to check access.
Access options
Buy single article
Instant access to the full article PDF.
US$ 39.95
Price includes VAT for USA
Subscribe to journal
Immediate online access to all issues from 2019. Subscription will auto renew annually.
US$ 199
This is the net price. Taxes to be calculated in checkout.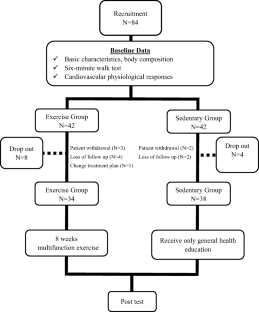 Abbreviations
H&N:

head and neck

HR:

heart rate

BP:

blood pressure

RPP:

rate-pressure product
References
1.

Albergotti WG, Davis KS, Abberbock S, Bauman JE, Ohr J, Clump DA, Heron DE, Duvvuri U, Kim S, Johnson JT, Ferris RL (2016) Association of pretreatment body mass index and survival in human papillomavirus positive oropharyngeal squamous cell carcinoma. Oral Oncol 60:55–60

2.

Angsutararux P, Luanpitpong S, Issaragrisil S (2015) Chemotherapy-induced cardiotoxicity: overview of the roles of oxidative stress. Oxid Med Cell Longev 2015:795602

3.

Baldwin ER, Baldwin TD, Lancaster JS, McNeely ML, Collins DF (2012) Neuromuscular electrical stimulation and exercise for reducing trapezius muscle dysfunction in survivors of head and neck cancer: a case-series report. Physiother Can 64:317–324

4.

Chiang CJ, Lo WC, Yang YW, You SL, Chen CJ, Lai MS (2016) Incidence and survival of adult cancer patients in Taiwan, 2002-2012. J Formos Med Assoc 115:1076–1088

5.

Garber CE, Blissmer B, Deschenes MR, Franklin BA, Lamonte MJ, Lee IM, Nieman DC, Swain DP (2011) American College of Sports Medicine position stand. Quantity and quality of exercise for developing and maintaining cardiorespiratory, musculoskeletal, and neuromotor fitness in apparently healthy adults: guidance for prescribing exercise. Med Sci Sports Exerc 43:1334–1359

6.

Gehring K, Kloek CJ, Aaronson NK, Janssen KW, Jones LW, Sitskoorn MM, Stuiver MM (2018) Feasibility of a home-based exercise intervention with remote guidance for patients with stable grade II and III gliomas: a pilot randomized controlled trial. Clin Rehabil 32:352–366

7.

Gressett SM, Shah SR (2009) Intricacies of bevacizumab-induced toxicities and their management. Ann Pharmacother 43:490–501

8.

Iwamoto J (2017) Calcium and bone metabolism across women's life stages. Exercise and sport to increase bone strength in accordance with female lifecycle. Clin Calcium 27:715–721

9.

(1996) Physical activity and cardiovascular health. NIH Consensus Development Panel on Physical Activity and Cardiovascular Health. Jama 276:241–246

10.

Kesaniemi YK, Danforth E Jr, Jensen MD, Kopelman PG, Lefebvre P, Reeder BA (2001) Dose-response issues concerning physical activity and health: an evidence-based symposium. Med Sci Sports Exerc 33:S351–S358

11.

Kim K, Gu MO, Jung JH, Hahm JR, Kim SK, Kim JH, Woo SH (2018) Efficacy of a home-based exercise program after thyroidectomy for thyroid cancer patients. Thyroid 28:236–245

12.

Laboratories ATSCoPSfCPF (2002) ATS statement: guidelines for the six-minute walk test. Am J Respir Crit Care Med 166:111–117

13.

Li ZQ, Zou L, Liu TR, Yang AK (2015) Prognostic value of body mass index before treatment for laryngeal squamous cell carcinoma. Cancer Biol Med 12:394–400

14.

Madeddu C, Deidda M, Piras A, Cadeddu C, Demurtas L, Puzzoni M, Piscopo G, Scartozzi M, Mercuro G (2016) Pathophysiology of cardiotoxicity induced by nonanthracycline chemotherapy. J Cardiovasc Med (Hagerstown) 17(Suppl 1):S12–S18

15.

Mishra SI, Scherer RW, Snyder C, Geigle PM, Berlanstein DR, Topaloglu O (2012) Exercise interventions on health-related quality of life for people with cancer during active treatment. Cochrane Database Syst Rev:CD008465

16.

Mohamady HM, Elsisi HF, Aneis YM (2017) Impact of moderate intensity aerobic exercise on chemotherapy-induced anemia in elderly women with breast cancer: a randomized controlled clinical trial. J Adv Res 8:7–12

17.

Navidi M, Phillips AW, Griffin SM, Duffield KE, Greystoke A, Sumpter K, RCF S (2018) Cardiopulmonary fitness before and after neoadjuvant chemotherapy in patients with oesophagogastric cancer. Br J Surg 105:900–906

18.

Pate RR, Pratt M, Blair SN, Haskell WL, Macera CA, Bouchard C, Buchner D, Ettinger W, Heath GW, King AC et al (1995) Physical activity and public health. A recommendation from the Centers for Disease Control and Prevention and the American College of Sports Medicine. Jama 273:402–407

19.

Ren CZ, Yang YH, Sun JC, Wu ZT, Zhang RW, Shen D, Wang YK (2016) Exercise training improves the altered renin-angiotensin system in the rostral ventrolateral medulla of hypertensive rats. Oxid Med Cell Longev 2016:7413963

20.

Reynolds T (1992) "User-friendly" cancer statistics review features new format. J Natl Cancer Inst 84:1470–1471

21.

Romero SA, Minson CT, Halliwill JR (2017) The cardiovascular system after exercise. J Appl Physiol (1985) 122:925–932

22.

Sakamoto S, Yokoyama N, Tamori Y, Akutsu K, Hashimoto H, Takeshita S (2009) Patients with peripheral artery disease who complete 12-week supervised exercise training program show reduced cardiovascular mortality and morbidity. Circ J 73:167–173

23.

Sallis R (2015) Exercise is medicine: a call to action for physicians to assess and prescribe exercise. Phys Sportsmed 43:22–26

24.

Schakman O, Kalista S, Barbe C, Loumaye A, Thissen JP (2013) Glucocorticoid-induced skeletal muscle atrophy. Int J Biochem Cell Biol 45:2163–2172

25.

Souza VB, Silva EN, Ribeiro ML, Martins Wde A (2015) Hypertension in patients with cancer. Arq Bras Cardiol 104:246–252

26.

van Vulpen JK, Peeters PH, Velthuis MJ, van der Wall E, May AM (2016) Effects of physical exercise during adjuvant breast cancer treatment on physical and psychosocial dimensions of cancer-related fatigue: a meta-analysis. Maturitas 85:104–111

27.

Wall BA, Galvao DA, Fatehee N, Taaffe DR, Spry N, Joseph D, Newton RU (2014) Maximal exercise testing of men with prostate cancer being treated with androgen deprivation therapy. Med Sci Sports Exerc 46:2210–2215

28.

Williams B, Poulter NR, Brown MJ, Davis M, McInnes GT, Potter JF, Sever PS, Mc GTS (2004) Guidelines for management of hypertension: report of the fourth working party of the British hypertension society, 2004-BHS IV. J Hum Hypertens 18:139–185

29.

Wonders KY, Reigle BS (2009) Trastuzumab and doxorubicin-related cardiotoxicity and the cardioprotective role of exercise. Integr Cancer Ther 8:17–21
Funding
This study was supported by Ministry of Science and Technology, Taiwan (MOST-106-2314-B-006 -023).
Ethics declarations
Ethics approval and consent to participate
The experimental protocol was established, according to the ethical guidelines of the Helsinki Declaration and was approved by the Human Ethics Committee of National Cheng Kung University Hospital Institutional Review Board, Tainan, Taiwan (B-ER-105-102). Written informed consent was obtained from individual or guardian participants.
Consent for publication
Not applicable.
Conflict of interests
The authors declare that they have no conflicts of interest.
Additional information
Publisher's note
Springer Nature remains neutral with regard to jurisdictional claims in published maps and institutional affiliations.
About this article
Cite this article
Yen, C., Hung, C., Kao, C. et al. Multimodal exercise ameliorates exercise responses and body composition in head and neck cancer patients receiving chemotherapy. Support Care Cancer 27, 4687–4695 (2019). https://doi.org/10.1007/s00520-019-04786-1
Received:

Accepted:

Published:

Issue Date:
Keywords
Head and neck cancer

Exercise training

Exercise responses

Chemotherapy

Body composition