Abstract
Purpose
Chemotherapy-induced anemia is a frequent complication of systemic chemotherapy and is associated with decreased functional capacity and quality of life. The objective of this study was to identify the candidate variables most likely to be associated with chemotherapy-induced severe anemia (hemoglobin < 8 g/dL) in patients treated with cytotoxic chemotherapy.
Methods
A total of 14 clinical and laboratory covariates were prospectively evaluated at baseline in a cohort of consecutive cancer patients receiving cytotoxic chemotherapy. The anemia risk category for each chemotherapy regimen used was determined based on pivotal trials published in the literature. All regimens were classified to three categories (high risk, intermediate risk, and low risk). Logistic regression analysis adjusted for the regimen risk was used to determine the candidate risk factors associated with chemotherapy-induced anemia.
Results
A total of 305 patients were included in the study. Administration of high-risk regimens (i.e., regimens with ≥ 20% risk of anemia in a pivotal trial) was demonstrated to be a novel independent predictive factor for severe anemia (odds ratio 3.33, p = 0.005). Considering regimen risk as an adjustment factor, 5 readily available predictors including low hemoglobin, body mass index (BMI) less than 23 kg/m2, low hematocrit, high haptoglobin, and high ferritin were associated with the outcome.
Conclusions
The application of these candidate predictors would be helpful in classifying patients at risk for severe anemia, who might be appropriate candidates for prophylactic erythropoietin. Multivariable models including such promising candidate predictors need to be developed.
This is a preview of subscription content, log in to check access.
Access options
Buy single article
Instant access to the full article PDF.
US$ 39.95
Price includes VAT for USA
Subscribe to journal
Immediate online access to all issues from 2019. Subscription will auto renew annually.
US$ 199
This is the net price. Taxes to be calculated in checkout.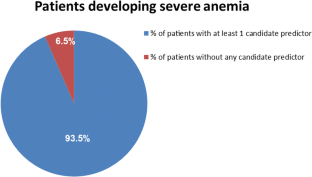 References
1.

Repetto L (2009) Incidence and clinical impact of chemotherapy induced myelotoxicity in cancer patients: an observational retrospective survey. Crit Rev Oncol Hematol 72(2):170–179. https://doi.org/10.1016/j.critrevonc.2009.03.004

2.

Wu Y, Aravind S, Ranganathan G, Martin A, Nalysnyk L (2009) Anemia and thrombocytopenia in patients undergoing chemotherapy for solid tumors: a descriptive study of a large outpatient oncology practice database, 2000-2007. Clin Ther 31(Pt 2):2416–2432. https://doi.org/10.1016/j.clinthera.2009.11.020

3.

Lyman GH, Berndt ER, Kallich JD, Erder MH, Crown WH, Long SR, Lee H, Song X, Finkelstein SN (2005) The economic burden of anemia in cancer patients receiving chemotherapy. Value Health 8(2):149–156. https://doi.org/10.1111/j.1524-4733.2005.03089.x

4.

Lind M, Vernon C, Cruickshank D, Wilkinson P, Littlewood T, Stuart N, Jenkinson C, Grey-Amante P, Doll H, Wild D (2002) The level of haemoglobin in anaemic cancer patients correlates positively with quality of life. Br J Cancer 86(8):1243–1249. https://doi.org/10.1038/sj.bjc.6600247

5.

Glaspy J, Bukowski R, Steinberg D, Taylor C, Tchekmedyian S, Vadhan-Raj S (1997) Impact of therapy with epoetin alfa on clinical outcomes in patients with nonmyeloid malignancies during cancer chemotherapy in community oncology practice. Procrit Study Group. J Clin Oncol 15(3):1218–1234. https://doi.org/10.1200/jco.1997.15.3.1218

6.

Demetri GD, Kris M, Wade J, Degos L, Cella D (1998) Quality-of-life benefit in chemotherapy patients treated with epoetin alfa is independent of disease response or tumor type: results from a prospective community oncology study. Procrit Study Group. J Clin Oncol 16(10):3412–3425. https://doi.org/10.1200/jco.1998.16.10.3412

7.

Caro JJ, Salas M, Ward A, Goss G (2001) Anemia as an independent prognostic factor for survival in patients with cancer: a systemic, quantitative review. Cancer 91(12):2214–2221

8.

Dranitsaris G, Clemons M, Verma S, Lau C, Vincent M (2005) Chemotherapy-induced anaemia during adjuvant treatment for breast cancer: development of a prediction model. Lancet Oncol 6(11):856–863. https://doi.org/10.1016/s1470-2045(05)70394-6

9.

Chaumard N, Limat S, Villanueva C, Nerich V, Fagnoni P, Bazan F, Chaigneau L, Dobi E, Cals L, Pivot X (2012) Incidence and risk factors of anemia in patients with early breast cancer treated by adjuvant chemotherapy. Breast 21(4):464–467. https://doi.org/10.1016/j.breast.2011.10.009

10.

Coiffier B, Guastalla JP, Pujade-Lauraine E, Bastit P (2001) Predicting cancer-associated anaemia in patients receiving non-platinum chemotherapy: results of a retrospective survey. Eur J Cancer 37(13):1617–1623

11.

Caggiano V, Tannous RE, Gupta S, Fridman M (2002) Chemotherapy-induced moderate to severe anemia in intermediate-grade non-Hodgkin's lymphoma patients. J Oncol Pharm Pract 8(2–3):73–80. https://doi.org/10.1191/1078155202jp091oa

12.

Barrett-Lee PJ, Ludwig H, Birgegard G, Bokemeyer C, Gascon P, Kosmidis PA, Krzakowski M, Nortier JW, Kongable G, Schneider M, Schrijvers D, Van Belle SJ (2006) Independent risk factors for anemia in cancer patients receiving chemotherapy: results from the European Cancer Anaemia Survey. Oncology 70(1):34–48. https://doi.org/10.1159/000091675

13.

Vincent M, Dranitsaris G, Verma S, Lau C, Gascon P, Van Belle S, Ludwig H (2007) The development and validation of a prediction tool for chemotherapy-induced anemia in patients with advanced nonsmall cell lung cancer receiving palliative chemotherapy. Support Care Cancer 15(3):265–272. https://doi.org/10.1007/s00520-006-0154-2

14.

Chao C, Xu L, Family L, Xu H (2016) A risk prediction model for severe chemotherapy-induced anemia in breast cancer patients. Blood 128(22):2399–2399

15.

Maccio A, Madeddu C, Gramignano G, Mulas C, Tanca L, Cherchi MC, Floris C, Omoto I, Barracca A, Ganz T (2015) The role of inflammation, iron, and nutritional status in cancer-related anemia: results of a large, prospective, observational study. Haematologica 100(1):124–132. https://doi.org/10.3324/haematol.2014.112813

16.

Crawford J, Becker PS, Armitage JO, Blayney DW, Chavez J, Curtin P, Dinner S, Fynan T, Gojo I, Griffiths EA, Hough S, Kloth DD, Kuter DJ, Lyman GH, Mably M, Mukherjee S, Patel S, Perez LE, Poust A, Rampal R, Roy V, Rugo HS, Saad AA, Schwartzberg LS, Shayani S, Talbott M, Vadhan-Raj S, Vasu S, Wadleigh M, Westervelt P, Burns JL, Pluchino L (2017) Myeloid Growth Factors, Version 2.2017, NCCN clinical practice guidelines in oncology. J Natl Compr Canc Netw 15(12):1520–1541 1540–1405

17.

Aapro MS, Bohlius J, Cameron DA, Dal Lago L, Donnelly JP, Kearney N, Lyman GH, Pettengell R, Tjan-Heijnen VC, Walewski J, Weber DC, Zielinski C (2011) 2010 update of EORTC guidelines for the use of granulocyte-colony stimulating factor to reduce the incidence of chemotherapy-induced febrile neutropenia in adult patients with lymphoproliferative disorders and solid tumours. Eur J Cancer 47(1):8–32. https://doi.org/10.1016/j.ejca.2010.10.013

18.

Razzaghdoust A, Mofid B, Moghadam M (2018) Development of a simplified multivariable model to predict neutropenic complications in cancer patients undergoing chemotherapy. Support Care Cancer 26:3691–3699. https://doi.org/10.1007/s00520-018-4224-z

19.

Blay JY, Le Cesne A, Mermet C, Maugard C, Ravaud A, Chevreau C, Sebban C, Guastalla J, Biron P, Ray-Coquard I (1998) A risk model for thrombocytopenia requiring platelet transfusion after cytotoxic chemotherapy. Blood 92(2):405–410

20.

Kuderer NM, Francis CW, Crawford J, Dale DC, Wolff DA, Culakova E, Poniewierski MS, Lyman GH (2006) A prediction model for chemotherapy-associated thrombocytopenia in cancer patients. J Clin Oncol 24(18_suppl):8616–8616. https://doi.org/10.1200/jco.2006.24.18_suppl.8616

21.

Alexandre J, Rey E, Girre V, Grabar S, Tran A, Montheil V, Rabillon F, Dieras V, Jullien V, Herait P, Pons G, Treluyer JM, Goldwasser F (2007) Relationship between cytochrome 3A activity, inflammatory status and the risk of docetaxel-induced febrile neutropenia: a prospective study. Ann Oncol 18(1):168–172. https://doi.org/10.1093/annonc/mdl321

22.

Alexandre J, Gross-Goupil M, Falissard B, Nguyen ML, Gornet JM, Misset JL, Goldwasser F (2003) Evaluation of the nutritional and inflammatory status in cancer patients for the risk assessment of severe haematological toxicity following chemotherapy. Ann Oncol 14(1):36–41

23.

Chan A, Chen C, Chiang J, Tan SH, Ng R (2012) Incidence of febrile neutropenia among early-stage breast cancer patients receiving anthracycline-based chemotherapy. Support Care Cancer 20(7):1525–1532. https://doi.org/10.1007/s00520-011-1241-6

24.

Lyman GH, Abella E, Pettengell R (2014) Risk factors for febrile neutropenia among patients with cancer receiving chemotherapy: a systematic review. Crit Rev Oncol Hematol 90(3):190–199. https://doi.org/10.1016/j.critrevonc.2013.12.006

25.

Kalousis A, Prados J, Hilario M (2007) Stability of feature selection algorithms: a study on high-dimensional spaces. Knowl Inf Syst 12(1):95–116

26.

Peduzzi P, Concato J, Kemper E, Holford TR, Feinstein AR (1996) A simulation study of the number of events per variable in logistic regression analysis. J Clin Epidemiol 49(12):1373–1379

27.

Courvoisier DS, Combescure C, Agoritsas T, Gayet-Ageron A, Perneger TV (2011) Performance of logistic regression modeling: beyond the number of events per variable, the role of data structure. J Clin Epidemiol 64(9):993–1000. https://doi.org/10.1016/j.jclinepi.2010.11.012

28.

Chang J, Couture F, Young S, McWatters KL, Lau CY (2005) Weekly epoetin alfa maintains hemoglobin, improves quality of life, and reduces transfusion in breast cancer patients receiving chemotherapy. J Clin Oncol 23(12):2597–2605. https://doi.org/10.1200/jco.2004.12.027

29.

Lyman GH, Glaspy J (2006) Are there clinical benefits with early erythropoietic intervention for chemotherapy-induced anemia? A systematic review. Cancer 106(1):223–233. https://doi.org/10.1002/cncr.21570

30.

Khalafallah AA, Yan C, Al-Badri R, Robinson E, Kirkby BE, Ingram E, Gray Z, Khelgi V, Robertson IK, Kirkby BP (2016) Intravenous ferric carboxymaltose versus standard care in the management of postoperative anaemia: a prospective, open-label, randomised controlled trial. Lancet Haematol 3(9):e415–e425. https://doi.org/10.1016/s2352-3026(16)30078-3

31.

Berlin NI, Hyde GM, Parsons RJ, Lawrence JH (1955) The blood volume in cancer. Cancer 8(4):796–802. https://doi.org/10.1002/1097-0142(1955)8:4<796::AID-CNCR2820080425>3.0.CO;2-Y

32.

Matsubara J, Ono M, Negishi A, Ueno H, Okusaka T, Furuse J, Furuta K, Sugiyama E, Saito Y, Kaniwa N, Sawada J, Honda K, Sakuma T, Chiba T, Saijo N, Hirohashi S, Yamada T (2009) Identification of a predictive biomarker for hematologic toxicities of gemcitabine. J Clin Oncol 27(13):2261–2268. https://doi.org/10.1200/jco.2008.19.9745

33.

Kundu JK, Surh YJ (2012) Emerging avenues linking inflammation and cancer. Free Radic Biol Med 52(9):2013–2037. https://doi.org/10.1016/j.freeradbiomed.2012.02.035

34.

Neumcke I, Schneider B, Fandrey J, Pagel H (1999) Effects of pro- and antioxidative compounds on renal production of erythropoietin. Endocrinology 140(2):641–645. https://doi.org/10.1210/endo.140.2.6529

35.

Spivak JL, Gascon P, Ludwig H (2009) Anemia management in oncology and hematology. Oncologist 14(Suppl 1):43–56. https://doi.org/10.1634/theoncologist.2009-S1-43
Acknowledgements
This study is related to the project NO. 1397/69569 from Student Research Committee, Shahid Beheshti University of Medical Sciences, Tehran, Iran. We appreciate the "Student Research Committee" and "Research & Technology Chancellor" in Shahid Beheshti University of Medical Sciences for their financial support of this study. The authors would also like to acknowledge Behnam Daheshpour Charity Organization for supporting this work.
Funding
This study was supported by the Student Research Committee in Shahid Beheshti University of Medical Sciences, and Behnam Daheshpour Charity Organization.
Ethics declarations
Conflict of interest
The authors declare that they have no conflict of interest.
Ethical approval
All procedures performed in studies involving human participants were in accordance with the ethical standards of the institutional and/or national research committee and with the 1964 Helsinki declaration and its later amendments or comparable ethical standards.
Informed consent
Informed consent was obtained from all individual participants included in the study.
Additional information
Publisher's note
Springer Nature remains neutral with regard to jurisdictional claims in published maps and institutional affiliations.
Electronic supplementary material
About this article
Cite this article
Razzaghdoust, A., Mofid, B. & Peyghambarlou, P. Predictors of chemotherapy-induced severe anemia in cancer patients receiving chemotherapy. Support Care Cancer 28, 155–161 (2020). https://doi.org/10.1007/s00520-019-04780-7
Received:

Accepted:

Published:

Issue Date:
Keywords
Cancer

Severe anemia

Predictor

Chemotherapy