Abstract
Purpose
This systematic literature review examines research into the use of medicinal cannabis in cancer management. The aim was to identify the gaps in knowledge on the dose, dosing schedule and absorption of the administration routes of medicinal cannabis use in oncology.
Methods
A comprehensive search of the literature was conducted across six databases to identify original data reporting the pharmacology of medicinal cannabis in oncology.
Results
Eighteen articles were selected for review. Of the selected articles, ten were identified as randomised control trials, two experimental studies, two retrospective cohort studies and four case studies. Four articles reported absorption data and one drug interaction study was identified.
Conclusions
There is little evidence reported in the literature on the absorption of medicinal cannabis in cancer populations. Various reasons are explored for the lack of pharmacokinetic studies for medicinal cannabis in cancer populations, including the availability of assays to accurately assess cannabinoid levels, lack of clinical biomarkers and patient enrolment for pharmacokinetic studies.
Access options
Buy single article
Instant access to the full article PDF.
USD 39.95
Price excludes VAT (USA)
Tax calculation will be finalised during checkout.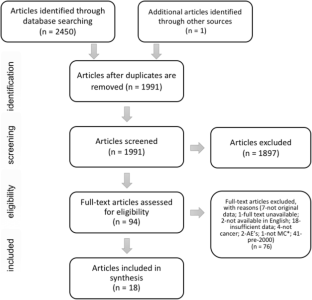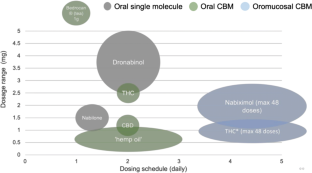 References
Bridgeman MB, Abazia DT (2017) Medicinal cannabis: history, pharmacology, and implications for the acute care setting. Pharmacy Ther 42(3):180–188

Russo EB, Marcu J (2017) Cannabis pharmacology: the usual suspects and a few promising leads. Adv Pharmacol 80:67–134

Mechoulam R, Cannabinoids as Therapeutic Agents (1986) The pharmacohistory of cannabis sativa. CRC-Press

Upton, R. American herbal pharmacopoeia®. 2017

Bogdanović V, Mrđanović J, Borišev I (2017) A review of the therapeutic antitumor potential of cannabinoids, vol 23

Guzman M et al (2006) A pilot clinical study of Delta9-tetrahydrocannabinol in patients with recurrent glioblastoma multiforme. Br J Cancer 95(2):197–203

Śledziński P, Zeyland J, Słomski R, Nowak A (2018) The current state and future perspectives of cannabinoids in cancer biology. Cancer Med 7(3):765–775

Nabissi M, Morelli MB, Offidani M, Amantini C, Gentili S, Soriani A, Cardinali C, Leoni P, Santoni G (2016) Cannabinoids synergize with carfilzomib, reducing multiple myeloma cells viability and migration. Oncotarget 7(47):77543–77557

Torres S, Lorente M, Rodriguez-Fornes F, Hernandez-Tiedra S, Salazar M, Garcia-Taboada E, Barcia J, Guzman M, Velasco G (2011) A combined preclinical therapy of cannabinoids and temozolomide against glioma. Mol Cancer Ther 10(1):90–103

Liu WM, Scott KA, Shamash J, Joel S, Powles TB (2008) Enhancing the in vitro cytotoxic activity of Delta9-tetrahydrocannabinol in leukemic cells through a combinatorial approach. Leuk Lymphoma 49(9):1800–1809

Scott KA, Shah S, Dalgleish AG, Liu WM (2013) Enhancing the activity of cannabidiol and other cannabinoids in vitro through modifications to drug combinations and treatment schedules. Anticancer Res 33(10):4373–4380

International Agency for Research on Cancer (2014) World cancer report. World Health Organisation, Lyon

MacCallum CA, Russo EB (2018) Practical considerations in medical cannabis administration and dosing. Eur J Intern Med 49:12–19

Matsuda LA, Lolait SJ, Brownstein MJ, Young AC, Bonner TI (1990) Structure of a cannabinoid receptor and functional expression of the cloned cDNA. Nature 346(6284):561–564

Munro S, Thomas KL, Abu-Shaar M (1993) Molecular characterization of a peripheral receptor for cannabinoids. Nature 365(6441):61–65

Gaoni Y, Mechoulam R (1964) Isolation, structure, and partial synthesis of an active constituent of hashish. J Am Chem Soc 86(8):1646–1647

Russo EB (2011) Taming THC: potential cannabis synergy and phytocannabinoid-terpenoid entourage effects. Br J Pharmacol 163(7):1344–1364

Zábranský, T., L. Hanuš, and R. Rokyta, Review of contemporary knowledge of the treatment effects of cannabis and related products and its outlook. 2017

Murillo-Rodríguez E (2017) The endocannabinoid system : genetics, biochemistry, brain disorders, and therapy. Elsevier Science, San Diego

Sharma P, Murthy P, Bharath MMS (2012) Chemistry, metabolism, and toxicology of cannabis: clinical implications. Iran J Psychiatry 7(4):149–156

Huestis MA (2007) Human cannabinoid pharmacokinetics. Chem Biodivers 4(8):1770–1804

Grotenhermen F (2003) Pharmacokinetics and pharmacodynamics of cannabinoids. Clin Pharmacokinet 42(4):327–360

Turgeman I, Bar-Sela G (2017) Cannabis use in palliative oncology: a review of the evidence for popular indications. Israel Med Assoc J 19(2):85–88

Tateo S (2017) State of the evidence: cannabinoids and cancer pain-a systematic review. J Am Assoc Nurse Pract 29(2):94–103

Moher D, Liberati A, Tetzlaff J, Altman DG, PRISMA Group (2009) Preferred reporting items for systematic reviews and meta-analyses: the PRISMA statement. Open Med 3(3):e123–e130

Reid R et al (2016) Complementary medicine use by the Australian population: a critical mixed studies systematic review of utilisation, perceptions and factors associated with use, vol 16

Moola S, Munn Z, Tufanaru C, Aromataris E, Sears K, Sfetcu R, Currie M, Qureshi R, Mattis P, MP-F LK (2017) Chapter 7: Systematic reviews of etiology and risk. Joanna Briggs Institute Reviewer's Manual

Tufanaru C, Munn Z, Aromataris E, Campbell J, Hopp L (2017) Chapter 3: Systematic reviews of effectiveness. Joanna Briggs Institute Reviewer's Manual

Engels FK, de Jong FA, Sparreboom A, Mathot RAA, Loos WJ, Kitzen JJEM, de Bruijn P, Verweij J, Mathijssen RHJ (2007) Medicinal cannabis does not influence the clinical pharmacokinetics of irinotecan and docetaxel. Oncologist 12(3):291–300

Duran M, Pérez E, Abanades S, Vidal X, Saura C, Majem M, Arriola E, Rabanal M, Pastor A, Farré M, Rams N, Laporte JR, Capellà D (2010) Preliminary efficacy and safety of an oromucosal standardized cannabis extract in chemotherapy-induced nausea and vomiting. Br J Clin Pharmacol 70(5):656–663

Strasser F et al (2006) Comparison of orally administered cannabis extract and delta-9-tetrahydrocannabinol in treating patients with cancer-related anorexia-cachexia syndrome: a multicenter, phase III, randomized, double-blind, placebo-controlled clinical trial from the Cannabis-In-Cachexia-Study-Group. J Clin Oncol 24:3394–3400. https://doi.org/10.1200/JCO.2005.05.1847

Brisbois TD, de Kock IH, Watanabe SM, Mirhosseini M, Lamoureux DC, Chasen M, MacDonald N, Baracos VE, Wismer WV (2011) Delta-9-tetrahydrocannabinol may palliate altered chemosensory perception in cancer patients: results of a randomized, double-blind, placebo-controlled pilot trial. Ann Oncol 22(9):2086–2093

Cote M et al (2016) Improving quality of life with nabilone during radiotherapy treatments for head and neck cancers: a randomized double-blind placebo-controlled trial. Ann Otol Rhinol Laryngol 125(4):317–324

Johnson JR, Burnell-Nugent M, Lossignol D, Ganae-Motan ED, Potts R, Fallon MT (2010) Multicenter, double-blind, randomized, placebo-controlled, parallel-group study of the efficacy, safety, and tolerability of THC:CBD extract and THC extract in patients with intractable cancer-related pain. J Pain Symptom Manag 39(2):167–179

Johnson JR, Lossignol D, Burnell-Nugent M, Fallon MT (2013) An open-label extension study to investigate the long-term safety and tolerability of THC/CBD oromucosal spray and oromucosal THC spray in patients with terminal cancer-related pain refractory to strong opioid analgesics. J Pain Symptom Manag 46(2):207–218

Lynch M, Cesar-Rittenberg P, Hohmann A (2014) A double-blind, placebo-controlled, crossover pilot trial with extension using an oral mucosal cannabinoid extract for treatment of chemotherapy-induced neuropathic pain. J Pain Symptom Manag 47:166–173. https://doi.org/10.1016/j.jpainsymman.2013.02.018

Portenoy RK, Ganae-Motan ED, Allende S, Yanagihara R, Shaiova L, Weinstein S, McQuade R, Wright S, Fallon MT (2012) Nabiximols for opioid-treated cancer patients with poorly-controlled chronic pain: a randomized, placebo-controlled, graded-dose trial. J Pain 13(5):438–449

Foroughi M, Hendson G, Sargent MA, Steinbok P (2011) Spontaneous regression of septum pellucidum/forniceal pilocytic astrocytomas--possible role of Cannabis inhalation. Childs Nerv Syst 27(4):671–679

Meiri E, Jhangiani H, Vredenburgh JJ, Barbato LM, Carter FJ, Yang HM, Baranowski V (2007) Efficacy of dronabinol alone and in combination with ondansetron versus ondansetron alone for delayed chemotherapy-induced nausea and vomiting. Curr Med Res Opin 23(3):533–543

Elder JJ, Knoderer HM (2015) Characterization of dronabinol usage in a pediatric oncology population. J Pediatr Pharmacol Ther 20(6):462–467

Hernandez SL, Sheyner I, Stover KT, Stewart JT (2015) Dronabinol treatment of refractory nausea and vomiting related to peritoneal carcinomatosis. Am J Hosp Palliat Care 32(1):5–7

Singh Y, Bali C (2013) Cannabis extract treatment for terminal acute lymphoblastic leukemia with a Philadelphia chromosome mutation. Case Rep Oncol 6(3):585–592

Layeeque R, Siegel E, Kass R, Henry-Tillman RS, Colvert M, Mancino A, Klimberg VS (2006) Prevention of nausea and vomiting following breast surgery. Am J Surg 191(6):767–772

Jatoi A, Windschitl HE, Loprinzi CL, Sloan JA, Dakhil SR, Mailliard JA, Pundaleeka S, Kardinal CG, Fitch TR, Krook JE, Novotny PJ, Christensen B (2002) Dronabinol versus megestrol acetate versus combination therapy for cancer-associated anorexia: a north central cancer treatment group study. J Clin Oncol 20(2):567–573

Maida V (2008) Nabilone for the treatment of paraneoplastic night sweats: a report of four cases. J Palliat Med 11(6):929–934

Ursino M, Zohar S, Lentz F, Alberti C, Friede T, Stallard N, Comets E (2017) Dose-finding methods for phase I clinical trials using pharmacokinetics in small populations. Biom J 59(4):804–825

Stout SM, Cimino NM (2014) Exogenous cannabinoids as substrates, inhibitors, and inducers of human drug metabolizing enzymes: a systematic review. Drug Metab Rev 46(1):86–95

Zgair A, Lee JB, Wong JCM, Taha DA, Aram J, di Virgilio D, McArthur JW, Cheng YK, Hennig IM, Barrett DA, Fischer PM, Constantinescu CS, Gershkovich P (2017) Oral administration of cannabis with lipids leads to high levels of cannabinoids in the intestinal lymphatic system and prominent immunomodulation. Sci Rep 7(1):14542

Hryhorowicz S et al (2017) Pharmacogenetics of cannabinoids. Eur J Drug Metab Pharmacokinet:1–12

Vandrey R, Herrmann ES, Mitchell JM, Bigelow GE, Flegel R, LoDico C, Cone EJ (2017) Pharmacokinetic profile of oral cannabis in humans: blood and oral fluid disposition and relation to pharmacodynamic outcomes. J Anal Toxicol 41(2):83–99

Schwope DM, Scheidweiler KB, Huestis MA (2011) Direct quantification of cannabinoids and cannabinoid glucuronides in whole blood by liquid chromatography tandem mass spectrometry. Anal Bioanal Chem 401(4):1273–1283

Lee D, Huestis MA (2014) Current knowledge on cannabinoids in oral fluid. Drug Test Anal 6(1–2):88–111

Comets E, Zohar S (2009) A survey of the way pharmacokinetics are reported in published phase I clinical trials, with an emphasis on oncology. Clin Pharmacokinet 48(6):387–395

Hazekamp A, Ware MA, Muller-Vahl KR, Abrams D, Grotenhermen F (2013) The medicinal use of Cannabis and cannabinoids—an international cross-sectional survey on administration forms. J Psychoactive Drugs 45(3):199–210

AbbVie Inc (2017) Full prescribing information for MARINOL capsules. Available from: http://www.rxabbvie.com/pdf/marinol_PI.pdf. Accessed 4 Nov 2017

GW Pharma Ltd (2015) Sativex Oromucosal Spray. Available from: http://www.medicines.org.uk/emc/medicine/23262. Accessed 4 Nov 2017

Ramer R, Hinz B (2017) Cannabinoids as anticancer drugs. Adv Pharmacol

Nasir B et al (2017) Cannabis: a prehistoric remedy for the deficits of existing and emerging anticancer therapies. J Exploratory Res Pharmacol 2(3):93–104

Sanchez-Ramos J (2015) The entourage effect of the phytocannabinoids. Ann Neurol 77(6):1083–1083

Lewis MA, Russo EB, Smith KM (2018) Pharmacological foundations of cannabis chemovars. Planta Med 84(04):225–233

Armstrong JL, Hill DS, McKee CS, Hernandez-Tiedra S, Lorente M, Lopez-Valero I, Eleni Anagnostou M, Babatunde F, Corazzari M, Redfern CPF, Velasco G, Lovat PE (2015) Exploiting cannabinoid-induced cytotoxic autophagy to drive melanoma cell death. J Invest Dermatol 135(6):1629–1637

Romano B, Borrelli F, Pagano E, Cascio MG, Pertwee RG, Izzo AA (2014) Inhibition of colon carcinogenesis by a standardized Cannabis sativa extract with high content of cannabidiol. Phytomedicine 21(5):631–639

Piomelli D, Russo EB (2016) The cannabis sativa versus Cannabis indica debate: an interview with Ethan Russo, MD. Cannabis Cannabinoid Res 1(1):44–46

Nabissi M, Morelli MB, Amantini C, Liberati S, Santoni M, Ricci-Vitiani L, Pallini R, Santoni G (2015) Cannabidiol stimulates Aml-1a-dependent glial differentiation and inhibits glioma stem-like cells proliferation by inducing autophagy in a TRPV2-dependent manner. Int J Cancer 137(8):1855–1869

Nabissi M, Morelli MB, Santoni M, Santoni G (2013) Triggering of the TRPV2 channel by cannabidiol sensitizes glioblastoma cells to cytotoxic chemotherapeutic agents. Carcinogenesis 34(1):48–57

Scott KA, Dalgleish AG, Liu WM (2014) The combination of cannabidiol and Delta9-tetrahydrocannabinol enhances the anticancer effects of radiation in an orthotopic murine glioma model. Mol Cancer Ther 13(12):2955–2967

Scott KA et al (2015) Inhibiting heat shock proteins can potentiate the cytotoxic effect of cannabidiol in human glioma cells. Anticancer Res 35(11):5827–5837
Acknowledgments
This research was supported by FIT-BioCeuticals Ltd. and Endeavour College of Natural Health, Australia.
Ethics declarations
Ethical statement
This article does not contain any studies with human participants or animals performed by any of the authors.
Conflict of interest
The first author is a recipient of tuition scholarship for Honours candidature (Endeavour College of Natural Health, Australia) from FIT-BioCeuticals Ltd. The authors have full control of all primary data and agree to allow the journal to review the data if requested.
Additional information
Publisher's note
Springer Nature remains neutral with regard to jurisdictional claims in published maps and institutional affiliations.
About this article
Cite this article
Brown, D., Watson, M. & Schloss, J. Pharmacological evidence of medicinal cannabis in oncology: a systematic review. Support Care Cancer 27, 3195–3207 (2019). https://doi.org/10.1007/s00520-019-04774-5
Received:

Accepted:

Published:

Issue Date:

DOI: https://doi.org/10.1007/s00520-019-04774-5
Keywords
Medicinal cannabis

Cannabinoids

Pharmacology

Cancer

Oncology

Integrative medicine