Abstract
Purpose
Cancer survivors experience significant health concerns compared to the general population. Sydney Survivorship Clinic (SSC) is a multi-disciplinary clinic aiming to help survivors treated with curative intent manage side effects, and establish a healthy lifestyle. Here, we determine the health concerns of survivors post-primary treatment.
Methods
Survivors completed questionnaires assessing symptoms, quality of life (QOL), distress, diet, and exercise before attending SSC, and a satisfaction survey after. Body mass index (BMI), clinical findings and recommendations were reviewed. Descriptive statistical methods were used.
Results
Overall, 410 new patients attended SSC between September 2013 and April 2018, with 385 survivors included in analysis: median age 57 years (range 18–86); 69% female; 43% breast, 31% colorectal and 19% haematological cancers. Median time from diagnosis, 12 months. Common symptoms of at least moderate severity: fatigue (45%), insomnia (37%), pain (34%), anxiety (31%) and with 56% having > 5 moderate-severe symptoms. Overall, 45% scored distress ≥ 4/10 and 62% were rated by clinical psychologist as having 'fear of cancer recurrence'. Compared to population mean of 50, mean global QOL T-score was 47.2, with physical and emotional well-being domains most affected. Average BMI was 28.2 kg/m2 (range 17.0–59.1); 61% overweight/obese. Only 31% met aerobic exercise guidelines. Overall, 98% 'agreed'/'completely agreed' attending the SSC was worthwhile, and 99% would recommend it to others.
Conclusion
Distress, fear of cancer recurrence, fatigue, obesity and sedentary lifestyle are common in cancer survivors attending SSC and may best be addressed in a multi-disciplinary Survivorship Clinic to minimise longer-term effects. This model is well-rated by survivors.
Access options
Buy single article
Instant access to the full article PDF.
US$ 39.95
Tax calculation will be finalised during checkout.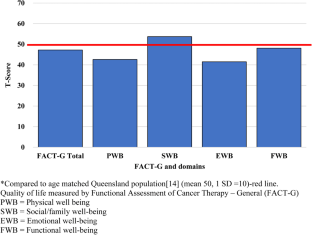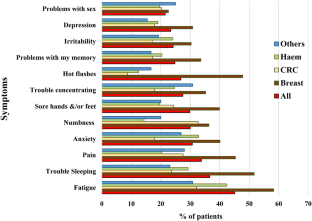 References
1.

Miller KD, Siegel RL, Lin CC, Mariotto AB, Kramer JL, Rowland JH, Stein KD, Alteri R, Jemal A (2016) Cancer treatment and survivorship statistics, 2016. CA Cancer J Clin 66(4):271–289. https://doi.org/10.3322/caac.21349

2.

Eakin EG, Youlden DR, Baade PD, Lawler SP, Reeves MM, Heyworth JS, Fritschi L (2006) Health status of long-term cancer survivors: results from an Australian population-based sample. Cancer Epidemiol Biomark Prev 15(10):1969–1976. https://doi.org/10.1158/1055-9965.EPI-06-0122

3.

Armenian SH, Xu L, Ky B, Sun C, Farol LT, Pal SK, Douglas PS, Bhatia S, Chao C (2016) Cardiovascular disease among survivors of adult-onset cancer: a community-based retrospective cohort study. J Clin Oncol 34(10):1122–1130. https://doi.org/10.1200/JCO.2015.64.0409

4.

Keating NL, Norredam M, Landrum MB, Huskamp HA, Meara E (2005) Physical and mental health status of older long-term cancer survivors. J Am Geriatr Soc 53(12):2145–2152. https://doi.org/10.1111/j.1532-5415.2005.00507.x

5.

World Cancer Research Foundation (2018) Diet, nutrition, physical activity and cancer: a global perspective. Continous update project report 2018. . https://www.wcrf.org/sites/default/files/Summary-third-expert-report.pdf. Accessed 7th Aug 2018

6.

Vardy JL, Tan C, Turner JD, Dhillon H (2017) Health status and needs of cancer survivors attending the Sydney Survivorship Centre clinics and programmes: a protocol for longitudinal evaluation of the centre's services. BMJ Open 7(5):e014803. https://doi.org/10.1136/bmjopen-2016-014803

7.

Tuinman MA, Gazendam-Donofrio SM, Hoekstra-Weebers JE (2008) Screening and referral for psychosocial distress in oncologic practice: use of the distress thermometer. Cancer 113(4):870–878. https://doi.org/10.1002/cncr.23622

8.

Cella D, Tulsky DS, Gray G, Sarafian B, Linn E, Bonomi A, Silberman M, Yellen SB, Winicour P, Brannon J (1993) The functional assessment of cancer therapy scale: development and validation of the general measure. J Clin Oncol 11(3):10

9.

Stockler MR, O'Connell R, Nowak AK, Goldstein D, Turner J, Wilcken NR, Wyld D, Abdi EA, Glasgow A, Beale PJ, Jefford M, Dhillon H, Heritier S, Carter C, Hickie IB, Simes RJ, Zoloft's Effects on S, survival Time Trial G (2007) Effect of sertraline on symptoms and survival in patients with advanced cancer, but without major depression: a placebo-controlled double-blind randomised trial. Lancet Oncol 8(7):603–612. https://doi.org/10.1016/S1470-2045(07)70148-1

10.

Brown WJ, Trost SG, Bauman A, Mummery K, Owen N (2004) Test-retest reliability of four physical activity measures used in population surveys. J Sci Med Sport 7(2):11

11.

Amireault S, Godin G, Lacombe J, Sabiston CM (2015) The use of the Godin-Shephard Leisure-Time Physical Activity Questionnaire in oncology research: a systematic review. BMC Med Res Methodol 15:60. https://doi.org/10.1186/s12874-015-0045-7

12.

McCabe MS, Bhatia S, Oeffinger KC, Reaman GH, Tyne C, Wollins DS, Hudson MM (2013) American Society of Clinical Oncology statement: achieving high-quality cancer survivorship care. J Clin Oncol 31(5):631–640. https://doi.org/10.1200/JCO.2012.46.6854

13.

Mayer DK, Nekhlyudov L, Snyder CF, Merrill JK, Wollins DS, Shulman LN (2014) American Society of Clinical Oncology clinical expert statement on cancer survivorship care planning. J Oncol Pract 10(6):345–351

14.

Janda M, DiSipio T, Hurst C, Cella D, Newman B (2009) The Queensland Cancer Risk Study: general population norms for the Functional Assessment of Cancer Therapy-General (FACT-G). Psychooncology 18(6):606–614. https://doi.org/10.1002/pon.1428

15.

Jacobsen PB, Donovan KA, Trask PC, Fleishman SB, Zabora J, Baker F, Holland JC (2005) Screening for psychologic distress in ambulatory cancer patients. Cancer 103(7):1494–1502. https://doi.org/10.1002/cncr.20940

16.

Cella DF, Tulsky DS, Gray G, Sarafian B, Linn E, Bonomi A, Silberman M, Yellen SB, Winicour P, Brannon J et al (1993) The Functional Assessment of Cancer Therapy scale: development and validation of the general measure. J Clin Oncol 11(3):570–579. https://doi.org/10.1200/JCO.1993.11.3.570

17.

Armes J, Crowe M, Colbourne L, Morgan H, Murrells T, Oakley C, Palmer N, Ream E, Young A, Richardson A (2009) Patients' supportive care needs beyond the end of cancer treatment: a prospective, longitudinal survey. J Clin Oncol 27(36):6172–6179. https://doi.org/10.1200/JCO.2009.22.5151

18.

Hodgkinson K, Butow P, Hobbs K, Hunt G, Lo S, Wain G (2007) Assessing unmet supportive care needs in partners of cancer survivors: the development and evaluation of the Cancer Survivors' Partners Unmet Needs measure (CaSPUN). Psycho-Oncology 16(9):805–813

19.

Thewes B, Husson O, Poort H, Custers JAE, Butow PN, McLachlan SA, Prins JB (2017) Fear of cancer recurrence in an era of personalized medicine. J Clin Oncol 35(29):3275–3278. https://doi.org/10.1200/JCO.2017.72.8212

20.

Butow P, Turner J, Gilchrist J, Sharpe L, Smith A, Fardell J, Tesson S, O'Connell R, Girgis A, Gebski V, Asher R, Mihalopoulos C, Bell M, Grunewald Zola K, Beith J, Thewes B, Conquer-Fear Authorship Group (2017) A randomised trial of ConquerFear: a novel, theoretically-based psychosocial intervention for fear of cancer recurrence. J Clin Oncol in press

21.

Kushi LH, Doyle C, McCullough M, Rock CL, Demark-Wahnefried W, Bandera EV, Gapstur S, Patel AV, Andrews K, Gansler T (2012) American Cancer Society guidelines on nutrition and physical activity for cancer prevention. CA Cancer J Clin 62(1):30–67

22.

Lemanne D, Cassileth B, Gubili J (2013) The role of physical activity in cancer prevention, treatment, recovery, and survivorship. Oncology (Williston Park) 27(6):580–585

23.

Chlebowski RT, Aragaki AK, Anderson GL, Thomson CA, Manson JE, Simon MS, Howard BV, Rohan TE, Snetselar L, Lane D, Barrington W, Vitolins MZ, Womack C, Qi L, Hou L, Thomas F, Prentice RL (2017) Low-fat dietary pattern and breast cancer mortality in the Women's Health Initiative Randomized Controlled Trial. J Clin Oncol 35(25):2919–2926. https://doi.org/10.1200/JCO.2016.72.0326

24.

Denlinger CS, Ligibel JA, Are M, Baker KS, Broderick G, Demark-Wahnefried W, Friedman DL, Goldman M, Jones LW, King A, Ku GH, Kvale E, Langbaum TS, McCabe MS, Melisko M, Montoya JG, Mooney K, Morgan MA, Moslehi JJ, O'Connor T, Overholser L, Paskett ED, Peppercorn J, Rodriguez MA, Ruddy KJ, Sanft T, Silverman P, Smith S, Syrjala KL, Urba SG, Wakabayashi MT, Zee P, McMillian NR, Freedman-Cass DA (2016) NCCN guidelines insights: survivorship, version 1.2016. J Natl Compr Cancer Netw 14(6):715–724

25.

Rock CL, Doyle C, Demark-Wahnefried W, Meyerhardt J, Courneya KS, Schwartz AL, Bandera EV, Hamilton KK, Grant B, McCullough M, Byers T, Gansler T (2012) Nutrition and physical activity guidelines for cancer survivors. CA Cancer J Clin 62(4):243–274. https://doi.org/10.3322/caac.21142

26.

Blanchard CM, Courneya KS, Stein K (2008) Cancer survivors' adherence to lifestyle behavior recommendations and associations with health-related quality of life: results from the American Cancer Society's SCS-II. J Clin Oncol 26(13):2198–2204

27.

Coups EJ, Ostroff JS (2005) A population-based estimate of the prevalence of behavioral risk factors among adult cancer survivors and noncancer controls. Prev Med 40(6):702–711

28.

Eakin EG, Youlden DR, Baade PD, Lawler SP, Reeves MM, Heyworth JS, Fritschi L (2007) Health behaviors of cancer survivors: data from an Australian population-based survey. Cancer Causes Control 18(8):881–894. https://doi.org/10.1007/s10552-007-9033-5

29.

Schmitz KH, Courneya KS, Matthews C, Demark-Wahnefried W, Galvao DA, Pinto BM, Irwin ML, Wolin KY, Segal RJ, Lucia A, Schneider CM, von Gruenigen VE, Schwartz AL, American College of Sports M (2010) American College of Sports Medicine roundtable on exercise guidelines for cancer survivors. Med Sci Sports Exerc 42(7):1409–1426. https://doi.org/10.1249/MSS.0b013e3181e0c112

30.

Prince SA, Adamo KB, Hamel ME, Hardt J, Gorber SC, Tremblay M (2008) A comparison of direct versus self-report measures for assessing physical activity in adults: a systematic review. Int J Behav Nutr Phys Act 5(1):56

31.

Hayes SC, Rye S, DiSipio T, Yates P, Bashford J, Pyke C, Saunders C, Battistutta D, Eakin E (2013) Exercise for health: a randomized, controlled trial evaluating the impact of a pragmatic, translational exercise intervention on the quality of life, function and treatment-related side effects following breast cancer. Breast Cancer Res Treat 137(1):175–186

32.

Courneya KS, Vardy J, Gill S, Jonker D, O'Brien P, Friedenreich CM, Dhillon H, Wong RK, Meyer RM, Crawford JJ (2014) Update on the Colon Health and Life-Long Exercise Change Trial: a phase III study of the impact of an exercise program on disease-free survival in colon cancer survivors. Curr Colorectal Cancer Rep 10(3):321–328

33.

Mishra SI, Scherer R, Geigle P, Berlanstein D, Topaloglu O, Gotay C, Snyder C (2009) Exercise interventions on health-related quality of life for cancer survivors. Cochrane Database Syst Rev 8(1)
Acknowledgements
We would like to thank Erika Jungfer, Loraine Fong and Mashaal Hamayun for their assistance with data entry.
Funding
Dr. Janette Vardy is supported by a Practitioner Fellowship from the National Breast Cancer Foundation, Australia.
Ethics declarations
All procedures performed in this study were in accordance with the ethical standards of the institutional and/or national research committee and with the 1964 Helsinki declaration and its later amendments or comparable ethical standards.
Conflict of interest
The authors declare that they have no conflicts of interest.
Additional information
Publisher's note
Springer Nature remains neutral with regard to jurisdictional claims in published maps and institutional affiliations.
About this article
Cite this article
Tan, S.Y., Turner, J., Kerin-Ayres, K. et al. Health concerns of cancer survivors after primary anti-cancer treatment. Support Care Cancer 27, 3739–3747 (2019). https://doi.org/10.1007/s00520-019-04664-w
Received:

Accepted:

Published:

Issue Date:
Keywords
Survivorship

Quality of life

Distress

Fear of cancer recurrence

Survivorship care plan