Abstract
Purpose
Although family caregivers (FCs) of older adults with cancer (OACs) provide invaluable assistance by fulfilling multiple tasks along the cancer trajectory, evidence suggests that their needs are poorly assessed, and there is a scarcity of supportive interventions that influence their well-being. Viewing these issues as opportunities for improvement, we conducted this qualitative study to understand FCs' needs and identify promising needs-focused interventions.
Methods
This descriptive interpretive qualitative study was conducted in Quebec, Canada, in a French Canadian Oncology Clinic. Participants were FCs who were spouses or adult children (n = 25) of OACs aged 70 years or older. Data were collected via focus groups and were analyzed using an ongoing analytic process following each interview.
Results
Three types of needs were of particular importance: information, relationships between FC and others, and care for oneself. The need for information was described in terms of the content, timeliness, and modalities in which information should be verbalized and delivered. The need for relationships specifically targeted health care providers (HCPs), family members, and OACs. The need to care for oneself was recognized as important throughout the cancer trajectory but also represented a challenge. Participants proposed innovative ideas for interventions, resources, and strategies for each type of need.
Conclusions
According to our results, HCPs should systematically include FCs into OACs' care plan through the use of concrete actions such as the "family systems approach" suggested by Duhamel, and integrate a systematic FC's needs assessment.
Access options
Buy single article
Instant access to the full article PDF.
US$ 39.95
Tax calculation will be finalised during checkout.
Subscribe to journal
Immediate online access to all issues from 2019. Subscription will auto renew annually.
US$ 119
Tax calculation will be finalised during checkout.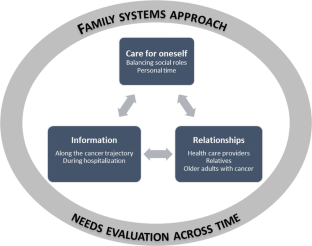 References
1.

Given BA, Given CW, Sherwood PR (2012) Family and caregiver needs over the course of the cancer trajectory. J Support Oncol 10(2):57–64

2.

Ream E, Pedersen V, Oakley C, Richardson A, Taylor C, Verity R (2013) Informal carers' experiences and needs when supporting patients through chemotherapy: a mixed method study. Eur J Cancer Care 22(6):797–806

3.

Given BA, Sherwood PR (2006) Family care for the older person with cancer. Semin Oncol Nurs 22(1):43–50

4.

Northouse LL, Katapodi MC, Schafenacker AM, Weiss D (2012) The impact of caregiving on the psychological well-being of family caregivers and cancer patients. Semin Oncol Nurs 28(4):236–245

5.

Bastawrous M (2013) Caregiver burden—a critical discussion. Int J Nurs Stud 50(3):431–441

6.

Goldzweig G, Merims S, Ganon R, Peretz T, Baider L (2012) Coping and distress among spouse caregivers to older patients with cancer: an intricate path. J Geriatr Oncol 3(4):376–385

7.

Bellizzi KM, Mustian KM, Palesh OG, Diefenbach M (2008) Cancer survivorship and aging. Cancer 113(S12):3530–3539

8.

Naeim A, Reuben D, Ganz P (2011) Management of cancer in the older patient. Elsevier Health Sciences, Philadelphia

9.

Given BA, Given CW, Sherwood PR (2012) The challenge of quality cancer care for family caregivers. Semin Oncol Nurs 28(4):205–212

10.

Gaugler JE, Given WC, Linder J, Kataria R, Tucker G, Regine WF (2008) Work, gender, and stress in family cancer caregiving. Support Care Cancer 16(4):347–357

11.

DuBenske LL, Wen K-Y, Gustafson DH, Guarnaccia CA, Cleary JF, Dinauer SK, Mctavish FM (2008) Caregivers' differing needs across key experiences of the advanced cancer disease trajectory. Palliat Support Care 6(3):265–272

12.

Northfield S, Nebauer M (2010) The caregiving journey for family members of relatives with cancer: how do they cope? Clin J Oncol Nurs 14(5):567–577

13.

Baider L, Surbone A (2014) Universality of aging: family caregivers for elderly cancer patients. Front Psychol 5(744):1–7

14.

Soothill K, Morris S, Harman J, Francis B, Thomas C, McIllmurray MB (2001) Informal carers of cancer patients: what are their unmet psychosocial needs? Health Soc Care Community 9(6):464–475

15.

Schmid-Büchi S, Halfens RJ, Dassen T, Van Den Borne B (2008) A review of psychosocial needs of breast-cancer patients and their relatives. J Clin Nurs 17(21):2895–2909

16.

Adams E, Boulton M, Watson E (2009) The information needs of partners and family members of cancer patients: a systematic literature review. Patient Educ Couns 77(2):179–186

17.

Sinfield P, Baker R, Ali S, Richardson A (2012) The needs of carers of men with prostate cancer and barriers and enablers to meeting them: a qualitative study in England. Eur J Cancer Care 21(4):527–534

18.

Molassiotis A, Wilson B, Blair S, Howe T, Cavet J (2011) Unmet supportive care needs, psychological well-being and quality of life in patients living with multiple myeloma and their partners. Psycho-Oncology 20(1):88–97

19.

Given BA, Northouse L (2011) Who cares for family caregivers of patients with cancer? Clin J Oncol Nurs 15(5):451–452

20.

Given BA, Grant M (2012) Studies of caregivers of older cancer patients needed. J Geriatr Oncol 3(4):295–298

21.

Sklenarova H, Krümpelmann A, Haun MW, Friederich HC, Huber J, Thomas M, Winkler EC, Herzog W, Hartmann M (2015) When do we need to care about the caregiver? Supportive care needs, anxiety, and depression among informal caregivers of patients with cancer and cancer survivors. Cancer 121(9):1513–1519

22.

Thorne S (2016) Interpretive description: qualitative research for applied practice, vol 2. Routledge Abingdon

23.

Miles MB, Huberman AM, Saldana J (2014) Qualitative data analysis: a methods sourcebook. In: SAGE publications Inc. Newbury Park, California

24.

Krueger R, Casey M (2009) Focus groups: a practical guide to applied science. In: SAGE publications Inc. Thousand Oaks, California

25.

Provalis Research Qualitative data analysis software. http://provalisresearch.com/products/qualitative-data-analysis-software

26.

McCarthy B (2011) Family members of patients with cancer: what they know, how they know and what they want to know. Eur J Oncol Nurs 15(5):428–441

27.

Hashemi-Ghasemabadi M, Taleghani F, Yousefy A, Kohan S (2016) Transition to the new role of caregiving for families of patients with breast cancer: a qualitative descriptive exploratory study. Support Care Cancer 24(3):1269–1276

28.

Northouse LL, Katapodi MC, Song L, Zhang L, Mood DW (2010) Interventions with family caregivers of cancer patients: meta-analysis of randomized trials. CA Cancer J Clin 60(5):317–339

29.

Kim Y, Kashy DA, Spillers RL, Evans TV (2010) Needs assessment of family caregivers of cancer survivors: three cohorts comparison. Psychooncology 19(6):573–582. https://doi.org/10.1002/pon.1597

30.

Laidsaar-Powell R, Butow P, Bu S, Fisher A, Juraskova I (2016) Attitudes and experiences of family involvement in cancer consultations: a qualitative exploration of patient and family member perspectives. Support Care Cancer 24(10):4131–4140

31.

Kauffmann R, Bitz C, Clark K, Loscalzo M, Kruper L, Vito C (2016) Addressing psychosocial needs of partners of breast cancer patients: a pilot program using social workers to improve communication and psychosocial support. Support Care Cancer 24(1):61–65

32.

Badr H, Krebs P (2013) A systematic review and meta-analysis of psychosocial interventions for couples coping with cancer. Psychooncology 22(8):1688–1704

33.

Haley WE (2003) Family caregivers of elderly patients with cancer: understanding and minimizing the burden of care. J Support Oncol 1(4 Suppl 2):25–29

34.

Öhman M, Söderberg S (2004) The experiences of close relatives living with a person with serious chronic illness. Qual Health Res 14(3):396–410

35.

Shaw J, Harrison J, Young J, Butow P, Sandroussi C, Martin D, Solomon M (2013) Coping with newly diagnosed upper gastrointestinal cancer: a longitudinal qualitative study of family caregivers' role perception and supportive care needs. Support Care Cancer 21(3):749–756

36.

Sherman DW, McGuire DB, Free D, Cheon JY (2014) A pilot study of the experience of family caregivers of patients with advanced pancreatic cancer using a mixed methods approach. J Pain Symptom Manag 48(3):385–399

37.

Thorsnes SL, Blindheim K, Brataas HV (2014) Next of kin of cancer patients - challenges in the situation and experiences from a next of kin course. Eur J Oncol Nurs 18(6):578–584

38.

Given BA (2014) Cancer in the aging: what are we doing to family caregivers? Cancer Nurs 37(5):402–403

39.

Duhamel F (2010) Implementing family nursing: how do we translate knowledge into clinical practice? Part II: the evolution of 20 years of teaching, research, and practice to a Center of Excellence in family nursing. J Fam Nurs 16(1):8–25

40.

Wright LM, Leahey M (2012) Nurses and families: a guide to family assessment and intervention, 6th edn. F.A. Davis, Philadelphia

41.

Hsu T, Loscalzo M, Ramani R, Forman S, Popplewell L, Clark K, Katheria V, Feng T, Strowbridge R, Rinehart R, Smith D, Matthews K, Dillehunt J, Hurria A (2014) Factors associated with high burden in caregivers of older adults with cancer. Cancer 120:2927–2935

42.

Senden C, Vandecasteele T, Vandenberghe E, Versluys K, Piers R, Grypdonck M, Van Den Noortgate N (2015) The interaction between lived experiences of older patients and their family caregivers confronted with a cancer diagnosis and treatment: a qualitative study. Int J Nurs Stud 52:197–206

43.

Gottlieb LN (2014) Les soins fondés sur les forces: La santé et la guérison de la personne et de la famille. Éditions du Renouveau Pédagogique Inc, Saint-Laurent, Qc
Acknowledgments
We are grateful to the family caregivers for their participation.
Funding
This study was made possible by grants from the Ordre des Infirmières et Infirmiers du Québec (OIIQ), the Quebec Nursing Intervention Research Network (RRISIQ) and FRQ-S, the Faculty of Medicine and Health Sciences of Université de Sherbrooke, the Centre de Recherche Hôpital Charles-Le Moyne, and Professor Dominique Tremblay's research program on complex interventions in oncology.
Ethics declarations
All procedures related to the ethical standards of the institutional research committee were respected. Protocol AA-HCLM-14-009 and consent forms were submitted and approved by the hospital ethical review board. Written informed consents were obtained from all study participants.
Conflict of interest
The authors declare that they have no competing interest.
Additional information
Publisher's Note
Springer Nature remains neutral with regard to jurisdictional claims in published maps and institutional affiliations.
About this article
Cite this article
Marcotte, J., Tremblay, D., Turcotte, A. et al. Needs-focused interventions for family caregivers of older adults with cancer: a descriptive interpretive study. Support Care Cancer 27, 2771–2781 (2019). https://doi.org/10.1007/s00520-018-4573-7
Received:

Accepted:

Published:

Issue Date:
Keywords
Family caregivers

Older adults

Cancer

Oncology

Needs

Interventions