Abstract
Purpose
The scars derived from the treatment of breast cancer lead to adverse effects such as fibrosis or retractions of the connective tissue. Myofascial release (MR) seeks to reduce restrictions of the fascial system. Therefore, the aim of this study was to analyze the clinical impact of MR treatment on women survivors of breast cancer.
Methods
We enrolled 24 women with breast cancer, 13 received myofascial release treatment (MR) and 11, a placebo manual lymphatic drainage treatment (PMLD). Both interventions were administered over a period of 4 weeks. The outcomes studied were pain, shoulder range of motion (ROM), functionality, quality of life (QoL), and depression, immediately after treatment and 1 month later.
Results
After 4 weeks of treatment, only the participants who received MR experienced a significant decrease in pain intensity in the short and midterm (p < 0.05). This therapy also achieved a general improvement in ROM (p < 0.05), except for internal rotation, that persisted 1 month after treatment. Regarding functionality, both therapies achieved the level of significance (p < 0.05), but only MRG sustained the improvement in the midterm. General QoL, assessed with FACT-B, and its physical well-being dimension were significantly improved after MR implementation (p < 0.05), while the emotional dimension and the breast cancer subscale improved only with PMLD (p < 0.05).
Conclusions
In conclusion, an MR-based treatment shows physical benefits (i.e., overall shoulder movement, functionality, and perceived pain) in women after breast cancer surgery.
Trial registration
This study is registered on ClinicalTrials.gov NCT03182881.
We're sorry, something doesn't seem to be working properly.
Please try refreshing the page. If that doesn't work, please contact support so we can address the problem.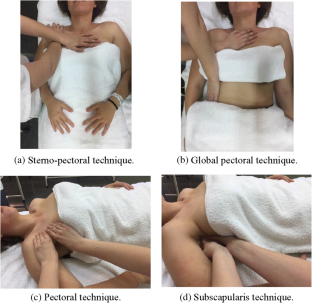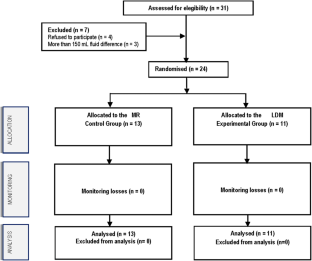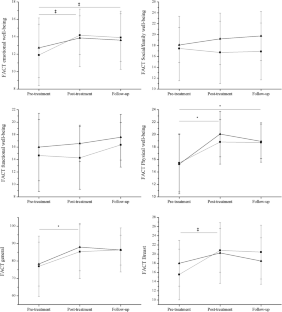 References
1.

Smith RA, Caleffi M, Albert U-S, Chen THH, Duffy SW, Franceschi D, Nystrom L, for the Global Summit Early Detection and Access to Care Panel (2006) Breast cancer in limited-resource countries: early detection and access to care. Breast J 12(s1):S16–S26. https://doi.org/10.1111/j.1075-122X.2006.00200.x

2.

Lemoigne Y, Caner A (2009) Radiotherapy and brachytherapy. Springer Science & Business Media

3.

Norman SA, Localio AR, Potashnik SL et al (2009) Lymphedema in breast cancer survivors: incidence, degree, time course, treatment, and symptoms. J Clin Oncol 20(27):390–397. https://doi.org/10.1200/JCO.2008.17.9291

4.

Speck RM, Gross CR, Hormes JM, Ahmed RL, Lytle LA, Hwang W-T, Schmitz KH (2010) Changes in the body image and relationship scale following a one-year strength training trial for breast cancer survivors with or at risk for lymphedema. Breast Cancer Res Treat 121(2):421–430. https://doi.org/10.1007/s10549-009-0550-7

5.

Hayes SC, Johansson K, Stout NL, Prosnitz R, Armer JM, Gabram S, Schmitz KH (2012) Upper-body morbidity after breast cancer: incidence and evidence for evaluation, prevention, and management within a prospective surveillance model of care. Cancer 118(S8):2237–2249. https://doi.org/10.1002/cncr.27467

6.

de Godoy JMP, Godoy MFG (2013) Evaluation of a new approach to the treatment of lymphedema resulting from breast cancer therapy. Eur J Intern Med 24(1):59–62. https://doi.org/10.1016/j.ejim.2012.08.008

7.

Andersen L, Højris I, Erlandsen M, Andersen J (2000) Treatment of breast-cancer-related lymphedema with or without manual lymphatic drainage: a randomized study. Acta Oncol 39(3):399–405. https://doi.org/10.1080/028418600750013186

8.

McNeely ML, Magee DJ, Lees AW, Bagnall KM, Haykowsky M, Hanson J (2004) The addition of manual lymph drainage to compression therapy for breast Cancer related lymphedema: a randomized controlled trial. Breast Cancer Res Treat 86(2):95–106. https://doi.org/10.1023/B:BREA.0000032978.67677.9f

9.

Karadibak D, Yavuzsen T, Saydam S (2008) Prospective trial of intensive decongestive physiotherapy for upper extremity lymphedema. J Surg Oncol 97(7):572–577. https://doi.org/10.1002/jso.21035

10.

Anderson RT, Kimmick GG, McCoy TP, Hopkins J, Levine E, Miller G et al (2012) A randomized trial of exercise on well-being and function following breast cancer surgery: the RESTORE trial. J Cancer Surviv 6(2):172–181. https://doi.org/10.1007/s11764-011-0208-4

11.

Pilat A (2013) Myofascial induction approaches. Fascia Tens Netw Hum Body-E-Book Sci Clin Appl Man Mov Ther, 311

12.

Arroyo-Morales M, Olea N, Martínez MM, Hidalgo-Lozano A, Ruiz-Rodríguez C, Díaz-Rodríguez L (2008) Psychophysiological effects of massage-myofascial release after exercise: a randomized sham-control study. J Altern Complement Med 14(10):1223–1229. https://doi.org/10.1089/acm.2008.0253

13.

De Groef A, Van Kampen M, Verlvoesem N, Dieltjens E, Vos L, De Vrieze T et al (2017) Effect of myofascial techniques for treatment of upper limb dysfunctions in breast cancer survivors: randomized controlled trial. Support Care Cancer 25(7):2119–2127. https://doi.org/10.1007/s00520-017-3616-9

14.

International Society of Lymphology (2016) The diagnosis and treatment of peripheral lymphedema. Consensus document of the International Society of Lymphology. Lymphology 49(4):170–184

15.

Andersen L, Højris I, Erlandsen M, Andersen J (2000) Treatment of breast-cancer-related lymphedema with or without manual lymphatic drainage--a randomized study. Acta Oncol Stockh Swed 39(3):399–405

16.

Leduc O, Leduc A, Bourgeois P, Belgrado JP (1998) The physical treatment of upper limb edema. Cancer 83(12 Suppl American):2835–2839

17.

Guerero RM, das Neves LMS, de Jesus Guirro RR, de Oliveira Guirro EC (2017) Manual lymphatic drainage in blood circulation of upper limb with lymphedema after breast cancer surgery. J Manip Physiol Ther 40(4):246–249. https://doi.org/10.1016/j.jmpt.2017.02.009

18.

Carlsson AM, Assessment of chronic pain. I (1983) Aspects of the reliability and validity of the visual analogue scale. Pain 16(1):87–101

19.

Scott J, Huskisson E (1979) Vertical or horizontal visual analogue scales. Ann Rheum Dis 38(6):560

20.

Petherick M, Rheault W, Kimble S, Lechner C, Senear V (1988) Concurrent validity and intertester reliability of universal and fluid-based goniometers for active elbow range of motion. Phys Ther 68(6):966–969

21.

Reese NB, Bandy WD (2016) Joint range of motion and muscle length testing-E-book. Elsevier Health Sciences

22.

Hudak PL, Amadio PC, Bombardier C, Beaton D, Cole D, Davis A, Hawker G, Katz JN, Makela M, Marx RG, Punnett L, Wright J (1996) Development of an upper extremity outcome measure: the DASH (disabilities of the arm, shoulder, and head). Am J Ind Med 29(6):602–608. https://doi.org/10.1002/(SICI)1097-0274(199606)29:6<602::AID-AJIM4>3.0.CO;2-L

23.

Hervás MT, Collado MJN, Peiró S, Pérez JLR, Matéu PL, Tello IM (2006) Versión española del cuestionario DASH. Adaptación transcultural, fiabilidad, validez y sensibilidad a los cambios. Med Clínica 127(12):441–447. https://doi.org/10.1157/13093053

24.

Ell K, Sanchez K, Vourlekis B, Lee P-J, Dwight-Johnson M, Lagomasino I, Muderspach L, Russell C (2005) Depression, correlates of depression, and receipt of depression care among low-income women with breast or gynecological cancer. J Clin Oncol 23(13):3052–3060. https://doi.org/10.1200/JCO.2005.08.041

25.

Baader T, Molina JL, Venezian S, Rojas C, Farías R, Fierro-Freixenet C et al (2012) Validación y utilidad de la encuesta PHQ-9 (Patient Health Questionnaire) en el diagnóstico de depresión en pacientes usuarios de atención primaria en Chile. Rev Chil Neuro-Psiquiatr 50(1):10–22. https://doi.org/10.4067/S0717-92272012000100002

26.

Cella DF, Tulsky DS, Gray G, Sarafian B, Linn E, Bonomi A, Silberman M, Yellen SB, Winicour P, Brannon J (1993) The functional assessment of cancer therapy scale: development and validation of the general measure. J Clin Oncol 11(3):570–579

27.

Martínez RB, Boronat OG, Badía MS, Latiesas JS, Navarro EM, Fores MF (2011) Validación de la versión española del Functional Assessment of cancer Therapy Questionnaire for Breast cancer (FACT-B+ 4). Med Clínica 137(15):685–688. https://doi.org/10.1016/j.medcli.2010.11.028

28.

Lee JS, Hobden E, Stiell IG, Wells GA (2003) Clinically important change in the visual analog scale after adequate pain control. Acad Emerg Med 10(10):1128–1130

29.

DeStefano LA (2011) Greenman's principles of manual medicine. Lippincott Williams & Wilkins

30.

Castro-Sánchez AM, Matarán-Peñarrocha GA, Arroyo-Morales M, Saavedra-Hernández M, Fernández-Sola C, Moreno-Lorenzo C (2011) Effects of myofascial release techniques on pain, physical function, and postural stability in patients with fibromyalgia: a randomized controlled trial. Clin Rehabil 25(9):800–813. https://doi.org/10.1177/0269215511399476

31.

Tozzi P, Bongiorno D, Vitturini C (2011) Fascial release effects on patients with non-specific cervical or lumbar pain. J Bodyw Mov Ther 15(4):405–416. https://doi.org/10.1016/j.jbmt.2010.11.003

32.

Ajimsha MS, Chithra S, Thulasyammal RP (2012) Effectiveness of myofascial release in the management of lateral epicondylitis in computer professionals. Arch Phys Med Rehabil 93(4):604–609. https://doi.org/10.1016/j.apmr.2011.10.012

33.

Mullaney MJ, McHugh MP, Johnson CP, Tyler TF (2010) Reliability of shoulder range of motion comparing a goniometer to a digital level. Physiother Theory Pract 26(5):327–333. https://doi.org/10.3109/09593980903094230

34.

Huang T-W, Tseng S-H, Lin C-C, Bai C-H, Chen C-S, Hung C-S, Wu CH, Tam KW (2013) Effects of manual lymphatic drainage on breast cancer-related lymphedema: a systematic review and meta-analysis of randomized controlled trials. World J Surg Oncol 11(1):15. https://doi.org/10.1186/1477-7819-11-15

35.

MacDonald GZ, Penney MDH, Mullaley ME, Cuconato AL, Drake CDJ, Behm DG et al (2013) An acute bout of self-myofascial release increases range of motion without a subsequent decrease in muscle activation or force. J Strength Cond Res 27(3):812–821. https://doi.org/10.1519/JSC.0b013e31825c2bc1

36.

Martin MM (2009) Effects of the myofascial release in diffuse systemic sclerosis. J Bodyw Mov Ther 13(4):320–327. https://doi.org/10.1016/j.jbmt.2008.04.042

37.

Ebaugh D, Spinelli B, Schmitz KH (2011) Shoulder impairments and their association with symptomatic rotator cuff disease in breast cancer survivors. Med Hypotheses 77(4):481–487. https://doi.org/10.1016/j.mehy.2011.06.015

38.

Schmitt JS, Di Fabio RP (2004) Reliable change and minimum important difference (MID) proportions facilitated group responsiveness comparisons using individual threshold criteria. J Clin Epidemiol 57(10):1008–1018. https://doi.org/10.1016/j.jclinepi.2004.02.007

39.

Beaton DE, Katz JN, Fossel AH, Wright JG, Tarasuk V, Bombardier C (2001) Measuring the whole or the parts? Validity, reliability, and responsiveness of the disabilities of the arm, shoulder and hand outcome measure in different regions of the upper extremity. J Hand Ther Off J Am Soc Hand Ther 14(2):128–146

40.

Klum M, Wolf MB, Hahn P, Leclère FM, Bruckner T, Unglaub F (2012) Predicting grip strength and key pinch using anthropometric data, DASH questionnaire and wrist range of motion. Arch Orthop Trauma Surg 132(12):1807–1811. https://doi.org/10.1007/s00402-012-1602-8

41.

Ridner SH, Murphy B, Deng J, Kidd N, Galford E, Dietrich MS (2010) Advanced pneumatic therapy in self-care of chronic lymphedema of the trunk. Lymphat Res Biol 8(4):209–215. https://doi.org/10.1089/lrb.2010.0010

42.

Molski P, Ossowski R, Hagner W, Molski S (2009) Patients with venous disease benefit from manual lymphatic drainage. Int Angiol J Int Union Angiol 28(2):151–155

43.

Williams AF, Vadgama A, Franks PJ, Mortimer PS (2002) A randomized controlled crossover study of manual lymphatic drainage therapy in women with breast cancer-related lymphoedema. Eur J Cancer Care (Engl) 11(4):254–261

44.

Shim J-M, Kim S-J (2014) Effects of manual lymph drainage of the neck on EEG in subjects with psychological stress. J Phys Ther Sci 26(1):127–129. https://doi.org/10.1589/jpts.26.127

45.

Guggisberg AG, Mathis J, Schnider A, Hess CW (2010) Why do we yawn? Neurosci Biobehav Rev 34(8):1267–1276. https://doi.org/10.1016/j.neubiorev.2010.12.004
Ethics declarations
All procedures were conducted in accordance with the principles of the Declaration of Helsinki of the World Medical Association, and were approved by the Human Research Ethics Committee of the University of Valencia with protocol number H1442824702282. Written informed consent was obtained from the participants before the trials started
Conflict of interest
The authors declare no conflict of interest, personally or related to funding.
About this article
Cite this article
Serra-Añó, P., Inglés, M., Bou-Catalá, C. et al. Effectiveness of myofascial release after breast cancer surgery in women undergoing conservative surgery and radiotherapy: a randomized controlled trial. Support Care Cancer 27, 2633–2641 (2019). https://doi.org/10.1007/s00520-018-4544-z
Received:

Accepted:

Published:

Issue Date:
Keywords
Breast cancer

Myofascial release

Range of motion

Quality of life