Abstract
Objective
This study aimed to develop and assess the feasibility of an online communication skills training intervention to increase cultural competence amongst oncology nurses working with individuals from minority backgrounds.
Methods
The intervention provided examples of communication strategies using vignette-based, professionally produced videos, developed through an iterative process with input from a large multidisciplinary team. Fifty-three oncology nurses completed all three questionnaires at baseline, within 2 weeks and then 3 months after accessing the programme.
Results
The online intervention was well received by the majority of participants, and was endorsed as clearly presented, informative, relevant and useful by more than 90% of participants. Eighty-seven percent of participants reported increased confidence in communicating with patients via an interpreter, and 93% agreed that skills they gained would be useful in providing better patient care. Participants reported significant improvements in practice while interacting with people with limited English proficiency 2 weeks and 3 months after accessing the website (X2 = 13.66, P < 0.001).
Conclusion
This online communication training programme can now be tested for its utility in improving patient care for oncology nurses working with patients from minority backgrounds.
This is a preview of subscription content, log in to check access.
Access options
Buy single article
Instant access to the full article PDF.
US$ 39.95
Price includes VAT for USA
Subscribe to journal
Immediate online access to all issues from 2019. Subscription will auto renew annually.
US$ 199
This is the net price. Taxes to be calculated in checkout.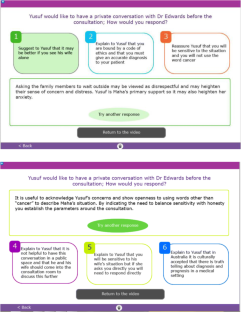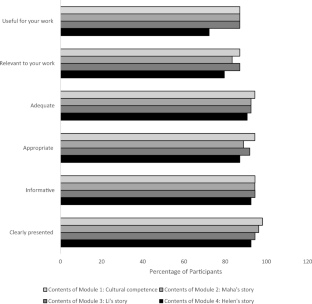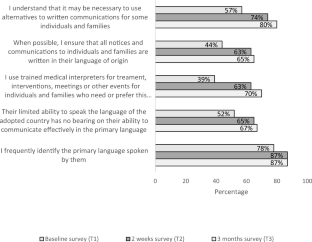 References
1.

Du X, Meyer T, Franzini L (2007) Meta-analysis of racial disparities in survival in association with socioeconomic status among men and women with colon cancer. Cancer 109(11):2161–2170

2.

Chu K, Miller B, Springfield S (2007) Measures of racial/ethnic health disparities in cancer mortality rates and the influence of socioeconomic status. J Natl Med Assoc 99(10):1092–1104

3.

Krupski TL, Sonn G, Kwan L, Maliski S, Fink A, Litwin MS (2005) Ethnic variation in health-related quality of life among low-income men with prostate cancer. Ethn Dis 15:461–468

4.

Gotay C, Holup J, Pagano I (2002) Ethnic differences in quality of life among early breast and prostate cancer survivors. Psycho-Oncology 11:103–113

5.

Australian Institute of Family Studies (AIFS), Australian Government. Enhancing family and relationship service accessibility and delivery to culturally and linguistically diverse families in Australia: characteristics and experiences of CALD groups in Australia: barriers to service accessibility and appropriate service delivery to CALD families in Australia 2008 (available from: https://aifs.gov.au/cfca/publications/enhancing-family-and-relationship-service-accessibility-and/resource-sheet)

6.

Brushin B, Gonzalez M, Payne R (1997) Exploring cultural attitudes to breast cancer: towards the development of culturally appropriate information resources for women from Greek, Italian, Arabic and Polish speaking backgrounds: executive summary. Sydney, National Breast Cancer Centre

7.

Goldstein D, Thewes B, Butow P (2002) Communicating in a multicultural society. II: Greek community attitudes towards cancer in Australia. Intern Med J 32(7):289–296

8.

Hyatt A, Lipson-Smith R, Schofield P, Gough K, Sze M, Aldridge L, Goldstein D, Jefford M, Bell ML, Butow P (2017) Communication challenges experienced by migrants with cancer: a comparison of migrant and English-speaking Australian-born cancer patients. Health Expect 20(5):886–895

9.

Lim BT, Butow P, Mills J, Miller A, Goldstein D (2017) Information needs of the Chinese community affected by cancer: a systematic review. Psychooncology 26(10):1433–1443

10.

Sze M, Butow P, Bell M, Vaccaro L, Dong S, Eisenbruch M, Jefford M, Girgis A, King M, McGrane J, Ng W, Asghari R, Parente P, Liauw W, Goldstein D, on behalf of the Psycho-oncology Co-operative Research Group Culturally and Linguistically Diverse (CALD) TEAM (2015) Migrant health in cancer: outcome disparities and the determinant role of migrant-specific variables. Oncologist 20(5):523–531

11.

Back AL, Arnold RM, Tulsky JA, Baile WF, Fryer-Edwards KA (2003) Teaching communication skills to medical oncology fellows. J Clin Oncol 21(12):2433–2436

12.

Eisenbruch M, Yeo S, Meiser B, Goldstein D, Tucker K, Barlow-Stewart K (2004) Optimizing clinical practice in cancer genetics with cultural competence: lessons to be learned from ethnographic research with Chinese-Australians. Soc Sci Med 59(2):235–248

13.

Cross T, Bazron B, Dennis K, Isaacs M (1989) Towards a culturally competent system of care. Georgetown University Child Development Center, CASSP Technical Assistance Center, Washington DC

14.

Bylund CL, Brown RF, Bialer PA, Levin TT, Lubrano di Ciccone B, Kissane DW (2011) Developing and implementing an advanced communication training program in oncology at a comprehensive cancer center. J Cancer Educ 26(4):604–611

15.

Tebble H (1998) Medical Interpreting: improving communication with your patients. Language Australia and Deakin University, Geelong Vic (video and book). https://files.eric.ed.gov/fulltext/ED426614.pdf. Accessed 19 January 2017: ERIC

16.

Saleh M, Barlow-Stewart K, Meiser B, Muchamore I (2009) Challenges faced by genetic service providers' practicing in a culturally and linguistically diverse population. The Australian experience. J Genet Couns 18:436–446

17.

Butow P, Lobb E, Jefford M, Goldstein D, Eisenbruch M, Girgis A, et al. (2010) A bridge between cultures: interpreters' perspectives of consultations with migrant oncology patients. Support Care Cancer 18(11)

18.

Butow P, Bell M, Goldstein D, Sze M, Aldridge L, Abdo S, Mikhail M, Dong S, Iedema R, Ashgari R, Hui R, Eisenbruch M (2011) Grappling with cultural differences: communication between oncologists and immigrant cancer patients with and without interpreters. Patient Educ Couns 84:398–405

19.

Hale S (2007) Community interpreting. Palgrave Macmillan, Basingstoke

20.

AUSIT. Code of ethics and code of conduct. The Australian Institute of Interpreters and Translators. 2012 [Available from: https://ausit.org/AUSIT/Documents/Code_Of_Ethics_Full.pdf

21.

Lubrano di Ciccone B, Brown R, Gueguen J, Bylund C, Kissane D (2010) Interviewing patients using interpreters in an oncology setting: initial evaluation of a communication skills module. Ann Oncol 21(1):27–32

22.

Fallowfield L, Lipkin M, Hall A (1998) Teaching senior oncologists communication skills: results from phase I of a comprehensive longitudinal program in the United Kingdom. J Clin Oncol 16(5):1961–1968

23.

Kissane DW, Bultz BD, Butow PN, Bylund CL, Noble S, Wilkinson S (2017) Oxford textbook of communication in oncology and palliative care: Oxford University Press

24.

Barth J, Lannen P (2011) Efficacy of communication skills training courses in oncology: a systematic review and meta-analysis. Ann Oncol 22:1030–1040

25.

Fallowfield L, Jenkins V, Farewell V, Saul J, Duffy A, Eves R et al (2002) Efficacy of a Cancer Research UK communication skills training model for oncologists: a randomised controlled trial. Lancet 359(9307):650–656

26.

Palmer RC, Samson R, Triantis M, Mullan ID (2011) Development and evaluation of a web-based breast cancer cultural competency course for primary healthcare providers. BMC Med Educ 11(1):59

27.

Friedman-Rhodes E, Hale S (2010) Teaching medical students to work with interpreters. J Specialised Transl 14:121–144

28.

Tebble H (2003) Training doctors to work effectively with interpreters. In Brunette, L., Bastin, G., Hemlin, I. and Clarke, H. (eds), The critical link 3—interpreters in the community (pp. 81–95 &112). Amsterdam/Philadelphia: John Benjamins

29.

Mitchell S, Heyden R, Heyden N, Schroy P, Andrew S, Sadikova E, Wiecha J (2011) A pilot study of motivational interviewing training in a virtual world. J Med Internet Res 13(3):e77

30.

Bekkers MJ, Simpson SA, Dunstan F, Hood K, Hare M, Evans J et al (2010) Enhancing the quality of antibiotic prescribing in primary care: qualitative evaluation of a blended learning intervention. BMC Fam Pract 11:34

31.

Simpson SA, Butler CC, Hood K, Cohen D, Dunstan F, Evans MR et al (2009) Stemming the Tide of Antibiotic Resistance (STAR): a protocol for a trial of a complex intervention addressing the 'why' and 'how' of appropriate antibiotic prescribing in general practice. BMC Fam Pract 10(1):20

32.

Daetwyler C,G Cohen D, Gracely E, Novack D. eLearning to enhance physician patient communication: a pilot test of "doc.com" and "WebEncounter" in teaching bad news delivery 2010. e381–90 p

33.

Robinson T, Janssen A, Kirk J, DeFazio A, Goodwin A, Tucker K, Shaw T (2017) New approaches to continuing medical education: a QStream (spaced education) program for research translation in ovarian cancer. J Cancer Educ 32(3):476–482

34.

Douma KFL, Aalfs CM, Dekker E, Tanis PJ, Smets EM (2017) An E-learning module to improve nongenetic health professionals' assessment of colorectal cancer genetic risk: feasibility study. JMIR Med Educ 3(2):e24

35.

Watts K, Meiser B, Zilliacus E, Kaur R, Taouk M, Girgis A, et al. (2017) Perspectives of oncology nurses and oncologists regarding barriers to working with patients from a minority background: systemic issues and working with interpreters. European Journal of Cancer Care :e12758-n/a

36.

National Health and Medical Research Council. Cultural competency in health: a guide for policy, partnerships and participation. Canberra: Commonwealth of Australia; 2006

37.

Hudelson P, Perron NJ, Perneger TV (2010) Measuring physicians' and medical students' attitudes toward caring for immigrant patients. Eval Health Prof 33(4):452–472

38.

Norman G, Sloan J, Wyrwich K et al (2003) Interpretation of changes in health-related quality of life. Med Care 41(5):582–592

39.

Ammentorp J, Sabroe S, Kofoed P, Mainz J (2007) The effect of training in communication skills on medical doctors' and nurses' self-efficacy. A randomized controlled trial. Patient Educ Couns 66(3):270–277

40.

Jenkins V, Fallowfield L (2002) Can communication skills training alter physicians' beliefs and behavior in clinics? J Clin Oncol 20(3):765–769

41.

Schmitz CC, Braman JP, Turner N, Heller S, Radosevich DM, Yan Y, Miller J, Chipman JG (2016) Learning by (video) example: a randomized study of communication skills training for end-of-life and error disclosure family care conferences. Am J Surg 212(5):996–1004

42.

Arif S, Cryder B, Mazan J, Quiñones-Boex A, Cyganska A (2017) Using patient case video vignettes to improve students' understanding of cross-cultural communication. Am J Pharm Educ 81(3):56
Acknowledgements
We are thankful to all participants for giving their time to complete the evaluation. The training programme for healthcare professionals, Effective Cultural Communication in Oncology (ECCO)—A training programme for oncology health professionals, was funded by an Australian Research Council Linkage grant, Cancer Institute NSW and Multicultural Health Services (South Eastern Sydney Local Health District) in conjunction with UNSW Australia, the University of Sydney, Monash University and Prince of Wales Hospital. Bettina Meiser is supported by a Senior Research Fellowship Level B (ID 1078523) from the National Health and Medical Research Council of Australia, and Afaf Girgis by Cancer Institute NSW grants.
Ethics declarations
This study was approved by the University of New South Wales (UNSW) Medical and Community Human Research Ethics Advisory Panel.
Conflict of interest
Bettina Meiser has a remunerated consultant role with the company Astrazeneca with respect to a study unrelated to this article. The other authors declare that they have no conflict of interest.
Electronic supplementary material
About this article
Cite this article
Kaur, R., Meiser, B., Zilliacus, E. et al. Evaluation of an online communication skills training programme for oncology nurses working with patients from minority backgrounds. Support Care Cancer 27, 1951–1960 (2019). https://doi.org/10.1007/s00520-018-4507-4
Received:

Accepted:

Published:

Issue Date:
Keywords
Oncology

Communication skills

Online training

Minority backgrounds

Oncology nurses