Abstract
Purpose
Cancer-related fatigue (CRF) is a common and challenging late effect for many cancer survivors. Clinical trials demonstrate robust placebo effects on CRF in blinded trials. Recently, open-label placebo (OLP) has been shown to improve a variety of symptoms in other populations. We conducted a randomized controlled trial to investigate the effect of OLP on CRF in cancer survivors, and to explore biologic and psychological correlates of placebo efficacy.
Methods
Forty cancer survivors (92.5% female; mean age 47.3 years) were randomized to OLP or no treatment control. OLP participants were prescribed two placebo tablets twice daily, for 3 weeks. All participants completed assessments at Baseline, Day 8, and Day 22. The primary endpoint was change in CRF (FACIT-F), and secondary outcomes included exercise frequency, mood, and quality of life. We examined whether personality characteristics or a genetic variation important in dopamine catabolism (catechol-O-methyltransferase; COMT) affected the placebo response.
Results
The OLP group reported significantly improved CRF at both Day 8 (p = 0.005) and Day 22 (p = .02), while the control group did not (ps > .05). CRF improvement differed by COMT genotype, but was not associated with personality characteristics. Marginal improvements were noted in the placebo group for some secondary outcomes (exercise frequency and quality of life), but not in the control group.
Conclusions
Results demonstrate that even when administered openly, placebos improve CRF in cancer survivors and dopaminergic systems may be associated with this response. This novel research has meaningful implications for the use of OLP in symptom management for cancer survivors.
Access options
Buy single article
Instant access to the full article PDF.
US$ 39.95
Tax calculation will be finalised during checkout.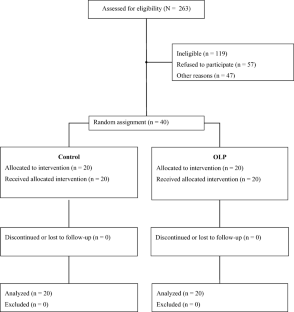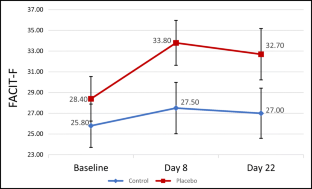 References
1.

Cella D, Davis K, Breitbart W, Curt G, Fatigue C (2001) Cancer-related fatigue: prevalence of proposed diagnostic criteria in a United States sample of cancer survivors. J Clin Oncol 19(14):3385–3391. https://doi.org/10.1200/JCO.2001.19.14.3385

2.

Bower JE, Bak K, Berger A, Breitbart W, Escalante CP, Ganz PA, Schnipper HH, Lacchetti C, Ligibel JA, Lyman GH, Ogaily MS, Pirl WF, Jacobsen PB, American Society of Clinical Oncology (2014) Screening, assessment, and management of fatigue in adult survivors of cancer: an American Society of Clinical oncology clinical practice guideline adaptation. J Clin Oncol 32(17):1840–1850. https://doi.org/10.1200/JCO.2013.53.4495

3.

Scott JA, Lasch KE, Barsevick AM, Piault-Louis E (2011) Patients' experiences with cancer-related fatigue: a review and synthesis of qualitative research. Oncol Nurs Forum 38(3):E191–E203. https://doi.org/10.1188/11.ONF.E191-E203

4.

Horneber M, Fischer I, Dimeo F, Ruffer JU, Weis J (2012) Cancer-related fatigue: epidemiology, pathogenesis, diagnosis, and treatment. Dtsch Arztebl Int 109(9):161–171. https://doi.org/10.3238/arztebl.2012.0161

5.

Kangas M, Bovbjerg DH, Montgomery GH (2008) Cancer-related fatigue: a systematic and meta-analytic review of non-pharmacological therapies for cancer patients. Psychol Bull 134(5):700–741. https://doi.org/10.1037/a0012825

6.

Servaes P, Gielissen MF, Verhagen S, Bleijenberg G (2007) The course of severe fatigue in disease-free breast cancer patients: a longitudinal study. Psychooncology 16(9):787–795. https://doi.org/10.1002/pon.1120

7.

Shi Q, Smith TG, Michonski JD, Stein KD, Kaw C, Cleeland CS (2011) Symptom burden in cancer survivors 1 year after diagnosis: a report from the American Cancer Society's Studies of Cancer Survivors. Cancer 117(12):2779–2790. https://doi.org/10.1002/cncr.26146

8.

Bruera E (2010) Cancer-related fatigue: a multidimensional syndrome. J Support Oncol 8(4):175–176

9.

Howell D, Oliver TK, Keller-Olaman S, Davidson J, Garland S, Samuels C, Savard J, Harris C, Aubin M, Olson K, Sussman J, Macfarlane J, Taylor C, Sleep Disturbance Expert Panel on behalf of the Cancer Journey Advisory Group of the Canadian Partnership Against C (2013) A Pan-Canadian practice guideline: prevention, screening, assessment, and treatment of sleep disturbances in adults with cancer. Support Care Cancer 21(10):2695–2706. https://doi.org/10.1007/s00520-013-1823-6

10.

Mendonca DA, Menezes K, Jog MS (2007) Methylphenidate improves fatigue scores in Parkinson disease: a randomized controlled trial. Mov Disord 22(14):2070–2076. https://doi.org/10.1002/mds.21656

11.

Ruddy KJ, Barton D, Loprinzi CL (2014) Laying to rest psychostimulants for cancer-related fatigue? J Clin Oncol 32(18):1865–1867. https://doi.org/10.1200/JCO.2014.55.8353

12.

Spathis A, Fife K, Blackhall F, Dutton S, Bahadori R, Wharton R, O'Brien M, Stone P, Benepal T, Bates N, Wee B (2014) Modafinil for the treatment of fatigue in lung cancer: results of a placebo-controlled, double-blind, randomized trial. J Clin Oncol 32(18):1882–1888. https://doi.org/10.1200/JCO.2013.54.4346

13.

Bruera E, Yennurajalingam S, Palmer JL, Perez-Cruz PE, Frisbee-Hume S, Allo JA, Williams JL, Cohen MZ (2013) Methylphenidate and/or a nursing telephone intervention for fatigue in patients with advanced cancer: a randomized, placebo-controlled, phase II trial. J Clin Oncol 31(19):2421–2427. https://doi.org/10.1200/JCO.2012.45.3696

14.

Minton O, Richardson A, Sharpe M, Hotopf M, Stone P (2008) A systematic review and meta-analysis of the pharmacological treatment of cancer-related fatigue. J Natl Cancer Inst 100(16):1155–1166. https://doi.org/10.1093/jnci/djn250

15.

Kaptchuk TJ, Miller FG (2015) Placebo effects in medicine. N Engl J Med 373(1):8–9. https://doi.org/10.1056/NEJMp1504023

16.

Hrobjartsson A, Kaptchuk TJ, Miller FG (2011) Placebo effect studies are susceptible to response bias and to other types of biases. J Clin Epidemiol 64(11):1223–1229. https://doi.org/10.1016/j.jclinepi.2011.01.008

17.

Zhang W, Robertson J, Jones AC, Dieppe PA, Doherty M (2008) The placebo effect and its determinants in osteoarthritis: meta-analysis of randomised controlled trials. Ann Rheum Dis 67(12):1716–1723. https://doi.org/10.1136/ard.2008.092015

18.

Carvalho C, Caetano JM, Cunha L, Rebouta P, Kaptchuk TJ, Kirsch I (2016) Open-label placebo treatment in chronic low back pain: a randomized controlled trial. Pain 157(12):2766–2772. https://doi.org/10.1097/j.pain.0000000000000700

19.

Zubieta JK, Stohler CS (2009) Neurobiological mechanisms of placebo responses. Ann N Y Acad Sci 1156:198–210. https://doi.org/10.1111/j.1749-6632.2009.04424

20.

de la Fuente-Fernandez R (2009) The placebo-reward hypothesis: dopamine and the placebo effect. Parkinsonism Relat Disord 15(Suppl 3):S72–S74. https://doi.org/10.1016/S1353-8020(09)70785-0

21.

Hall KT, Lembo AJ, Kirsch I, Ziogas DC, Douaiher J, Jensen KB, Conboy LA, Kelley JM, Kokkotou E, Kaptchuk TJ (2012) Catechol-O-methyltransferase val158met polymorphism predicts placebo effect in irritable bowel syndrome. PLoS One 7(10):e48135. https://doi.org/10.1371/journal.pone.0048135

22.

Yu R, Gollub RL, Vangel M, Kaptchuk T, Smoller JW, Kong J (2014) Placebo analgesia and reward processing: integrating genetics, personality, and intrinsic brain activity. Hum Brain Mapp 35(9):4583–4593. https://doi.org/10.1002/hbm.22496

23.

Gollub RL, Kong J (2011) For placebo effects in medicine, seeing is believing. Sci Transl Med 3(70):70ps75

24.

Petrie KJ, Rief W (2018) Psychobiological mechanisms of placebo and nocebo effects: pathways to improve treatments and reduce side effects. Annu Rev Psychol. https://doi.org/10.1146/annurev-psych-010418-102907

25.

Rief W, Petrie KJ (2016) Can psychological expectation models be adapted for placebo research? Front Psychol 7:1876

26.

Kaptchuk TJ, Friedlander E, Kelley JM, Sanchez MN, Kokkotou E, Singer JP, Kowalczykowski M, Miller FG, Kirsch I, Lembo AJ (2010) Placebos without deception: a randomized controlled trial in irritable bowel syndrome. PLoS One 5(12):e15591

27.

Kelley JM, Kaptchuk TJ, Cusin C, Lipkin S, Fava M (2012) Open-label placebo for major depressive disorder: a pilot randomized controlled trial. Psychother Psychosom 81(5):312–314. https://doi.org/10.1159/000337053

28.

Cella D, Yount S, Sorensen M, Chartash E, Sengupta N, Grober J (2005) Validation of the Functional Assessment Of Chronic Illness Therapy Fatigue Scale relative to other instrumentation in patients with rheumatoid arthritis. J Rheumatol 32(5):811–819

29.

Alexander S, Minton O, Andrews P, Stone P (2009) A comparison of the characteristics of disease-free breast cancer survivors with or without cancer-related fatigue syndrome. Eur J Cancer 45(3):384–392. https://doi.org/10.1016/j.ejca.2008.09.010

30.

Ware J (1993) SF-36 health survey: manual and interpretation guide. The Health Institute, Boston

31.

Curran SL, Andrykowski MA, Studts JL (1995) Short form of the Profile Of Mood States (POMS-SF): psychometric information. Psychol Assess 7(1):80–83

32.

Godin G, Shephard RJ (1985) A simple method to assess exercise behavior in the community. Can J Appl Sport Sci 10(3):141–146

33.

Paulhus DL (1998) Paulhus deception scales (PDS): balanced inventory of desirable responding-7 user's manual. Multi-Health Systems, Inc., North Tonawanda

34.

Scheier MF, Carver CS, Bridges MW (1994) Distinguishing optimism from neuroticism (and trait anxiety, self-mastery, and self-esteem): a reevaluation of the Life Orientation Test. J Pers Soc Psychol 67(6):1063–1078

35.

Carver CS, Smith RG, Antoni MH, Petronis VM, Weiss S, Derhagopian RP (2005) Optimistic personality and psychosocial well-being during treatment predict psychosocial well-being among long-term survivors of breast cancer. Health Psychol 24(5):508–516. https://doi.org/10.1037/0278-6133.24.5.508

36.

Osoba D, Rodrigues G, Myles J, Zee B, Pater J (1998) Interpreting the significance of changes in health-related quality-of-life scores. J Clin Oncol 16(1):139–144. https://doi.org/10.1200/JCO.1998.16.1.139

37.

Rodriguez S, Gaunt TR, Day IN (2009) Hardy-Weinberg equilibrium testing of biological ascertainment for Mendelian randomization studies. Am J Epidemiol 169(4):505–514. https://doi.org/10.1093/aje/kwn359

38.

Kam-Hansen S, Jakubowski M, Kelley JM, Kirsch I, Hoaglin DC, Kaptchuk TJ, Burstein R (2014) Altered placebo and drug labeling changes the outcome of episodic migraine attacks. Sci Transl Med 6(218):218ra215. https://doi.org/10.1126/scitranslmed.3006175

39.

Hoenemeyer TW, Kaptchuk TJ, Mehta TS, Fontaine KR (2018) Open-label placebo treatment for cancer-related fatigue: a randomized-controlled clinical trial. Sci Rep 8(1):2784. https://doi.org/10.1038/s41598-018-20993-y

40.

Brawley LR, Culos-Reed SN, Angove J, Hoffman-Goetz L (2003) Understanding the barriers to physical activity for cancer patients: review and recommendations. J Psychosoc Oncol 20(4):1–21

41.

Rakvag TT, Ross JR, Sato H, Skorpen F, Kaasa S, Klepstad P (2008) Genetic variation in the catechol-O-methyltransferase (COMT) gene and morphine requirements in cancer patients with pain. Mol Pain 4(1):64. https://doi.org/10.1186/1744-8069-4-64

42.

Tracey I (2010) Getting the pain you expect: mechanisms of placebo, nocebo and reappraisal effects in humans. Nat Med 16(11):1277–1283. https://doi.org/10.1038/nm.2229

43.

Tilburt JC, Emanuel EJ, Kaptchuk TJ, Curlin FA, Miller FG (2008) Prescribing "placebo treatments": results of national survey of US internists and rheumatologists. BMJ 337:a1938
Acknowledgments
The authors thank Ted J. Kaptchuk, John M. Kelley, and Irving Kirsch for their valuable consultation.
Funding
This study was funded by the Foundation for the Science of the Therapeutic Encounter.
Ethics declarations
Study procedures were approved by the hospital IRB and registered in the clinicaltrials.gov (NCT no. 02452710). All participants gave a written consent.
Ethical approval
All procedures performed in studies involving human participants were in accordance with the ethical standards of the institutional and/or national research committee and with the 1964 Helsinki declaration and its later amendments or comparable ethical standards.
Electronic supplementary material
About this article
Cite this article
Zhou, E.S., Hall, K.T., Michaud, A.L. et al. Open-label placebo reduces fatigue in cancer survivors: a randomized trial. Support Care Cancer 27, 2179–2187 (2019). https://doi.org/10.1007/s00520-018-4477-6
Received:

Accepted:

Published:

Issue Date:
Keywords
Open-label placebo

Cancer-related fatigue, cancer survivors

Genetics

Quality of life