Abstract
Purpose
To evaluate the role of specialty palliative care consultation (PCC) on end of life care outcomes among terminally ill gynecologic oncology patients.
Methods
Retrospective chart review of currently deceased gynecologic oncology patients seen at a single, academic institution between October 2006 and October 2016. Clinical characteristics and outcomes were examined using descriptive statistics and logistic regression.
Results
Two hundred and four patients were eligible. Forty-one percent underwent at least one marker of aggressive care at the end of life. Most (53%) had a PCC prior to death, and of these most were inpatient (89%). Patients with a PCC had higher odds of hospice enrollment before death (OR 2.55, p = 0.016) and higher odds of advance care planning documentation before death (OR 6.79, p = < 0.001). Among patients with an inpatient PCC, 44% underwent a marker of aggressive medical care at the end of life and 82% enrolled in hospice before death. Among patients with an outpatient PCC, 25% underwent a marker of aggressive medical care at the end of life and 92% enrolled in hospice before death. Patients with outpatient PCC were engaged in palliative care longer than patients with inpatient PCC (median 106 days vs. 33 days prior to death).
Conclusions
PCC increased hospice enrollment and advance care planning documentation. Patients with outpatient PCC had lower rates of aggressive medical care and higher rates of hospice enrollment when compared to inpatient PCC. Location of initial PCC plays an important role in end of life care outcomes.
This is a preview of subscription content, log in to check access.
Access options
Buy single article
Instant access to the full article PDF.
US$ 39.95
Price includes VAT for USA
Subscribe to journal
Immediate online access to all issues from 2019. Subscription will auto renew annually.
US$ 199
This is the net price. Taxes to be calculated in checkout.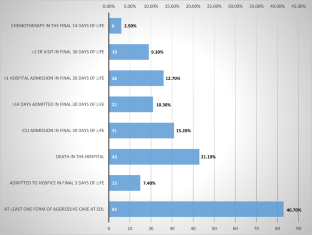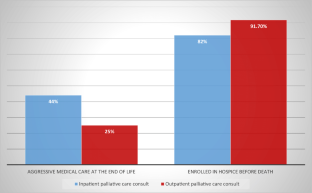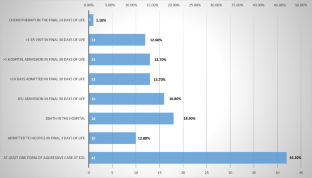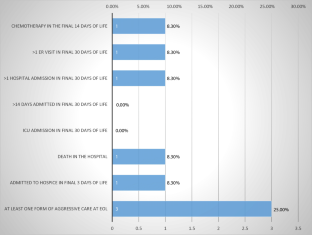 References
1.

Temel JS, Greer JA, Muzikansky A, Gallagher ER, Admane S, Jackson VA, Dahlin CM, Blinderman CD, Jacobsen J, Pirl WF, Billings JA, Lynch TJ (2010) Early palliative care for patients with metastatic non-small-cell lung cancer. N Engl J Med 363:733–742

2.

National Comprehensive Cancer Network: Practice guidelines in oncology.

3.

Smith TJ, Temin S, Alesi ER, Abernethy AP, Balboni TA, Basch EM, Ferrell BR, Loscalzo M, Meier DE, Paice JA, Peppercorn JM, Somerfield M, Stovall E, von Roenn JH (2012) American Society of Clinical Oncology provisional clinical opinion: the integration of palliative care into standard oncology care. J Clin Oncol 30:880–887

4.

Ferrell BR, Temel JS, Temin S, Alesi ER, Balboni TA, Basch EM, Firn JI, Paice JA, Peppercorn JM, Phillips T, Stovall EL, Zimmermann C, Smith TJ (2017) Integration of palliative care into standard oncology care: American Society of Clinical Oncology clinical practice guideline update. J Clin Oncol 35:96–112

5.

von Gruenigen V, Daly B, Gibbons H, Hutchins J, Green A (2008) Indicators of survival duration in ovarian cancer and implications for aggressiveness of care. Cancer 112:2221–2227

6.

Keyser EA, Reed BG, Lowery WJ, Sundborg MJ, Winter WE 3rd, Ward JA et al (2010) Hospice enrollment for terminally ill patients with gynecologic malignancies: impact on outcomes and interventions. Gynecol Oncol 118:274–277

7.

National Voluntary Consensus Standards for Quality of Cancer Care. National quality forum 2009

8.

Bakitas M, Lyons KD, Hegel MT, Balan S, Brokaw FC, Seville J, Hull JG, Li Z, Tosteson TD, Byock IR, Ahles TA (2009) Effects of a palliative care intervention on clinical outcomes in patients with advanced cancer: the Project ENABLE II randomized controlled trial. JAMA 302:741–749

9.

Duggan KT, Hildebrand Duffus S, D'Agostino RB, Petty WJ, Streer NP, Stephenson RC (2017) The impact of hospice services in the care of patients with advanced stage nonsmall cell lung cancer. J Palliat Med 20:29–34

10.

Morrison RS, Dietrich J, Ladwig S, Quill T, Sacco J, Tangeman J, Meier DE (2011) Palliative care consultation teams cut hospital costs for Medicaid beneficiaries. Health Aff (Millwood) 30:454–463

11.

Billings JA, Bernacki R (2014) Strategic targeting of advance care planning interventions: the goldilocks phenomenon. JAMA Intern Med 174:620–624

12.

Lustbader D, Pekmezaris R, Frankenthaler M, Walia R, Smith F, Hussain E, Napolitano B, Lesser M (2011) Palliative medicine consultation impacts DNR designation and length of stay for terminal medical MICU patients. Palliat Support Care 9:401–406

13.

Sacco J, Deravin Carr DR, Viola D (2013) The effects of the palliative medicine consultation on the DNR status of African Americans in a safety-net hospital. Am J Hosp Palliat Care 30:363–369

14.

Blackhall LJ, Read P, Stukenborg G, Dillon P, Barclay J, Romano A, Harrison J (2016) CARE track for advanced cancer: impact and timing of an outpatient palliative care clinic. J Palliat Med 19:57–63

15.

Hui D, Kim SH, Roquemore J, Dev R, Chisholm G, Bruera E (2014) Impact of timing and setting of palliative care referral on quality of end-of-life care in cancer patients. Cancer 120:1743–1749

16.

Mullen MM, Divine LM, Porcelli BP, Wilkinson-Ryan I, Dans MC, Powell MA, Mutch DG, Hagemann AR, Thaker PH (2017) The effect of a multidisciplinary palliative care initiative on end of life care in gynecologic oncology patients. Gynecol Oncol 147:460–464

17.

Fauci J, Schneider K, Walters C, Boone J, Whitworth J, Killian E, Straughn JM Jr (2012) The utilization of palliative care in gynecologic oncology patients near the end of life. Gynecol Oncol 127:175–179

18.

Brown AJ, Sun CC, Prescott LS, Taylor JS, Ramondetta LM, Bodurka DC (2014) Missed opportunities: patterns of medical care and hospice utilization among ovarian cancer patients. Gynecol Oncol 135:244–248

19.

Lopez-Acevedo M, Havrilesky LJ, Broadwater G, Kamal AH, Abernethy AP, Berchuck A, Alvarez Secord A, Tulsky JA, Valea F, Lee PS (2013) Timing of end-of-life care discussion with performance on end-of-life quality indicators in ovarian cancer. Gynecol Oncol 130:156–161

20.

Scibetta C, Kerr K, Mcguire J, Rabow MW (2016) The costs of waiting: implications of the timing of palliative care consultation among a cohort of decedents at a comprehensive cancer center. J Palliat Med 19:69–75
Ethics declarations
Conflicts of interest
The authors declare that they have no conflicts of interest related to this manuscript. Dr. Karlekar is on an advisory board for Hospice Compassus.
About this article
Cite this article
Schneiter, M.K., Karlekar, M.B., Crispens, M.A. et al. The earlier the better: the role of palliative care consultation on aggressive end of life care, hospice utilization, and advance care planning documentation among gynecologic oncology patients. Support Care Cancer 27, 1927–1934 (2019). https://doi.org/10.1007/s00520-018-4457-x
Received:

Accepted:

Published:

Issue Date:
Keywords
Gynecologic cancer

Palliative care

Quality of life