Abstract
Purpose
Endocrine therapy (ET) used to reduce the risk of recurrence in hormone receptor-expressing disease (75% of breast cancers) is associated with worsening of climacteric symptoms with a negative impact on quality of life (QoL). Homeopathy might allow a better management of hot flushes (HF).
Methods
In this multicenter randomized double-blind placebo-controlled phase III study (ClinicalTrials.gov NCT01246427), we enrolled ≥ 18 years old women with histologically proven non metastatic localized breast cancer, with Eastern Cooperative Oncology Group-Performance Status (ECOG-PS) ≤ 1, treated for at least 1 month with adjuvant ET, and complaining about moderate to severe HF. Patients should not be scheduled for chemotherapy or radiotherapy, and had no associated pathology known to induce HF. After a 2- to 4-week placebo administration, we randomly assigned (1:1) patients with HFS ≥ 10 using an interactive web-based centralized platform to BRN-01 homeopathic medicine complex (Actheane®) in arm A or Placebo (Arm P). Randomization was stratified by adjuvant ET (taxoxifen/aromatase inhibitor) and recruiting site. HF scores (HFS) were calculated as the mean of HF frequencies before randomization, at 4, and at 8 weeks post-randomization (pre-, 4w,- and 8w-) weighted by a 4-level intensity scale. Primary endpoint was assessed at 4-week post-randomization, as the variation between pre- and 4w-HFS. Secondary endpoints included HFS variation between pre- and 8w-HFS, compliance and tolerance assessed 8 weeks after randomization, and QoL and satisfaction assessed at 4- and 8-week post-randomization.
Results
Two hundred ninety-nine patients were included, and 138 (46.2%) randomized (A, 65; P, 73). Median 4w-HFS absolute variation (A, − 2.9; P, − 2.5 points, p = 0.756) and relative decrease (A, − 17%; P, − 15%, p = 0.629) were not statistically different. However, 4w-HFS decreased for 46 (75%) in A vs 48 (68%) patients in P arm. 4w-QoL was stable or improved for respectively 43 (72%) vs 51 (74%) patients (p = 0.470).
Conclusions
The efficacy endpoint was not reached, and BRN-01 administration was not demonstrated as an efficient treatment to alleviate HF symptoms due to adjuvant ET in breast cancer patients. However, the study drug administration led to decreased HFS with a positive impact on QoL. Without any recommended treatment to treat or alleviate the HF-related disabling symptoms, Actheane® could be a promising option, providing an interesting support for better adherence to ET, thereby reducing the risk of recurrence with a good tolerance profile.
Access options
Buy single article
Instant access to the full article PDF.
USD 39.95
Price excludes VAT (USA)
Tax calculation will be finalised during checkout.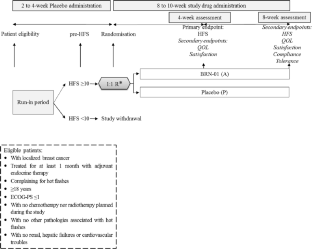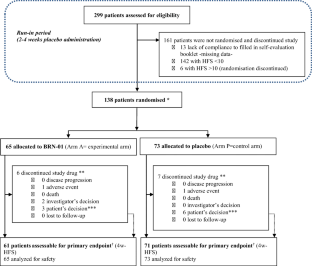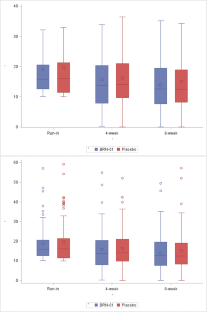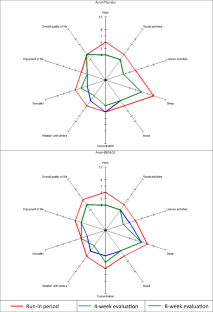 Abbreviations
ET:

Endocrine therapy

QoL:

Quality of life

HF:

Hot flushes.

HFS:

HF score

HFRDIS:

Hot Flash Related Daily Interference Scale
References
Hammond ME (2010) Commentary: improving breast cancer testing for patients-the secret sauce is collaboration. J Oncol Pract 6:198

Guastalla JP (2005) Hormonothérapie adjuvante après la ménopause : dogmes et doutes. 27es journées de la SFSPM. Deauville:469–490

Jones SE, Cantrell J, Vukelja S, Pippen J, O'Shaughnessy J, Blum JL, Brooks R, Hartung NL, Negron AG, Richards DA, Rivera R, Holmes FA, Chittoor S, Whittaker TL, Bordelon JH, Ketchel SJ, Davis JC, Ilegbodu D, Kochis J, Asmar L (2007) Comparison of menopausal symptoms during the first year of adjuvant therapy with either exemestane or tamoxifen in early breast cancer: report of a tamoxifen Exemestane adjuvant multicenter trial substudy. J Clin Oncol 25:4765–4771

Thurlimann B, Keshaviah A, Coates AS, Mouridsen H, Mauriac L, Forbes JF et al (2005) A comparison of letrozole and tamoxifen in postmenopausal women with early breast cancer. N Engl J Med 353:2747–2757

Hershman DL, Shao T, Kushi LH, Buono D, Tsai WY, Fehrenbacher L, Kwan M, Gomez SL, Neugut AI (2011) Early discontinuation and non-adherence to adjuvant hormonal therapy are associated with increased mortality in women with breast cancer. Breast Cancer Res Treat 126:529–537

Morgan A, Fenlon DR (2013) Is it me or is it hot in here? A plea for more research into hot flushes. Clin Oncol (R Coll Radiol) 25:681–683

Complementary, Alternative, or Integrative Health: What's In a Name? https://nccih.nih.gov/health/integrative-health Accessed 09 Aug 2018

Arthur K, Belliard JC, Hardin SB, Knecht K, Chen CS, Montgomery S (2013) Reasons to use and disclose use of complementary medicine use - an insight from cancer patients. Cancer Clin Oncol 2:81–92

Arthur K, Belliard JC, Hardin SB, Knecht K, Chen CS, Montgomery S (2012) Practices, attitudes, and beliefs associated with complementary and alternative medicine (CAM) use among cancer patients. Integr Cancer Ther 11:232–242

Mao JJ, Palmer CS, Healy KE, Desai K, Amsterdam J (2011) Complementary and alternative medicine use among cancer survivors: a population-based study. J Cancer Surviv 5:8–17

Demarque D, Jouanny J, Poitevin B, et al. (2003) Pharmacologie et matière médicale homéopathique. In Editions CEDH (Centre d'Enseignement et de Développement de l'Homéopathie), 3rd Edition Paris, eds

Bordet MF, Colas A, Marijnen P, Masson J, Trichard M (2008) Treating hot flushes in menopausal women with homeopathic treatment--results of an observational study. Homeopathy 97:10–15

Colau JC, Vincent S, Marijnen P, Allaert FA (2012) Efficacy of a non-hormonal treatment, BRN-01, on menopausal hot flushes: a multicenter, randomized, double-blind, placebo-controlled trial. Drugs R D 12:107–119

Sloan JA, Loprinzi CL, Novotny PJ, Barton DL, LaVasseur BI, Windschitl H (2001) Methodologic lessons learned from hot flash studies. J Clin Oncol 19:4280–4290

Carpenter JS (2001) The hot flash related daily interference scale: a tool for assessing the impact of hot flushes on quality of life following breast cancer. J Pain Symptom Manag 22(6):979–989

Chien TJ, Hsu CH, Liu CY, Fang CJ (2017) Effect of acupuncture on hot flush and menopause symptoms in breast cancer- a systematic review and meta-analysis. PLoS One 12(8):e0180918

Spathis A, Fife K, Blackhall F, Bahadori R, Wharton R et al (2014) Modafinil for the treatment of fatigue in lung cancer: results of a placebo-controlled, double-blind, randomized trial. J Clin Oncol 32:1882–1888

Temel JS, Greer JA, Muzikansky A, Gallagher ER, Admane S, Jackson VA, Dahlin CM, Blinderman CD, Jacobsen J, Pirl WF, Billings JA, Lynch TJ (2010) Early palliative care for patients with metastatic non-small-cell lung cancer. N Engl J Med 363:733–742

Denis F, Yossi S, Septans AL, Charron A, Voog E, Dupuis O et al (2015) Improving survival in patients treated for a lung cancer using self-evaluated symptoms reported through a web application. Am J Clin Oncol 40(5):464–469

Mathie RT (2015) Controlled clinical studies of homeopathy. Homeopathy 104:328–332

Mathie RT, Wassenhoven MV, Jacobs J, Oberbaum M, Frye J, Manchanda RK, Roniger H, Dantas F, Legg LA, Clausen J, Moss S, Davidson JRT, Lloyd SM, Ford I, Fisher P (2016) Model validity and risk of bias in randomized placebo-controlled trials of individualised homeopathic treatment. Complement Ther Med 25:120–125

Bann CM, Sirois FM, Walsh EG (2010) Provider support in complementary and alternative medicine: exploring the role of patient empowerment. J Altern Complement Med 16:745–752

Pérol D, Provençal J, Hardy-Bessard AC, Coeffic D, Jacquin JP, Agostini C, Bachelot T, Guastalla JP, Pivot X, Martin JP, Bajard A, Ray-Coquard I (2012 Dec 17) Can treatment with Cocculine improve the control of chemotherapy-induced emesis in early breast cancer patients? A randomized, multi-centered, double-blind, placebo-controlled Phase III trial. BMC Cancer 12:603
Acknowledgments
The authors would like to thank the patients, staff at each study site, and all active investigators for their participation in the study (Online resource 1). We thank Sophie Darnis for medical editorial assistance with this report.
Funding
Laboratoires Boiron provided the study drug Actheane® and its matching placebo, and funds to the sponsor to conduct this study. Laboratoires Boiron had no role in study design, data collection, data analysis, data interpretation, nor writing of the report.
Ethics declarations
Conflict of interest
The authors declare that they have no conflict of interest.
Ethical approval
All procedures performed in studies involving human participants were in accordance with the ethical standards of the institutional and/or national research committee and with the 1964 Helsinki declaration and its later amendments or comparable ethical standards.
Informed consent
An informed consent was obtained from all individual participants included in the study.
Electronic supplementary material
About this article
Cite this article
Heudel, PE., Van Praagh-Doreau, I., Duvert, B. et al. Does a homeopathic medicine reduce hot flushes induced by adjuvant endocrine therapy in localized breast cancer patients? A multicenter randomized placebo-controlled phase III trial. Support Care Cancer 27, 1879–1889 (2019). https://doi.org/10.1007/s00520-018-4449-x
Received:

Accepted:

Published:

Issue Date:

DOI: https://doi.org/10.1007/s00520-018-4449-x
Keywords
Early breast cancer

Hot flushes

Homeopathy

Quality of life