Abstract
Purpose
This study evaluated how breast cancer diagnoses were shared with patients.
Methods
Current members of the Dr. Susan Love Research Foundation's Army of Women cohort were sent one email with a link to a survey assessing how their breast cancer diagnosis was communicated, a description of their support system during treatment, basic demographic information, and breast cancer diagnosis details.
Results
Participants (n = 2896) were more likely to be given their diagnosis over the telephone in more recent years (OR 1.07, 95% CI 1.06–1.08). Up until about 10 years ago (1967–2006), breast cancer diagnoses were communicated in person more often than by telephone. Since 2006, more than half of participants learned about their diagnosis over the telephone. From 2015 to 2017, almost 60% of participants learned about their diagnosis over the telephone. Among those who heard the news in person, a steady 40% were alone. Characteristics of those who received the news over the telephone included having identified support members, heterosexual identity, and a diagnosis of in situ breast cancer.
Conclusions
Receiving a telephone call about breast cancer diagnosis may be the norm rather than the exception in health care today. Trends in practice, as well as current best practices based primarily on expert opinion, may not provide optimal care for women diagnosed with breast cancer. Patient outcome research to guide future practice, such as the impact of modes of delivery of bad news, is urgently needed to determine appropriate patient-centered approaches for notification of breast cancer diagnoses.
Access options
Buy single article
Instant access to the full article PDF.
USD 39.95
Price excludes VAT (USA)
Tax calculation will be finalised during checkout.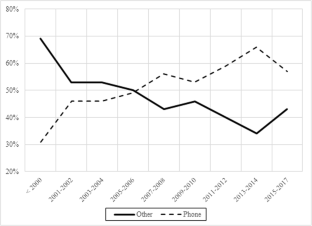 References
O'Connor K (2007) Toward the "tipping point". A new coalition of groups is working quietly to reform U.S. health care. Health Prog 88(3):32–34

Fujimori M, Uchitomi Y (2009) Preferences of cancer patients regarding communication of bad news: a systematic literature review. Jpn J Clin Oncol 39(4):201–216. https://doi.org/10.1093/jjco/hyn159

Kuroki LM, Zhao Q, Jeffe DB, Powell MA, Hagemann AR, Thaker PH, Massad LS, Mutch DG, Zighelboim I (2013) Disclosing a diagnosis of cancer: considerations specific to gynecologic oncology patients. Obstet Gynecol 122(5):1033–1039. https://doi.org/10.1097/AOG.0b013e3182a9bf42

Abazari P, Taleghani F, Hematti S, Ehsani M (2016) Exploring perceptions and preferences of patients, families, physicians, and nurses regarding cancer disclosure: a descriptive qualitative study. Support Care Cancer 24(11):4651–4659. https://doi.org/10.1007/s00520-016-3308-x

Attai DJ, Hampton R, Staley AC, Borgert A, Landercasper J (2016) What do patients prefer? Understanding patient perspectives on receiving a new breast cancer diagnosis. Ann Surg Oncol 23(10):3182–3189. https://doi.org/10.1245/s10434-016-5312-2

Parker PA, Baile WF, Cd M, Lenzi R, Kudelka AP, Cohen L (2001) Breaking bad news about cancer: patients' preferences for communication. J Clin Oncol 19(7):2049–2056. https://doi.org/10.1200/jco.2001.19.7.2049

Butow PNKJ, Beeney LJ, Griffin AM, Dunn SM, Tattersall MH (1996) When the diagnosis is cancer: patient communication experiences and preferences. Cancer 12:2630–2637. https://doi.org/10.1002/(SICI)1097-0142(19960615)77

Girgis A, Sanson-Fisher RW, Schofield MJ (1999) Is there consensus between breast cancer patients and providers on guidelines for breaking bad news? Behav Med 25(2):69–77. https://doi.org/10.1080/08964289909595739

Azu MC, Jean S, Piotrowski JM, O'Hea B (2007) Effective methods for disclosing breast cancer diagnosis. Am J Surg 194(4):488–490. https://doi.org/10.1016/j.amjsurg.2007.06.007

Baile WF, Lenzi R, Parker PA, Buckman R, Cohen L (2002) Oncologists' attitudes toward and practices in giving bad news: an exploratory study. J Clin Oncol 20(8):2189–2196. https://doi.org/10.1200/jco.2002.08.004

Choudhry A, Hong J, Chong K, Jiang B, Hartman R, Chu E, Nelson K, Wei ML, Nguyen T (2015) Patients' preferences for biopsy result notification in an era of electronic messaging methods. JAMA Dermatol 151(5):513–521. https://doi.org/10.1001/jamadermatol.2014.5634

Cohen B (2015) When the news is bad, should you phone it in? Medscape. https://www.medscape.com/viewarticle/856250. Accessed 01/02/2018

Diefenbach M, Turner G, Carpenter KM, Sheldon LK, Mustian KM, Gerend MA, Rini C, von Wagner C, Gritz ER, McQueen A, Prayor-Patterson HM, Miller S (2009) Cancer and patient-physician communication. J Health Commun 14(Suppl 1):57–65. https://doi.org/10.1080/10810730902814079

Seifart C, Hofmann M, Bar T, Riera Knorrenschild J, Seifart U, Rief W (2014) Breaking bad news-what patients want and what they get: evaluating the SPIKES protocol in Germany. Ann Oncol 25(3):707–711. https://doi.org/10.1093/annonc/mdt582

Schofield PE, Butow PN, Thompson JF, Tattersall MH, Beeney LJ, Dunn SM (2003) Psychological responses of patients receiving a diagnosis of cancer. Ann Oncol 14(1):48–56

Baile WF, Buckman R, Lenzi R, Glober G, Beale EA, Kudelka AP (2000) SPIKES-A six-step protocol for delivering bad news: application to the patient with cancer. Oncologist 5(4):302–311

Narayanan V, Bista B, Koshy C (2010) 'BREAKS' protocol for breaking bad news. Indian J Palliat Care 16(2):61–65. https://doi.org/10.4103/0973-1075.68401

Kaye P (1996) Breaking bad news : a 10 step approach. EPL, Northampton

Pereira CR, Calonego MA, Lemonica L, Barros GA (2017) The P-A-C-I-E-N-T-E Protocol: an instrument for breaking bad news adapted to the Brazilian medical reality. Rev Assoc Med Bras 63(1):43–49. https://doi.org/10.1590/1806-9282.63.01.43

Dean A, Willis S (2016) The use of protocol in breaking bad news: evidence and ethos. Int J Palliat Nurs 22(6):265–271. https://doi.org/10.12968/ijpn.2016.22.6.265

Purnell CA, Arnold RM (2010) Retrospective analysis of communication with patients undergoing radiological breast biopsy. J Support Oncol 8(6):259–263

Sparks L, Villagran MM, Parker-Raley J, Cunningham CB (2007) A patient-centered approach to breaking bad news: communication guidelines for health care providers. J Appl Commun Res 35(2):177–196. https://doi.org/10.1080/00909880701262997

Boxer RJ (2017) Telemedicine: remote cancer care improves communication. Oncol Times 39(2):1, 10, 16

Sabesan S, Larkins S, Evans R, Varma S, Andrews A, Beuttner P, Brennan S, Young M (2012) Telemedicine for rural cancer care in North Queensland: bringing cancer care home. Aust J Rural Health 20(5):259–264. https://doi.org/10.1111/j.1440-1584.2012.01299.x

Burger A (2017) Pew: U.S. smartphone ownership, broadband penetration reached record levels in 2016. Telecompetitor. https://www.telecompetitor.com/pew-u-s-smartphone-ownership-broadband-penetration-reached-record-levels-in-2016/. Accessed 16 Jul 2018

Sheetz SD, Kavanagh AM, Quek F, Kim BJ, Lu S (2009) Expectation of connectedness and cell phone use in crisis. In: Landgren J, Bvd W, Jul S (eds) ISCRAM 2009, Boundary spanning initiatives and new perspectives: Conference proceedings: 10th–13th of May, Gothenburg, Sweden. University of Gothenburg, Gothenburg

Giardina TD, Modi V, Parrish DE, Singh H (2015) The patient portal and abnormal test results: an exploratory study of patient experiences. Patient Exp J 2(1):148–154

Devine EB, Totten AM, Gorman P, Eden KB, Kassakian S, Woods S, Daeges M, Pappas M, McDonagh M, Hersh WR (2017) Health information exchange use (1990-2015): a systematic review. EGEMS 5(1):27. https://doi.org/10.5334/egems.249

Pillemer F, Price RA, Paone S, Martich GD, Albert S, Haidari L, Updike G, Rudin R, Liu D, Mehrotra A (2016) Direct release of test results to patients increases patient engagement and utilization of care. PLoS One [Electronic Resource] 11 (6):e0154743. doi:https://doi.org/10.1371/journal.pone.0154743

Arora NK (2003) Interacting with cancer patients: the significance of physicians' communication behavior. Soc Sci Med 57(5):791–806

Herndon JH, Pollick KJ (2002) Continuing concerns, new challenges, and next steps in physician-patient communication. J Bone Joint Surg (Am Vol) 84-A(2):309–315

Dibble SL, Roberts SA (2002) A comparison of breast cancer diagnosis and treatment between lesbian and heterosexual women. J Gay Lesbian Med Assoc 6(1):9–17. https://doi.org/10.1023/A:1020384614817

Cancer facts & figures 2018. (2018) American Cancer Society. https://www.cancer.org/content/dam/cancer-org/research/cancer-facts-and-statistics/annual-cancer-facts-and-figures/2018/cancer-facts-and-figures-2018.pdf. Accessed 14 May 14

Monden KR, Gentry L, Cox TR (2016) Delivering bad news to patients. Proc (Bayl Univ Med Cent) 29(1):101–102
Ethics declarations
Ethical approval
All procedures performed in studies involving human participants were in accordance with the ethical standards of the institutional and/or national research committee and with the 1964 Helsinki declaration and its later amendments or comparable ethical standards.
Electronic supplementary material
About this article
Cite this article
McElroy, J.A., Proulx, C.M., Johnson, L. et al. Breaking bad news of a breast cancer diagnosis over the telephone: an emerging trend. Support Care Cancer 27, 943–950 (2019). https://doi.org/10.1007/s00520-018-4383-y
Received:

Accepted:

Published:

Issue Date:

DOI: https://doi.org/10.1007/s00520-018-4383-y
Keywords
Breast cancer diagnosis

Patient-provider communication

Telephone communication

Bad news