Abstract
Objectives
Patients with breast cancer who receive weekly paclitaxel therapy may experience deleterious effects associated with prophylactic dexamethasone use for 12 consecutive weeks. Approximately 90% of paclitaxel hypersensitivity reactions (HSRs) occur within the first 10 to 15 min of the first two infusions. We investigated the feasibility of dexamethasone withdrawal between weeks 3 and 12 (W3 and W12) in early stage breast cancer patients treated with weekly paclitaxel at the standard dose (80 mg/m2).
Methods
All patients received intravenous prophylaxis of dexamethasone 20 mg, ranitidine 50 mg, and diphenhydramine 50 mg in the first 2 weeks (W1 and W2) of treatment. Provided that no serious (G3/G4) HSRs events occurred, dexamethasone was omitted between W3 and W12, while ranitidine and diphenhydramine were continued. The primary end point was the incidence of any grade HSRs during the treatment period, and the secondary end points were quality of life and weight changes.
Results
Twenty-five patients were included in the study, and 300 infusion cycles of paclitaxel were evaluated for HSRs. The overall incidence of HSRs was 0.6% (2 events), and both of these events occurred in the first week. There were no incidents of serious HSRs or anaphylaxis and no G3 or G4 toxicities. Scores from the EORTC QLQ-C30 questionnaire did not change significantly for the global health status/quality of life scale or for the symptoms scales, although changes in scores differed significantly for the functional scales. There were no clinically relevant weight changes during the treatment period.
Conclusions
Dexamethasone withdrawal from W3 to W12 in early stage breast cancer patients treated with weekly paclitaxel is feasible. The incidence of all grades of HSRs was comparable to that reported in trials with dexamethasone for 12 consecutive weeks, and no serious events (G3/G4) occurred. Studies with larger sample sizes are needed to confirm our results which are important, especially for patients for whom corticosteroids are contraindicated.
Access options
Buy single article
Instant access to the full article PDF.
US$ 39.95
Tax calculation will be finalised during checkout.
Subscribe to journal
Immediate online access to all issues from 2019. Subscription will auto renew annually.
US$ 119
Tax calculation will be finalised during checkout.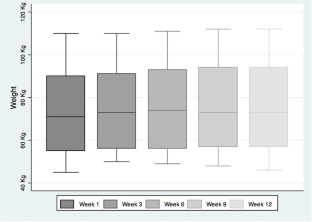 References
1.

Picard M, Castells MC (2014) Re-visiting hipersensitivity reactions to taxanes: a comprehensive review. Rev Allerg Immunol. https://doi.org/10.1007/s12016-014-8416-0

2.

Weiss RB et al (1992) Hypersensitivity reactions. Semin Oncol 19(5):458–477

3.

Banerji A et al (2014) Management of hypersensitivity reactions to carboplatin and paclitaxel in an outpatient oncology infusion center: a 5-year review. J Allergy Clin Immunol Pract 2(4):428–433

4.

Robinson JB et al (2001) Hypersensitivity reactions and the utility of oral and intravenous desensitization in patients with gynaecologic malignancies. Gynecol Oncol 82(3):550–558

5.

Sparano JA et al (2008) Weekly paclitaxel in the adjuvant treatment of breast cancer. N Engl J Med 358(16):1663–1671

6.

Greco FA et al (1999) One-hour paclitaxel infusions: review of safety and efficacy. Cancer J Sci Am 5(3):179–191

7.

Tsavaris N et al. A simplified premedication protocol for one-hour paclitaxel infusion in various combinations. J Support Oncol 2005;3(1):77–81

8.

Dewaele E et al (2017) Premedication strategy for paclitaxel, still an unsolved question after years. Belg J Med Oncol 11(2):46–55

9.

Green MC et al. Rates of adverse events with low-dose dexamethasone (Dex) as premedication of weekly paclitaxel (Pac) utilized as adjuvant/neoadjuvant therapy for operable breast cancer. Program and abstracts of the American Society of Clinical Oncology 2009 Breast Cancer Symposium; Abstract 307

10.

Braverman AS et al (2005) Tapering and discontinuation of glucocorticoid prophylaxis during prolonged weekly to biweekly paclitaxel administration. Chemotherapy 51(2–3):116–119

11.

Quock J, Dea G, Tanaka M, Gandara D, Lara P, Lau D (2002) Premedication strategy for weekly paclitaxel. Cancer Investig 20:666–672

12.

Koppler H et al (2001) Dose reduction of steroid premedication for paclitaxel: no increase of hypersensitivity reactions. Onkologie 24(3):283–285 English, German

13.

Lenz HJ et al (2007) Management and preparedness for infusion and hypersensitivity reactions. Oncologist 12(5):601–609

14.

Berger MJ et al (2015) Stopping paclitaxel premedication after two doses in patients not experiencing a previous infusion hypersensitivity reaction. Support Care Cancer 23(7):2019–2024

15.

National Cancer Institute (US). Division of cancer treatment and diagnosis. Common toxicity criteria (Computer Program). Version v4.03: June 14, 2010. NCI

16.

Aaronson NK et al (1993) The European Organization for Research and Treatment of Cancer QLQ-C30: a quality-of-life instrument for use in international clinical trials in oncology. J Natl Cancer Inst 85(5):365–376

17.

Klee M et al (1997) Quality of life of Danish women: population based norms for the EORTC QLQ-C30. Qual Life Res 6:27–34

18.

Ricci MD et al (2014) Variations in the body mass index in Brazilian women undergoing adjuvant chemotherapy for breast cancer. Rev Bras Ginecol Obstet 36(11):503–543

19.

Chauhan N et al (2015) Comparative study of quality of life in breast cancer patients receiving two different chemotherapy regimens using European Organization for Research and Treatment of Cancer Quality of Questionnaire-Core 30 questionnaire module for tolerability and safety. Int J Basic Clin Pharmacol 4(4):664–672

20.

Stone P et al (1998) Fatigue in patients with cancer. Eur J Cancer 34(11):1670
Ethics declarations
The clinical trial was approved by the Institution's Ethics Committee.
Conflict of interest
The authors declare that they have no conflict of interest.
About this article
Cite this article
de Castro Baccarin, A.L., Irene, M.N., de Iracema Gomes Cubero, D. et al. The feasibility of dexamethasone omission in weekly paclitaxel treatment for breast cancer patients. Support Care Cancer 27, 927–931 (2019). https://doi.org/10.1007/s00520-018-4381-0
Received:

Accepted:

Published:

Issue Date:
Keywords
Paclitaxel

Hypersensitivity reactions

Prophylaxis

Dexamethasone