Abstract
Background
Palliative care (PC) and psychosocial care (PSC) are essential services, which can positively impact on quality of life in patients with metastatic lung cancer, when advanced disease and poor prognosis preclude the use of curative therapies. The aims of this study were to describe patterns of PC and PSC and identify factors associated with service utilisation and overall patient survival.
Method
A retrospective Australian cohort of South Western Sydney residents with newly diagnosed stage IV non-small cell lung cancer (NSCLC) in 2006–2012 was identified from the Local Health District Clinical Cancer Registry. Supplemental information was sourced from the area PC database and hospital medical records. Cox regression models with robust variance identified factors associated with PC and PSC and examined patient survival.
Results
A total of 923 patients were identified. Eighty-three per cent of patients were seen by PC, with 67% seen within 8 weeks of diagnosis. PSC utilisation was 82%. Radiotherapy treatment and residential area were associated with both PC and PSC. Increasing age was associated with early PC referral. Median overall survival was 4 months. PC was associated with patient survival; however, the effect varied over time.
Conclusion
The rate of PC and PSC in our metastatic NSCLC population was high when compared with published data. Despite this, there were gaps in PC and PSC provision in this population, notably with patients not receiving active treatment, and those receiving systemic therapy utilising these services less frequently. PSC and PC contact were not convincingly associated with improved patient survival.
This is a preview of subscription content, log in to check access.
Access options
Buy single article
Instant access to the full article PDF.
US$ 39.95
Price includes VAT for USA
Subscribe to journal
Immediate online access to all issues from 2019. Subscription will auto renew annually.
US$ 199
This is the net price. Taxes to be calculated in checkout.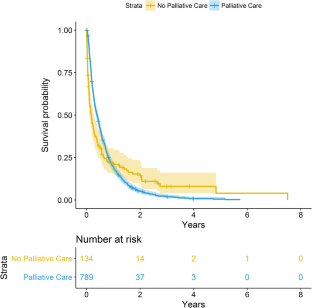 References
1.

Cancer Institute NSW (2012) Cancer survival in NSW 2002–06. Cancer Institute NSW, Sydney

2.

Walters S, Maringe C, Coleman MP, Peake MD, Butler J, Young N, Bergstrom S, Hanna L, Jakobsen E, Kolbeck K, Sundstrom S, Engholm G, Gavin A, Gjerstorff ML, Hatcher J, Johannesen TB, Linklater KM, McGahan CE, Steward J, Tracey E, Turner D, Richards MA, Rachet B, Group IMW (2013) Lung cancer survival and stage at diagnosis in Australia, Canada, Denmark, Norway, Sweden and the UK: a population-based study, 2004-2007. Thorax 68(6):551–564. https://doi.org/10.1136/thoraxjnl-2012-202297

3.

Duggan KT, Hildebrand Duffus S, D'Agostino RB Jr, Petty WJ, Streer NP, Stephenson RC (2017) The impact of hospice services in the care of patients with advanced stage nonsmall cell lung cancer. J Palliat Med 20(1):29–34. https://doi.org/10.1089/jpm.2016.0064

4.

Temel JS, Greer JA, Muzikansky A, Gallagher ER, Admane S, Jackson VA, Dahlin CM, Blinderman CD, Jacobsen J, Pirl WF, Billings JA, Lynch TJ (2010) Early palliative care for patients with metastatic non-small-cell lung cancer. N Engl J Med 363(8):733–742

5.

Rueda JR, Sola I, Pascual A, Subirana Casacuberta M (2011) Non-invasive interventions for improving well-being and quality of life in patients with lung cancer. Cochrane Database Syst Rev 9:CD004282. https://doi.org/10.1002/14651858.CD004282.pub3

6.

South Western Sydney Local Health District (2014) Health profile of local communities. Available at https://www.swslhd.health.nsw.gov.au/planning/content/pdf/SWSLHD%20Community%20Profile%20Summary%20070814.pdf. Accessed 1 Nov 2014

7.

Australian Institute of Health and Welfare (2011) Identifying palliative care seperations in admitted patient data: technical paper. Canberra, Australia

8.

Australian Bureau of Statistics (2011) Australian Statistical Geography Standard (ASGS): Volume 1 - Main Structure and Greater Capital City Statistical Areas

9.

Edge S, Byrd DR, Compton CC, Fritz AG, Greene FL, Trotti A (eds) (2010) AJCC cancer staging manual, 7th Edition, 7th edn. Springer, New York

10.

Australian Bureau of Statistics (2008) Information paper: an introduction to socio-economic indexes for areas (SEIFA), 2006. ABS, Canberra

11.

Barros AJ, Hirakata VN (2003) Alternatives for logistic regression in cross-sectional studies: and empirical comparison of models that directly estimate prevalence ratio. BMC Med Res Methodol 3:21

12.

Rosenwax LK, McNamara BA (2006) Who receives specialist palliative care in Western Australia - and who misses out. Palliat Med 20:439–445

13.

Philip J, Hudson P, Bostanci A, Street A, Horey DE, Aranda S, Zordan R, Rumbold BD, Moore G, Sundararajan V (2015) Metastatic non-small cell lung cancer: a benchmark for quality end-of-life cancer care? Med J Aust 202(3):139–143

14.

Scibetta C, Kerr K, McGuire J, Rabow M (2016) The costs of waiting: implications of the timing of palliative care consultation among a cohort of decedents at a comprehensive cancer center. J Palliat Med 19(1):69–75

15.

Hui D, Kim SH, Kwon JH, Tanco KC, Zhang T, Kang JH, Rhondall W, Chisholm G, Bruera E (2012) Access to palliative care among patients treated at a comprehensive cancer center. Oncologist 17:1574–1580. https://doi.org/10.1634/theoncologist.2012-0192

16.

Bennett MI, Ziegler L, Allsop M, Daniel S, Hurlow A (2016) What determines duration of palliative care before death for patients with advanced disease? A retrospective cohort study of community and hospital palliative care provision in a large UK city. BMJ Open 6(12):e012576. https://doi.org/10.1136/bmjopen-2016-012576

17.

Hoerger M, Greer JA, Jackson VA, Park ER, Pirl WF, El-Jawahri A, Gallagher ER, Hagan T, Jacobsen J, Perry LM, Temel JS (2018) Defining the elements of early palliative care that are associated woth patient-reported outcomes and the delivery of end-of-life care. J Clin Oncol 36(11):1096–1102. https://doi.org/10.1200/JCO

18.

Hui D, Kim S, Roquemore J, Dev R, Chisholm G, Bruera E (2014) Impact of timing and setting of palliative care referral on quality of end-of-life care in cancer patients. Cancer 120:1743–1749. https://doi.org/10.1002/cncr.28628

19.

Hui D, Bansal S, Strasser F, Morita T, Carceni A, Davis M, Cherny N, Kaasa S, Currow DC, Abernathy A, Nekolaichuk C, Bruera E (2015) Indicators of integration of oncology and palliative care programs: an interntional consensus. Ann Oncol 26:1593–1959. https://doi.org/10.1093/annonc/mdv269

20.

Boxer MM, Vinod SK, Shafiq J, Duggan KJ (2011) Do multidisciplinary team meetings make a difference in the management of lung cancer? Cancer 117(22):5112–5120. https://doi.org/10.1002/cncr.26149

21.

Ellis J, Lin J, Walsh A, Lo C, Shepherd FA, Moore M, Li M, Gagliese L, Zimmermann C, Rodin G (2009) Predictors of referral for specialized psychosocial oncology care in patients with metastatic cancer: the contributions of age, distress, and marital status. J Clin Oncol 27(5):699–705. https://doi.org/10.1200/JCO.2007.15.4864

22.

Pascoe S, Edelman S, Kidman A (2000) Prevalence of psychological distress and use of support services by cancer patients at Sydney hospitals. Aust N Z J Psychiatry 34(5):785–791

23.

Royal College of Physicians (2017) National Lung Cancer Audit Annual Report 2016. London

24.

Kelly M, O'Brien KM, Lucey M, Clough-Gorr K, Hannigan A (2018) Indicators for early assessment of palliative care in lung cancer patients: a population study using linked health data. BMC Palliat Care 17(1):37. https://doi.org/10.1186/s12904-018-0285-5

25.

Paesmans M (2012) Prognostic and predictive factors for lung cancer. Breathe 9(2):112–121. https://doi.org/10.1183/20734735.006911
Ethics declarations
Conflict of interest
The authors declare that they have no conflicts of interest.
About this article
Cite this article
Duggan, K.J., Wiltshire, J., Strutt, R. et al. Palliative care and psychosocial care in metastatic non-small cell lung cancer: factors affecting utilisation of services and impact on patient survival. Support Care Cancer 27, 911–919 (2019). https://doi.org/10.1007/s00520-018-4379-7
Received:

Accepted:

Published:

Issue Date:
Keywords
Lung neoplasms

Palliative care

Psychosocial care

Survival

Service utilisation