Abstract
Objective
Post-traumatic growth (PTG) could be beneficial to cancer survivors who translate growth cognitions or emotional processes into positive behavior changes. The current study aimed to determine how post-traumatic growth (PTG) is associated with health behaviors in couples coping with cancer. Specifically, five hypothetical models based on PTG domains were created to better understand the dyadic relationship between PTG domain and health behaviors.
Methods
A total of 91 breast, colorectal, and prostate cancer survivor-spouse dyads were collected from the University Hospital Registry in Cleveland, Ohio. Standardized questions regarding PTG and health behaviors including eating and exercise were used. The actor-partner interdependence model with the use of structural equation modeling was utilized to analyze dyadic data.
Results
Findings indicated that survivor actor effects of PTG on health behaviors were observed for survivors only. In the spiritual change and appreciation of life PTG models, the survivor or the spouse partner effects were observed, respectively. The spiritual change model produced the best fit of all of the other models, indicating both a survivor actor effect and survivor partner effect of spiritual change PTG on health behaviors. Thus, the relationships between PTG and health behavior at the dyadic level differed by five domains of PTG.
Conclusions
The findings reveal valuable insight into the nature of relationships between PTG and health behaviors at the individual and dyadic levels. The changed philosophies of life for cancer survivor-spouse dyads can specifically encourage healthy behaviors of couples coping with cancer.
This is a preview of subscription content, log in to check access.
Access options
Buy single article
Instant access to the full article PDF.
US$ 39.95
Price includes VAT for USA
Subscribe to journal
Immediate online access to all issues from 2019. Subscription will auto renew annually.
US$ 199
This is the net price. Taxes to be calculated in checkout.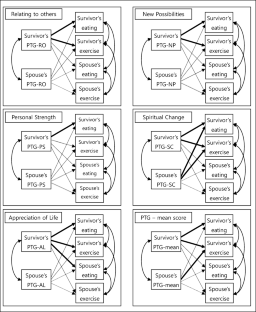 References
1.

Jones (2014) Survivorship care plans: where are we now? Oncology Exchange 13:14–17

2.

Faul et al (2012) Survivorship care planning in colorectal cancer: feedback from survivors & providers. J Psychosoc Oncol 30:198–216

3.

Institute of Medicine (2006) From cancer patient to cancer survivor: lost in transition. The National Academies Press, Washington DC

4.

Stanton, Bower, Low (2006) Posttraumatic growth after cancer. In: Calhoun LG, Tedschi RG (eds) Handbook of posttraumatic growth: research & practice. Lawrence Erlbaum associates publishers, Mahwah, pp 138–175

5.

Kim, Carver, Cannady (2015) Caregiving motivation predicts long-term spirituality and quality of life of the caregivers. Ann Behav Med 49:500–509

6.

Kim, Given (2008) Quality of life of family caregivers of cancer survivors. Cancer 112(S11):2556–2568

7.

Hagedoorn, Sanderman, Bolks, Tuinstra, Coyne (2008) Distress in couples coping with cancer: a meta-analysis and critical review of role and gender effects. Psychol Bull 134:1–30

8.

Lim, Shon, Paek, Daly (2014) The dyadic effects of coping and reslience on psychological distress for cancer survivor couples. Support Care Cancer 22(12):3209–3217

9.

Rajandram, Jenewein, McGrath, Zwahlen (2011) Coping processes relevant to posttraumatic growth: an evidence-based review. Support Care Cancer 19:583–589

10.

Taylor (1983) Adjustment to threatening events: a theory of cognitive adaptation. Am Psychol 38:1161–1173

11.

Tedeschi & Calhoun, eds. A surprise attack, a surprise result: posttraumatic growth through expert companionship. In: G.W. Burns ed. Happiness, healing, enhancement: your casebook collection for applying positive psychology in therapy. 2010, Wiley: Hoboken 226–236

12.

Svetina, Nastran (2012) Family relationships and post-traumatic growth in breast cancer patients. Psychiatr Danub 24(3):298–306

13.

Rinaldis, Pakenham, Lynch (2010) Relationships between quality of life and finding benefits in a diagnosis of colorectal cancer. Br J Psychol 101:259–275

14.

Jansen, Hoffmeister, Chang-Claude, Brenner, Arndt (2011) Benefit finding and post-traumatic growth in long-term colorectal cancer survivors: prevalence, determinants, and associations with quality of life. Br J Cancer 105:1158–1165

15.

Thornton (2002) Perceiving benefits in the cancer experience. J Clin Psychol Med Settings 9:153–165

16.

Zwahlen, Hagenbuch, Carley, Jenewein, Buchi (2010) Posttraumatic growth in cancer patients and partners--effects of role, gender and the dyad on couples' posttraumatic growth experience. Psychooncology 19(1):12–20

17.

Silva, Crespo, Canavarro (2012) Pathways for psychological adjustment in breast cancer: a longitudinal study on coping strategies and posttraumatic growth. Psychol Health 27(11):1323–1341

18.

Deci, Ryan (2000) The 'what' and 'why' of goal pursuits: human needs and the self-determination of behavior. Psychol Inq 11(4):227–268

19.

Shakespeare-Finch, Barrington (2012) Behavioural changes add validity to the construct of posttraumatic growth. J Trauma Stress 25(4):433–439

20.

Morris, Shakespeare-Finch, Scott (2012) Posttraumatic growth after cancer: the importance of health-related benefits and newfound compassion for others. Support Care Cancer 20(4):749–756

21.

Hefferon, Grealy, Mutrie (2009) Post-traumatic growth and life threatening physical illness: a systematic review of the qualitative literature. Br J Health Psychol 14(Pt 2):343–378

22.

Ryan (2009) Integrated theory of health behavior change: background and intervention development. Clin Nurse Spec 23(3):161–172

23.

Tedeschi, Calhoun (1996) The Posttraumatic Growth Inventory: measuring the positive legacy of trauma. J Trauma Stress 9:455–471

24.

Kenny, Kashy, Cook (2006) Dyadic data analysis. Guilford Press, New York

25.

Cann et al (2010) A short form of the posttraumatic growth inventory. Anxiety Stress Coping 23(2):127–137

26.

Tambling, Johnson, Johnson (2011) Analyzing dyadic data from small samples: a pooled regression actor-partner interdependence model approach. CORE 2(2):101–114

27.

Ledermann, Macho, Kenny (2011) Assessing mediation in dyadic data using the actor-partner interdependence model. Struct Equ Model 18:595–612

28.

Enders, Bandalos (2001) The relative performance of full information maximum likelihood estimation for missing data in structural equation models. Struct Equ Model 8(3):430–457

29.

Sarfati, Koczwara, Jackson (2016) The impact of comorbidity on cancer and its treatment. CA Cancer J Clin 66(4):337–350

30.

Manne et al (2014) Unsupportive partner behaviors, social-cognitive processing, and psychological outcomes in couples coping with early stage breast cancer. J Fam Psychol 28(2):214–224

31.

Steiger (1990) Structural model evaluation and modification: an interval estimation approach. Multivar Behav Res 25:173–180

32.

Bentler (1990) Comparative fix indexes in structural models. Psychol Bull 107(2):238–246

33.

Ramos, Leal (2013) Posttraumatic growth in the aftermath of trauma: a literature review about related factors and application contexts. PCH 2(1):43–54

34.

Prati, Pietrantoni (2009) Optimism, social support, and coping strategies as factors contributing to posttraumatic growth: a meta-analysis. J Loss Trauma 14(5):5364–5388

35.

Litzelman, Green, Yabroff (2016) Cancer and quality of life in spousal dyads: spillover in couples with and without cancer-related health problems. Support Care Cancer 24(2):763–771

36.

Girgis, Lambert, Johnson, Waller, Currow (2013) Physical, psychosocial, relationship, and economic burden of caring for people with cancer: a review. J Oncol Pract 9(4):197–202

37.

Maleknia, Kahrazei (2015) The relationship between stress coping styles and quality of life among patient with breast cancer. JMRH 3(4):472–478

38.

Krause (2005) God-mediated control and psychological well-being in late life. Psychol Aging 13:553–562

39.

Rabinowitz, Mausbach, Atkinson, Gallagher-Thompson (2009) The relationship between religiosity and health behaviors in female caregivers of older adults with dementia. Aging Ment Health 13(6):788–798

40.

Cadell, Suarez, Hemsworth (2015) Reliability and validity of a french version of the posttraumatic growth inventory. OJMP 4:53–65
Funding
This work was supported by Kangnam University Research Grant.
Ethics declarations
Conflict of interest
The authors declare that they have no conflict of interest.
Additional information
Control of the Data
The authors have full control of all primary data and agree to allow the journal to review our data if requested.
About this article
Cite this article
Lim, J. The role of post-traumatic growth in promoting healthy behavior for couples coping with cancer. Support Care Cancer 27, 829–838 (2019). https://doi.org/10.1007/s00520-018-4359-y
Received:

Accepted:

Published:

Issue Date:
Keywords
Cancer survivor

Dyadic relationships

Health behavior

Post-traumatic growth