Abstract
Fatigue is one of the most common and debilitating cancer symptoms, and is associated with impaired quality of life. The exact pathophysiology of cancer-related fatigue (CRF) is poorly understood, but in any individual, it is likely multifactorial and involves inter-related cytokine, muscular, neurotransmitter, and neuroendocrine changes. Underlying CRF mechanisms proposed include central and peripheral hypotheses. Central mechanisms include hypotheses about cytokine dysregulation, hypothalamic-pituitary-adrenal-axis disruption, circadian rhythm disruption, serotonin, and vagal afferent nerve function while peripheral mechanisms include hypotheses about adenosine triphosphate and muscle contractile properties. Currently, these hypotheses are largely based on evidence from other conditions in which fatigue is characteristic. The purpose of this article is to provide a narrative review of the literature and present the current controversies in the pathophysiology of CRF, particularly in relation to central and peripheral hypotheses for CRF. An understanding of pathophysiology may facilitate direct and simple therapeutic interventions for those with cancer.
This is a preview of subscription content, log in to check access.
Access options
Buy single article
Instant access to the full article PDF.
US$ 39.95
Price includes VAT for USA
Subscribe to journal
Immediate online access to all issues from 2019. Subscription will auto renew annually.
US$ 199
This is the net price. Taxes to be calculated in checkout.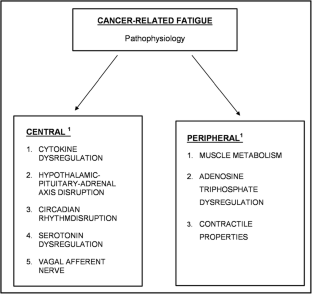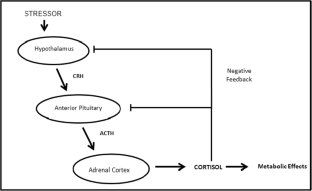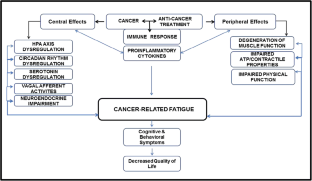 References
1.

Berger AM, Mooney K, Alvarez-Perez A, Breitbart WS, Carpenter KM, Cella D, Cleeland C, Dotan E, Eisenberger MA, Escalante CP, Jacobsen PB, Jankowski C, LeBlanc T, Ligibel JA, Loggers ET, Mandrell B, Murphy BA, Palesh O, Pirl WF, Plaxe SC, Riba MB, Rugo HS, Salvador C, Wagner LI, Wagner-Johnston ND, Zachariah FJ, Bergman MA, Smith C, National comprehensive cancer network (2015) Cancer-related fatigue, version 2.2015. J Natl Compr Cancer Netw 13(8):1012–1039

2.

Barsevick A, Frost M, Zwinderman A, Hall P, Halyard MI (2010) M so tired: biological and genetic mechanisms of cancer-related fatigue. Qual Life Res 19:1419–1427

3.

Hofman M, Ryan JL, Figueroa-Moseley CD, Jean-Pierre P, Morrow GR (2007) Cancer-related fatigue: the scale of the problem. Oncologist 12(Suppl 1):4–10

4.

Minton O, Berger A, Barsevick A, Cramp F, Goedendorp M, Mitchell SA, Stone PC (2013) Cancer-related fatigue and its impact on functioning. Cancer 119:2124–2130

5.

Kirkova J, Aktas A, Walsh D, Rybicki L, Davis MP (2010) Consistency of symptom clusters in advanced Cancer. American Journal of Hospice and Palliative Medicine® 27:342–346

6.

Radbruch L, Strasser F, Elsner F, Gonçalves JF, Løge J, Kaasa S, Nauck F, Stone P, the Research Steering Committee of the European Association for Palliative Care (EAPC) (2008) Fatigue in palliative care patients -- an EAPC approach. Palliat Med 22(1):13–32

7.

Bower JE, Bak K (2014) Berger a, et al.; an American Society of Clinical Oncology. Screening, assessment, and management of fatigue in adult survivors of cancer: an American Society of Clinical oncology clinical practice guideline adaptation. J Clin Oncol 32:1840–1850

8.

Seyidova-Khoshknabi D, Davis MP, Walsh D (2011) Review article: a systematic review of cancer-related fatigue measurement questionnaires. Am J Hosp Palliat Care 28:119–129

9.

Mortimer JE, Barsevick AM, Bennett CL, Berger AM, Cleeland C, DeVader SR, Escalante C, Gilreath J, Hurria A, Mendoza TR, Rugo HS (2010) Studying cancer-related fatigue: report of the NCCN scientific research committee. J Natl Compr Cancer Netw 8:1331–1339

10.

Davis MP, Walsh D (2010) Mechanisms of fatigue. J Support Oncol 8(4):164–174

11.

Gandevia SC (2001) Spinal and supraspinal factors in human muscle fatigue. Physiol Rev 81(4):1725–1789

12.

Yavuzsen T, Davis MP, Ranganathan VK, Walsh D, Siemionow V, Kirkova J, Khoshknabi D, Lagman R, LeGrand S, Yue GH (2009) Cancer-related fatigue: central or peripheral? J Pain Symptom Manag 38:587–596

13.

Prinsen H, Van Dijk J, Zwarts M et al (2015) The role of central and peripheral muscle fatigue in Postcancer fatigue: a randomized controlled trial. J Pain Symptom Manag 49(2):173–182

14.

Saligan LN, Olson K, Filler K et al (2015) The biology of cancer-related fatigue: a review of the literature. Support Care Cancer 23:2461–2478

15.

Pertl MM, Hevey D, Boyle NT, Hughes MM, Collier S, O'Dwyer AM, Harkin A, Kennedy MJ, Connor TJ (2013) C-reactive protein predicts fatigue independently of depression in breast cancer patients prior to chemotherapy. Brain Behav Immun 34:108–119

16.

Ryan JL, Carroll JK, Ryan EP, Mustian KM, Fiscella K, Morrow GR (2007) Mechanisms of cancer-related fatigue. Oncologist 12(Suppl 1):22–34

17.

Wang XS (2008) Pathophysiology of cancer-related fatigue. Clin J Oncol Nurs 12:11–20. https://doi.org/10.1188/08.CJON.S2.11-20

18.

Agteresch HJ, Dagnelie PC, Rietveld T, van den Berg JW, Danser AH, Wilson JH (2000a) Pharmacokinetics of intravenous ATP in cancer patients. Eur J Clin Pharmacol 56(1):49–55

19.

Agteresch HJ, Leij-Halfwerk S, Van Den Berg JW et al (2000b) Effects of ATP infusion on glucose turnover and gluconeogenesis in patients with advanced non-small-cell lung cancer. Clin Sci (London, England: 1979) 98(6):689–689

20.

Alexander S, Stone P, White S, Andrews P, Nussey S, Bano G (2010) Evaluation of central serotonin sensitivity in breast cancer survivors with cancer-related fatigue syndrome. J Pain Symptom Manag 40(6):892–898

21.

Bower JE, Ganz PA, Dickerson SS, Petersen L, Aziz N, Fahey JL (2005) Diurnal cortisol rhythm and fatigue in breast cancer survivors. Psychoneuroendocrinology 30(1):92–100

22.

Bower JE, Ganz PA, Tao ML, Hu W, Belin TR, Sepah S, Cole S, Aziz N (2009) Inflammatory biomarkers and fatigue during radiation therapy for breast and prostate cancer. Clin Cancer Res 15:5534–5540

23.

Cai B, Allexandre D, Rajagopalan D et al (2014) Evidence of significant central fatigue in patients with cancer-related fatigue during repetitive elbow flexions till perceived exhaustion. PLoS One 9:e115370

24.

Kurz K, Fiegl M, Holzner B, Giesinger J, Pircher M, Weiss G, Denz HA, Fuchs D (2012) Fatigue in patients with lung cancer is related with accelerated tryptophan breakdown. PLoS One 7(5):e36956

25.

Levin RD, Daehler MA, Grutsch JF, Quiton J, Lis CG, Peterson C, Gupta D, Watson K, Layer D, Huff-Adams S, Desai B, Sharma P, Wallam M, Delioukina M, Ball P, Bryant M, Ashford M, Copeland D, Ohmori M, Wood PA, Hrushesky WJM (2005) Circadian function in patients with advanced non-small-cell lung cancer. Br J Cancer 93(11):1202–1208

26.

Morrow GR, Hickok JT, Roscoe JA, Raubertas RF, Andrews PL, Flynn PJ, Hynes HE, Banerjee TK, Kirshner JJ, King DK, University of Rochester Cancer Center Community Clinical Oncology Program (2003) Differential effects of paroxetine on fatigue and depression: a randomized, double-blind trial from the University of Rochester Cancer Center Community Clinical Oncology Program. J Clin Oncol 21(24):4635–4641

27.

Parker KP, Bliwise DL, Ribeiro M, Jain SR, Vena CI, Kohles-Baker MK, Rogatko A, Xu Z, Harris WB (2008) Sleep/wake patterns of individuals with advanced cancer measured by ambulatory polysomnography. J Clin Oncol 26(15):2464–2467

28.

Schmidt ME, Semik J, Habermann N, Wiskemann J, Ulrich CM, Steindorf K (2016) Cancer-related fatigue shows a stable association with diurnal cortisol dysregulation in breast cancer patients. Brain Behav Immun 52:98–105

29.

Schrepf A, Clevenger L, Christensen D et al (2013) Cortisol and inflammatory processes in ovarian cancer patients following primary treatment: relationships with depression, fatigue, and disability. Brain Behav Immun 30(Suppl):S126–S134

30.

Serra MC, Ryan AS, Ortmeyer HK, Addison O, Goldberg AP. Resistance training reduces inflammation and fatigue and improves physical function in older breast cancer survivors. Menopause (New York, NY). 2017

31.

Sephton SE, Lush E, Dedert EA, Floyd AR, Rebholz WN, Dhabhar FS, Spiegel D, Salmon P (2013) Diurnal cortisol rhythm as a predictor of lung cancer survival. Brain Behav Immun 30(30 Suppl):S163–S170

32.

Sultan A, Choudhary V, Parganiha A (2017) Worsening of rest-activity circadian rhythm and quality of life in female breast cancer patients along progression of chemotherapy cycles. Chronobiol Int 34(5):609–623

33.

Tell D, Mathews HL, Janusek LW (2014) Day-to-day dynamics of associations between sleep, napping, fatigue, and the cortisol diurnal rhythm in women diagnosed as having breast cancer. Psychosom Med 76(7):519–528

34.

Weinrib AZ, Sephton SE, Degeest K et al (2010) Diurnal cortisol dysregulation, functional disability, and depression in women with ovarian cancer. Cancer 116(18):4410–4419

35.

Bower JE, Lamkin DM (2013) Inflammation and cancer-related fatigue: mechanisms, contributing factors, and treatment implications. Brain Behav Immun 30:S48–S57

36.

Coussens LM, Werb Z (2002) Inflammation and cancer. Nature 420(6917):860–867

37.

Eyob T, Ng T, Chan R, Chan A (2016) Impact of chemotherapy on cancer-related fatigue and cytokines in 1312 patients: a systematic review of quantitative studies. Curr Opin Support Palliat Care 10(2):165–179

38.

Jager A, Sleijfer S, van der Rijt CCD (2008) The pathogenesis of cancer related fatigue: could increased activity of pro-inflammatory cytokines be the common denominator? Eur J Cancer 44(2):175–181

39.

Kelley KW, Bluthe RM, Dantzer R et al (2003) Cytokine-induced sickness behavior. Brain Behav Immun 17(Suppl 1):S112–S118

40.

Kurzrock R (2001) The role of cytokines in cancer-related fatigue. Cancer 92:1684–1688

41.

LaVoy EC, Fagundes CP, Dantzer R (2016) Exercise, inflammation, and fatigue in cancer survivors. Exerc Immunol Rev 22:82–93

42.

Neefjes EC, van der Vorst MJ, Blauwhoff-Buskermolen S et al (2013) Aiming for a better understanding and management of cancer-related fatigue. Oncologist 18(10):1135–1143

43.

Roscoe JA, Kaufman ME, Matteson-Rusby SE, Palesh OG, Ryan JL, Kohli S, Perlis ML, Morrow GR (2007) Cancer-related fatigue and sleep disorders. Oncologist 12(Suppl 1):35–42. https://doi.org/10.1634/theoncologist.12-S1-35

44.

Schubert C, Hong S, Natarajan L, Mills PJ, Dimsdale JE (2007) The association between fatigue and inflammatory marker levels in cancer patients: a quantitative review. Brain Behav Immun 21(4):413–427

45.

Forsyth LM, Preuss HG, MacDowell AL et al (1999) Therapeutic effects of oral NADH on the symptoms of patients with chronic fatigue syndrome. Ann Allergy Asthma Immunol 82(2):185–191

46.

Hansen MK, Taishi P, Chen Z, Krueger JM (1998) Vagotomy blocks the induction of interleukin-1 ß (IL-1 ß) mRNA in the brain of rats in response to systemic IL-1 ß. J Neurosci 18:2247–2253

47.

Meeusen R, Watson P (2007) Amino acids and the brain: do they play a role in "central fatigue"? Int J Sport Nutr Exerc Metab 17(Suppl):S37–S46

48.

Siemionow V, Calabrese L (2004) Sahgal vet al, "altered central nervous system signal during motor performance in chronic fatigue syndrome". Clin Neurophysiol 150:2372–2381

49.

Dantzer R, Heijnen CJ, Kavelaars A, Laye S, Capuron L (2014) The neuroimmune basis of fatigue. Trends Neurosci 37:39–46

50.

Bower JE (2014) Cancer-related fatigue—mechanisms, risk factors, and treatments. Nat Rev Clin Oncol 11(10):597–609

51.

Meeusen R, Watson P (2007) Amino acids and the brain: do they play a role in "central fatigue"? Int J Sport Nutr Exerc Metab 17(Suppl):S37–S46

52.

Kisiel-Sajewicz k, Davis MP, Siemionow V et al (2012) Lack of muscle contractile property changes at the time of perceived physical exhaustion suggests central mechanisms contributing to early motor task failure in patients with cancer-related fatigue. J Pain Symptom Manag 44:351–361
Ethics declarations
Conflict of interest
The authors declare that they have no conflicts of interest.
About this article
Cite this article
O'Higgins, C.M., Brady, B., O'Connor, B. et al. The pathophysiology of cancer-related fatigue: current controversies. Support Care Cancer 26, 3353–3364 (2018). https://doi.org/10.1007/s00520-018-4318-7
Received:

Accepted:

Published:

Issue Date:
Keywords
Cancer-related fatigue

Pathophysiology

Proinflammatory cytokines

Hypothalamic-pituitary-adrenal axis

Neuromuscular abnormalities

Serotonin