Abstract
Purpose
Taste and smell changes are common side effects in cancer patients undergoing chemotherapy treatments (CT). This can lead to a reduced food enjoyment and an inadequate nutrient intake with a high impact on nutritional status and quality of life. The aim of this study was to evaluate the self-reported chemosensory alterations of patients undergoing chemotherapy according to CT type.
Methods
An observational study was conducted with 151 patients undergoing CT at Oncology Outpatient Unit from Onkologikoa Foundation. An interviewer-assisted questionnaire was designed to investigate chemosensory changes in patients undergoing CT.
Results
Seventy-six percent patients reported taste disorders and 45% smell changes. Xerostomia is the most frequent symptom reported by patients receiving chemotherapy in our study (63.6%), and it is strongly associated to bad taste in mouth (OR = 5.96; CI = 2.37–14.94; p value = 0.000) and taste loss (OR = 5.96; CI = 2.37–14.94; p value = 0.000). Anthracyclines, paclitaxel, carboplatin, and docetaxel were the CT agents producing the highest taste disturbance rates. Cisplatin and 5-Fluorouracil are the CT resulting in the lowest complaints. Logistic regression revealed statistically significant associations between taste loss and carboplatin and docetaxel (OR = 3.50; CI = 1.12–10.90; p value = 0.031) and cold hypersensitivity and oxaliplatin (OR = 12.14; CI = 4.18–35.25; p value = 0.000). Not only platin-based CT such as carboplatin produced dysgeusia, but also anthracyclines and paclitaxel treatments.
Conclusions
The better knowledge of taste and smell alterations according to CT type may provide valuable information for the design of new strategies to tackle CT side effects. It is important to take into account taste and smell dysfunctions and other alterations such as xerostomia together.
This is a preview of subscription content, log in to check access.
Access options
Buy single article
Instant access to the full article PDF.
US$ 39.95
Tax calculation will be finalised during checkout.
Subscribe to journal
Immediate online access to all issues from 2019. Subscription will auto renew annually.
US$ 119
Tax calculation will be finalised during checkout.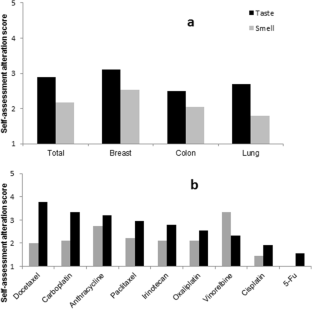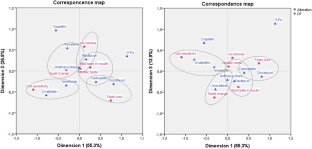 References
1.

Epstein JB, Barasch A (2010) Taste disorders in cancer patients: pathogenesis, and approach to assessment and management. Oral Oncol 46(2):77–81

2.

Porter SR, Fedele S, Habbab KM (2010) Taste dysfunction in head and neck malignancy. Oral Oncol 46(6):457–459

3.

Ruo Redda MG, Allis S (2006) Radiotherapy-induced taste impairment. Cancer Treat Rev 32(7):541–547

4.

Shi HB, Masuda M, Umezaki T, Kuratomi Y, Kumamoto Y, Yamamoto T, Komiyama S (2004) Irradiation impairment of umami taste in patients with head and neck cancer. Auris Nasus Larynx 31(4):401–406

5.

Maes A, Huygh I, Weltens C, Vandevelde G, Delaere P, Evers G, Van den Bogaert W (2002) De Gustibus: time scale of loss and recovery of tastes caused by radiotherapy. Radiother Oncol 63(2):195–201

6.

Yamashita H, Nakagawa K, Tago M, Nakamura N, Shiraishi K, Eda M, Nakata H, Nagamatsu N, Yokoyama R, Onimura M, Ohtomo K (2006) Taste dysfunction in patients receiving radiotherapy. Head Neck 28(6):508–516

7.

Boltong A, Keast R (2015) Chemosensory science in the context of cancer treatment: implications for patient care. Chemosens Percept 8(3):117–125. https://doi.org/10.1007/s12078-015-9180-0

8.

Wickham RS, Rehwaldt M, Kefer C, Shott S, Abbas K, Glynn-Tucker E, Potter C, Blendowski C (1999) Taste changes experienced by patients receiving chemotherapy. Oncol Nurs Forum 26(4):697–706

9.

Hovan AJ, Williams PM, Stevenson-Moore P, Wahlin YB, Ohrn KE, Elting LS, Spijkervet FK, Brennan MT (2010) A systematic review of dysgeusia induced by cancer therapies. Support Care Cancer 18(8):1081–1087

10.

Hong JH, Omur-Ozbek P, Stanek BT, Dietrich AM, Duncan SE, Lee YW, Lesser G (2009) Taste and odor abnormalities in cancer patients. J Support Oncol 7(2):58–65

11.

Belqaid K, Tishelman C, McGreevy J, Månsson-Brahme E, Orrevall Y, Wismer W, Bernhardson B-M (2016) A longitudinal study of changing characteristics of self-reported taste and smell alterations in patients treated for lung cancer. Eur J Oncol Nurs 21:232–241. https://doi.org/10.1016/j.ejon.2015.10.009

12.

Pedersen AM, Bardow A, Jensen SB, Nauntofte B (2002) Saliva and gastrointestinal functions of taste, mastication, swallowing and digestion. Oral Dis 8(3):117–129

13.

Comeau TB, Epstein JB, Migas C (2001) Taste and smell dysfunction in patients receiving chemotherapy: a review of current knowledge. Support Care Cancer 9(8):575–580

14.

Jensen SB, Mouridsen HT, Reibel J, Brünner N, Nauntofte B (2008) Adjuvant chemotherapy in breast cancer patients induces temporary salivary gland hypofunction. Oral Oncol 44(2):162–173. https://doi.org/10.1016/j.oraloncology.2007.01.015

15.

Boltong A, Keast R (2012) The influence of chemotherapy on taste perception and food hedonics: a systematic review. Cancer Treat Rev 38(2):152–163

16.

Steinbach S, Hummel T, Bohner C, Berktold S, Hundt W, Kriner M, Heinrich P, Sommer H, Hanusch C, Prechtl A, Schmidt B, Bauerfeind I, Seck K, Jacobs VR, Schmalfeldt B, Harbeck N (2009) Qualitative and quantitative assessment of taste and smell changes in patients undergoing chemotherapy for breast cancer or gynecologic malignancies. J Clin Oncol 27(11):1899–1905

17.

Cohen J, Wakefield CE, Laing DG (2016) Smell and taste disorders resulting from cancer and chemotherapy. Curr Pharm Des 22(15):2253–2263

18.

Barajas Galindo DE, Vidal-Casariego A, Calleja-Fernández A, Hernández-Moreno A, Pintor de la Maza B, Pedraza-Lorenzo M, Rodríguez-García MA, Ávila-Turcios DM, Alejo-Ramos M, Villar-Taibo R, Urioste-Fondo A, Cano-Rodríguez I, Ballesteros-Pomar MD (2017) Appetite disorders in cancer patients: impact on nutritional status and quality of life. Appetite 114:23–27. https://doi.org/10.1016/j.appet.2017.03.020

19.

Capra S, Ferguson M, Ried K (2001) Cancer: impact of nutrition intervention outcome—nutrition issues for patients. Nutrition 17(9):769–772. https://doi.org/10.1016/S0899-9007(01)00632-3

20.

Van Cutsem E, Arends J (2005) The causes and consequences of cancer-associated malnutrition. Eur J Oncol Nurs 9, Supplement 2:S51-S63. doi:https://doi.org/10.1016/j.ejon.2005.09.007

21.

Coa KI, Epstein JB, Ettinger D, Jatoi A, McManus K, Platek ME, Price W, Stewart M, Teknos TN, Moskowitz B (2015) The impact of cancer treatment on the diets and food preferences of patients receiving outpatient treatment. Nutr Cancer 67(2):339–353

22.

Nordin S, Bramerson A, Murphy C, Bende M (2003) A Scandinavian adaptation of the Multi-Clinic Smell and Taste Questionnaire: evaluation of questions about olfaction. Acta Otolaryngol 123(4):536–542

23.

Bernhardson BM, Olson K, Baracos VE, Wismer WV (2012) Reframing eating during chemotherapy in cancer patients with chemosensory alterations. Eur J Oncol Nurs 16(5):483–490

24.

Gamper EM, Zabernigg A, Wintner LM, Giesinger JM, Oberguggenberger A, Kemmler G, Sperner-Unterweger B, Holzner B (2012) Coming to your senses: detecting taste and smell alterations in chemotherapy patients. A systematic review. J Pain Symptom Manag 44(6):880–895

25.

Jensen SB, Mouridsen HT, Bergmann OJ, Reibel J, Brunner N, Nauntofte B (2008) Oral mucosal lesions, microbial changes, and taste disturbances induced by adjuvant chemotherapy in breast cancer patients. Oral Surg Oral Med Oral Pathol Oral Radiol Endod 106(2):217–226

26.

Sorokowska A, Schriever VA, Gudziol V, Hummel C, Hahner A, Iannilli E, Sinding C, Aziz M, Seo HS, Negoias S, Hummel T (2015) Changes of olfactory abilities in relation to age: odor identification in more than 1400 people aged 4 to 80 years. Eur Arch Otorhinolaryngol 272(8):1937–1944

27.

Rawson NE (2006) Olfactory loss in aging. Sci Aging Knowl Environ 8 (5)

28.

Stevens JC, Cain WS (1993) Changes in taste and flavor in aging. Crit Rev Food Sci Nutr 33(1):27–37

29.

Gamper EM, Giesinger JM, Oberguggenberger A, Kemmler G, Wintner LM, Gattringer K, Sperner-Unterweger B, Holzner B, Zabernigg A (2012) Taste alterations in breast and gynaecological cancer patients receiving chemotherapy: prevalence, course of severity, and quality of life correlates. Acta Oncol 51(4):490–496

30.

Zabernigg A, Gamper E-M, Giesinger JM, Rumpold G, Kemmler G, Gattringer K, Sperner-Unterweger B, Holzner B (2010) Taste alterations in Cancer patients receiving chemotherapy: a neglected side effect? Oncologist 15(8):913–920. https://doi.org/10.1634/theoncologist.2009-0333

31.

Descoeur J, Pereira V, Pizzoccaro A, Francois A, Ling B, Maffre V, Couette B, Busserolles J, Courteix C, Noel J, Lazdunski M, Eschalier A, Authier N, Bourinet E (2011) Oxaliplatin-induced cold hypersensitivity is due to remodelling of ion channel expression in nociceptors. EMBO Mol Med 3(5):266–278. https://doi.org/10.1002/emmm.201100134

32.

IJpma I, Renken RJ, Ter Horst GJ, Reyners AK (2015) Metallic taste in cancer patients treated with chemotherapy. Cancer Treat Rev 41(2):179–186

33.

Lyckholm L, Heddinger SP, Parker G, Coyne PJ, Ramakrishnan V, Smith TJ, Henkin RI (2012) A randomized, placebo controlled trial of oral zinc for chemotherapy-related taste and smell disorders. J Pain Palliat Care Pharmacother 26(2):111–114

34.

Strasser F, Demmer R, Bohme C, Schmitz SF, Thuerlimann B, Cerny T, Gillessen S (2008) Prevention of docetaxel- or paclitaxel-associated taste alterations in cancer patients with oral glutamine: a randomized, placebo-controlled, double-blind study. Oncologist 13(3):337–346
Acknowledgements
Many thanks to the patients and their families for participating in this study. The expert assistance in statistics provided by Cristina Sarasqueta, biostatistician from Biodonostia, is gratefully acknowledged. All authors drafted, read, and approved the final version of the manuscript. This is contribution number 865 from AZTI.
Funding
This work was partially funded by the Basque Country Government (Department of the Environment, Regional Planning, Agriculture and Fisheries).
Ethics declarations
Conflict of interest
We declare no conflict of interest.
Electronic supplementary material
About this article
Cite this article
Amézaga, J., Alfaro, B., Ríos, Y. et al. Assessing taste and smell alterations in cancer patients undergoing chemotherapy according to treatment. Support Care Cancer 26, 4077–4086 (2018). https://doi.org/10.1007/s00520-018-4277-z
Received:

Accepted:

Published:

Issue Date:
Keywords
Cancer

Chemotherapy

Xerostomia

Metallic taste

Dysgeusia