Abstract
Objective
The purpose of the current study was to (1) assess healthcare providers' beliefs about and referral patterns to yoga and meditation services, and (2) evaluate the effectiveness of a brief yoga/meditation educational presentation to increase providers' intent to recommend these programs.
Method
A brief 5-min presentation regarding the benefits of yoga and meditation for cancer patients and instruction about referring and enrolling patients was delivered in four different oncology settings: breast, gynecologic, radiation, and surgical. Healthcare provider participants filled out pre- and post-surveys assessing knowledge and attitudes surrounding yoga and meditation classes.
Results
A total of 40 healthcare providers were surveyed, consisting of 18 physicians, 12 nurses, six nurse practitioners, two physician assistants, one pharmacist, and one clinical researcher. Of these 40 healthcare providers, 43% were unaware at baseline that yoga and meditation classes were offered through the cancer center and 55% responded that they rarely or never recommend yoga or meditation for patients. Following a brief presentation about the benefits of yoga and meditation for cancer patients, 90% of providers stated they would be more likely to recommend these services to patients in the future. There was a significant (p < 0.01) increase in providers from pre- to post-presentation (65 to 85%) stating they strongly believe yoga and meditation can provide physical or emotional benefits for their patients.
Significance of results
These data demonstrate that a brief educational intervention about yoga and meditation for cancer patients is effective at significantly increasing provider knowledge about the benefits of these therapeutic modalities, with a majority indicating they are more likely to recommend these services in the future. Increasing provider awareness regarding the health-promoting benefits of such supportive services for cancer patients could result in greater service utilization as well as physical and emotional benefits for patients.
Access options
Buy single article
Instant access to the full article PDF.
USD 39.95
Price excludes VAT (USA)
Tax calculation will be finalised during checkout.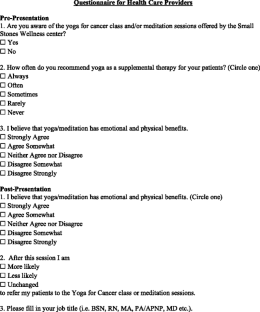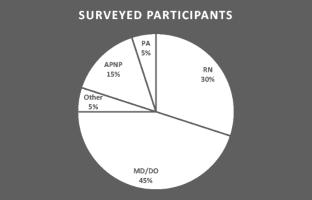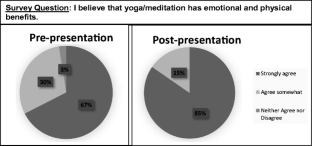 References
Earle CC (2006) Failing to plan is planning to fail: Improving the quality of care with survivorship care plans. J Clin Oncol 24(32):5112–5116. https://doi.org/10.1200/JCO.2006.06.5284

Kenne Sarenmalm E, Mårtensson LB, Holmberg SB, Andersson BA, Odén A, Bergh I (2013) Mindfulness based stress reduction study design of a longitudinal randomized controlled complementary intervention in women with breast cancer. BMC Complement Altern Med 13:248. https://doi.org/10.1186/1472-6882-13-248

Gallegos AM, Hoerger M, Talbot NL et al (2013) Toward identifying the effects of the specific components of mindfulness-based stress reduction on biologic and emotional outcomes among older adults. J Altern Complement Med 19(10):787–792

Narahari SR, Aggithaya MG, Thernoe L, Bose KS, Ryan TJ (2016) Yoga protocol for treatment of breast cancer-related lymphedema. Int J Yoga 9(2):145–155. https://doi.org/10.4103/0973-6131.183713

Derogatis LR, Morrow GR, Fetting J, Penman D, Piasetsky S, Schmale AM, Henrichs M, Carnicke CLM (1983) The Prevalence of Psychiatric Disorders Among Cancer Patients. JAMA 249(6):751–757. https://doi.org/10.1001/jama.1983.03330300035030

Bower JE, Ganz PA (2015) Improving Outcomes for Breast Cancer Survivors. Adv Exp Med Biol 862(7):193–212. https://doi.org/10.1007/978-3-319-16366-6

Speca M, Carlson LE, Goodey E, Angen M (2000) A randomized, wait-list controlled clinical trial: The effect of a mindfulness meditation-based stress reduction program on mood symptoms of stress in cancer outpations. Psychosom Med 62(August):613–622. https://doi.org/10.1097/00006842-200009000-00004

Kiecolt-Glaser JK, Bennett JM, Andridge R et al (2014) Yoga's impact on inflammation, mood, and fatigue in breast cancer survivors: A randomized controlled trial. J Clin Oncol 32(10):1040–1049. https://doi.org/10.1200/JCO.2013.51.8860

Chandwani KD, Perkins G, Nagendra HR et al (2014) Randomized, controlled trial of yoga in women with breast cancer undergoing radiotherapy. J Clin Oncol 32(10):1058–1065. https://doi.org/10.1200/JCO.2012.48.2752

Smithson J, Paterson C, Britten N, Evans M, Lewith G (2010) Cancer patients' experiences of using complementary therapies: Polarization and integration. J Heal Serv Res Policy 15(SUPPL. 2):54–61. https://doi.org/10.1258/jhsrp.2009.009104

Singer S. Psychosocial Impact of Cancer. In: Goerling U, ed. Psycho-Oncology. Berlin, Heidelberg: Springer Berlin Heidelberg; 2014:1-10. doi:10.1007/978-3-642-40187-9_1.

Brennan J (2001) Adjustment to cancer—coping or personal transition? Psycho-Oncology 10:1–18. https://doi.org/10.1002/1099-1611(200101/02)10:1<1::AID-PON484>3.0.CO;2-T

PDQ Supportive and Palliative Care Editorial Board. Adjustment to Cancer: Anxiety and Distress (PDQ®): Health Professional Version. 2017 Jan 13. In: PDQ Cancer Information Summaries [Internet]. Bethesda (MD): National Cancer Institute (US); 2002-. Available from: https://www-ncbi-nlm-nih-gov.proxy.lib.mcw.edu/books/NBK65960/

Mackenzie MJ, Wurz AJ, Yamauchi Y, Pires LA, Culos-reed SN. Yoga Helps Put the Pieces Back Together : A Qualitative Exploration of a Community-Based Yoga Program for Cancer Survivors. 2016;2016. doi:https://doi.org/10.1155/2016/1832515.

Wurz AJ, Capozzi LC, Mackenzie MJ, Danhauer SC, Culos-Reed N (2013) Translating knowledge: a framework for evidence-informed yoga programs in oncology. Int J Yoga Therap 23(2):85–90 http://www.ncbi.nlm.nih.gov/pubmed/24165528

Peper JS, Dahl RE. HHS Public Access 2015;22(2):134-139. doi:https://doi.org/10.1177/0963721412473755.Surging.

Stub T, Quandt SA, Arcury TA, Sandberg JC, Kristoffersen AE (2016) Perception of risk and communication among conventional and complementary health care providers involving cancer patients ' use of complementary therapies : a literature review. BMC Complement Altern Med. https://doi.org/10.1186/s12906-016-1326-3

Saito T, Sadoshima J (2016) HHS Public Access. Med Image Anal 116(8):1477–1490. https://doi.org/10.1161/CIRCRESAHA.116.303790.The

Milbury K, Mallaiah S, Mahajan A, et al. Yoga Program for High-Grade Glioma Patients Undergoing Radiotherapy and Their Family Caregivers. Integr Cancer Ther. 2017:153473541768988. doi:https://doi.org/10.1177/1534735417689882.

Sharma M, Lingam VC, Nahar VK (2016) A systematic review of yoga interventions as integrative treatment in breast cancer. J Cancer Res Clin Oncol 142(12):2523–2540. https://doi.org/10.1007/s00432-016-2269-2

Collado-Hidalgo A, Bower JE, Ganz PA, Cole SW, Irwin MR (2006) Inflammatory biomarkers for persistent fatigue in breast cancer survivors. Clin Cancer Res 12(9):2759–2766. https://doi.org/10.1158/1078-0432.CCR-05-2398

Bower JE, Greendale G, Crosswell AD, Garet D, Sternlieb B, Ganz PA, Cole SW (2014) Yoga reduces inflammatory signaling in fatigued breast cancer survivors: A randomized controlled trial. Psychoneuroendocrinology 43:20–29. https://doi.org/10.1016/j.psyneuen.2014.01.019

Long Parma D, Hughes DC, Ghosh S et al (2015) Effects of six months of Yoga on inflammatory serum markers prognostic of recurrence risk in breast cancer survivors. Spring 4:143. https://doi.org/10.1186/s40064-015-0912-z

Boxleitner G, Jolie S, Shaffer D, Pasacreta N, Bai M, Mccorkle R. Comparison of Two Types of Meditation on Patients ' Psychosocial Responses During Radiation Therapy for Head and Neck Cancer. 2017;0(0):1-7. doi:https://doi.org/10.1089/acm.2016.0214.

Carlson LE. Mindfulness-based interventions for coping with cancer. 2016;3:5-12. doi:10.1111/nyas.13029.

Cramer H, Lauche R, Klose P, Lange S, Langhorst J, Gj D. Yoga for improving health-related quality of life , mental health and cancer-related symptoms in women diagnosed with breast cancer ( Review ). 2017;(1). doi:https://doi.org/10.1002/14651858.CD010802.pub2.www.cochranelibrary.com.

Danhauer SC, Addington EL, Sohl SJ, Chaoul A, Cohen L (2017) Review of yoga therapy during cancer treatment. Support Care Cancer. https://doi.org/10.1007/s00520-016-3556-9

Stan DL, Croghan KA, Croghan IT et al (2016) Randomized pilot trial of yoga versus strengthening exercises in breast cancer survivors with cancer-related fatigue. Support Care Cancer 24(9):4005–4015. https://doi.org/10.1007/s00520-016-3233-z

Sharma M, Rush SE (2014) Mindfulness-Based Stress Reduction as a Stress Management Intervention for Healthy Individuals: A Systematic Review. J Evid Based Complemen Altern Med 19(4):271–286. https://doi.org/10.1177/2156587214543143

Archer S, Phillips E, Montague J, Bali A, Sowter H (2015) "I'm 100% for it! I'm a convert!": Women's experiences of a yoga programme during treatment for gynaecological cancer; an interpretative phenomenological analysis. Complement Ther Med 23(1):55–62. https://doi.org/10.1016/j.ctim.2014.12.003

Mustian KM, Sprod LK, Janelsins M et al (2013) Multicenter, randomized controlled trial of yoga for sleep quality among cancer survivors. J Clin Oncol 31(26):3233–3241. https://doi.org/10.1200/JCO.2012.43.7707

Witek-Janusek L, Albuquerque K, Chroniak KR, Chroniak C, Durazo-Arvizu R, Mathews HL. Effect of mindfulness based stress reduction on immune function, quality of life and coping in women newly diagnosed with early stage breast cancer. Brain BehavImmun. 2008;22(1090-2139 (Electronic)):969-981. doi:10.1016/j.bbi.2008.01.012.Effect.

Eakin EG, Strycker L (2001) a. Awareness and barriers to use of cancer support and information resources by HMO patients with breast, prostate, or colon cancer: patient and provider perspectives. Psychooncology 10(1999):103–113. https://doi.org/10.1002/pon.500
Funding
This work was funded by the National Center for Advancing Translational Sciences (National Institutes of Health (NIH)) through Grant Numbers UL1TR001436 and KL2TR001438. Its contents are solely the responsibility of the authors and do not necessarily represent the official views of the NIH. Additional support was also received from the Laura Gralton Philanthropic Fund.
Ethics declarations
Conflict of interest
The authors declare that they have no conflicts of interest.
About this article
Cite this article
Koula, M.J., Knight, J.M. Increasing provider awareness of and recommendations for yoga and meditation classes for cancer patients. Support Care Cancer 26, 3635–3640 (2018). https://doi.org/10.1007/s00520-018-4220-3
Received:

Accepted:

Published:

Issue Date:

DOI: https://doi.org/10.1007/s00520-018-4220-3
Keywords
Yoga

Meditation

Cancer

Providers

Education

Oncology