Abstract
Background/objectives
Probiotics are living microorganisms that confer a health benefit on the host when administered. This systematic review and meta-analysis investigates the efficacy and safety of probiotics in adult and paediatric patients diagnosed with cancer.
Methods
A systematic review and meta-analysis was undertaken (PROSPERO registration: CRD42016050252). Randomised controlled trials (RCT), identified through screening multiple databases were included for analysis of efficacy. Non-randomised controlled trials and case reports were included for safety analysis. Outcomes included the reduction in the incidence and severity of diarrhoea, and adverse events. Where possible, data were combined for meta-analysis using a random-effects model. Planned subgroup analyses were not possible through marked heterogeneity of study characteristics.
Results
Twenty one studies (N = 2982 participants) were included for assessment of efficacy. Probiotics may reduce the incidence of diarrhoea in patients with cancer [odds ratio (OR) = 0.52, 95% confidence interval (CI) 0.34–0.78, 95% prediction interval (PI) 0.3–0.92, I-sq 36.9%, 5 studies] and the duration of pyrexia [standardised mean difference 0.39 days, 95% CI 0.35–0.43, I-sq 0.01%, 5 studies]. Twenty five studies (N = 2242) were included in the safety analysis. Five case reports showed probiotic-related bacteraemia/fungaemia/positive blood cultures. Definitions and reporting of adverse events were variable and inconsistent.
Conclusions
There remain insufficient studies to assess the true effect of probiotics in people with cancer. Meta-analysis suggests probiotics may be beneficial but further studies are still required. Improved reporting of outcomes and adverse events in clinical trials are required to improve accuracy and confidence of conclusions drawn in future updates.
Access options
Buy single article
Instant access to the full article PDF.
USD 39.95
Price includes VAT (USA)
Tax calculation will be finalised during checkout.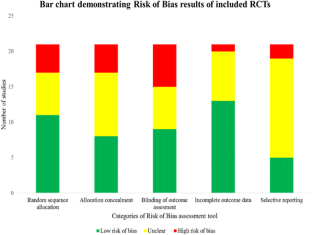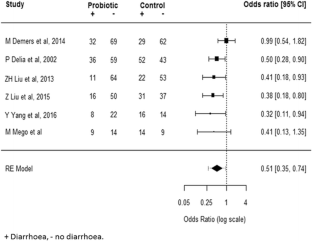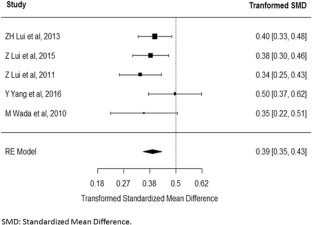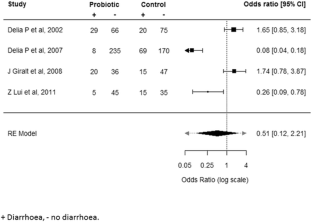 References
1.

Schlundt, J. Report of a Joint FAO/WHO Expert Consultation on Evaluation of Health and Nutritional Properties of Probiotics in Food Including Powder Milk with Live Lactic Acid Bacteria. FAO/WHO. 2012 October 2012; Available from: https://web.archive.org/web/20121022161702/http://www.who.int/foodsafety/publications/fs_management/en/probiotics.pdf

2.

Holzapfel WH, Haberer P, Geisen R, Björkroth J, Schillinger U (2001) Taxonomy and important features of probiotic microorganisms in food and nutrition. Am J Clin Nutr 73(2 Suppl):365s–373s

3.

Goldenberg, J.Z., et al.,(2015) Probiotics for the prevention of pediatric antibiotic-associated diarrhea. Cochrane Database Syst Rev, 22(12)

4.

Pammi, M. and G. Suresh, Enteral lactoferrin supplementation for prevention of sepsis and necrotizing enterocolitis in preterm infants. Cochrane Database Syst Rev, 2017. 28(6)

5.

Liu, M.M., et al.,(2017) Probiotics for prevention of radiation-induced diarrhea: a meta-analysis of randomized controlled trials. PLoS One,12(6)

6.

Salminen E, Elomaa I, Minkkinen J, Vapaatalo H, Salminen S (1988) Preservation of intestinal integrity during radiotherapy using live Lactobacillus acidophilus cultures. Clin Radiol 39(4):435–437

7.

Guarner F, Malagelada JR (2003) Role of bacteria in experimental colitis. Best Pract Res Clin Gastroenterol 17(5):793–804

8.

Arbuckle RB, Huber SL, Zacker C (2000) The consequences of diarrhea occurring during chemotherapy for colorectal cancer: a retrospective study. Oncologist 5(3):250–259

9.

Dranitsaris G, Maroun J, Shah A (2005) Estimating the cost of illness in colorectal cancer patients who were hospitalized for severe chemotherapy-induced diarrhea. Can J Gastroenterol 19(2):83–87

10.

Redman MG, Ward EJ, Phillips RS (2014) The efficacy and safety of probiotics in people with cancer: a systematic review. Ann Oncol 25(10):1919–1929

11.

H Hassan, M. Rompola, Bob Phillips,(2016) The efficacy and safety of probiotics in people with cancer: an updated systematic review and meta-analysis, PROSPERO

12.

Higgins JP et al (2011) The Cochrane collaboration's tool for assessing risk of bias in randomised trials. BMJ 343:d5928

13.

Loke YK, Price D, Herxheimer A (2007) Systematic reviews of adverse effects: framework for a structured approach. BMC Med Res Methodol 7:32

14.

Dissemination, C.f.R.a(2008), Systematic Reviews: CRD's guidance for undertaking reviews in health care,University of York: CRD

15.

Higgins JP, Thompson SG, Spiegelhalter DJ (2009) A re-evaluation of random-effects meta-analysis. J R Stat Soc Ser A Stat Soc 172(1):137–159

16.

Team, R,(2015) RStudio: integrated development for R. RStudio, Inc.

17.

The CONSORT Statement. 2016; Available from: http://www.consort-statement.org/

18.

COMET intitiative. [cited 2017; Available from: http://www.comet-initiative.org/
Electronic supplementary material
About this article
Cite this article
Hassan, H., Rompola, M., Glaser, A.W. et al. Systematic review and meta-analysis investigating the efficacy and safety of probiotics in people with cancer. Support Care Cancer 26, 2503–2509 (2018). https://doi.org/10.1007/s00520-018-4216-z
Received:

Accepted:

Published:

Issue Date:
Keywords
Probiotics

Randomised controlled trials (RCT)

Cancer