Abstract
Context
Understanding patients' symptom experiences is essential to providing effective clinical care. The discussion between patients and physicians of symptom meaning and its significance, however, is ill understood.
Objectives
To investigate palliative care physicians' understanding of symptom meaning, and their experiences of and attitudes towards the discussion of symptom meaning with patients.
Methods
Semi-structured interviews were conducted (N = 17) across Sydney, Australia. Transcripts were analysed using framework analysis.
Results
Six key themes were identified: (1) definitions of symptom meaning (causal meanings, functional impact, existential impact, and cascade of meanings); (2) meanings are personal (demographic, culture, spiritual, and family differences); (3) eliciting meanings requires subtlety and trust (following the patient's cues); discussing meaning can be (4) hard (for the patient and health professional); (5) therapeutic (assuaging fears, feeling listened to and valued, increased sense of control, and reduced symptom distress); and (6) enhances clinicians' practice and work satisfaction (provision of more tailored care, reassurance through the provision of information, and strengthening of doctor-patient relationship).
Conclusions
Exploring symptom meaning can serve to provide information, alleviate anxiety, and facilitate individualised care, but only when patients present cues or are open to discuss symptom-related concerns. However, various barriers hinder such dialogue in consultations. Greater awareness of symptom meaning and its influence may facilitate physicians exploring symptom meaning more with patients in the future.
Access options
Buy single article
Instant access to the full article PDF.
USD 39.95
Price excludes VAT (USA)
Tax calculation will be finalised during checkout.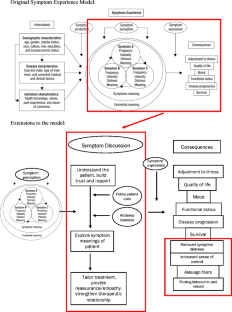 References
Hanson LC, Eckert JK, Dobbs D, Williams CS, Caprio AJ, Sloane PD, Zimmerman S (2008) Symptom experience of dying long-term care residents. J Am Geriatr Soc 56:91–98

Peters L, Sellick K (2006) Quality of life of cancer patients receiving inpatient and home-based palliative care. J Adv Nurs 53:524–533

Armstrong TS (2003) Symptoms experience: a concept analysis. Oncol Nurs Forum 30:601–606

Jones RA, Wiese HJ, Moore RW, Haley JV (1981) On the perceived meaning of symptoms. Med Care 19:710–717

Richer MC, Ezer H (2000) Understanding beliefs and meanings in the experience of cancer: a concept analysis. J Adv Nurs 32:1108–1115

Lindqvist O, Widmark A, Rasmussen BH (2006) Reclaiming wellness—living with bodily problems, as narrated by men with advanced prostate cancer. Cancer Nurs 29:327–337

Cancer Council Australia (2017) Cancer pain management in adults. http://wiki.cancer.org.au/australia/Guidelines:Cancer_pain_management. Accessed March 2, 2017

Lovely MP, Stewart-Amidei C, Page M, Mogensen K, Arzbaecher J, Lupica K, Maher ME (2013) A new reality: long-term survivorship with a malignant brain tumor. Oncol Nurs Forum 40:267–274

Lindqvist O, Widmark A, Rasmussen BH (2004) Meanings of the phenomenon of fatigue as narrated by 4 patients with cancer in palliative care. Cancer Nurs 27:237–243

Doumit MAA, Abu-Saad Huijer H, Kelley JH (2007) The lived experience of Lebanese oncology patients receiving palliative care. Eur J Oncol Nurs 11:309–319

Carter H, MacLeod R, Brander P, McPherson K (2004) Living with a terminal illness: patients' priorities. J Adv Nurs 45:611–620

Potter J (2004) Fatigue experience in advanced cancer: a phenomenological approach. Int J Palliat Nurs 10:15–23

Estacio CF, Butow PN, Lovell MR, Dong ST, Clayton JM (2017) What is symptom meaning? A framework analysis of communication in palliative care consultations. Patient Educ Couns 100:2088–2094

Gibbins J, Bhatia R, Forbes K, Reid CM (2004) What do patients with advanced incurable cancer want from the management of their pain? A qualitative study. Palliat Medicine 28:71–78

Jakobsson S, Ekman T, Ahlberg K (2008) Components that influence assessment and management of cancer-related symptoms: an interdisciplinary perspective. Oncol Nurs Forum 35:691–698

Detmar SB, Muller MJ, Wever LDV, Schornagel JH, Aaronson NK (2001) Patient-physician communication during outpatient palliative treatment visits. JAMA 285:1351–1357

Liamputtong P (2013) Qualitative research methods, 4th edn. Oxford University Press, Melbourne

Shuy RW (2003) In-person versus telephone interviewing. In: Holstein JA, Gubrium JF (eds) Inside interviewing: new lenses, new concerns. Sage Publications Inc, Thousand Oaks, pp 174–193

Gale NK, Heath G, Cameron E, Rashid S, Redwood S (2013) Using the framework method for the analysis of qualitative data in multi-disciplinary health research. BMC Med Res Methodol 13:117

Chiovitti RF, Piran N (2003) Rigour and grounded theory research. J Adv Nurs 44:427–435

Kitto SC, Chesters J, Grbich C (2008) Quality in qualitative research. Med J Aust 188:243–246

Larsson A, Wijk H (2007) Patient experiences of pain and pain management at the end of life: a pilot study. Pain Manag Nurs 8:12–16

Koffman J, Morgan M, Higginson IJ (2008) Cultural meanings of pain: a qualitative study of Black Caribbean and White British patients with advanced cancer. Palliat Medicine 22:350–359

Blomberg K, Sahlberg-Blom E (2007) Closeness and distance: a way of handling difficult situations in daily care. J Clin Nurs 16:244–254

Towers A, MacDonald N, Wallace E (2003) Ethical issues in palliative care: views of patients, families, and nonphysician staff. Can Fam Physician 49:1626–1631

Deschepper R, Bernheim JL, Vander Stichele R et al (2008) Truth-telling at the end of life: a pilot study on the perspective of patients and professional caregivers. Patient Educ Couns 71:52–56

Willard C, Luker K (2006) Challenges to end of life care in the acute hospital setting. Palliat Med 20:611–615

Butow P, Cockburn J, Girgis A, Bowman D, Schofield P, D'Este C, Stojanovski E, Tattersall MHN, the CUES Team (2008) Increasing oncologists' skills in eliciting and responding to emotional cues: evaluation of a communication skills training program. Psychooncology 17:209–218

Miccinesi G, Bianchi E, Brunelli C, Borreani C (2012) End-of-life preferences in advanced cancer patients willing to discuss issues surrounding their terminal condition. Eur J Cancer Care 21:623–633

Marcusen C (2010) Information and communication needs of individuals living with advanced cancer. Semin Oncol Nurs 26:151–156

Gourdji I, McVey L, Purden M (2009) A quality end of life from a palliative care patient's perspective. J Palliat Care 25:40–50

Jack B, Hillier V, Williams A, Oldham J (2003) Hospital based palliative care teams improve the symptoms of cancer patients. Palliat Med 17:498–502

Jack B, Hillier V, Williams A, Oldham J (2004) Hospital based palliative care teams improve the insight of cancer patients into their disease. Palliat Med 18:46–52

Walczak A, Butow PN, Davidson PM, Bellemore FA, Tattersall MHN, Clayton JM, Young J, Mazer B, Ladwig S, Epstein RM (2013) Patient perspectives regarding communication about prognosis and end-of-life issues: how can it be optimised? Patient Educ Couns 90:307–314

Kvåle K (2007) Do cancer patients always want to talk about difficult emotions? A qualitative study of cancer inpatients communication needs. Eur J Oncol Nurs 11:320–327

Enguidanos S, Housen P, Penido M, Mejia B, Miller JA (2014) Family members' perceptions of inpatient palliative care consult services: a qualitative study. Palliat Med 28:42–48

Hürny C (2002) Do patients with advanced cancer get appropriate information. Support Care Cancer 10:383–384

Reid J, McKenna HP, Fitzsimons D, McCance TV (2010) An exploration of the experience of cancer cachexia: what patients and their families want from healthcare professionals. Eur J Cancer Care 19:682–689

Armes PJ, Addington-Hall JM (2003) Perspectives on symptom control in patients receiving community palliative care. Palliat Med 17:608–615

van Wijmen MPS, Pasman HRW, Widdershoven GAM, Onwuteaka-Philipsen BD (2015) Continuing or forgoing treatment at the end of life? Preferences of the general public and people with an advance directive. J Med Ethics 41:599–606

Graham J, Ramirez AJ, Cull A, Finlay I, Hoy A, Richards MA (1996) Job stress and satisfaction among palliative physicians. Palliat Med 10:185–194

Jackson VA, Mack J, Matsuyama R, Lakoma MD, Sullivan AM, Arnold RM, Weeks JC, Block SD (2008) A qualitative study of oncologists' approaches to end-of-life care. J Palliat Med 11:893–906
Ethics declarations
The University of Sydney Human Research Ethics Committee granted approval for this study.
Conflict of interest
The authors declare that they have no conflicts of interest.
Appendices
Appendix I Semi-structured Interview Guide
1.

Symptom meanings in palliative care

a.

Could you tell me about some of the most distressing symptoms you see in your practice?

b.

It is thought that patients interpret their symptoms, and form their own 'symptom meaning' – how do you interpret that phrase "symptom meaning"?
Provide definition adapted from Armstrong (2003):
A patient's symptom experience also depends on the meaning attributed to a symptom, not just frequency, distress and intensity. These meanings may be derived from the patient's perception of the potential cause or severity of the symptom (e.g. the cancer is worsening, is this normal) or what the symptom could signify for the future (e.g. imminent death, can't work/drive anymore). Meanings can be positive (spend more time with family) or negative according to the patient's interpretation or can also be more existential especially when symptoms act as reminders of mortality, loss of purpose or the struggle of daily living.
c.

What kinds of symptom meanings do you hear from patients in your practice?

d.

How does the patient's spiritual life impact on their symptom experience and the meaning they give to symptoms?
2.

Communication of symptom meaning in palliative care consultations
a.

How important do you consider talking about the meanings patients give to their symptoms during consultations?
b.

How do you find out what meaning a patient is giving to their symptom(s)?
What makes it difficult to talk about meaning?

What makes it difficult to work out the meaning a patient gives to their symptom?

What helps you to understand the meaning patients are giving to their symptom?
3.

Significance and impact of discussing symptom meanings in clinical care and the patient themselves
a.

What impact do you think discussing a patient's symptom meanings has, on clinical management?
Can you give any examples of when discussing a patient's symptom meaning has influenced clinical management?
b.

What impact do you think discussing a patient's symptom meanings has, on the patient themselves?
Can you give any examples of when discussing meaning has affected a patient's perception of the course of their disease or quality of life?
c.

What do you think is the impact of discussing symptom meanings on your relationship with the patient?
4.

Close
Is there anything else that you think might be important to add?
Thank you very much for taking part in this interview.
Appendix II Additional quotations
About this article
Cite this article
Estacio, C.F., Butow, P.N., Lovell, M.R. et al. Exploring symptom meaning: perspectives of palliative care physicians. Support Care Cancer 26, 2769–2784 (2018). https://doi.org/10.1007/s00520-018-4126-0
Received:

Accepted:

Published:

Issue Date:

DOI: https://doi.org/10.1007/s00520-018-4126-0
Keywords
Symptom meaning

Symptom experience

Palliative care

Advanced cancer

Qualitative research

Health professionals