Abstract
Purpose
Improved access to technology in the radiation therapy (RT) workforce education has resulted in opportunities for innovative patient education methods. This study investigated the impact of a newly developed education tool using the Virtual Environment for Radiotherapy Training (VERT) system on patients' RT knowledge and anxiety.
Method
Breast cancer patients were recruited into a control group (CG) (n = 18) who underwent the standard pre-RT education package at a targeted cancer therapy centre, followed by a VERT group (VG) (n = 19). VG patients attended a VERT-based education session detailing RT immobilisation, planning and treatment. All patients completed questionnaires at four time points throughout their treatment, with survey sub-sections on RT knowledge, experience and anxiety.
Results
For both groups, anxiety levels were highest at time point 1(T1 after initial radiation oncologist consultation) (CG, 41.2; VG, 43.1), with a gradual decrease observed thereafter at time points before simulation, at the beginning of treatment and at the end of treatment (p > 0.05). The VG's RT knowledge scores were statistically significantly higher than those of the CG scores at all time points following VERT education (p < 0.05).
Conclusion
This study reports the high value of VERT breast cancer-targeted education programs in improving RT knowledge and perhaps decreasing patient anxiety. Continued efforts are required to improve patients' accessibility to VERT in Australia, and to better understand the effect of VERT's unique educational features on patients' emotional and physical needs throughout their RT.
Access options
Buy single article
Instant access to the full article PDF.
US$ 39.95
Tax calculation will be finalised during checkout.
Subscribe to journal
Immediate online access to all issues from 2019. Subscription will auto renew annually.
US$ 119
Tax calculation will be finalised during checkout.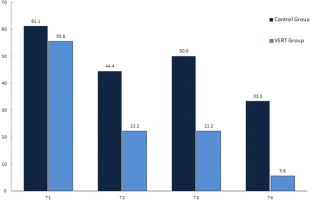 References
1.

Halkett GKB, Kristjanson LJ, Lobb E, O'Driscoll C, Taylor M, Spry N (2010) Meeting breast cancer patients' information needs during radiotherapy: what can we do to improve the information and support that is currently provided? Eur J Canc Care 19:538–547

2.

Gillan C, Abrams D, Harnett N, Wiljer D, Catton P (2014) Fears and misperceptions of radiation therapy: sources and impact on decision-making and anxiety. J Canc Educ 29:289–295. https://doi.org/10.1007/s13187-013-0598-2

3.

Siekkinen M, Kesanen J, Vahlberg T, Pyrhonen S, Leino-Kilpi H (2015) Randomized, controlled trial of the effect of e-feedback on knowledge about radiotherapy of breast cancer patients in Finland. Nurs Health Sci 17:97–104

4.

Halkett GKB, O'Connor M, Aranda S, Jefford M, Shaw T, York D, Spry N, Taylor M, Schofield P (2013) Pilot randomised controlled trial of a radiation therapist-led educational intervention for breast cancer patients prior to commencing radiotherapy. Support Care Cancer 21:1725–1733. https://doi.org/10.1007/s00520-013-1719-5

5.

Canil T, Cashell A, Papadakos J, Abdelmutti N, Friedman AJ (2012) Evaluation of the effects of pre-treatment education on self-efficacy and anxiety in patients receiving radiation therapy: a pilot study. J Med Imaging Radiat Sci 43:221–227. https://doi.org/10.1016/j.jmir.2012.05.002

6.

Friedman AJ, Cosby R, Boyko S, Hatton-Bauer J, Turnbull G (2011) Effective teaching strategies and methods of delivery for patient education: a systematic review and practice guidelines recommendations. J Canc Educ. https://doi.org/10.10074/s13187-010-0183-x

7.

Waller A, Forshaw K, Bryant J, Mair S (2014) Interventions for preparing patients for chemotherapy and radiotherapy: a systematic review. Support Care Cancer 22:2297–2308. https://doi.org/10.1007/s00520-014-2303-3

8.

Dunn LB, Aouizerat B, Cooper BA, Dodd M, Lee K, West C, Paul SM, Wara W, Swift P, Miaskowski C (2012) Trajectories of anxiety in oncology patients and family caregivers during and after radiation therapy. Eur J Oncol Nur 16:1–9

9.

Ryhanen AM, Rankinen S, Siekkinen M, Saarinen M, Korvenranta H, Leino-Kilpi H (2012) The impact of empowering internet-based breast cancer patient pathway programme on breast cancer patients' knowledge: a randomised control trial. Patient Educ Couns 88:224–231. https://doi.org/10.1016/j.pec.2012.02.013

10.

Phillip R, Ward J, Beavis AW (2005) Immersive visualization training of radiotherapy treatment, In: Conference proceedings: Medicine Meets Virtual Reality 13: The Magical Next Becomes the Medical Now, ed. James D. Westwood, 111:390–396

11.

Bridge P, Appleyard RM, Ward JW, Philips R, Beavis AW (2007) The development and evaluation of a virtual radiotherapy treatment machine using an immersive visualisation environment. Comput Educ 49(2):481–494. https://doi.org/10.1016/j.compedu.2005.10.006

12.

Stewart-Lord A (2016) From education to research: a journey of utilising virtual training. J Radiother Practice 15(1):58–90. https://doi.org/10.1017/S1460396916000030

13.

Stewart-Lord A, Brown M, Noor S, Cook J, Jallow O (2016) The utilisation of virtual images in patient information giving sessions for prostate cancer patients prior to radiotherapy. Radiography 22:269–273. https://doi.org/10.1016/j.radi.2016.05.002

14.

Sule-Suso J, Finney S, Bisson J, Hammersley S, Jassel S, Knight R, Hicks C, Sargeant S, Lam KP, Belcher J (2015) Pilot study on virtual imaging for patient information on radiotherapy planning and delivery. Radiography 21(3):273–277. https://doi.org/10.1016/j.radi.2015.02.002

15.

Jimenez YA, Wang W, Stuart K, Cumming S, Thwaites D, Lewis S (2017) Breast cancer patients' perceptions of a virtual environment for pre-treatment education. J Canc Educ. https://doi.org/10.1007/s13187-017-1183-x

16.

Savage K, Arif S, Smoke M, Farrell T (2017) Preferences in learning styles and modes of information delivery in patients receiving first day education for radiation therapy. J Med Imaging Radiat Sci 48(2):193–198. https://doi.org/10.1016/j.jmir.2016.10.011

17.

Halkett GKB, Kristjanson LJ, Lobb E, Little J, Shaw T, Taylor M, Spry N (2012) Information needs and preferences of women as they proceed through radiotherapy for breast cancer. Patient Educ Couns 86:396–404. https://doi.org/10.1016/j.pec.2011.05.010

18.

Salminen E, Vire J, Poussa T, Knifsund S (2004) Unmet needs in information flow between breast cancer patients, their spouses, and physicians. Support Care Cancer 12:663–668. https://doi.org/10.1007/s00520-003-0578-x

19.

Klikovac T, Djurdjevic A (2010) Psychological aspects of the cancer patients' education: thoughts, feelings, behavior and body reactions of patients faced with diagnosis of cancer. J B.U.ON 15:153–156

20.

Fagundes C, LeRoy A, Karuga M (2015) Behavioural symptoms after breast cancer treatment: a biobehavioral approach. J Pers Med 5(3):280–295. https://doi.org/10.3390/jpm5030280

21.

Smith SK, Zhu Y, Dhillon HM, Milross CG, Taylor J, Halkett G, Zilliacus E (2013) Supporting patients with low health literacy: what role do radiation therapists play? Supportive Care Cancer 21:3051–3061. https://doi.org/10.1007/s00520-013-1875-7

22.

Spielberger CD, Gorsuch RL, Lushene RE, Vagg, Jacobs GA (1983) State-Trait Anxiety Inventory for adults: Manual, Instrument and scoring guide. Mind Garden, Inc Available www.mindgarden.com Accessed: 1 Jan 2015

23.

Kvaal K, Ulstein I, Nordhus IH, Engedal K (2005) The Spielberger State-Trait Anxiety Inventory (STAI): the state scale in detecting mental disorders in geriatric patients. Int J Geriatr Psychiatry 20(7):629–634

24.

Vodermaier A, Linden W, Siu C (2009) Screening for emotional distress in cancer patietns: a systematic review of assessment instruments. J Natl Cancer Inst 101:1464–1488

25.

Beikmoradi A, Najafi F, Roshanaei G, Esmaeil ZP, Khatibian M, Ahmandi A (2015) Acupressure and anxiety in cancer patients. Iran Red Crescent Med J 17(3):e25919

26.

Julian LJ (2011) Measures of Anxiety: State-Trait Anxiety Inventory (STAI), Beck Anxiety Inventory (BAI), and Hosptial Anxiety and Depression Scale-nxiety (HADS-A). Arthritis Care Res 63(11):S467–S472. https://doi.org/10.2005/acr.20561

27.

Carlson L, Bultz B (2003) Benefits of psychosocial oncology care: improved quality of life and medical cost offset. Health Qual Life Outcomes 1:8

28.

Sygna K, Johansen S, Ruland CM (2015) Recruitment challenges in clinical research including cancer patients and their caregivers. A randomized controlled trial study and lessons learned. Trials 16:428. https://doi.org/10.1186/s13063-015-0948-y
Acknowledgements
We also extend our gratitude to all the patients who gave up their time to participate in the study.
Funding
Study participants' travel reimbursement was funded by The University of Sydney's postgraduate research support scheme. The primary author is the holder of a University of Sydney research scholarship, "Danielle Milinkovic Memorial Radiation Therapy Research Scholarship". The authors wish to thank Rachael Beldham-Collins for her assistance in the co-ordination of the project.
Ethics declarations
Disclosure of potential conflicts of interest
The authors declare that they have no conflict of interest.
Ethical approval
All procedures performed in studies involving human participants were in accordance with the ethical standards of the institutional and/or national research committee and with the 1964 Helsinki declaration and its later amendments or comparable ethical standards.
Informed consent
Informed consent was obtained from all individual participants included in the study.
About this article
Cite this article
Jimenez, Y.A., Cumming, S., Wang, W. et al. Patient education using virtual reality increases knowledge and positive experience for breast cancer patients undergoing radiation therapy. Support Care Cancer 26, 2879–2888 (2018). https://doi.org/10.1007/s00520-018-4114-4
Received:

Accepted:

Published:

Issue Date:
Keywords
VERT

Radiation therapy

Patient education

Breast cancer

Anxiety