Abstract
Introduction
Cancer treatment-induced bone loss (CTIBL) is a long-term side effect of breast cancer therapy. Both calcitriol and weight-bearing exercise improve bone metabolism for osteoporotic patients, but are unproven in a breast cancer population. We used a novel high-dose calcitriol regimen with an individualized exercise intervention to improve bone metabolism in breast cancer survivors.
Methods
We accrued 41 subjects to this open label, 2 × 2 factorial, randomized feasibility trial. Breast cancer survivors were randomized to receive the following: (1) calcitriol (45 micrograms/week), (2) individualized exercise with progressive walking and resistance training, (3) both, or (4) a daily multivitamin (control condition) for 12 weeks. Primary outcomes included changes in biomarkers of bone formation, bone resorption, and the bone remodeling index, a composite measure of bone formation and resorption. Safety measures included clinical and biochemical adverse events. A main effect analysis was used for these endpoints.
Results
Hypercalcemia was limited to three grade I cases with no grade ≥ 2 cases. Among exercisers, 100% engaged in the prescribed aerobic training and 44.4% engaged in the prescribed resistance training. Calcitriol significantly improved bone formation (Cohen's d = 0.64; p < 0.01), resulting in a non-significant increase in the bone remodeling index (Cohen's d = 0.21; p = 31). Exercise failed to improve any of the bone biomarkers.
Conclusions
Both calcitriol and exercise were shown to be feasible and well tolerated. Calcitriol significantly improved bone formation, resulting in a net increase of bone metabolism. Compliance with the exercise intervention was sub-optimal, which may have led to a lack of effect of exercise on bone metabolism.
This is a preview of subscription content, log in to check access.
Access options
Buy single article
Instant access to the full article PDF.
US$ 39.95
Tax calculation will be finalised during checkout.
Subscribe to journal
Immediate online access to all issues from 2019. Subscription will auto renew annually.
US$ 199
Tax calculation will be finalised during checkout.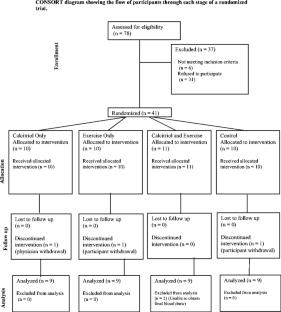 References
1.

Al-Shreef FM, Al-Jiffri OH, Abd El-Kader SM (2015) Bone metabolism and hand grip strength response to aerobic versus resistance exercise training in non-insulin dependent diabetic patients. Afr Health Sci 15:896–901

2.

American College of Sports Medicine, Thompson WR, Gordon NF, Pescatello LS (2010) ACSM's guidelines for exercise testing and prescription. Lippincott Williams & Wilkins, Philadelphia

3.

Avenell A, Mak JC, O'Connell D (2014) Vitamin D and vitamin D analogues for preventing fractures in post-menopausal women and older men the Cochrane database of systematic reviews: Cd000227

4.

Basat H, Esmaeilzadeh S, Eskiyurt N (2013) The effects of strengthening and high-impact exercises on bone metabolism and quality of life in postmenopausal women: a randomized controlled trial. J Back Musculoskelet Rehabil 26:427–435

5.

Beer TM (2005) ASCENT: the androgen-independent prostate cancer study of calcitriol enhancing taxotere. BJU Int 96:508–513

6.

Beer TM, Garzotto M, Henner WD, Eilers KM, Wersinger EM (2003) Intermittent chemotherapy in metastatic androgen-independent prostate cancer. Br J Cancer 89:968–970

7.

Beer TM, Javle MM, Ryan CW, Garzotto M, Lam GN, Wong A, Henner WD, Johnson CS, Trump DL (2007) Phase I study of weekly DN-101, a new formulation of calcitriol, in patients with cancer. Cancer Chemother Pharmacol 59:581–587

8.

Beer TM, Ryan CW, Venner PM, Petrylak DP, Chatta GS, Ruether JD, Chi KN, Young J, Henner WD (2008) Intermittent chemotherapy in patients with metastatic androgen-independent prostate cancer: results from ASCENT, a double-blinded, randomized comparison of high-dose calcitriol plus docetaxel with placebo plus docetaxel. Cancer 112:326–330

9.

Caniggia A, Nuti R, Galli M, Lore F, Turchetti V, Righi GA (1986) Effect of a long-term treatment with 1,25-dihydroxyvitamin D3 on osteocalcin in postmenopausal osteoporosis. Calcif Tissue Int 38:328–332

10.

Caniggia A, Nuti R, Lore F, Martini G, Turchetti V, Righi G (1990) Long-term treatment with calcitriol in postmenopausal osteoporosis. Metab Clin Exp 39:43–49

11.

Chen Z, Maricic M, Bassford TL, Pettinger M, Ritenbaugh C, Lopez AM, Barad DH, Gass M, Leboff MS (2005) Fracture risk among breast cancer survivors: results from the Women's Health Initiative observational study. Arch Intern Med 165:552–558

12.

Chen Z, Maricic M, Pettinger M, Ritenbaugh C, Lopez AM, Barad DH, Gass M, Leboff MS, Bassford TL (2005) Osteoporosis and rate of bone loss among postmenopausal survivors of breast cancer. Cancer 104:1520–1530

13.

Clemens JD, Herrick MV, Singer FR, Eyre DR (1997) Evidence that serum NTx (collagen-type I N-telopeptides) can act as an immunochemical marker of bone resorption. Clin Chem 43:2058–2063

14.

Eastell R, Robins SP, Colwell T, Assiri AM, Riggs BL, Russell RG (1993) Evaluation of bone turnover in type I osteoporosis using biochemical markers specific for both bone formation and bone resorption. Osteoporos Int 3:255–260

15.

Eastell R, Hannon RA, Cuzick J, Dowsett M, Clack G, Adams JE (2006) Effect of an aromatase inhibitor on bmd and bone turnover markers: 2-year results of the Anastrozole, tamoxifen, alone or in combination (ATAC) trial (18233230). J Bone Miner Res 21:1215–1223

16.

Eastell R, Adams JE, Coleman RE, Howell A, Hannon RA, Cuzick J, Mackey JR, Beckmann MW, Clack G (2008) Effect of anastrozole on bone mineral density: 5-year results from the anastrozole, tamoxifen, alone or in combination trial 18233230. J Clin Oncol 26:1051–1057

17.

Gallagher JC, Jerpbak CM, Jee WS, Johnson KA, DeLuca HF, Riggs BL (1982) 1,25-Dihydroxyvitamin D3: short- and long-term effects on bone and calcium metabolism in patients with postmenopausal osteoporosis. Proc Natl Acad Sci U S A 79:3325–3329

18.

Gram J, Junker P, Nielsen HK, Bollerslev J (1996) Dose-response effect of short-term calcitriol treatment on bone and mineral metabolism in normal males. Bone 18:539–544

19.

Gram J, Junker P, Nielsen HK, Bollerslev J (1998) Effects of short-term treatment with prednisolone and calcitriol on bone and mineral metabolism in normal men. Bone 23:297–302

20.

Greenway KG, Walkley JW, Rich PA (2015) Impact exercise and bone density in premenopausal women with below average bone density for age. Eur J Appl Physiol 115:2457–2469

21.

Guise TA (2006) Bone loss and fracture risk associated with cancer therapy. Oncologist 11:1121–1131

22.

Heinonen A, Kannus P, Sievanen H, Oja P, Pasanen M, Rinne M, Uusi-Rasi K, Vuori I (1996) Randomised controlled trial of effect of high-impact exercise on selected risk factors for osteoporotic fractures. Lancet (London, England) 348:1343–1347

23.

Henriksen K, Christiansen C, Karsdal MA (2015) Role of biochemical markers in the management of osteoporosis. Climacteric 18(Suppl 2):10–18

24.

Hirbe A, Morgan EA, Uluckan O, Weilbaecher K (2006) Skeletal complications of breast cancer therapies clinical cancer research : an official journal of the American Association for Cancer Research 12: 6309s-6314s

25.

Kamen C, Heckler C, Janelsins MC, Peppone LJ, McMahon JM, Morrow GR, Bowen D, Mustian K (2015) A dyadic exercise intervention to reduce psychological distress among lesbian, Gay, and Heterosexual Cancer Survivors LGBT health

26.

Kanis JA, McCloskey EV, Powles T, Paterson AH, Ashley S, Spector T (1999) A high incidence of vertebral fracture in women with breast cancer. Br J Cancer 79:1179–1181

27.

Kleckner IR, Kamen C, Gewandter JS, Mohile NA, Heckler CE, Culakova E, Fung C, Janelsins MC, Asare M, Lin PJ, Reddy PS, Giguere J, Berenberg J, Kesler SR, Mustian KM (2017) Effects of exercise during chemotherapy on chemotherapy-induced peripheral neuropathy: a multicenter, randomized controlled trial supportive care in cancer : official journal of the multinational Association of Supportive Care in cancer

28.

Lindsey AM, Gross G, Twiss J, Waltman N, Ott C, Moore TE (2002) Postmenopausal survivors of breast cancer at risk for osteoporosis: nutritional intake and body size. Cancer Nurs 25:50–56

29.

Lumachi F, Luisetto G, Basso SM, Basso U, Brunello A, Camozzi V (2011) Endocrine therapy of breast cancer. Curr Med Chem 18:513–522

30.

Mustian KM, Peppone L, Darling TV, Palesh O, Heckler CE, Morrow GR (2009) A 4-week home-based aerobic and resistance exercise program during radiation therapy: a pilot randomized clinical trial. J Support Oncol 7:158–167

31.

Peppone LJ, Hebl S, Purnell JQ, Reid ME, Rosier RN, Mustian KM, Palesh OG, Huston AJ, Ling MN, Morrow GR (2010) The efficacy of calcitriol therapy in the management of bone loss and fractures: a qualitative review. Osteoporos Int 21:1133–1149

32.

Riggs BL, Nelson KI (1985) Effect of long term treatment with calcitriol on calcium absorption and mineral metabolism in postmenopausal osteoporosis. J Clin Endocrinol Metab 61:457–461

33.

Roghani T, Torkaman G, Movasseghe S, Hedayati M, Goosheh B, Bayat N (2013) Effects of short-term aerobic exercise with and without external loading on bone metabolism and balance in postmenopausal women with osteoporosis. Rheumatol Int 33:291–298

34.

Ross PD, Kress BC, Parson RE, Wasnich RD, Armour KA, Mizrahi IA (2000) Serum bone alkaline phosphatase and calcaneus bone density predict fractures: a prospective study. Osteoporos Int 11:76–82

35.

Sairanen S, Karkkainen M, Tahtela R, Laitinen K, Makela P, Lamberg-Allardt C, Valimaki MJ (2000) Bone mass and markers of bone and calcium metabolism in postmenopausal women treated with 1,25-dihydroxyvitamin D (calcitriol) for four years. Calcif Tissue Int 67:122–127

36.

Sirtori P, Sosio C, Resmini G, Rubinacci A (1996) Effect of short course of 1,25-dihydroxyvitamin D3 on biochemical markers of bone remodelling in postmenopausal women. Pharmacol Res 33:353–359

37.

Tsukamoto Y, Watanabe T, Nakagami T, Morishita K (2003) Effect of treatment with oral calcitriol on calcium metabolism and fasting serum 25(OH)- or 1,25(OH)2-vitamin D level in Japanese postmenopausal women. Endocr J 50:681–687

38.

Twiss JJ, Waltman N, Ott CD, Gross GJ, Lindsey AM, Moore TE (2001) Bone mineral density in postmenopausal breast cancer survivors. J Am Acad Nurse Pract 13:276–284

39.

Vainionpaa A, Korpelainen R, Leppaluoto J, Jamsa T (2005) Effects of high-impact exercise on bone mineral density: a randomized controlled trial in premenopausal women. Osteoporos Int 16:191–197

40.

Vasikaran S, Eastell R, Bruyere O, Foldes AJ, Garnero P, Griesmacher A, McClung M, Morris HA, Silverman S, Trenti T, Wahl DA, Cooper C, Kanis JA (2011) Markers of bone turnover for the prediction of fracture risk and monitoring of osteoporosis treatment: a need for international reference standards. Osteoporos Int 22:391–420

41.

Vehmanen L, Elomaa I, Blomqvist C, Saarto T (2006) Tamoxifen treatment after adjuvant chemotherapy has opposite effects on bone mineral density in premenopausal patients depending on menstrual status. J Clin Oncol 24:675–680

42.

Watts NB (1999) Clinical utility of biochemical markers of bone remodeling. Clin Chem 45:1359–1368

43.

Wheater G, Elshahaly M, Tuck SP, Datta HK, van Laar JM (2013) The clinical utility of bone marker measurements in osteoporosis. J Transl Med 11:201

44.

Woitge HW, Pecherstorfer M, Li Y, Keck AV, Horn E, Ziegler R, Seibel MJ (1999) Novel serum markers of bone resorption: clinical assessment and comparison with established urinary indices. J Bone Miner Res 14:792–801

45.

Zhang H, Huang QR, Gu JM, Hu WW, Liu YJ, Hu YQ, Zhang ZL (2012) Comparison of the effects of cholecalciferol and calcitriol on calcium metabolism and bone turnover in Chinese postmenopausal women with vitamin D insufficiency. Acta Pharmacol Sin 33:490–495
Ethics declarations
This study was reviewed and approved by the URMC Research Subjects Review Board (RSRB). All research participants gave written informed consent.
Conflicts of interest
The authors declare that they have no conflicts of interest.
Financial support
R25-CA102618, K07-CA168911.
About this article
Cite this article
Peppone, L.J., Ling, M., Huston, A.J. et al. The effects of high-dose calcitriol and individualized exercise on bone metabolism in breast cancer survivors on hormonal therapy: a phase II feasibility trial. Support Care Cancer 26, 2675–2683 (2018). https://doi.org/10.1007/s00520-018-4094-4
Received:

Accepted:

Published:

Issue Date:
Keywords
Calcitriol

Exercise

Breast cancer

Hormonal therapy

Bone metabolism

Bone health