Abstract
Purpose
The purpose of this study is to describe the management and outcome of critically ill cancer patients with Superior Vena Cava Syndrome (SVCS).
Methods
All cancer patients admitted to the medical intensive care unit (ICU) of the Saint-Louis University Hospital for a SVCS between January 2004 and December 2016 were included.
Results
Of the 50 patients included in the study, obstruction of the superior vena cava was partial in two-thirds of the cases and complete in one-third. Pleural effusion was reported in two-thirds of the patients, pulmonary atelectasis in 16 (32%), and pulmonary embolism in five (10%). Computed tomography of the chest showed upper airway compression in 18 (36%) cases, while echocardiography revealed 22 (44%) pericardial effusions. The causes of SVCS were diagnosed one (0–3) day after ICU admission, using interventional radiology procedures in 70% of the cases. Thirty (60%) patients had hematological malignancies, and 20 (40%) had solid tumors. Fifteen (30%) patients required invasive mechanical ventilation, seven (14%) received vasopressors, and renal replacement therapy was implemented in three (6%). ICU, in-hospital, and 6-month mortality rates were 20, 26, and 48%, respectively. The cause of SVCS was the only factor independently associated with day 180 mortality by multivariate analysis. Patients with hematological malignancies had a lower mortality than those with solid tumors (27 versus 80%) (odds ratio 0.12, 95% confidence interval (0.02–0.60), p < 0.01).
Conclusion
Airway obstruction and pleural and pericardial effusions contributed to the unstable condition of cancer patients with SVCS. The vital prognosis of SVCS was mainly related to the underlying diagnosis.
Access options
Buy single article
Instant access to the full article PDF.
US$ 39.95
Tax calculation will be finalised during checkout.
Subscribe to journal
Immediate online access to all issues from 2019. Subscription will auto renew annually.
US$ 119
Tax calculation will be finalised during checkout.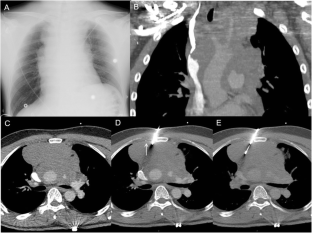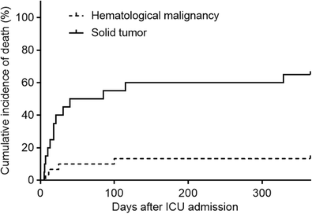 References
1.

Wilson LD, Detterbeck FC, Yahalom J (2007) Clinical practice. Superior vena cava syndrome with malignant causes. N Engl J Med 356(18):1862–1869. https://doi.org/10.1056/NEJMcp067190

2.

Rice TW, Rodriguez RM, Light RW (2006) The superior vena cava syndrome: clinical characteristics and evolving etiology. Medicine (Baltimore) 85(1):37–42. https://doi.org/10.1097/01.md.0000198474.99876.f0

3.

Carter BW, Erasmus JJ (2015) Acute thoracic findings in oncologic patients. J Thorac Imaging 30(4):233–246. https://doi.org/10.1097/RTI.0000000000000148

4.

Khan UA, Shanholtz CB, McCurdy MT (2014) Oncologic mechanical emergencies. Emerg Med Clin North Am 32(3):495–508. https://doi.org/10.1016/j.emc.2014.04.001

5.

Morikawa N, Honna T, Kuroda T et al (2005) Life-threatening airway obstruction caused by mediastinal germinoma in a 9-year-old girl. J Pediatr Surg 40(3):588–590. https://doi.org/10.1016/j.jpedsurg.2004.11.021

6.

Jung B, Murgu S, Colt H (2011) Rigid bronchoscopy for malignant central airway obstruction from small cell lung cancer complicated by SVC syndrome. Ann Thorac Cardiovasc Surg 17(1):53–57

7.

Kvale PA, Simoff M, Prakash UBS, American College of Chest Physicians (2003) Lung cancer. Palliative care. Chest 123(1 Suppl):284S–311S

8.

Takeda S, Miyoshi S, Omori K, Okumura M, Matsuda H (1999) Surgical rescue for life-threatening hypoxemia caused by a mediastinal tumor. Ann Thorac Surg 68(6):2324–2326

9.

Marcy PY, Magné N, Bentolila F, Drouillard J, Bruneton JN, Descamps B (2001) Superior vena cava obstruction: is stenting necessary? Support Care Cancer 9(2):103–107

10.

Thiéry G, Azoulay E, Darmon M et al (2005) Outcome of cancer patients considered for intensive care unit admission: a hospital-wide prospective study. J Clin Oncol 23(19):4406–4413. https://doi.org/10.1200/JCO.2005.01.487

11.

Vincent JL, Moreno R, Takala J et al (1996) The SOFA (Sepsis-related Organ Failure Assessment) score to describe organ dysfunction/failure. On behalf of the Working Group on Sepsis-Related Problems of the European Society of Intensive Care Medicine. Intensive Care Med 22(7):707–710

12.

Dizon DS, Krilov L, Cohen E et al (2016) Clinical cancer advances 2016: annual report on progress against cancer from the American Society of Clinical Oncology. J Clin Oncol 34(9):987–1011. https://doi.org/10.1200/JCO.2015.65.8427

13.

Récher C, Coiffier B, Haioun C et al (2011) Intensified chemotherapy with ACVBP plus rituximab versus standard CHOP plus rituximab for the treatment of diffuse large B-cell lymphoma (LNH03-2B): an open-label randomised phase 3 trial. Lancet 378(9806):1858–1867. https://doi.org/10.1016/S0140-6736(11)61040-4

14.

Azoulay E, Pène F, Darmon M et al (2015) Managing critically ill hematology patients: time to think differently. Blood Rev 29(6):359–367. https://doi.org/10.1016/j.blre.2015.04.002

15.

Zerbib Y, Rabbat A, Fartoukh M et al (2017) Urgent chemotherapy for life-threatening complications related to solid neoplasms. Crit Care Med 45(7):e640–e648. https://doi.org/10.1097/CCM.0000000000002331

16.

Puxty K, McLoone P, Quasim T, Sloan B, Kinsella J, Morrison DS (2015) Risk of critical illness among patients with solid cancers: a population-based observational study. JAMA Oncol 1(8):1078–1085. https://doi.org/10.1001/jamaoncol.2015.2855

17.

Darmon M, Vincent F, Camous L et al (2013) Tumour lysis syndrome and acute kidney injury in high-risk haematology patients in the rasburicase era. A prospective multicentre study from the Groupe de Recherche en Réanimation Respiratoire et Onco-Hématologique. Br J Haematol 162(4):489–497. https://doi.org/10.1111/bjh.12415

18.

Stone MJ, Bogen SA (2012) Evidence-based focused review of management of hyperviscosity syndrome. Blood 119(10):2205–2208. https://doi.org/10.1182/blood-2011-04-347690

19.

Moreau A-S, Lengline E, Seguin A et al (2014) Respiratory events at the earliest phase of acute myeloid leukemia. Leuk Lymphoma 55(11):2556–2563. https://doi.org/10.3109/10428194.2014.887709

20.

Ramos-Casals M, Brito-Zerón P, López-Guillermo A, Khamashta MA, Bosch X (2014) Adult haemophagocytic syndrome. Lancet 383(9927):1503–1516. https://doi.org/10.1016/S0140-6736(13)61048-X

21.

Schraufnagel DE, Hill R, Leech JA, Pare JAP (1981) Superior vena caval obstruction is it a medical emergency? Am J Med 70(6):1169–1174

22.

de Kerviler E, Benet C, Brière J, de Bazelaire C (2012) Image-guided needle biopsy for diagnosis and molecular biology in lymphomas. Best Pract Res Clin Haematol 25(1):29–39. https://doi.org/10.1016/j.beha.2012.01.006

23.

Maxwell F, de Margerie MC, Bricout M et al (2015) Diagnostic strategy for the assessment of axillary lymph node status in breast cancer. Diagn Interv Imaging 96(10):1089–1101. https://doi.org/10.1016/j.diii.2015.07.007

24.

de Kerviler E, de Margerie-Mellon C, Coffin A et al (2015) The feasibility of percutaneous renal cryoablation under local anaesthesia. Cardiovasc Intervent Radiol 38(3):672–677. https://doi.org/10.1007/s00270-014-0995-x

25.

de Margerie-Mellon C, de Bazelaire C, Amorim S et al (2015) Diagnostic yield and safety of computed tomography-guided mediastinal core needle biopsies. J Thorac Imaging 30(5):319–327

26.

de Margerie-Mellon C, de Bazelaire C, de Kerviler E (2016) Image-guided biopsy in primary lung cancer: why, when and how. Diagn Interv Imaging 97(10):965–972. https://doi.org/10.1016/j.diii.2016.06.016

27.

Porte H, Metois D, Finzi L et al (2000) Superior vena cava syndrome of malignant origin. Which surgical procedure for which diagnosis? Eur J Cardiothorac Surg 17(4):384–388

28.

Urruticoechea A, Mesía R, Domínguez J et al (2004) Treatment of malignant superior vena cava syndrome by endovascular stent insertion. Experience on 52 patients with lung cancer. Lung Cancer 43(2):209–214

29.

Qanadli SD, El Hajjam M, Mignon F et al (1999) Subacute and chronic benign superior vena cava obstructions: endovascular treatment with self-expanding metallic stents. AJR Am J Roentgenol 173(1):159–164

30.

Leung ST, Sung THT, Wan AYH, Leung KW, Kan WK (2015) Endovascular stenting in the management of malignant superior vena cava obstruction: comparing safety, effectiveness, and outcomes between primary stenting and salvage stenting. Hong Kong Med J 21(5):426–434. 10.12809/hkmj144363

31.

Smayra T, Otal P, Chabbert V et al (2001) Long-term results of endovascular stent placement in the superior caval venous system. Cardiovasc Intervent Radiol 24(6):388–394. https://doi.org/10.1007/s00270-001-0055-1

32.

Chan RC-L, Chan YC, Cheng SW-K (2013) Mid- and long-term follow-up experience in patients with malignant superior vena cava obstruction. Interact Cardiovasc Thorac Surg 16(4):455–458. https://doi.org/10.1093/icvts/ivs562

33.

Bellefqih S, Khalil J, Mezouri I et al (2014) Superior vena cava syndrome with malignant causes. Rev Pneumol Clin 70(6):343–352. https://doi.org/10.1016/j.pneumo.2014.08.001

34.

Azoulay E, Mokart D, Pène F et al (2013) Outcomes of critically ill patients with hematologic malignancies: prospective multicenter data from France and Belgium—a groupe de recherche respiratoire en réanimation onco-hématologique study. J Clin Oncol 31(22):2810–2818. https://doi.org/10.1200/JCO.2012.47.2365

35.

Canet E, Zafrani L, Lambert J et al (2013) Acute kidney injury in patients with newly diagnosed high-grade hematological malignancies: impact on remission and survival. PLoS One 8(2):e55870. https://doi.org/10.1371/journal.pone.0055870

36.

Lemiale V, Mokart D, Resche-Rigon M et al (2015) Effect of noninvasive ventilation vs oxygen therapy on mortality among immunocompromised patients with acute respiratory failure: a randomized clinical trial. JAMA 314(16):1711. https://doi.org/10.1001/jama.2015.12402
Acknowledgements
We thank Victoria Mears for helping with English editing.
Ethics declarations
Financial support
This study did not have financial support.
Conflict of interest statements
SM, AG, DR, CDB, EDK, CDMM, LZ, BS, and EC declare that they have no competing interests. EA declares the following statements: board member for Gilead; lectures for Alexion, MSD, and Astellas; research grants from MSD, Fisher & Payckle, and Pfizer (2012).
About this article
Cite this article
Morin, S., Grateau, A., Reuter, D. et al. Management of superior vena cava syndrome in critically ill cancer patients. Support Care Cancer 26, 521–528 (2018). https://doi.org/10.1007/s00520-017-3860-z
Received:

Accepted:

Published:

Issue Date:
Keywords
Cancer

Superior vena cava syndrome

Acute respiratory failure

Intensive care unit

Supportive care