Abstract
Background
Dysphagia can occur in advanced lung cancer due to direct tumour invasion or nerve compression. Anti-cancer treatments and co-morbid conditions may also cause or compound dysphagic symptoms. Speech and language therapy (SLT), medical and surgical interventions are available to address dysphagic symptoms in patients with lung cancer, however, management options are not described in national guidelines. Given the potentially short prognoses for patients with lung cancer, the aim of care should be to reduce symptom burden and maximise quality of life (QOL). Central to that aim is the identification and treatment of swallowing difficulties.
Purpose
This study sought to identify the prevalence and impact of dysphagia on QOL in patients with advanced lung cancer.
Methods
A single-site, prospective, exploratory study was undertaken. Previously validated patient-reported outcome measures of swallowing were used to identify the presence and impact of dysphagia on QOL: EAT-10 assessment and the SWAL-QOL assessment.
Results
Seventy-two participants were recruited with 18.1% identified as having dysphagia on completion of the EAT-10 assessment. On further evaluation using the SWAL-QOL, compromised quality of life was noted with increased fatigue and meal time duration, difficulties with food selection and reduced eating desire. Frequent throat clearing, coughing and perceived pharyngeal stasis were reported.
Conclusions
Dysphagia is a potential symptom in advanced lung cancer which may impact QOL. Patients, carers and healthcare professionals should be aware of this so that early referral to SLT can be expedited. More robust prevalence and interventional studies are required to inform optimal management of this distressing condition.
Access options
Buy single article
Instant access to the full article PDF.
US$ 39.95
Tax calculation will be finalised during checkout.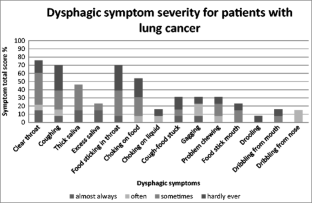 References
1.

National Cancer Intelligence Network (2013) Recent trends in lung cancer incidence, mortality and survival Available at: http://www.ncin.org.uk/cancer_type_and_topic_specific_work/cancer_type_specific_work/lung_cancer/ (Accessed: 6 March 2017)

2.

Cancer Research UK (2014) Cancer statistics key facts lung cancer Available at: http://publications.cancerresearchuk.org/downloads/Product/CS_KF_LUNG.pdf (Accessed: 6 March 2017)

3.

NICE (2011) The diagnosis and treatment of lung cancer (update) Available at: http://www.nice.org.uk/guidance. (Accessed 6 March 2017)

4.

National Cancer Institute (2017). Non-small cell lung cancer treatment (PDQ®)–Health Professional Versio. Available at https://www.cancer.gov/types/lung/hp/non-small-cell-lung-treatment-pdq Accessed 20th March 2017)

5.

Addington-Hall J, Fakhoury W, McCarthy M (1998) Specialist palliative care in non-malignant disease. Palliat Med 12(6):417–427

6.

Royal College of Speech and Language Therapists (2016) Dysphagia Available at: https://www.rcslt.org/clinical_resources/dysphagia/overview (Accessed: 6 March 2017)

7.

Nguyen NP, Frank C, Moltz CC, Vos P, Smith HJ, Karlsson U, Dutta S, Midyett A, Barloon J, Sallah S (2005) Impact of dysphagia on quality of life after treatment of head-and-neck cancer. Int J Radiat Oncol Biol Phys 61(3):772–778

8.

Camidge DR (2001) The causes of dysphagia in carcinoma of the lung. J R Soc Med 94(11):567–572

9.

Hassan WA, Darwish K, Shalan IM, Elbaki LA, Elmohsen EA, Sayed WH (2014) Aetiologic mechanisms of dysphagia in lung cancer: a case series. Egyptian J Chest Dis Tuber 63(2):435–442

10.

Brady GC, Carding PN, Bhosle J, Roe JW (2015) Contemporary management of voice and swallowing disorders in patients with advanced lung cancer. Curr Opin Otolaryngol Head Neck Surg 23(3):191–196

11.

De-Ruysscher D, Meerbeeck J, Vandecasteele K, Oberije C, Pijls M, Dingemans AMC, Reymen B, Baardwijk A, Wanders R, Lammering G, Lambin P, Neve W (2012) Radiation-induced oesophagitis in lung cancer patients. Strahlenther Onkol 188(7):564–567

12.

Wilberg P, Hjermstad MJ, Ottesen S, Herlofson BB (2014) Chemotherapy-associated oral sequelae in patients with cancers outside the head and neck region. J Pain Symptom Manag 48(6):1060–1069

13.

Mok TS, Wu Y, Thongprasert S, Yang C, Chu D, Saijo N, Sunpaweravong P, Han B, Margono B, Ichinose Y, Nishiwaki Y, Ohe Y, Yang J, Chewaskulyong B, Jiang H, Duffield EL, Watkins CL, Armour AA, Fukuoka M (2009) Gefitinib or carboplatin–paclitaxel in pulmonary adenocarcinoma. N Engl J Med 361(10):947–957

14.

Roe JW, Leslie P, Drinnan MJ (2007) Oropharyngeal dysphagia: the experience of patients with non-head and neck cancers receiving specialist palliative care. Palliat Med 21(7):567–574

15.

Dobrucali A, Caglar E (2010) Palliation of malignant esophageal obstruction and fistulas with self expandable metallic stents. World J Gastroenterol 16(45):5739–5745

16.

Tammemagi CM, Neslund-Dudas C, Simoff M, Kvale P (2003) Impact of comorbidity on lung cancer survival. Int J Cancer 103(6):792–802

17.

Ollivere B, Duce K, Rowlands G, Harrison P, O'Reilly B (2006) Swallowing dysfunction in patients with unilateral vocal fold paralysis: aetiology and outcomes. J Laryngol Otol 120(1):38–41

18.

Kupferman ME, Acevedo J, Hutcheson KA, Lewin JS (2011) Addressing an unmet need in oncology patients: rehabilitation of upper aerodigestive tract function. Ann Oncol 22(10):2299–2303

19.

Bray F, Jemal A, Grey N, Ferlay J, Forman D (2012) Global cancer transitions according to the Human Development Index (2008–2030): a population-based study. Lancet Oncol 13(8):790–801

20.

National Cancer Survivorship Initiative (2013) Living with and beyond cancer: taking action to improve outcomes Available at https://www.gov.uk/government/.../9333-TSO-2900664-NCSI_Report_FINAL.pdf (Accessed 6 March 2017)

21.

Belafsky PC, Mouadeb DA, Rees CJ, Pryor JC, Postma GN, Allen J, Leonard RJ (2008) Validity and reliability of the eating assessment tool (EAT-10). Ann Otol Rhinol Laryngol 117(12):919–924

22.

McHorney CA, Robbins J, Lomax K, Rosenbek JC, Chignell K, Kramer AE, Earl Bricker D (2002) The SWAL–QOL and SWAL–CARE outcomes tool for oropharyngeal dysphagia in adults: III. Documentation of reliability and validity. Dysphagia 17(2):97–114

23.

Peacock J, Kerry S (2007) Presenting medical statistics from proposal to publication: a step-by-step guide. Oxford University Press, Oxford
Acknowledgements
Miss Grainne Brady, Dr. Mary O′ Brien, Dr. Justin Roe and Dr. Clare Shaw acknowledge support from the National Institute for Health Research (NIHR) and the Royal Marsden/Institute of Cancer Research Biomedical Research Centre.
Ethics declarations
Conflict of interest
Miss Brady received funding to complete a Masters of Research degree at Kingston and St. George's University of London from the National Institute for Health Research (NIHR). The research was carried out as part of the academic programme of study. Miss Brady, Dr. Roe, Dr. Shaw and Dr. O′ Brien are employed by the Royal Marsden NHS Foundation Trust. Dr. Roe is also employed by Imperial College Healthcare NHS Trust. Professor Boaz is employed by Kingston and St George's University of London. The authors have no other relevant financial or non-financial relationships to disclose. As sponsor for this research project, St George's University of London have full control of all primary data and with their permission, primary data can be disclosed.
Ethical approval
An application to the National Research Ethics Committee (REC) was submitted in July 2015 and a favourable opinion was granted following proportionate review at meeting dated 15th July 2015. Subsequent approval was granted from the NHS trust host site Research and Development Department in September 2015.
About this article
Cite this article
Brady, G.C., Roe, J.W.G., O' Brien, M. et al. An investigation of the prevalence of swallowing difficulties and impact on quality of life in patients with advanced lung cancer. Support Care Cancer 26, 515–519 (2018). https://doi.org/10.1007/s00520-017-3858-6
Received:

Accepted:

Published:

Issue Date:
Keywords
Lung cancer

Dysphagia

End of life care

Quality of life

Rehabilitation